Growing up in the hippiedom of the 1970s, Bisa Butler started her education at The Rainbow School in Plainfield, New Jersey. Taught in a remodeled Victorian house, the school's curriculum model was one where students could choose how they spent their days. Bisa found herself in art class melting together crayons. "I remember once I made this portrait of myself, but there was no black crayon," she recounts. "My teacher had told me that when you mix all the crayons, you get black… so I took a handful of, like, 10, and mixed them for hours. And when people saw the portrait, they were like, 'This is amazing.'"
Today, you can still find the same blues, greens, purples and pinks comprising the Black skin of figures in Bisa's renowned quilted portraits—the colors have melded together to become the likes of Questlove, Tarana Burke and Chadwick Boseman. Her platform first grew by way of a Russell Lee photograph of five Black boys on Easter morning on view at a renowned Expo in Chicago. "I was told the crowd there was very savvy—old families, serious collectors," she says. "I wanted to stand out, but I also wanted to say something to the Black community. This piece was a love letter to them, it was me saying 'I am you.'"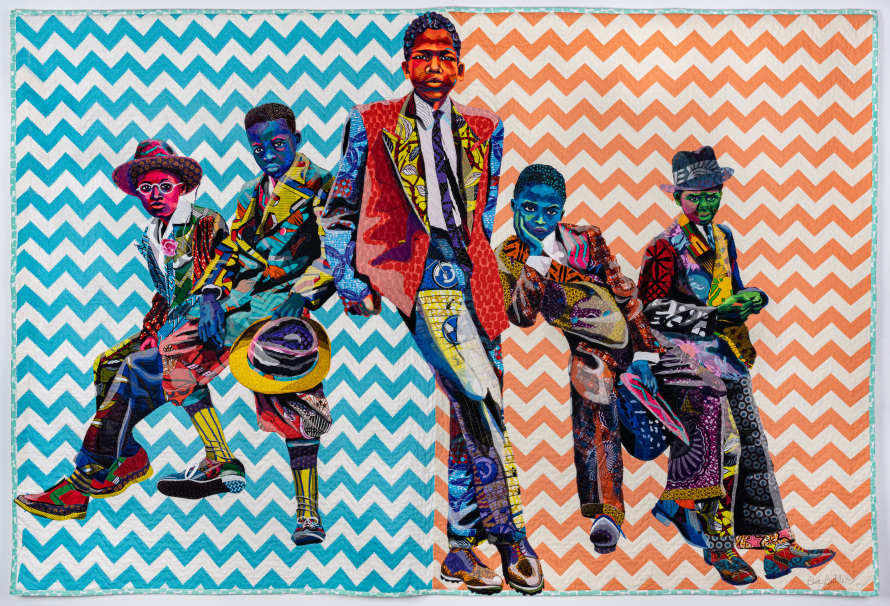 After being a "child under the Rainbow" and a brief stint at Chad School, an Afrocentric day school, Bisa finished her pre-college education with primarily white peers. She explains that her father, who immigrated from Ghana, hadn't experienced the United States the way a Black American would. "He didn't understand that if you don't tell Black kids in this country their hair is beautiful, their skin is beautiful, that they won't think so," she says. So, "in need of some culture," Bisa found herself at "peak nineties" Howard University surrounded by revolutionaries—from second generation Black Panthers and the children of Amari Baraka to Tupac who allegedly attended campus parties.
At the time, the dean of Fine Arts was Jeff Donaldson, cofounder of the Black liberation artist collective AfriCOBRA. Alongside other collective members, Donaldson proactively embodied Harlem Renaissance ideals for his art department students like Bisa. "They were all about how Black art should be in service to the people, not just in galleries and museums but accessible and affordable for everyone," Bisa says. After Howard, she pursued a degree in art teaching at Montclair State, where fibers was a required course. With a backdrop of Black pride, she began to build her craft.
While Bisa has made a name for herself with her celebrity quilts, the majority of her works display unknown subjects. "I'm still back at Chad School," she shares, "singing the Black National Anthem and asking myself: who are my heroes? And for me, the unrecognized are just as worthy." Her process generally involves sifting through the National Archives or rummaging through photographs by Gordon Parks and Dorothea Lange for inspiration. She tells the story of discovering an old portrait of a man with leather gloves and spectacles that sat on his nose without a wire. She was drawn to him for his "distinguished" look, knowing nothing of him but the scribbled name "Emett Scott" on the photo. She later unearthed that he was an advisor to Woodrow Wilson whose career began as a janitor who then became a reporter and ended up owning his own newspaper. Bisa has taken these little snippets of history and created a regal presentation of these individuals through her quilted portraits. She even describes adjusting and reconstructing her subjects' clothes in real time as she quilts, giving them shoes or mending a torn sleeve if she feels that's what they would have wanted. It's as if she's in conversation with the photographer's subject, asking, perhaps for the first time, what they feel and want.
Bisa's work captures something else, a beauty that may not have been previously dignified at the time these portraits were taken. With fabrics inspired by the clothing palettes of Ghanaian women, Bisa spends upwards of 200 hours on a single quilt—the intention and effort serving as a hyperbole of spending her preschool days coloring Black skin in crayon. Humble about her talent yet defiant about her responsibility, Bisa is rethreading Black historical narratives. And in her selection of untold stories via anonymous figures, she is making the unknown extraordinary. She says: "I'm putting the photo back together the way I see this person, the way I see my community."