"The end of the world is not new," says Nicolas Party. "We've been creating stories about floods and fires since our very beginnings." The Swiss-born artist is sitting in his Red Hook, Brooklyn, studio, surrounded by a small army of miniature dinosaurs—long-necked Brachiosauruses, by the looks of it—which he's painted into petitely scaled oil-on-copper compositions. "I've been wanting to paint dinosaurs—monsters, really—for a long time," he continues, with a glimmer of a smile. "Now that they've emerged, they're actually quite small.
Party is putting the final touches on these paintings for "Swamp," his first solo exhibition with Hauser & Wirth in New York at the gallery's 22nd Street location. Known for virtuosic pastel drawings that honor and challenge traditions of still life and portraiture, the artist seems to be grappling with the precarity of human life and our ecological crisis.
These sentiments are captured succinctly in Triptych with Dinosaurs, 2023, one of several three-paneled "cabinets" included in the show. An infant, alien in its newness, occupies the composition's central panel while peaceful-looking dinosaurs flank the child on either side, like a baby Jesus and angels. Party based the central painting on a photograph of his daughter, who turns one this fall. "Having a child makes you see time very differently," he says. "Suddenly, people ask you if you have a will. I'm 43; fatherhood is happening a little bit later in life... I'll only have her for so long. Dinosaurs are an iconic symbol of a creature out of time."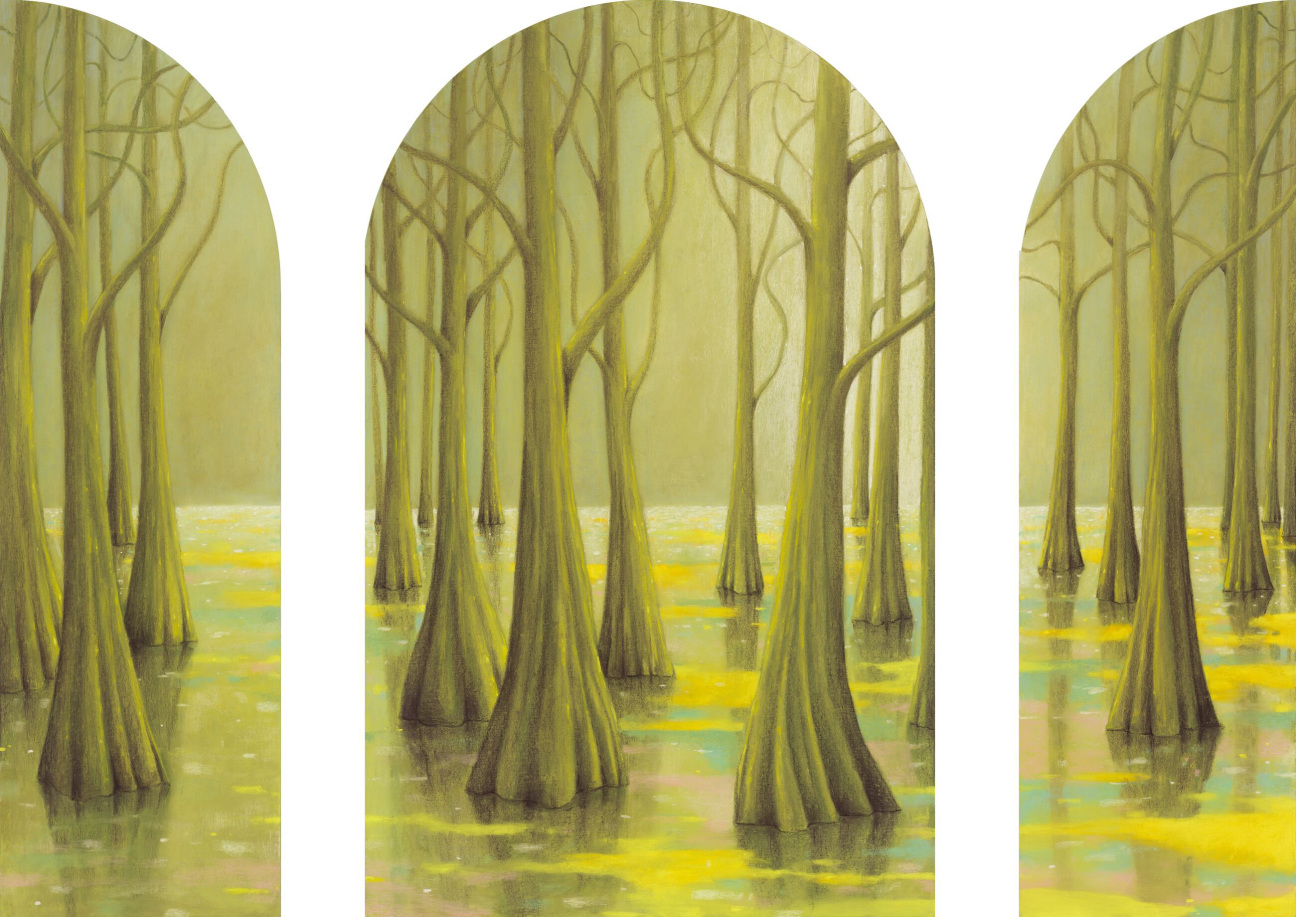 For the artist, the extinct creatures hint at the possibilities of a post-human world. "First there are these giant lizards, but shit goes down and the dinosaurs disappear. Then these overly smart monkeys emerge," he muses. "I can't help but wonder what will dominate when humans disappear.
Beyond this newly emergent fascination with the Mesozoic Era, Party continues, more familiarly, to engage with art history in other works. After paying homage to 18th-century pastel artist Rosalba Carriera with a recent installation at the Frick Madison, he has turned his attention to Rosa Bonheur, a 19th-century French painter famed in her lifetime for her highly precise portraits of animals. "Swamp" features four of Party's uncanny androgynous pastel portraits, each juxtaposed with an animal pulled from Bonheur's oeuvre.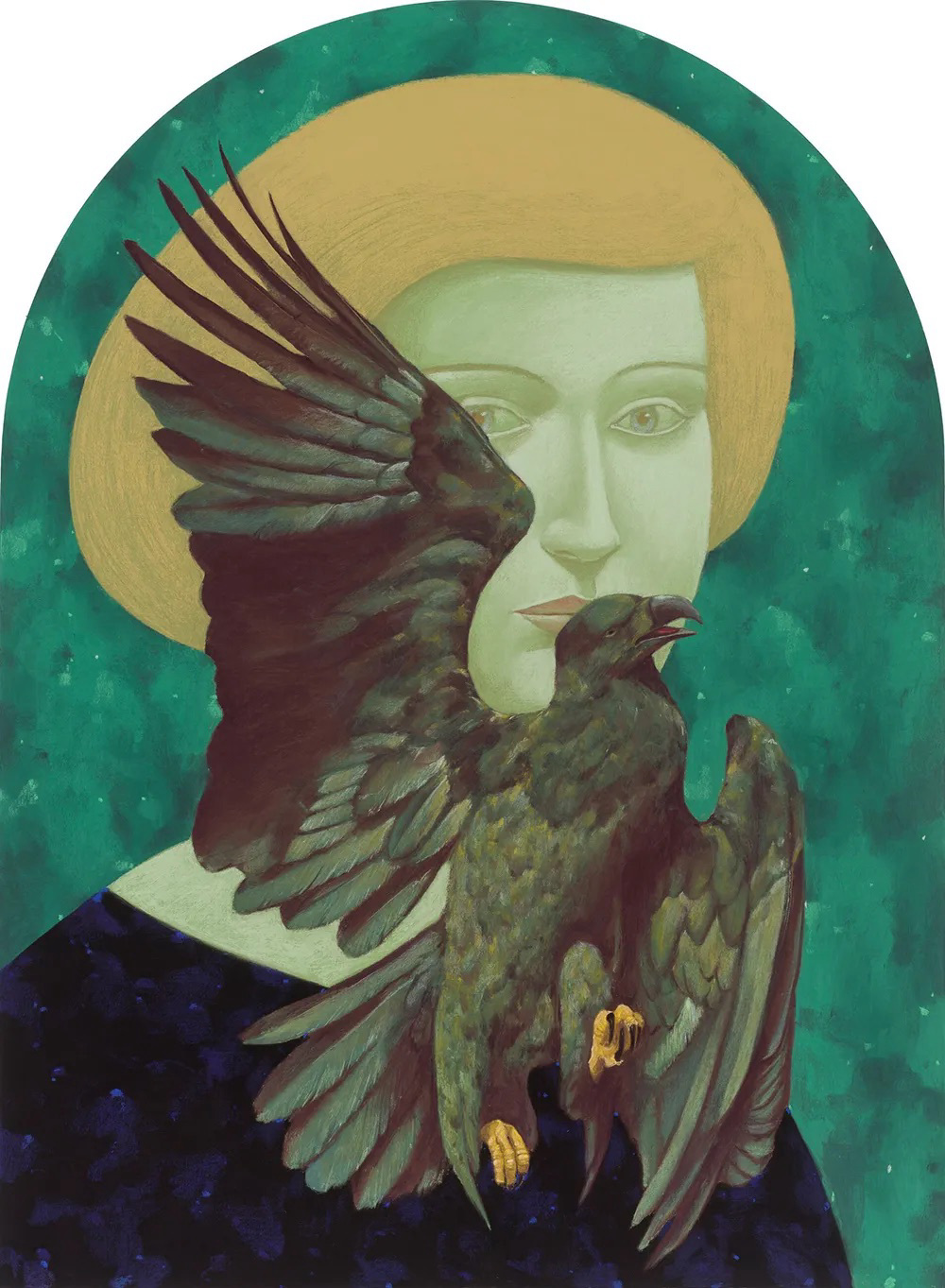 "Rosa has been revisited recently through the lens of ecofeminism," Party tells me. "That's not a term that existed in the 19th century. Still, the way she depicted animals, and our relationship with them and nature, feels extremely modern. These kinds of anachronisms are central to this exhibition."
Two new site-specific murals at the gallery elaborate upon Party's alluringly luxuriant, yet apocalyptic visions. Extensions of both his "Swamp" and "Red Forest" series, the murals are intended to transport viewers into a church-like moment of reverie. One, with red, blazing trees, inevitably calls to mind the recent Canadian wildfires. "Forest fires are one of the most visually striking events of our time," he says. "I want the exhibition to have that kind of transcendent quality, rooted in today, but linked to the past. Frightening, but also beautiful."
"Swamp" will be on view from September 7 to October 21, 2023 at Hauser & Wirth in New York.