It's three days into the Writers Guild of America strike, which necessitates that all Hollywood writers lay down their pens, and already television has suffered great losses. Pete Davidson hosting Saturday Night Live ? Canceled. Bowen Yang making snarky comments on The Tonight Show Starring Jimmy Fallon? TBD. The fate of Abbott Elementary's titular will-they-won't-they romance? It hangs in the balance. The last writers' strike, which began in late 2007 and stretched on for three long months, halted The Office in its tracks, kneecapped Breaking Bad, and delivered a deluge of semi-entertaining reality TV to tide everyone over, as well as a few poorly rated franchise films. This time around, the question on everyone's mind seems to be: will it get that bad? CULTURED tapped a host of screenwriters to answer this burning question, and give industry outsiders a sense of what caused 2023's strike in the first place.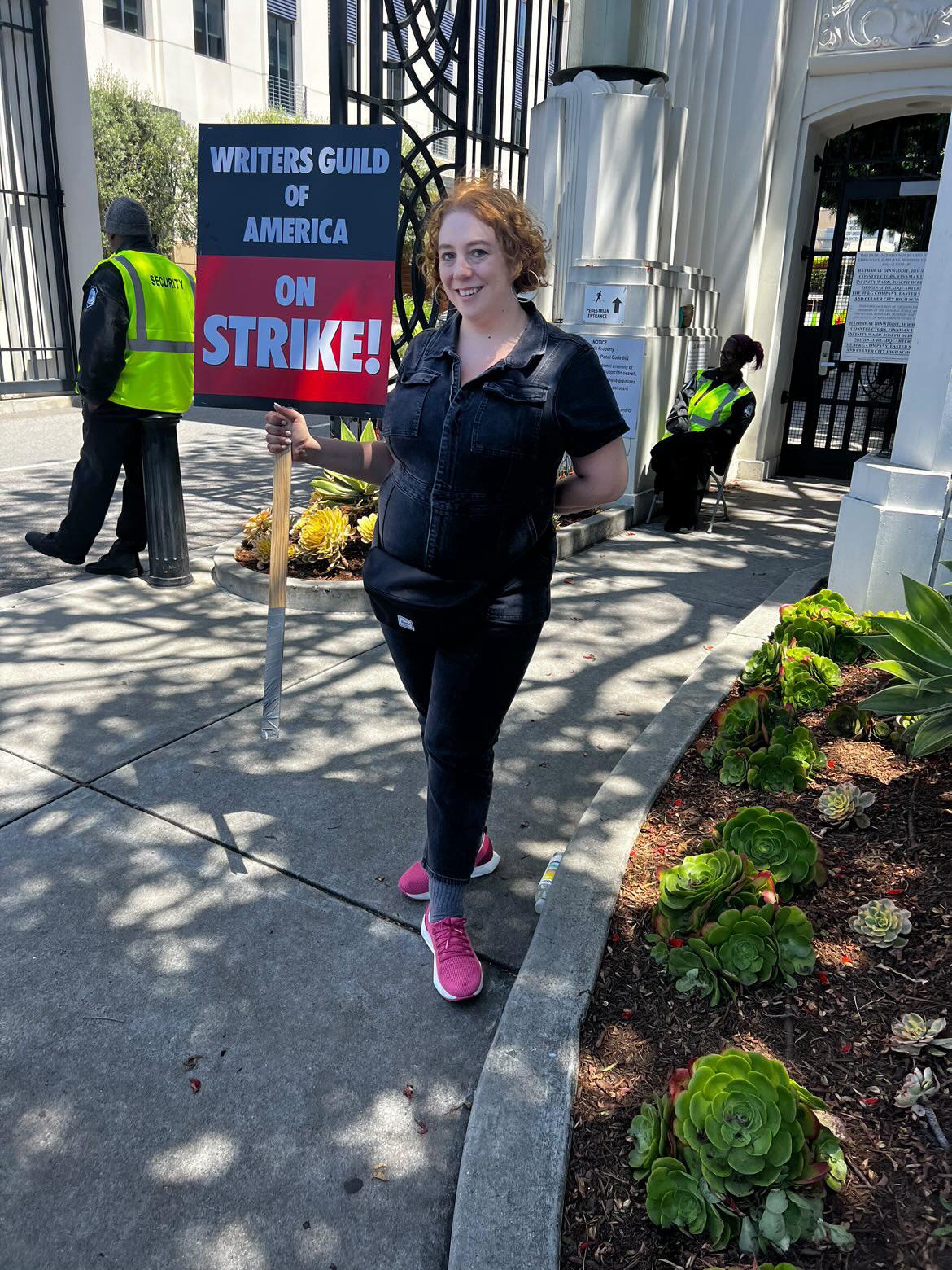 Leila Cohan: Writer, producer, and WGA member
Cohan is an Emmy-nominated writer who has worked on shows including Bridgerton, Awkward., and First Wives Club.
"In terms of how bad TV is going to get, I think you're not going see the effects for a little while outside of late night. Obviously late night shows have already been shut down. But there are shows in the pipeline at most streamers. If this goes [on] for a while, favorite network shows like Abbott Elementary will not come back in the fall, because they would need to start their fall writing quickly. I think the effects of this, weirdly, will not be felt until next year or even the year after that.
I've been in this industry for 11 years, and I have seen the change from writing being a career track job. The old model was that you would work a full season, you would have a little break, but you would come back and be continuing contributions toward your pension and health care. Residuals would take care of you in the years you weren't able to work. Now, it's really going from short term gig to short term gig. We are creating the content that these companies are building their businesses off of and we should be compensated fairly for that."
Ify Nwadiwe: Writer, actor, comedian, and WGA member
Nwadiwe has been featured on shows including Key and Peele, Comedy Bang Bang, and Workaholics, and has written for programs on BET and TruTv, among others.
"I guess it depends on how bad the studios let it get. You have some shows that stopped writing because of the strike, but there are shows that finished delivery of their scripts and they'll try and move along with business as usual. However, without an on-set writer, you really lose the glue that keeps things cohesive from page to screen. So that would probably be the first sign. After that, eventually the well is going to dry up and eventually it'll be hard not to notice the absence of writers. I say all that to point out that it won't exactly be instantaneous. I also say 'as bad as the studios let it' because they can end the strike tomorrow. They know what our demands are, and we know they have the ability to meet them. Almost all of the CEOs received a bonus last year that could've covered our new contract AND a yacht/jet/etc.
It honestly isn't 'Hollywood' that makes me mad. I feel like that'd be unfair to the rest of Hollywood. It's the greed behind it. There's a lot of joy in the collaborative process of creations from page to screen to the tweets about the screen. However, and I feel like this is the same for all labor, the people at the top start to try and figure out ways to cut the laborers out of their own piece of the pie so they can take home a bigger slice. At that time, we find our joy in the collaborative effort of unified solidarity. We just need to remind them how the pie is being made."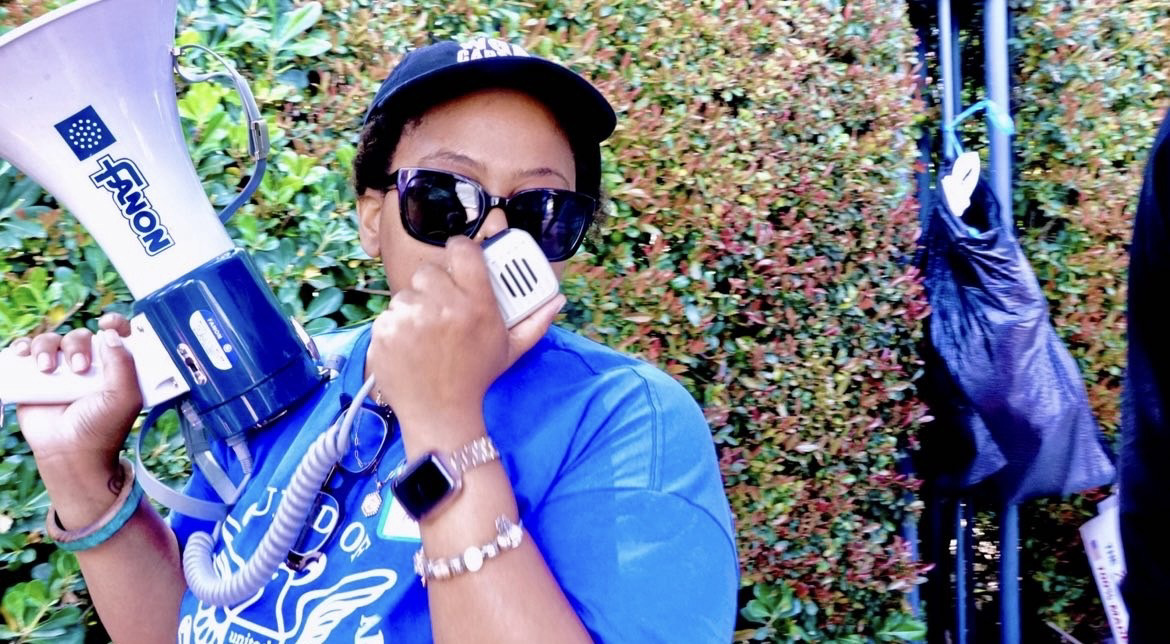 Caroline Renard: Writer, actor, director, and WGA Captain
Renard has worked on projects including Secrets of Sulphur Springs, Bossy Bear, and the upcoming Unbraided.
"The thing that makes me so mad about Hollywood is the fact that they'll sit up here and pat themselves on the back about their so-called strides in diversity and inclusion and yet they continue to make it extremely hard for the diverse voices to be able to make that film or show. When you make it difficult for people in marginalized communities to make this a livable wage, then we don't get those filmmakers making the diverse stories.
One of the things we're trying to emphasize is that the job of a writer is more than just turning a script in, it goes all the way through production. Writers are changing lines, making alt changes, giving notes to actors, giving notes on cuts and watching dailies, making adjustments depending on location, there's so much that happens beyond just one script which isn't even one script—there's production drafts. So if there's no writers on the set of a production to make sure all those things are happening, let's just say the end product isn't going to be as good as it could be. And no, actors and directors can't do those things."
Zack Bornstein: Writer, director, producer, and WGA member
Bornstein is a self-described "Emmy-losing, WGA and Peabody Award-winning writer" who has worked on Saturday Night Live, Shrinking, and more, and directed shows including Jimmy Kimmel Live.
"No one wants to strike, but writers need to be able to share in the success of the work they create. Every union is marching with us: Teamsters, SAG, IASTE, DGA, Laborers, and more, because the issues we're fighting for are issues that are coming for every job and every industry, if they haven't already."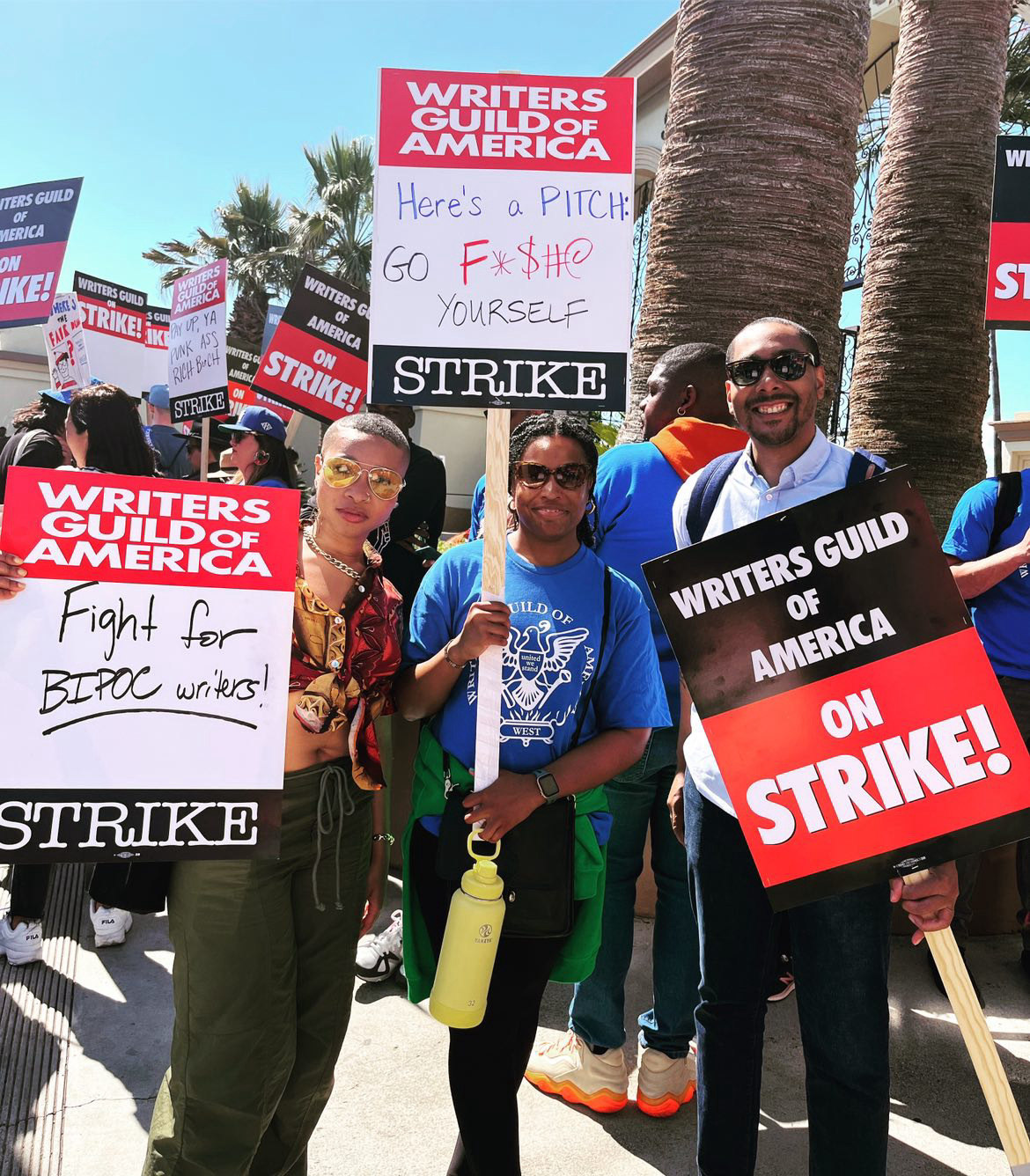 Kyra Jones: Writer, actor, director, and WGA member
Jones is currently a staff writer of Woke and Queens, as well as the co-creator and star of the award-winning web series The Right Swipe.
"Folks who are old enough probably remember that during the 2007 writers' strike, TV got pretty abysmal. The studios' unwillingness to stop twirling their mustaches long enough to make a fair deal led to the demise of hit shows like Girlfriends and Heroes. But things are a bit different this time. Since streaming is king, a lot of these studios are boasting about having tons of unreleased shows they've banked in anticipation of the strike. So most of the immediate impact will be seen in broadcast shows, since they film while the writers rooms are still in session.
There is so much about Hollywood that makes me mad, but what's really firing me up right now is how little these studios value their artists and other workers. And the thing is, we know they're bluffing. They are well aware of how important we are. They just try to gaslight us into thinking otherwise so that we don't fight for what we deserve. But obviously that tactic isn't working out for them. We're not lucky to have our jobs. They are lucky to have US."
Ira Madison III: Writer, actor, producer, and WGA member
Madison has written for shows including Q-Force, So Help Me Todd, and Uncoupled. As a cultural critic, he has contributed to publications including GQ, The Cut, and Vulture.
"TV is going to absolutely suck during this strike, because without writers writing anything, networks are going to rely on reality TV again like they did during the last strike [in 2007]. Only I don't think there's many more NeNe Leakes or Tiffany Pollards on the horizon to make the shows more interesting. And have you seen the shows on Netflix that aren't Selling Sunset? It's the trenches.
A lot of things about Hollywood make me mad—Q-Force getting canceled, the second season of Desperate Housewives, Samantha not being on And Just Like That—but the shitty residuals from streamers make me more angry. I've worked on one network show, and the rest are all Netflix shows and only the former will pay my rent for the year! The latter is the cost of a flight ticket… from Manhattan to Brooklyn."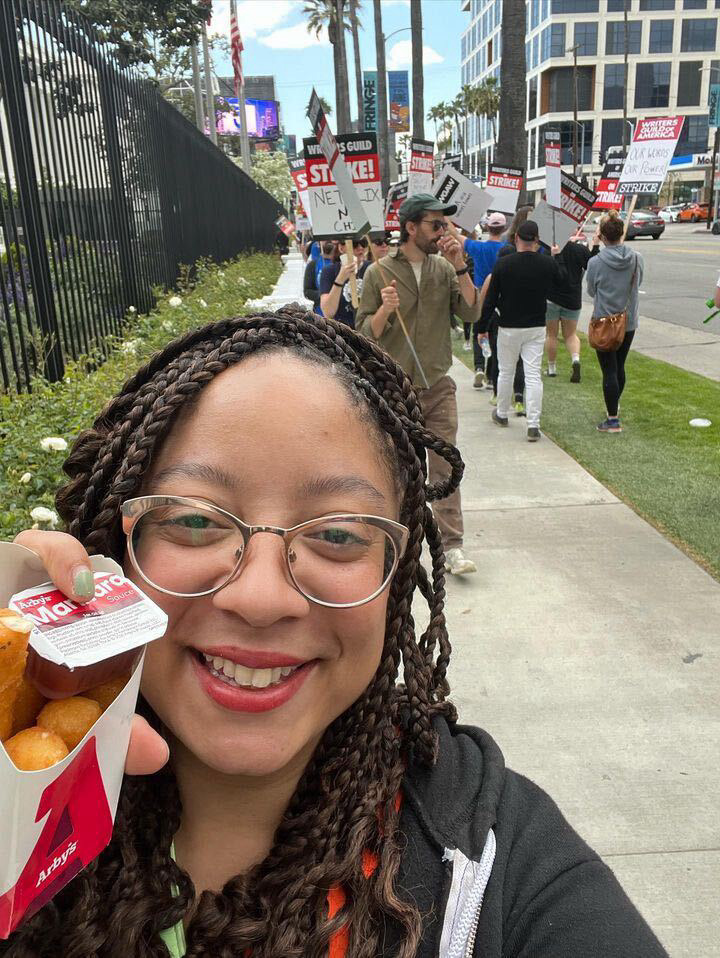 Ashley Ray: Writer, comedian, podcaster, and animation guild member
Ray has written for Adult Swim's Alabama Jackson, filmed a special with HBO Max, and is host of the TV I Say with Ashley Ray podcast. She has also written for publications including The A.V. Club, Emmy Magazine, and Variety.
"Writing is a profession, kids should get to grow up feeling like they can have a stable salary working in this industry. We shouldn't devalue writers. Buildings, people, writing—these are the things that last centuries, and the studios that want to charge me for using multiple devices or sharing a password think they mean more than that? No! Netflix ruined the Love is Blind reunion, not writers. They can be replaced, not us."