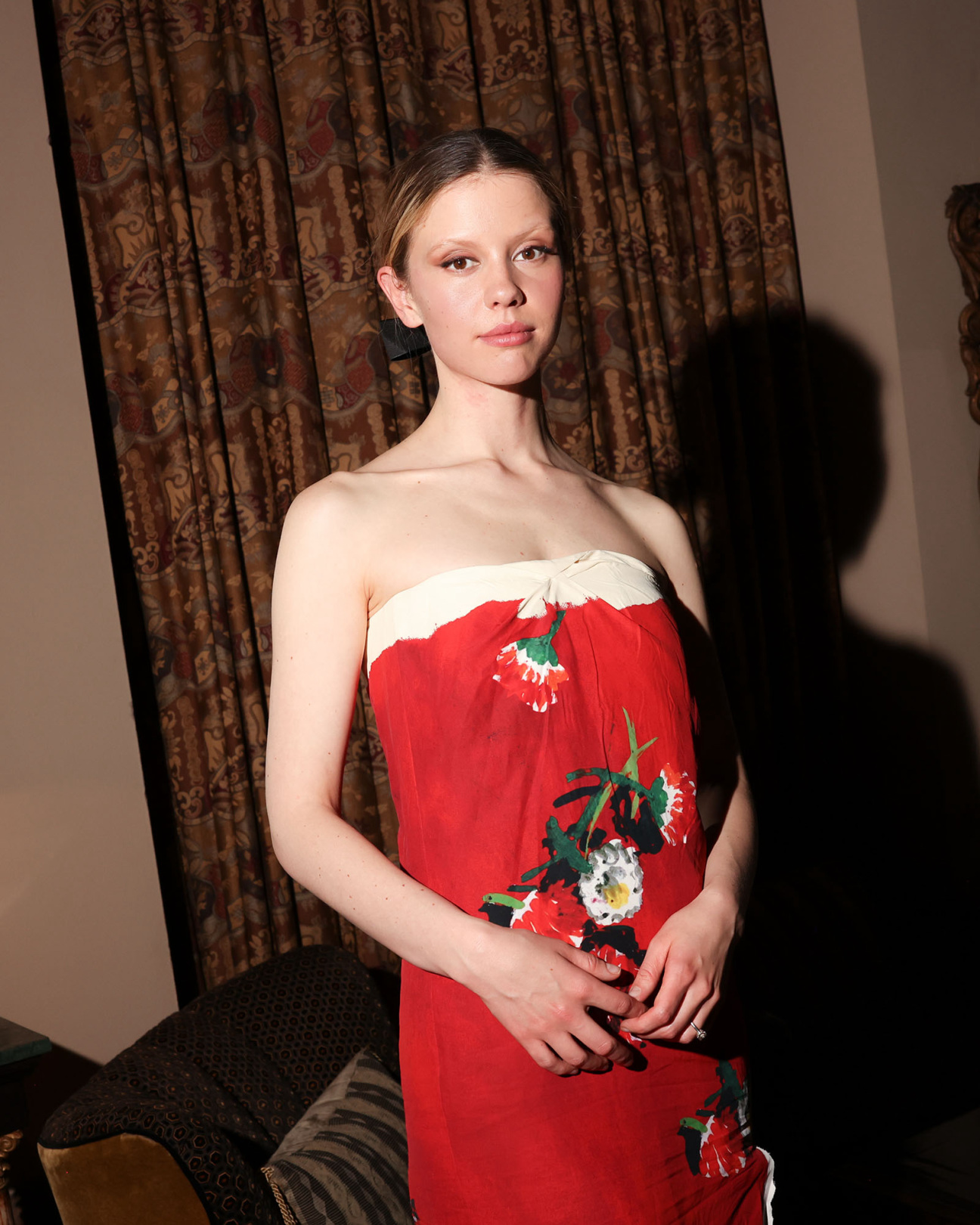 Last night, Prada joined CULTURED in celebrating the magazine's new arts and entertainment issue with an intimate dinner at the Chateau Marmont. The evening's guest of honor was CULTURED's cover star Mia Goth—fresh off the Miu Miu runway in Paris—who joined in welcoming friends including Finneas, Claudia Sulewski, Numa Perrier, Sam Farago, Lauren Quin, Janicza Bravo, Andrew Garfield, Martine Syms, Vito Schnabel, Ariana Papademetropoulos, Grace Van Patten, Jackson White, Hailey Benton Gates, Georgia Ford, Mercedes Kilmer, Rel Schulman, and Lorraine Nicholson.
Dressed in a red organza shift and leather trench from Prada's Spring/Summer 23 runway collection, Goth reunited with director Ti West, her collaborator on the cult horror trilogy X series. In the latest issue of CULTURED, the actor told her co-star Kid Cudi that shooting the films (two of which were released this past year) was "one of the most creative and fulfilling experiences of [her] life." Full immersion is an essential part of Goth's creative ethos—the British Brazilian actor donned head-to-toe Prada for the arts and entertainment issue's cinematic and widely celebrated '60s-infused cover shoot, lensed by photographer Rachel Fleminger Hudson at LA's historic Palace Theater.
As CULTURED's fête commenced in the intimate main alcove of the Chateau Marmont—another storied LA institution—last night, guests arrived after braving the rare California rain and warmed themselves with martinis and champagne. After settling in at the candlelit table laced with arrangements by Puni Petals that included lush sprays of chocolate dahlias and maroon peonies, celebrants enjoyed a menu featuring pearls of osetra caviar and branzino à la munière. The room filled with animated conversation as guests cozied up at the piano and piled onto love seats near the bar, and the festivities lasted late into the evening, kicking off Oscars weekend with style.