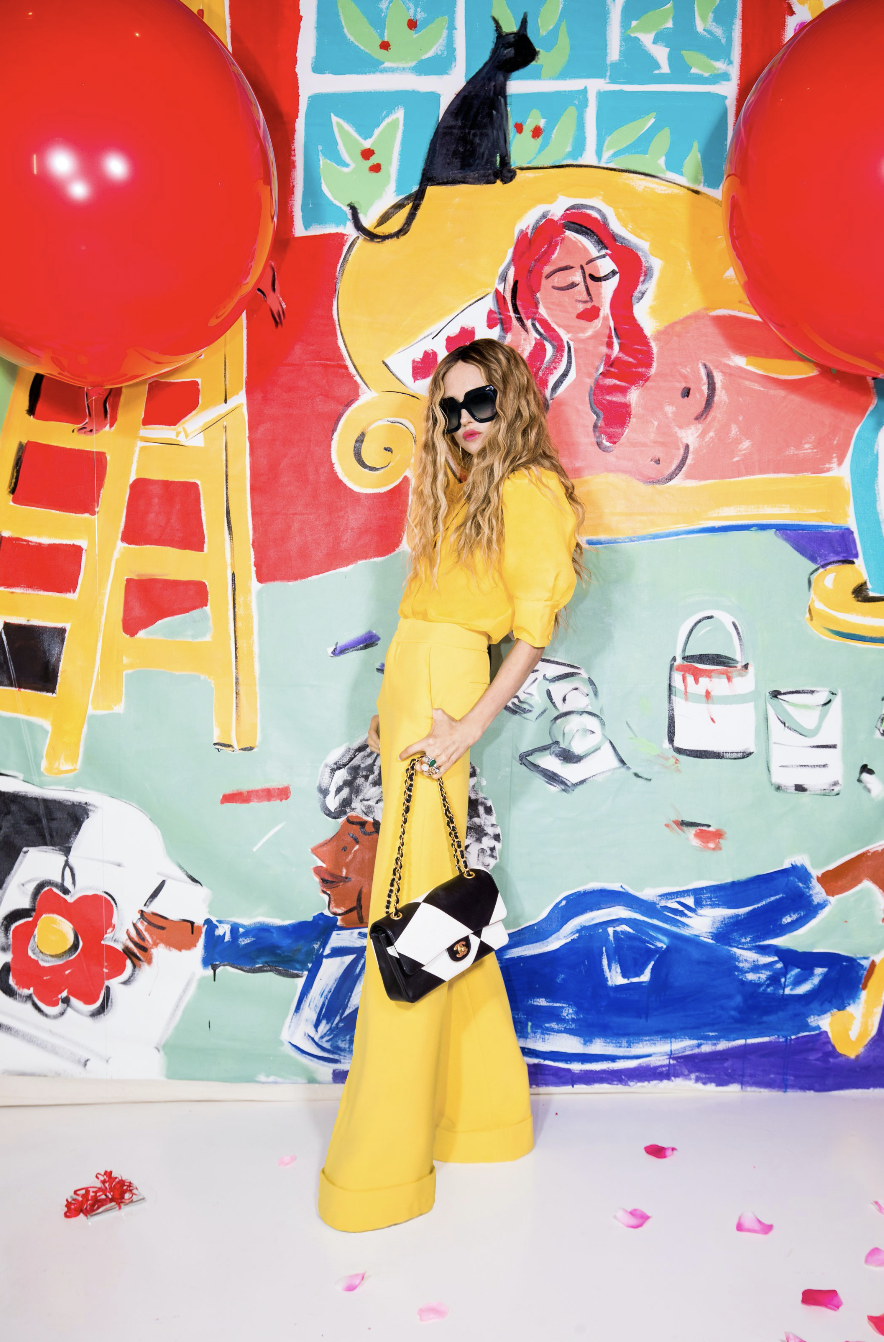 Stacey Bendet met Aziza-Abdullah Nicole last March at the private members-only club Zero Bond in New York. The alice + olivia founder previously stumbled upon the Brooklyn-based artist's portfolio of hand-crafted jewelry while browsing Creatively. After meeting at an event for the networking platform, she loved her work so much that she invited the artist to sell her pieces in six alice + olivia stores across the U.S. "That's the power of Creatively," Bendet says of the startup she co-founded in 2020. "As a brand, I can access and discover innovative talent while also giving new career opportunities."
The platform offers a tool for artists and workers in creative fields to secure jobs, meet peers, and apply for projects with top-name brands that are equally eager to find fresh, emerging visionaries. Co-helmed by Joe Indriolo, founder of product design hub Studio, Creatively puts untapped talents—especially those of diverse racial, ethnic, or underrepresented backgrounds—in the sightlines of prominent companies.
It couldn't have arrived at a more timely moment. With Instagram in decline, Creatively fills a void of artistic discovery. Over the last few years, many creatives have relied on the Meta-owned social service to publicize their latest works and accomplishments, but now find that their posts are buried in the noiseof algorithm-driven recommendations and prioritized over by Reels. And forget LinkedIn—the professional social networking platform has proven cumbersome for job seekers who rely on visual mediums to demonstrate their range. With its text-heavy posts and corporate lexicon, it is often the last stop for entry-level professionals. Creatively bucks these social media networking trends. "If you're a creative or are looking to hire creatives, you'll notice other platforms aren't purposefully built to service our community," says Indriolo. "We make it easy for them to show off their work, collaborate, and get discovered all in one place."
With the unrelenting segmentation of digital tools in our daily lives—Pinterest for moodboards, TikTok for promotion—Creatively enables job seekers to update their professional goings-on with a seamless in-app experience. A candidate can update their portfolio with their latest projects, follow and message colleagues, and search for open positions, all without leaving the platform. The job board is robust, too; currently, Creatively boasts listings from esteemed companies including the NBA, Tommy Hilfiger, Sunday Riley, and Nickelodeon Animation Studio.
For Bendet, the platform exists to highlight diverse, qualified talent. After over 20 years as a powerful voice at the intersection of fashion and pop culture, Bendet was wary of how difficult it was to identify Black and Brown artists and creative producers by relying on existing networking platforms. At the same time, she wanted to do her part in supporting newcomers, which is often the hardest stage of finding stability in any creative field. She cites Creatively's partnership with the Council of Fashion Designers of America as an early milestone for the company. Together, the two entities built the IMPACT talent directory to help brands connect with and hire Black and Brown creatives for full-time, freelance, and internship roles.
Three years in, Bendet and Indriolo are invested in the continued education and growth of Creatively members. The company extends ongoing invitations to industry leaders and artists to teach Creatively Classes, a monthly virtual education series that demystifies topics ranging from NFTs and the metaverse to navigating an interview and building a portfolio. And what's on the horizon in 2023? "There's a lot we're excited about," says Indriolo. He mentions expanding the CreativelyMade grant program and improving tools for talent discovery, including an upcoming "premium search" product for avid users to increase their visibility.
"We will continue our commitment to providing our creative community with the inspiration, skills, and mentoring they need to advance their careers," says Bendet. In 2020, Creatively announced a yearly "Class Of" initiative to spotlight rising talent from nearly 30 different academic partners such as Pratt Institute, Parsons School of Design, and Yale School of Architecture. Reflecting on the program, Bendet is particularly proud of the work of Cornelia Borgerhoff, a Creatively member named to Pratt's inaugural cohort. The Brooklyn-based fashion designer was hired by Coach as a design apprentice, and has recently been promoted to an assistant designer for the fashion brand's men's ready-to-wear department.
The search for fresh talent continues this spring as Creatively prepares to come to life beyond the Internet. In partnership with CULTURED, the company will launch its inaugural digital and experiential event, CreativelyCultured, honoring over 100 talented creatives discovered on the platform. The honorees will be selected by artists across a broad spectrum of mediums, such as musician Alicia Keys, photographer Jamel Shabazz, interior designer David Netto, multi-disciplinary artist Awol Erizku, and filmmaker Gillian Laub.
"I love that Creatively and CULTURED are coming together to amplify the power of creative collaboration," says Keys. "I may be known as a solo artist, but my art has been a success because of teamwork, inspiration, and the talented creatives around me."
Selected to participate because of their communal ethos, the artists' honoree picks reflect Creatively's commitment to bridging generations in artist communities. "My creative process is rooted in collaboration, whether it be with the subject or the team behind a shoot, creating memorable moments for all involved," explains Shabazz. In fact, collaboration is what award winning author Jason Reynolds, who is also on the CreativelyCultured selection panel, calls the "corner-stone" of his work. "Whether it be with my editor, an artist, or the world itself, I am always in creative discourse in an effort to tell a story that stretches beyond my solitary office chair," he continues.
The future looks bright for Creatively and its members. Just three years ago, Bendet and Indriolo made the fateful decision to launch their platform ahead of schedule in order to support entry-level jobseekers hunting for work at the height of the pandemic. The company has earned a reputation for bringing life and warmth back into the professional realm for artists of all stripes—and it's entering 2023 with a full head of steam.