This week the international art milieu flock to New York for a highly anticipated Armory Week, which coincides with "back-to-school" art openings since the fair's calendar moved from its staple place in early March. While the central art exhibition draws over 240 galleries from more than 30 countries, many top hometown galleries are opening some of their strongest shows yet—and feature Cultured Young Artist alumni including, Christina Quarles, Rindon Johnson, Lucy Bull, Sable Elyse Smith, Kristi Cavataro, Jordan Casteel, Hayden Dunham, and more. Outside of the Armory, here are 10 New York art shows you must see this fall.
"In 24 Days tha Sun'll Set at 7pm" by Christina Quarles at Hauser and Wirth, Chelsea
One of her generation's most prolific figurative painters, Christina Quarles, portrays the human body at its most vulnerable. She produced this new series of paintings during a summer residency in Somerset, England. Quarles' figures appear genderless, rendered as intricate anatomical beings interconnected through multiple planes. Shattering the societal facade of physical classification gives her viewers space to discover new meanings and see people in a different light. Quarles builds a visual vocabulary with reverence for the liminal space between the mind and body.
"Piper" by Lucy Bull at David Kordansky Gallery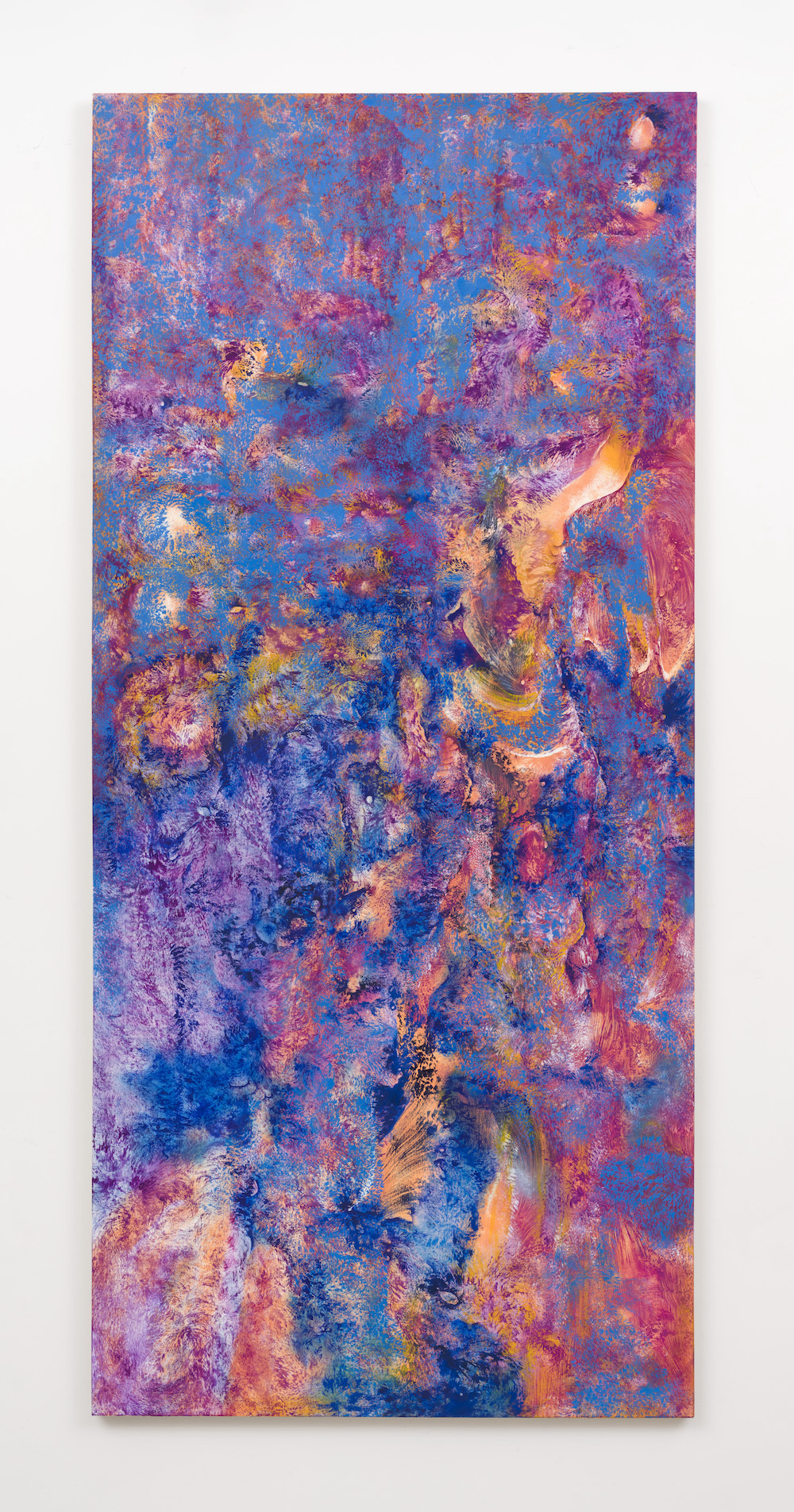 Lucy Bull's new oil paintings on linen emerge as silken panoramas of color epitomizing light spectrums. Bull uses abstraction on her canvas to articulate control over the sensorial experience; pigments blend to form elements of the natural world while embracing the universe's simultaneity. It's easy to get lost in these works, their power lying in the meditative notions provoked in the viewer.
"Dark Dreams" by Yuri Yuan at Alexander Berggruen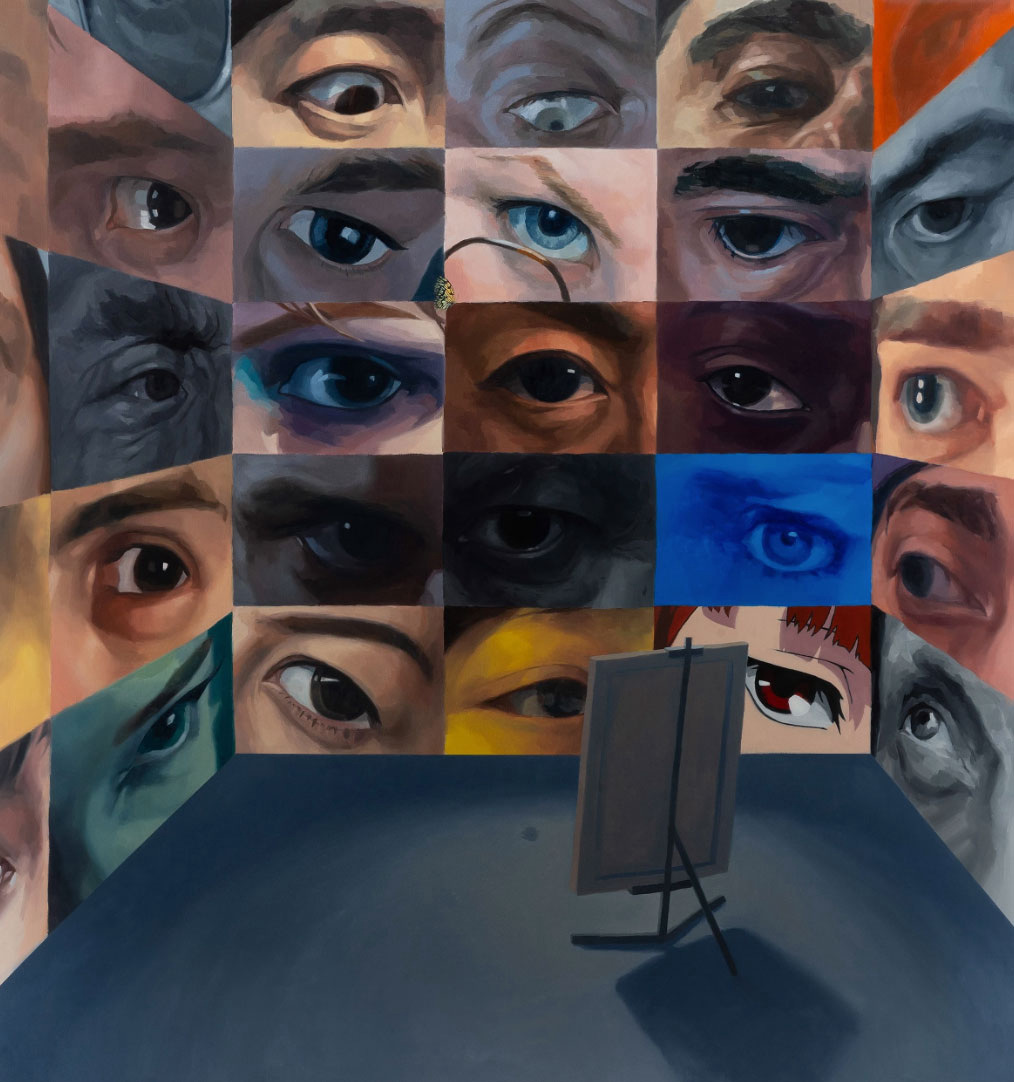 From an Argus-like room with multiple eyes to a knight on horseback wielding a saber, Yuri Yuan seeps her canvases with personal references that she uses to understand the psychology behind fear. Layered with intimate moments of self-discovery, the artist grants the viewer leeway for voyeurism into her private dream state, capturing them as fleeting moments. Yuan grapples with the uneasiness of memory recollection and portrays various instances of invisibility where the protagonist is alone, an outsider, or perhaps a superpower.
"Cuvier" by Rindon Johnson at François Ghebaly
Dedicated to the remarkable Cuvier's Beaked Whale, which inhabits ocean waters deeper than 1,000 feet, Rindon Johnson presents a collaborative video game with artist Jacqueline Kiyomi Gork that overlaps with a unique mélange of marine-inspired sculptural stained glass works. Engrossed in the poetics of undersea life, Johnson primarily focuses on the whales' hunting and feeding patterns. In this video game, visitors can play as a whale preying on squid deep in the ocean.
"Meditations on Social Sculpture" by Rick Lowe at Gagosian Gallery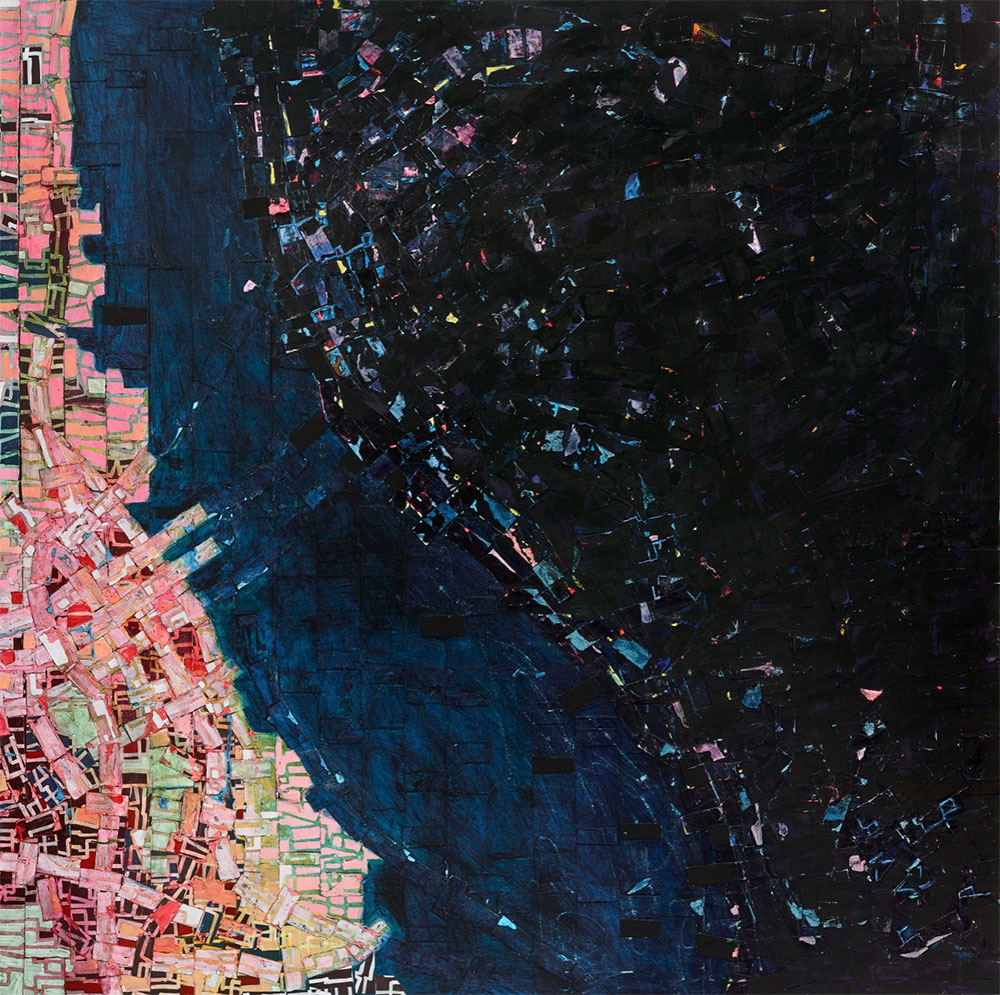 Fresh from his inclusion in the 2022 Whitney Biennial, Rick Lowe opens his first solo show at Gagosian Gallery with a body of abstract paintings conceived from working with local communities across the Houston, Texas area. Through the work Lowe interrogates social structures, probing questions on wealth disparity, architectural inequity, and aerial discrepancies demonstrating how societies are divided. Clusters of contrasted shapes appear as city maps that come together as symbols that form a script.
"Tithe" by Sable Elyse Smith at JTT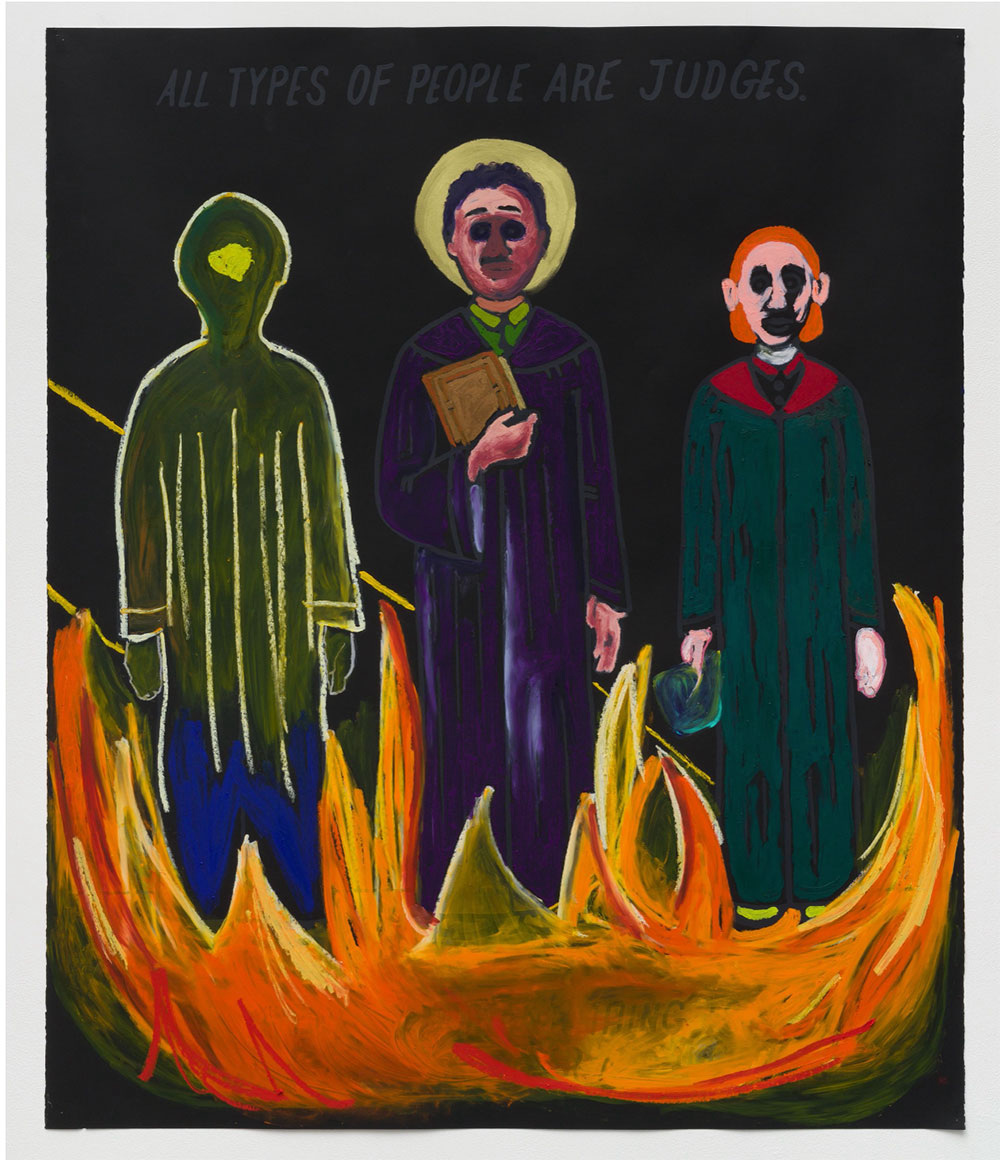 Setting a blow torch to purported sanctity, Sable Elyse Smith's new work takes from religious iconography to question the morality of power structures concerning correctional institutions. Drawing from humor and irony, Coloring Book 99 (2022) depicts three figures, including a saint and a judge, that materialize from the fires of hell. A slogan above them reads, "All types of people are judges," addressing the lack of trust in judicial systems and the datedness of politicized religious ideologies.
Kristi Cavataro at Ramiken
Kristi Cavataro's three-dimensional Tetris-like sculptures constructed of stained glass are architectural as they are playfully reminiscent of pipe toys. Her prismatic sculptures mimic the contorted shapes found in a concrete urban topography. In this exhibition, Cavataro employs elaborate warping forms that emulate utilitarian objects and sights of unrecognized structural fragments.
"Time Sensitive" by Issy Wood at Michael Werner Gallery
Multidisciplinary artist and musician Issy Wood uses found and appropriated imagery to inform her new series of paintings. Her choice of mementos acts as a sequence of snapshots of unnoticed moments, creating rich worlds that challenge a hierarchical point of view. Wood's works operate as a tapestry of ephemeral objects, questioning notions of obsolescence and remembrance.
"In Bloom" by Jordan Casteel at Casey Kaplan
Illustrating her personal life and community in nine figurative and landscape paintings, Jordan Casteel continually analyzes the way she interacts with her environment. I was first drawn to her work at the Denver Museum of Art, where she portrayed several subjects from her neighborhood in Harlem. With Casteel, it's all in the details; each work shares attributes that further demonstrate her subjects' human complexities.
"Transmutation" by Hayden Dunham at Company Gallery
Interdisciplinary artist Hayden Dunham works through assemblage and sound to examine how human relationships correspond to environmental toxicity. She is currently constructing a "160 degree mineral-rich hot spring water" reserve that has opened up an inquiry into atomical relationships of solid and liquid forms. Dunham collaborates with composer Finn Keane to create a multi-sensory sound experience, which coincides with her new album Clearing.