Tiona Nekkia McClodden's artistic practice resists categorization. The talent excels as a painter, sculptor, writer, filmmaker and curator. She is the founder and director of Conceptual Fade, a micro-gallery and library centered on Black thought and artistic production. Her work explores shared values and traditions within the African diaspora, the "Black mentifact," as she calls it. Now, with a solo show on view at David Zwirner's Tribeca outpost 52 Walker, and another opening August 3 at The Shed in New York, McClodden has firmly established herself as a leading voice in contemporary Black culture.
"MASK / CONCEAL / CARRY," McClodden's exhibition at 52 Walker, includes new painting, sculpture and video. With just three shows under its belt, the gallery—run by Cultured 2022 Young Curator alumnus Ebony L. Haynes—has already become known for immersive exhibitions that are refreshingly long, each spanning roughly three months compared to the standard four to six weeks. McClodden's show is a perfect example of how powerful this kunsthalle model can be. Each work in "MASK / CONCEAL / CARRY" is layered with meaning that slowly reveals itself as the viewer moves through the space. Dark paintings with simple line drawings hang across a long wall. Sometimes resembling faces, they are ultimately abstract, yet it's hard not to feel like there's something more behind them.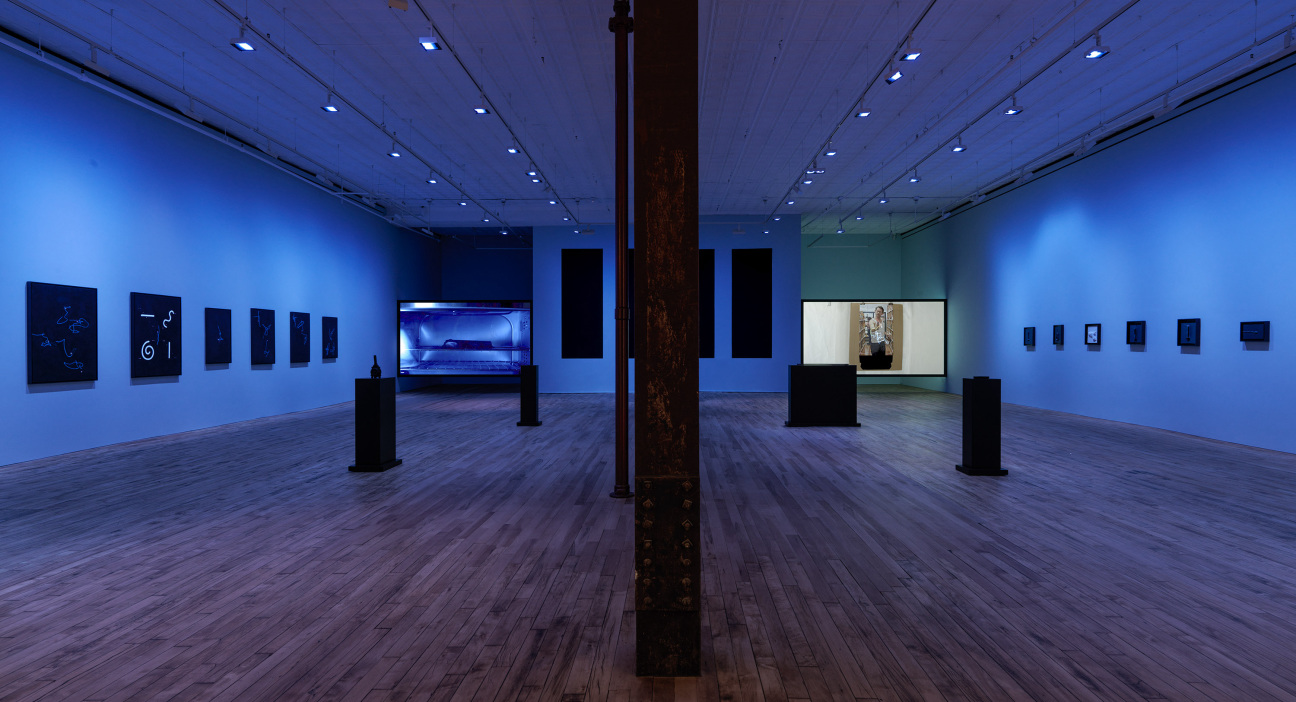 The lines suddenly appear in a video projected onto a large screen. In some parts, the video shows a line forming in space, drawn by an invisible hand in a continuous loop. In other clips, lines hover over the silhouettes of figures on ballistic training paper, which are then replaced with images of people. With this video, the viewer understands the abstract lines on the paintings are actually tracings of ballistic practice used to improve one's aim. There's something arresting in realizing beauty was made by an act inextricably connected with violence. As she often does in her work, McClodden has provided a space to engage with complex, difficult issues, while also giving the viewer room for personal introspection.
"The Trace of an Implied Presence," McClodden's upcoming show at The Shed, demonstrates her skill as a researcher, storyteller and filmmaker. In creating this body of work, she mined the archives of the Brooklyn Academy of Music. Her research led her to BAM's 1983 Dance Black America, a landmark festival featuring Black dancers, choreographers, scholars and dance companies. McClodden became interested in the organizers of the festival, in particular the lead curator, Mikki Shepard.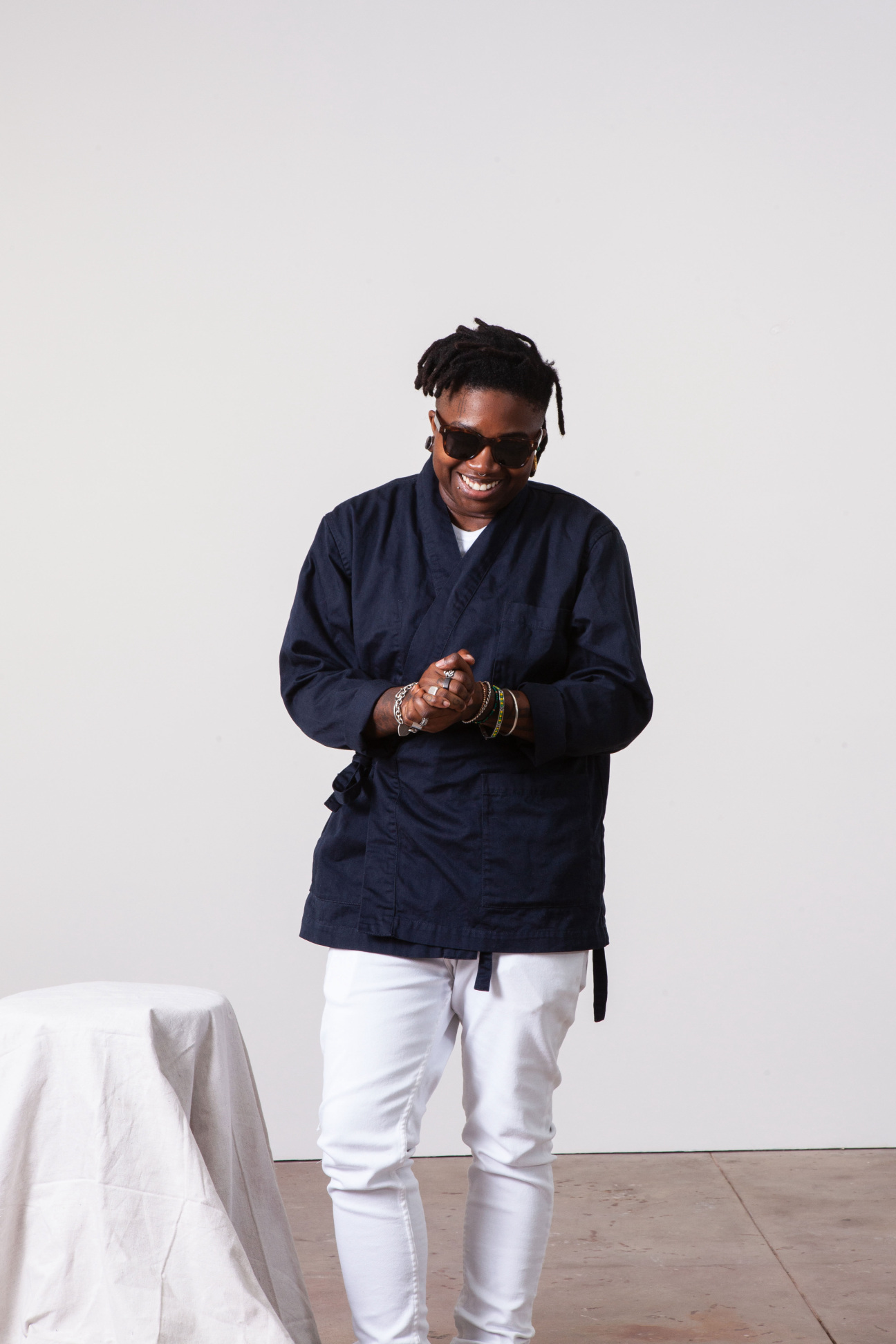 "I was immediately taken with the archival materials," writes McClodden in her artist statement accompanying the show. "I decided to focus on Mikki, a Black woman who facilitated so much Black cultural production. The archive demonstrates the immense opportunity of the project, but also how much was at stake. When I met with Mikki, she was warm, light and humorous. She was really sharp. She was generous. So I pitched her my idea. I proposed that I make an addendum to Dance Black America."
The project centers on a multichannel video installation that looks at the lasting impact of the festival, including those participants still dancing, teaching and writing today, as well as the surviving dance companies that continue to preserve the legacies of their founders. "For those who have passed, and for the companies that survived, those organizations become the legacy of the dancer," writes the artist. "I'm interested in this citation through the body, how performances and dances function as scores and how a company can retain the pitch and quality of their founder."
Projected onto screens hovering above four individual dance floors installed as stages, the video combines archival footage from the festival with features on key figures involved in its organization and footage of a Black social dance McClodden filmed in Philadelphia called the Philly Bop. Viewers are invited to dance on the stages alongside the videos. The result is both a living history and an intergenerational conversation on contemporary Black dance.
Remarkably different in disciplines and subject matter, these concurrent exhibitions offer a glimpse into McClodden's rich, multifaceted practice, one that paints a picture of an artist whose curiosity leads her. In all of her chosen media, questioning, unmasking and revealing Black experiences, artistic contributions and histories is a guide to art making.