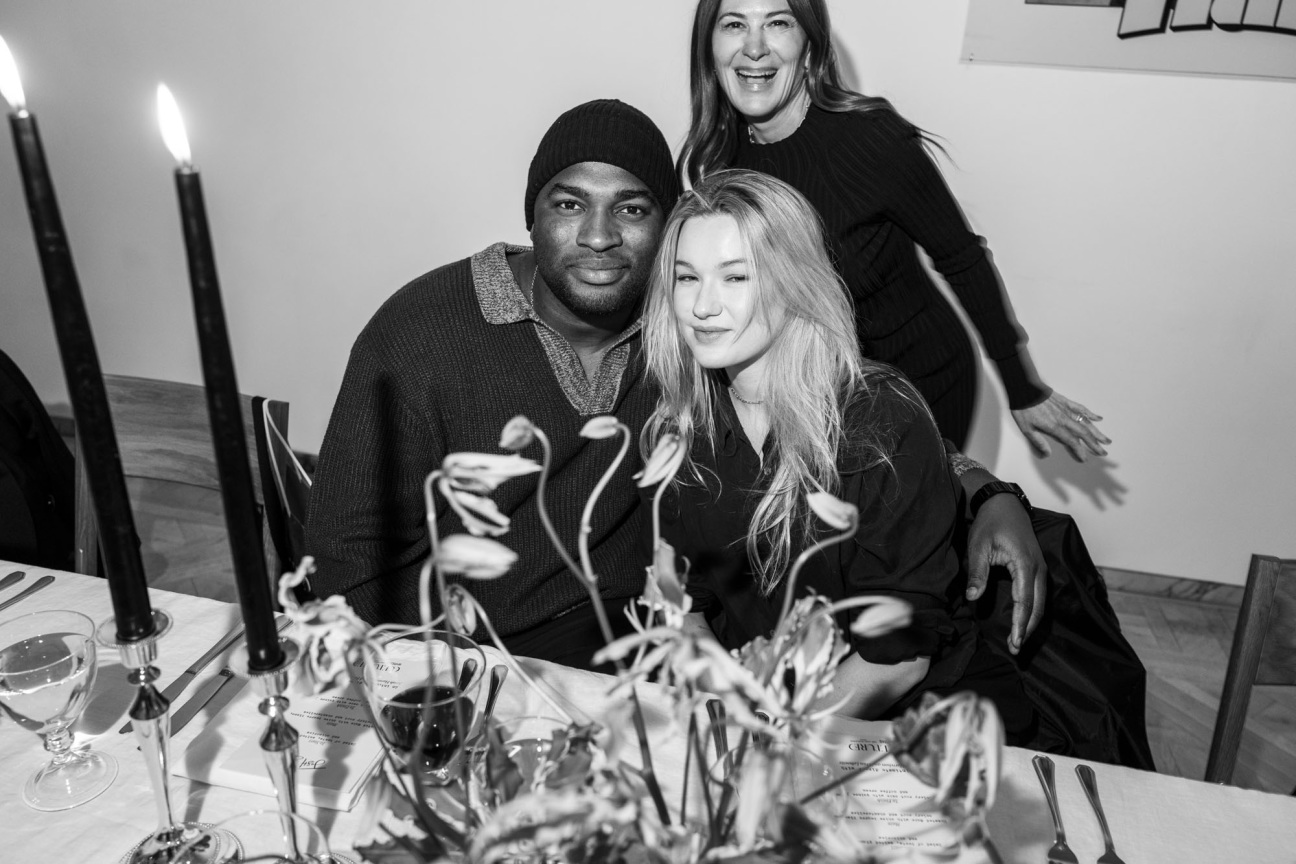 Fran Lebowitz is a New York legend. She was, perhaps, an influencer before we had a word for such a thing: someone whose opinion we covet though we're not entirely sure why. She's also CULTURED's latest cover star, and in the magazine's Winter issue, writer Nicolaia Rips dissects the cultural critic's ineffable legacy. A published author from the age of 17, Rips has spent her life navigating the city Lebowitz represents, and in the cover story, she charts their parallel paths through the metropolis and its storied haunts.
Last night, contributors and friends of the magazine—including comedian Delaney Rowe, actor Nicole Ari Parker, comedian Jerrod Carmichael, actor West Duchovny, actor Josh Bonzie, artist Louise Bonnet, photographer Daniel Arnold, designer Athena Calderone, designer Colin King, actor Daniel J. Watts, and philanthropist Ivy Getty—joined CULTURED's Editor-in-Chief Sarah Harrelson for a celebration of the issue and its iconic cover star, produced in collaboration with Hessney & Co. Lebowitz herself, famously just out of reach, did not grace the dinner with her presence. In Fran fashion, guests carried on regardless.
At Salon 94, which is currently showcasing exhibitions by Karon Davis and Myrtle Williams—attendees dined amongst an eclectic array of artworks. Davis's show, "Beauty Must Suffer," is an exploration of the simultaneous beauty and pain of the ballet. Williams's "Spirit of the Sisterhood" serves as an evolution of African women's history of bust-making.
Dinner, prepared by Chef Flynn McGarry of Gem Wine, was served along with drinks from The Lost Explorer Mezcal, which has been sustainably crafted in Oaxaca since 2020. Guests were invited to sip from a range of cocktails and a tasting table. The beverages included an Earthy Paloma with Lost Explorer Espadin, grapefruit, lime, agave, black salt garnish, and a dash of club soda; a Lost Explorer Salmiana 12-year mezcal poured directly over ice; and a dry Body Vodka martini with a twist.
Over the cocktails, Harrelson offered a toast saying, "We're here to celebrate Fran, and she's not here … She holds this very special place for all of us as a force. But, as everyone knows, she has no cellphone, no email, and really does her own thing … That being said, I'm so proud to unveil this incredible cover. It's hard to explain what Fran has meant to me as an intellectual. It's one of the covers I've been most excited about."
Watts, who just wrapped on his part in The Refuge Plays at Roundabout Theatre Company, then stood to recite a few of his favorite quotes from the cultural critic, including "Success didn't spoil me; I've always been insufferable," and "Polite conversation is rarely either."
As the evening wound down, guests perused the artworks on display, including Davis's plaster cast sculptures of dancers in motion and repose. As they departed, attendees left with an offering from Byredo, the Swedish luxury line of beauty and home products founded in 2006 by Ben Gorham.
Shortly, each will have a copy of CULTURED's new issue in hand as well, containing the magazine's annual Young Artists list. This year, the portfolio features 27 of the art world's brightest rising talents, spanning sculpture, photography, painting, performance, and more.
Pre-order CULTURED's winter issue featuring cover star Fran Lebowitz here.