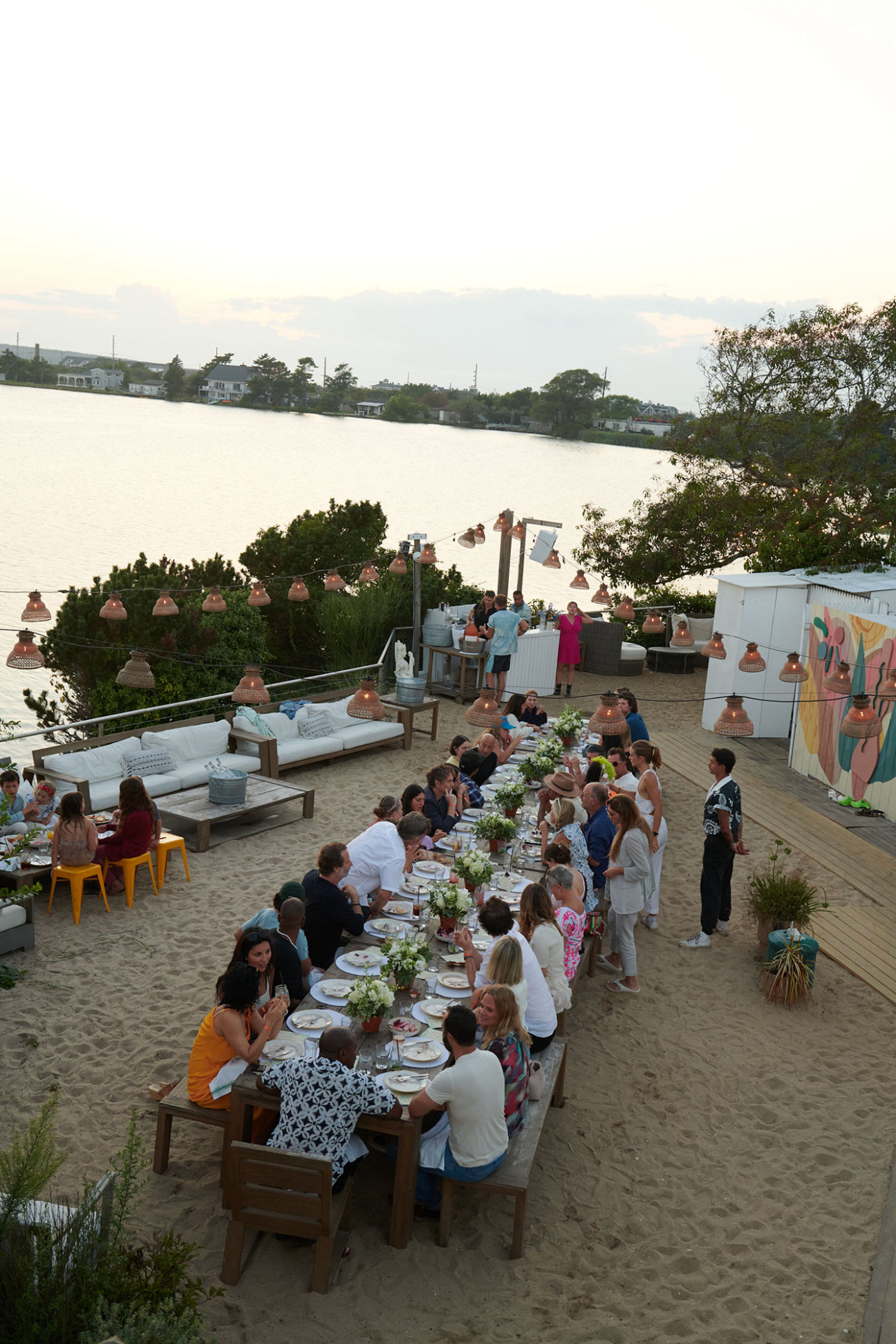 Guests flocked to Montauk's Surf Lodge on Sunday for an intimate dinner and cocktail celebration in honor of the Hamptons's very own Joel Mesler, co-hosted by the venue, CULTURED, and Surf Lodge curator Randy Scott. The artist, who served as the guest editor of the magazine's July Hamptons issue, knew very little about the East End enclave when he secured a small show of paintings at Surf Lodge in 2016.
"Fish People" provided an excuse for Mesler to travel outside the city and flex his artistic muscles at a time when the longtime art dealer's career as a professional artist was just beginning. What he found on Long Island proved refreshing—and, ultimately, life-changing.
"​​It was a magical night for me and my family," wrote Mesler of attending the exhibit's opening back in 2016 in a candid essay about his journey to both the Hamptons and sobriety. "I was taken aback by how different my experience was from what I thought it was going to be. Was it the air? Was that what was so different from the city? Why did I feel like I was in a place of healing, of calmness and reflection?" Less than a year later, he and his family moved to East Hampton full-time to start anew.
Mesler's dinner at the Surf Lodge, the place that cemented his love for the locale, was a family affair. The artist socialized with guests alongside his wife, ceramacist Sarah Aibel, and their children. Also in attendance was artist Rashid Johnson, one of the first to join Mesler's chosen family out east. Others soon followed. Last night, a who's who of the New York art world gathered for the celebration, including Arden Wohl, Jonah Freeman, Benjamin Godsill, Francesco Clemente, Michelle and Jason Rubell, Hank Willis Thomas, Sheree Hovsepian, and Tripoli Patterson.
Around a sunlit table adorned with white floral bunches and glasses filled with Whispering Angel's Provence rosé, guests were served a meal from the Surf Lodge's in-house selection of contemporary coastal cuisine. As the night wore on, attendees were invited to mingle on the sandy deck with watermelon coolers and spicy margaritas in hand, and to view Mesler's mural serving as the backdrop to the band stage. Beats by Arizona provided a sountrack to the setting of the sun over the water, offering another opportunity to take in the Hamptons's famous changing light.