Emerging from a point in history that was consumed by so much ambiguity and solitude, it's uplifting to come into contact with art that embraces that ambiguity, and even celebrates its strangeness. As the world begins to reopen and we're reunited with friends and family after large periods of solitude, the L'OBJET x The Haas Brothers Collection made a point to rediscover the joy of being close to our loved ones. The collection presents completely new characters and materials, with the goal to uplift a sense of wellness and high spirits.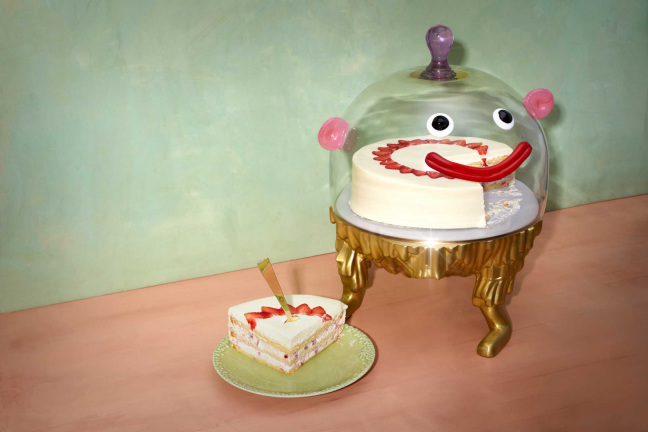 L'OBJET's founder and creative director, Elad Yifrach, and the Haas brothers worked closely together to search for answers about what it feels like to come back together after periods of solitude, to be present and connected in a world full of distraction and to share moments filled with much-needed human touch.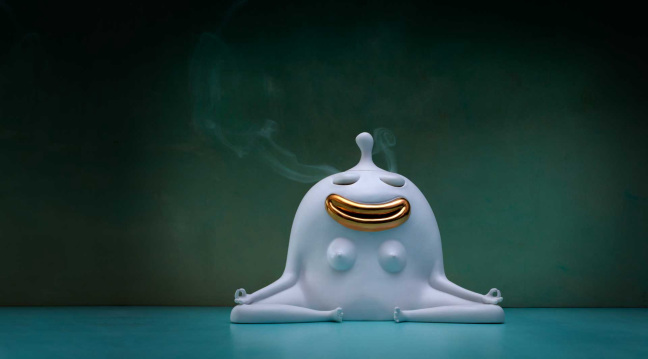 "The idea for this second collaboration came about during the first lockdown," said Nikolai Haas. "We were stuck at home, craving moments together and at the same time we missed creating things. We kept asking ourselves, 'how do we want to see the world emerge back from the pandemic?'"
The luxury design brand and the twin artist brothers first collaborated in 2019 when they created similarly whimsical and surreal fantasy characters. However this collection presents entirely new fantasy characters that double as vases, vessels, and table games, as well as serveware and home accessories. Each expressive and jarring piece transports you into the Haas Brothers' imaginative and curious sphere without having to venture to a far off land. It's as if each piece evokes a secret garden typically found in fantasy books.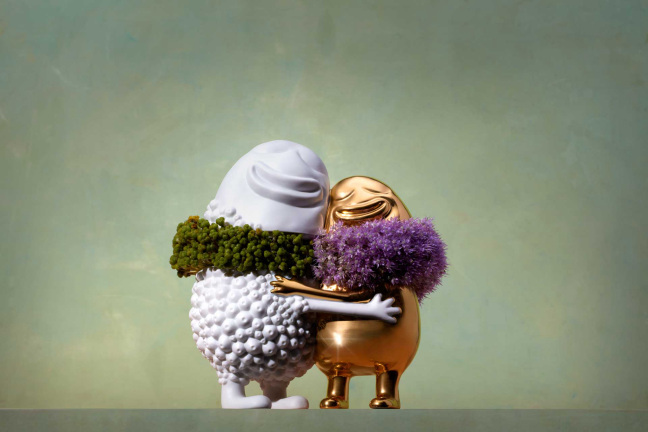 "The Haas Brothers and L'OBJET have a similar way of conveying messages in the details of how the pieces are made and used," said Elad Yifrach, creative director and founder of L'Objet. "There's always a romance or fantasy when you first look at the object, but once you start interacting the message reveals itself."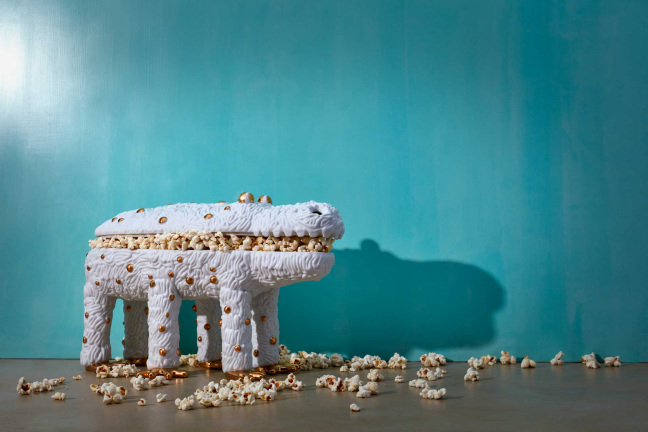 The Haas brothers are known for merging fantasy with reality and breaking the barriers between the two realms. They often create colorful, textured and fantastical looking creatures that bring both a lightness and playfulness to the sometimes rigid art world. Just 6 months ago, L'OBJET launched a collaboration with outlaw interior designer Kelly Behun, which blurred the lines between art and design in a series of flatware, bowls, trays, and frames.
"Despite having whimsical and artistic flair, all the pieces have a function," said Simon Haas. "That is something that L'OBJET always strives for— the creation of pieces that are both artisanal luxury and functional works of art."
The new collection features details of inlaid mother pearl and marble, 24K gold, shimmering iridescence, and exclusive pieces that transport you to a place of joyful familiarity and youthful hope. The collection includes cake stands, incense burners, lidded dishes, ashtrays, coffee pots and more.