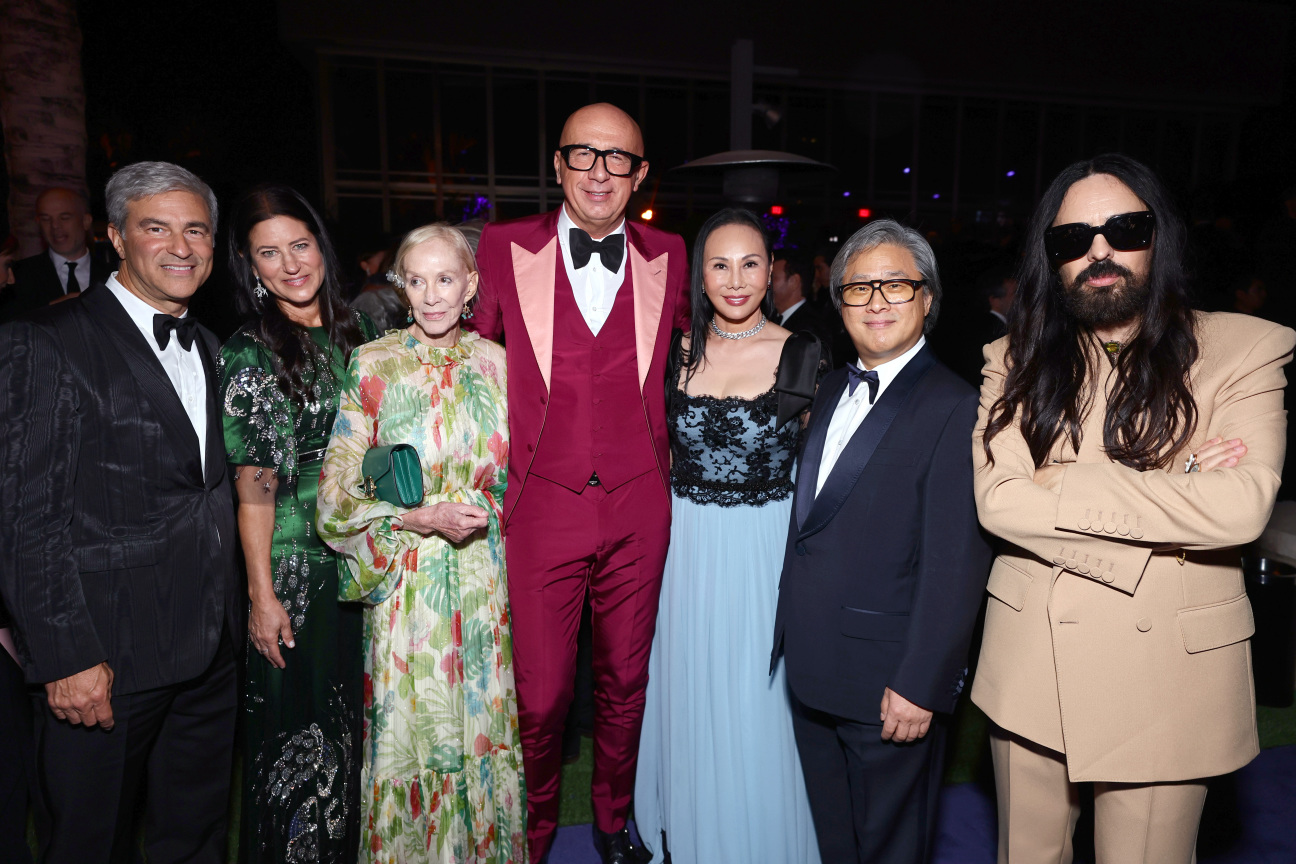 For the 11th consecutive year, guests from the film, fashion, and art worlds gathered in LA to celebrate the best and brightest of their cohort, all at the behest of the Los Angeles County Museum. This year's Art+Film Gala was co-chaired by LACMA Trustee Eva Chow and Leonardo DiCaprio.
It recognized the oft-underappreciated work of Helen Pashgian, a pioneer of California's Light and Space movement, which interrogates the effect of light on its surroundings. Pashgian was one of few female members of the genre that was dominated by male artists such as James Turell and Robert Irwin. Director Park Chan-wook was the second honoree, known for his films The Handmaiden and Decision To Leave, the former of which is a staple in sapphic filmography and the second just released this year to critical acclaim.
Gucci Creative Director Alessandro Michele was in attendance along with the many celebrity guests donning his designs. As the official presenter of the event, Gucci dressed about half the red carpet, including the likes of Billie Eilish and new beau Jesse Rutherford, who wore matching monogrammed Gucci pajamas; former Cultured cover star Finneas in a suit and pale purple Gucci blouse; Olivia Wilde in a sequined, chevron Gucci dress; Andrew Garfield dressed in a spotted, blue Gucci suit; Idris Elba in sleek Gucci black suiting and a red bowtie; and Janelle Monae, who of course leaned towards the avant-garde in a sequined Gucci dress sliced into white and black on a diagonal. Elton John, the musical performer of the night, also wore a blue Gucci suit frosted over with emroidered crystal flowers.
Attendees were treated to a meal by Michelin-rated chef Mattia Agazzi of Gucci's Osteria da Massimo Bottura restaurant in Beverly Hills. The evening was scored by a set from DJ D-Nice and aesthetically inspired by Michele's recent fascination with deep purples, as well as the light shows of honoree Pashgian. Money raised from the gala goes to support LACMA's initiative to make film a more prevalent aspect in its programming, with funding going towards film exhibits, aquisitions, and educational events.