Has Paris+ by Art Basel nudged aside its competitor, Frieze London? The question was given serious thought among the packed aisles of the Paris fair, now in its second edition at the Grand Palais Ephémère. The fair opened to VIPs on Wednesday and Thursday prior to its general opening from Oct. 20 to 22.
Visitors who arrived in Paris on the heels of Frieze London, now in its 20th year, said the physical toll of the back-to-back events forced many to choose between the cities. In the past, that has tended to mean London took priority over the French capital. However, the needle seems to have moved following the surprise replacement of the FIAC art fair with the more international Art Basel brand last year. Brexit-related woes and the growing attraction of an expanding Paris art scene are additional, major factors.
Is Paris+ replacing Frieze? "Definitely, sadly, and annoyingly so," answers Ben Brown, of Ben Brown Fine Arts in London, while strolling the aisles. "The English voted for Brexit, which is a catastrophe for business … As a result, we're being edged out. It's easier to do intra-European business here than in England, where you've got all sorts of piles of paperwork to move things from one country to another," he added. As a solution, Brown is considering opening a gallery in Italy. He noted that the prospect of moving to the newly renovated, glass-ceilinged Grand Palais in 2024 presents an additional draw.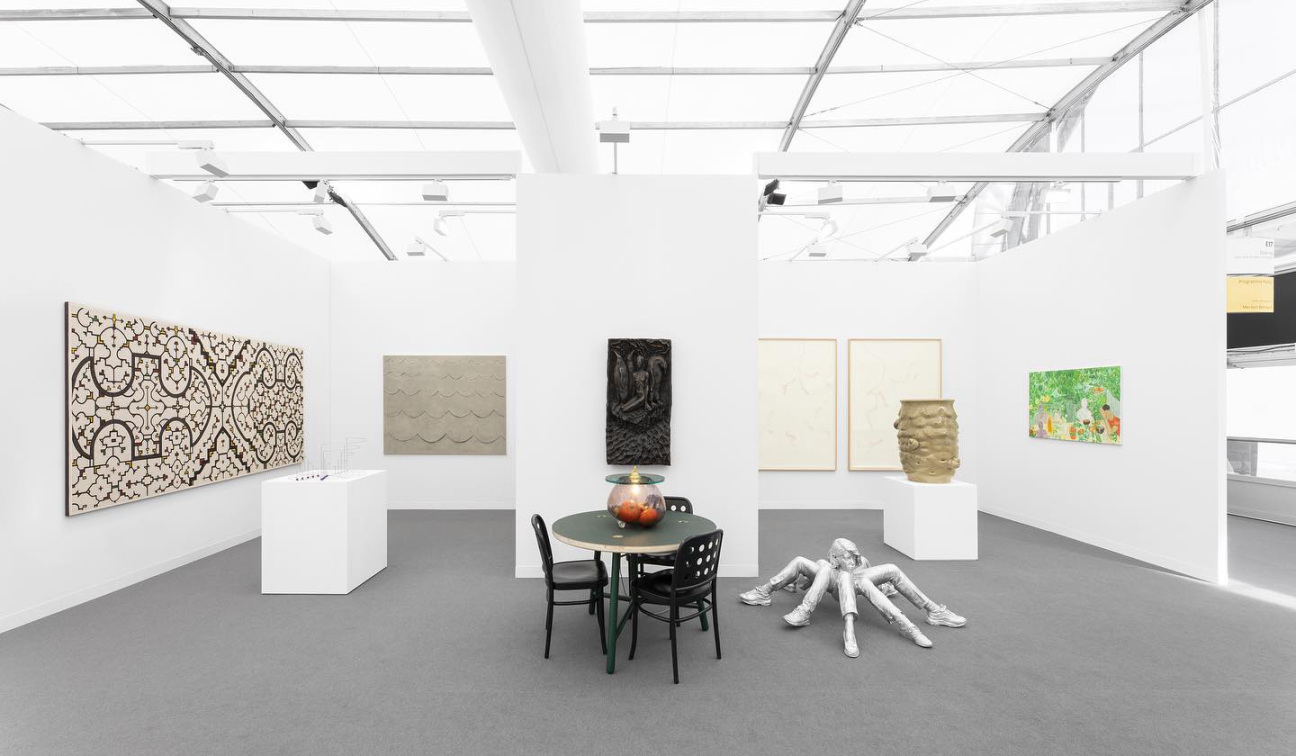 Others were less categorical. Clearing founder Olivier Babin, who attended both Frieze and Paris+, views the two as complementary. "I don't see that Paris is better, just different than London. But Paris+ is new, and people like what is new … Paris+ is the new puppy, and people love puppies," he reasoned, with a smile, noting exhibitions in both capitals were "absolutely extraordinary."
But for many, attending both is no given. "It sounds like more people are choosing Paris over London," he said. "Frieze will probably have to reinvent itself." Indeed, as one New York-based art advisor told CULTURED, "It's horrible having one [fair] after another ... You want to be able to do both, but then you end up hating all art." She paused, adding, "Until Miami."
With these constraints in mind, outfits like New York's Miguel Abreu Gallery opted for Paris+ over Frieze, following the announcement of the Art Basel ousting of FIAC, because participating in both "was not feasible," explained gallery partner Tim Saltarelli. In fact, the gallery's clients are even considering skipping Art Basel for preferred Paris perks. "I don't think anything compares to Basel," said Saltarelli, but when weighed against the hotels, cuisine, affordability, and the array of diversifying galleries, plus museums, "I can understand why people would choose Paris over Basel," he said.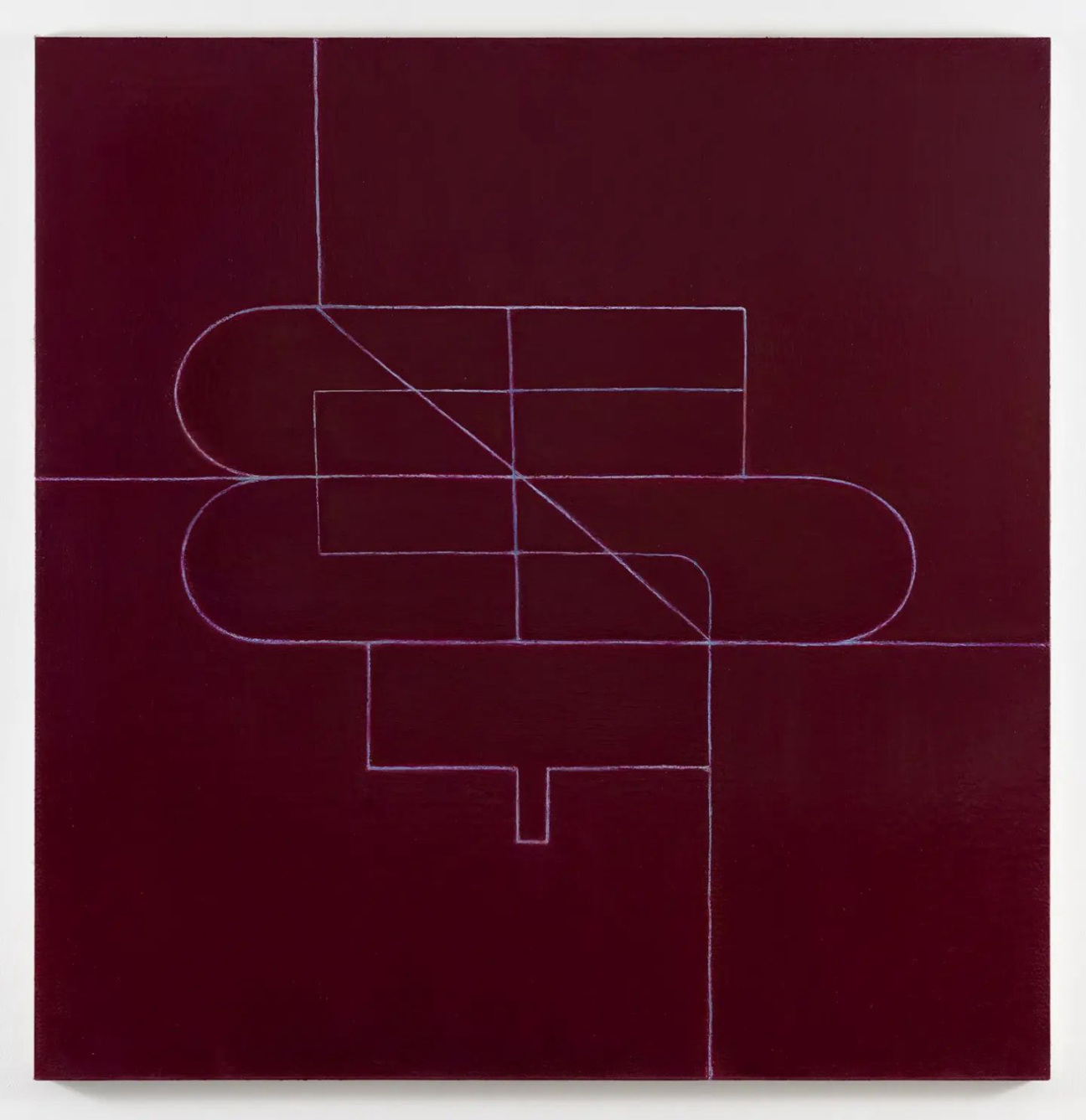 Paris+ director Clément Delépine told CULTURED that there is no intention whatsoever for any fair to usurp the others. "You need to give things time," he said. "It is not Art Basel's plan to have Paris replace Basel. Certainly not. Nor Frieze. There's room for everyone." Delépine believes that art-world travelers "want to be confronted with different proposals, contexts … [each] no less pertinent," he said. "Rather than looking for domination of one over another, [we] need to appreciate those contexts for what they are."
The Parisian context certainly was met by a receptive audience this week, despite the ongoing catastrophe in Israel and Gaza, as well as a general downturn in the global art market (not to mention an earlier bed bug scare that, as the city goes on a high-security alert for terror attacks, has become a mere afterthought).
Some dealers believed repercussions from the Middle East conflict kept visitors away. "This year there are fewer Americans because they're scared of the situation in Israel," said Thomas Zander of the eponymous Cologne gallery, which opens its first Paris space today. The gallery said that it nevertheless had a good first day, selling to American and European collectors.
Early sales reports were also encouraging, with Hauser & Wirth selling out its booth on day one, and David Zwirner reporting over $20 million in sales, an increase from 2022 returns. However, some of the most expensive pieces, brought to test the fair's new stripes, had not sold by the time of this writing. Most notably, a Mark Rothko painting at Pace, priced at $40 million, had not been placed yet. The entire Pace booth nods to a Rothko retrospective at the Louis Vuitton Foundation, which had visitors practically moved to tears during its opening this week.
In all, the quality of Paris+ was met with glowing reviews, as exhibitors vied over an increasingly international, higher-stakes crowd than FIAC brought in. But perhaps the biggest testament to the fair's results was the success of its the emerging and smaller gallery section. At Galerie Allen's stand-out booth, artist Jason Dodge covered the floor in foamy bits, coins, and seemingly random materials, while a museum podium topped with an empty glass vitrine stood slightly off-center.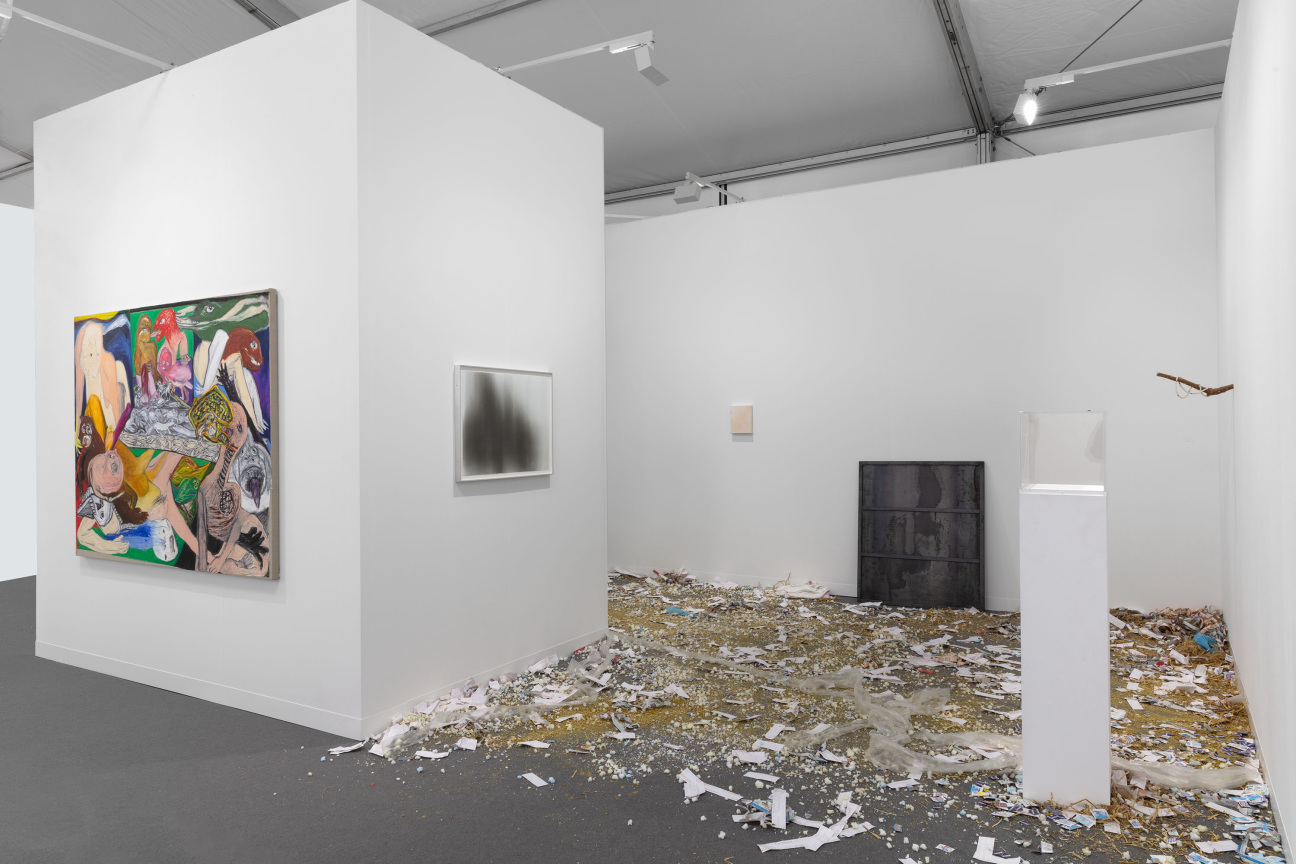 The vitrine—visibly used, its white paint scuffed [in this case by the Musée d'Art Moderne de Paris, MAM]—caught viewers' attention, though it took them a moment to realize that the main subject here was a single, dead bee laying on the square vitrine's outer edge. The work was a poignant nod to moving paintings by Trevor Yeung on mounted Chinese papers, depicting delicate, miniature, figurative evocations of a single or a couple of fish painted along the edge of an otherwise abstract, empty-feeling surface.
The show has "a visibly high standard," observed Patrizia Dander, head curator at the Kunstsammlung Nordrhein-Westfalen museum in Düsseldorf, who agreed with the museum's director, Susanne Gaensheimer, also present, that the contemporary art offerings in Paris have strengthened in recent years. "It is culminating now," she said during the Paris+ fair week. This time, the duo did not make it to Frieze.