For a limited time, the Czech composer Antonín Dvořák seemed to be reincarnated on a screen at the historic Rudolfinum concert hall in Prague. The artist Refik Anadol programmed an A.I. using one million relevant data points, including 54 hours of Dvořák's music and still images of cities where he lived. The result was an immersive, moving portrait of Dvořák's contribution to culture—and a splashy introduction to 0xCollection (pronounced "Hex Collection"), a new initative backed by Czech entrepreneur and philanthropist Karel Komárek dedicated to mounting art exhibitions for digital natives.
The Anadol commission was accompanied by an exhibition at Art Space in Bořislavka, on view through Oct. 16, of works from the collection titled "Synesthetic Immersion." Eight interdisciplinary artists, including Japanese artist Ryoji Ikeda and German artist and musician Carsten Nicolai, were tasked with exploring synesthesia as both a neurological condition and artistic device.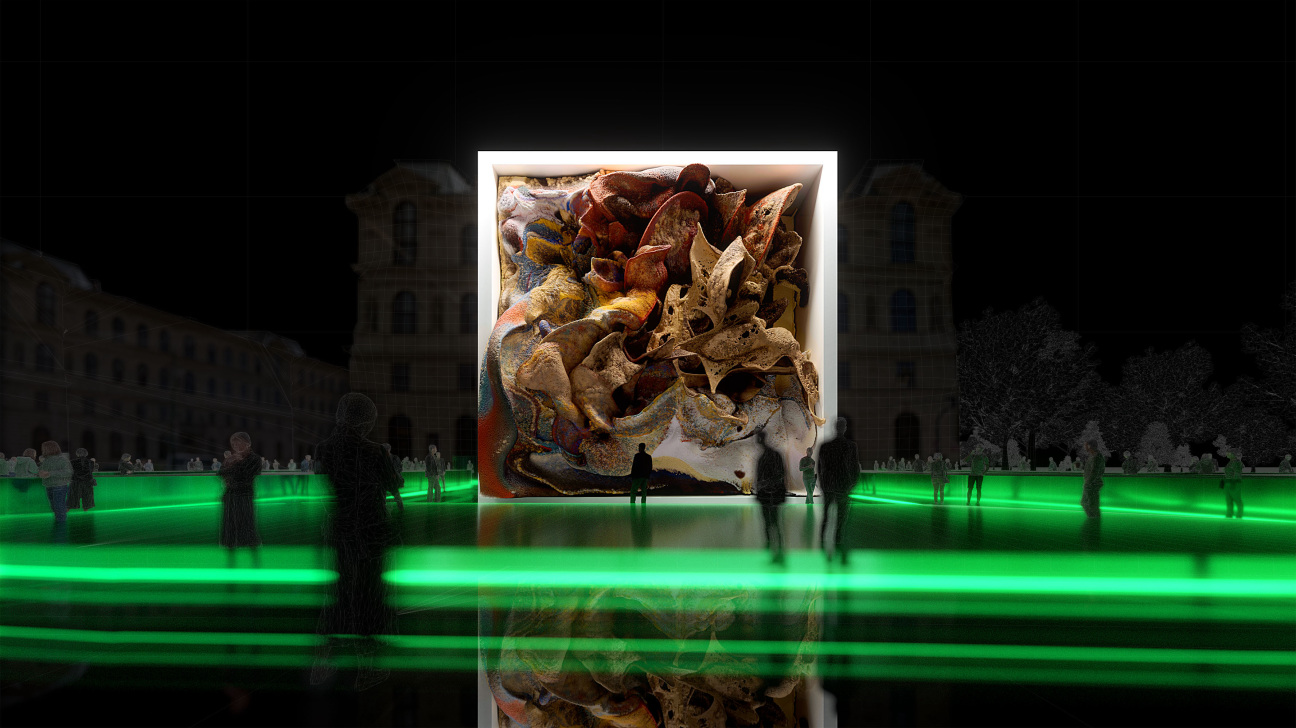 0xCollection is led by Elle Anastasiou, who joined as director after working with Komárek to acquire an Anadol piece a few years back. Here, Anastasiou talks about how she landed in the digital art sphere, why synesthesia is a particularly fertile topic, and how new technology is finding its place in today's contemporary art world.
CULTURED: How are you feeling fresh off the launch of 0xCollection and your first presentation?
Elle Anastasiou: Ripe with anticipation; cocktailed with mild exhaustion. Developing a project like 0x takes a lot of work behind the scenes, and it's not nearly as glamorous as the elegant displays we've all created.
CULTURED: Tell us a bit about yourself. What's your background in the field?
Anastasiou: Coming from a collecting family, I was raised in the art world—a situation which uniquely postured me to go into academia understanding that the art history and aesthetic philosophy I so dearly loved would likely counteract the nuanced politics of the market.
My trajectory was unusual in various capacities, likely because I made decisions about my area of study (Chinese video art, glitch as a movement, translation) which were not traditional or even, at certain points, particularly understood … New media is a small portion of the art world, comparatively speaking.
CULTURED: What is the ethos of 0xCollection's curatorial approach in a few words?
Anastasiou: Innovative, collaborative, forward-thinking, and open-minded. Newness is a fallacy, but we should look at what the contemporary brings to the now, foregrounded in how we got here. And at 0x, future-proofing art is a standard, not a goal.
CULTURED: Part of what this exhibition does is try to bridge the gap between the new and the old. Where do you see these types of digital works standing in relation to the traditional art historical canon?
Anastasiou: The more you examine history, the more it becomes apparent that the past and the present are truly not so far away. Whether an artist is creating a work using new media or more traditional modes of expression, they are still navigating that same space—hoping, attempting, to find some kind of traction in the viewer afflicted by today's rapid attention economy.
While this view provides a wider lens, the works in "Synesthetic Immersion" specifically were curated to investigate the transition between more familiar artistic disciplines (sculpture, architecture, literature) and the new media space. Developing cultural pasts for the present is at the very heart of what 0x aims to do in the art sphere, and taking this idea as premise for our first, intimately presented exhibition was a natural choice for me.
CULTURED: What throughline unites the works on view in the group show?
Anastasiou: Each work in the show takes inputs from one mode of creation and displays their outputs in another—quite literally the definition of synesthesia, both philosophically and neurologically. Immersion was a harder concept to achieve without veering into gimmick, but through my lens, the networked connections between artworks in the show and the display format, as architectural promenade in the round, led to an exhibition which immerses the audience in an interstice outside of expectation—of the digital realm or of art itself. Fundamentally, it's a specific sensorial abandonment of ego that I aspire to create through the show, and I hope this effect leads to greater criticism and interaction from our audience.
CULTURED: Tell us about the choice of Refik Anadol for the public commission. How has it been received by the public in Prague?
Anastasiou: Placing a 100-square-meter LED artwork in the historic center of a city was always going to be risky, particularly when the opening is hosted on the occasion of one of Europe's most prestigious music festivals, with the Prime Minister and half of the cabinet in attendance.
But the risk paid off magnificently. Anadol's Dvořák Dreams was created as an homage to one of the Czech Republic's most iconic figures, the composer Antonín Dvořák, and the inclusion of this narrative—in addition to legacy data visualizing Prague as a city and Dvořák's own life—made the presentation fitting in its unique, historical context.
Beyond the vernissage—honestly, I've never seen a piece of public artwork receive so much ongoing attention. At any moment of the day, since the opening night, there are crowds of 200, 300 people gathered on the steps of the UNESCO-listed Rudolfinum to view the work.
This first public display by 0x has veritably become our loving tribute to the city of Prague, honoring where we as an institution began and where an abundance of culture has come before us.
CULTURED: How do you get audiences engaged in artwork that deploys technology they may not even understand yet?
Anastasiou: Any displayed artwork exists in the space between artist and audience. The translation matrix between those parties is first sensorial (what do you experience?), then emotional (what do you feel?), and finally intellectual (what can you bring to this work?). This approach was the foundation of much of my academic research and still resonates when I construct exhibitions today.