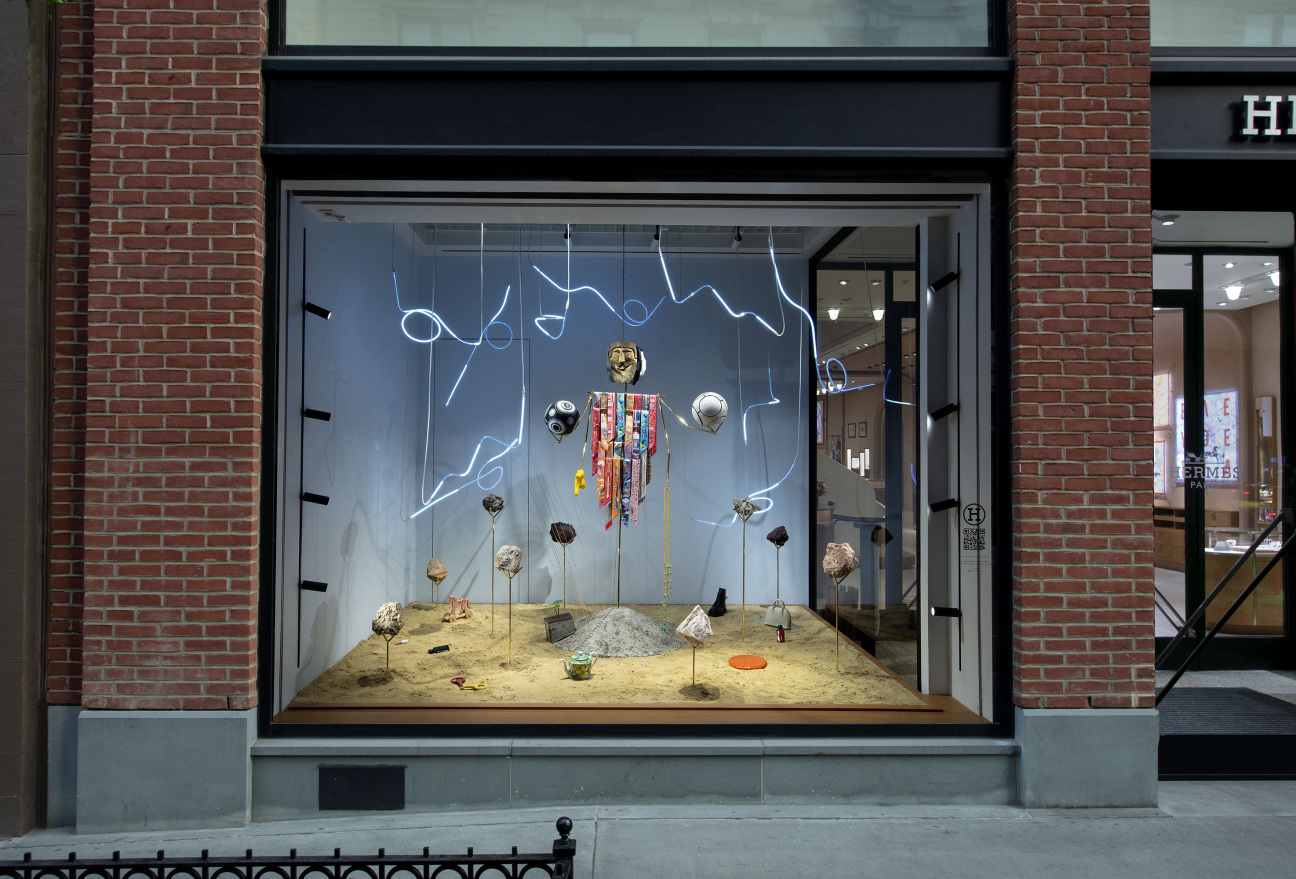 This Tuesday, the worlds of art and luxury fashion united to celebrate the unveiling of Hermès Maison Madison's latest Vitrine D'Artiste. The French House's RDAI-designed New York flagship buzzed with guests and passersby eager to discover the fall window display commission. This season, Hermès tapped Guadalajara, Mexico-based artist Gabriel Rico, who opens a solo show with Perrotin Shanghai in two weeks.
Often dubbed a post-Surrealist, Rico is both an archaeologist and a collector of the contemporary world, repurposing found and gifted objects and materials—think neon, taxidermy, ceramics, and branches—to make sculptural installations that probe how humans relate to natural and virtual environments, and vice versa.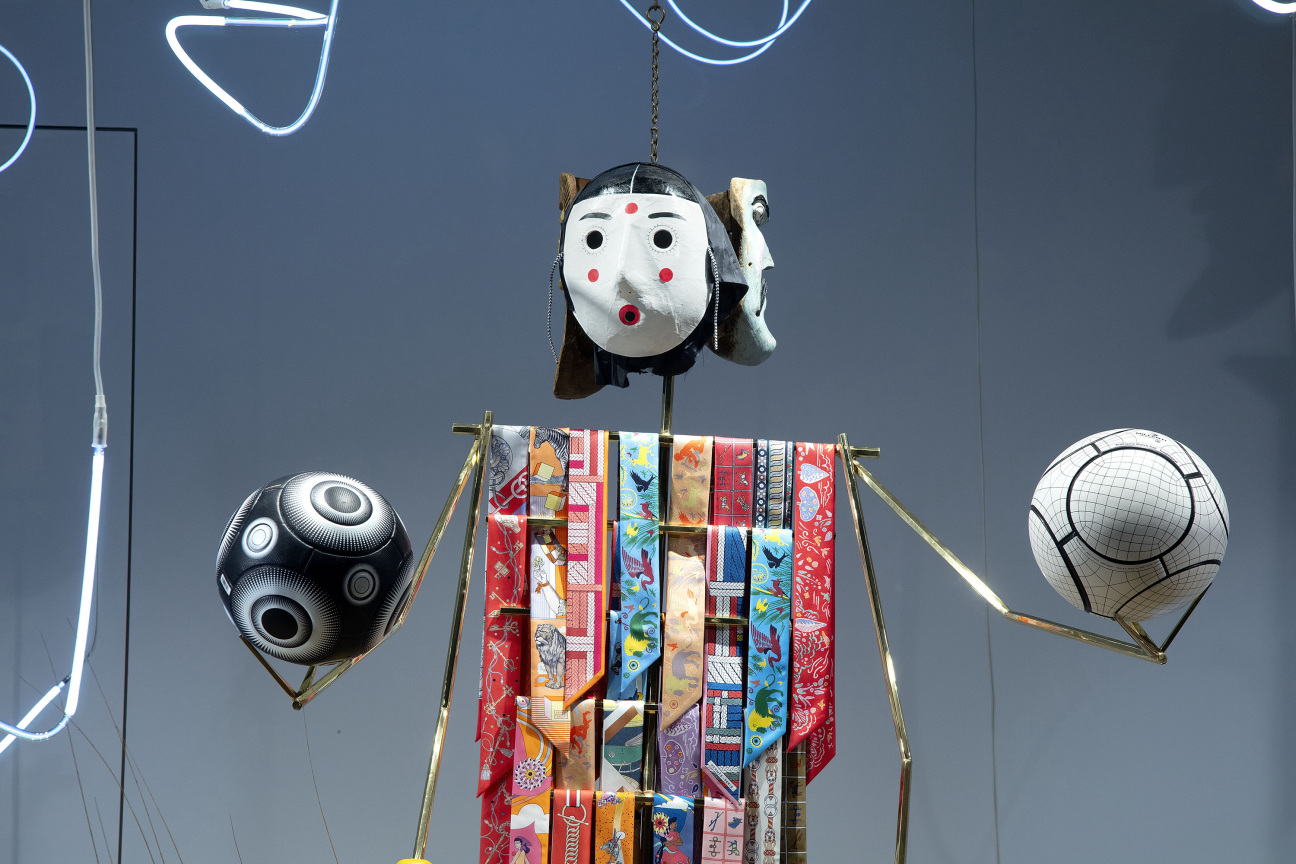 The artwork Rico inaugurated at Hermès Maison Madison is titled "The Emerald Tablet." Amplified by an augmented reality model accessible via QR code, the assemblage incorporates an anthropomorphic figure sporting a coat made of Hermès scarves, nine stones propped up like diamond rings, and a coterie of miscellaneous objects including teapots, lipstick, perfume, and children's toys sourced from Hermès's latest collections.
With this commission, Hermès once again renews its ties to and deep support for artistic creation. Over the years, the windows of the maison's now 300-plus retail locations around the globe have been reinvented by creatives such as Misha Kahn, Raul De Lara, Isabelle Daëron, and Mike Perry. On Tuesday, following passed champagne, cocktails, and hors d'oeuvres, guests sat down to hear Rico convey the importance of the collaboration in a conversation with curator and publisher Felix Burrichter.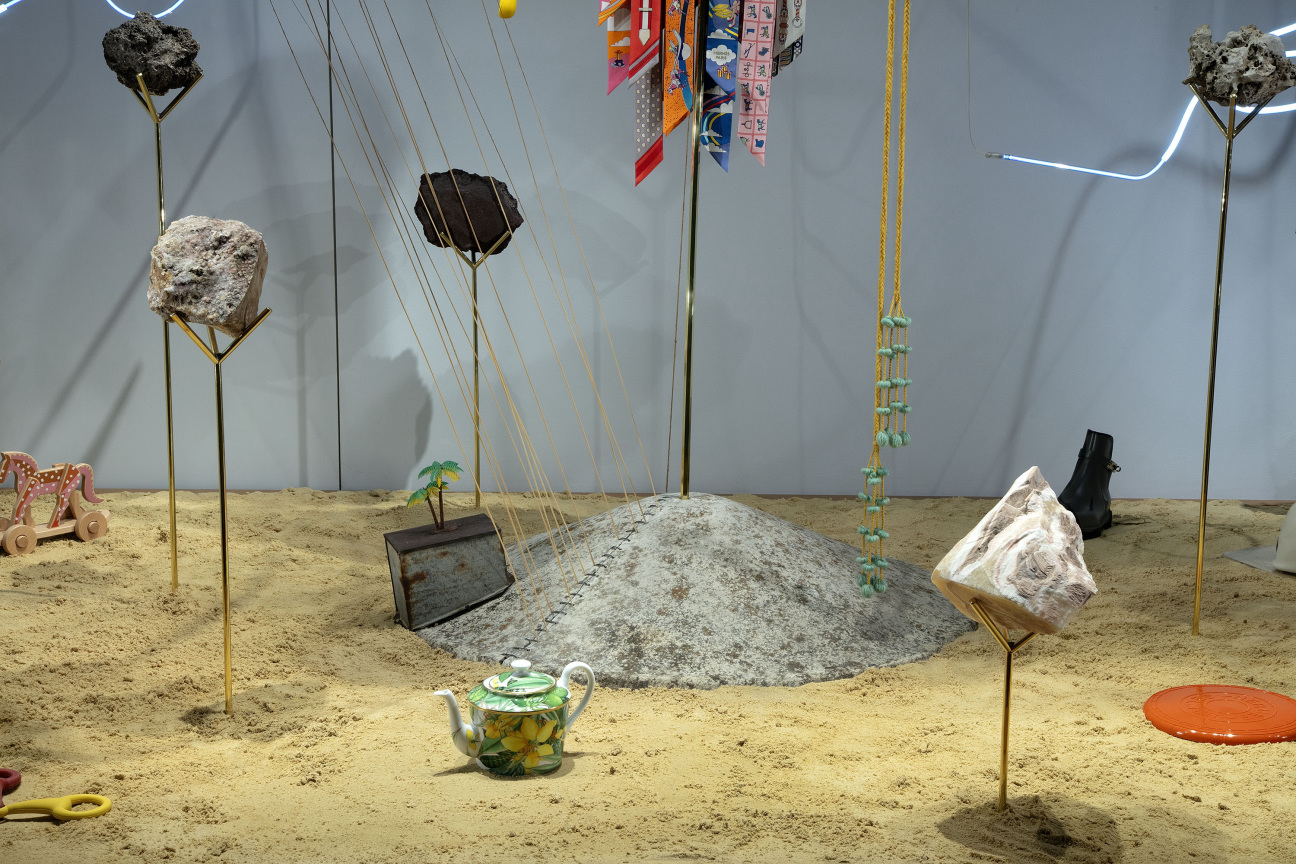 When Burrichter asked Rico what he hopes viewers will take away from the installation, the Mexican artist responded, "The most amazing part of this project is that it's public. Everyone can enjoy the experience. The QR instructions are very clear. It doesn't matter if you cannot come into the Hermès store, you can see art. And that is a very positive value of these kinds of collaborations. In the end, the art is a very nice excuse to bring us together."