One could say that Laurie and Jeff Ubben bet the farm on Little Saint, a new gathering place in Sonoma County's Healdsburg, California. Anchored by an exclusively plant-based restaurant and a commitment to serve as a community creative hub, Little Saint is poised to be a beacon in a wine country town studded with Michelin stars. And with a commanding creative vision by designer Ken Fulk, it looks the part too.
For Laurie, a lifelong animal activist and a passionately devoted vegan, there was no question that Little Saint would be a space for championing farm-forward sustainability, food from the land and their mindful stewards.
"I used to have a hard time expressing my opinion in a room full of people," she explains. "But at age 59, I've gotten better at standing my ground. This has been my struggle and my joy for the last seven years—advocating."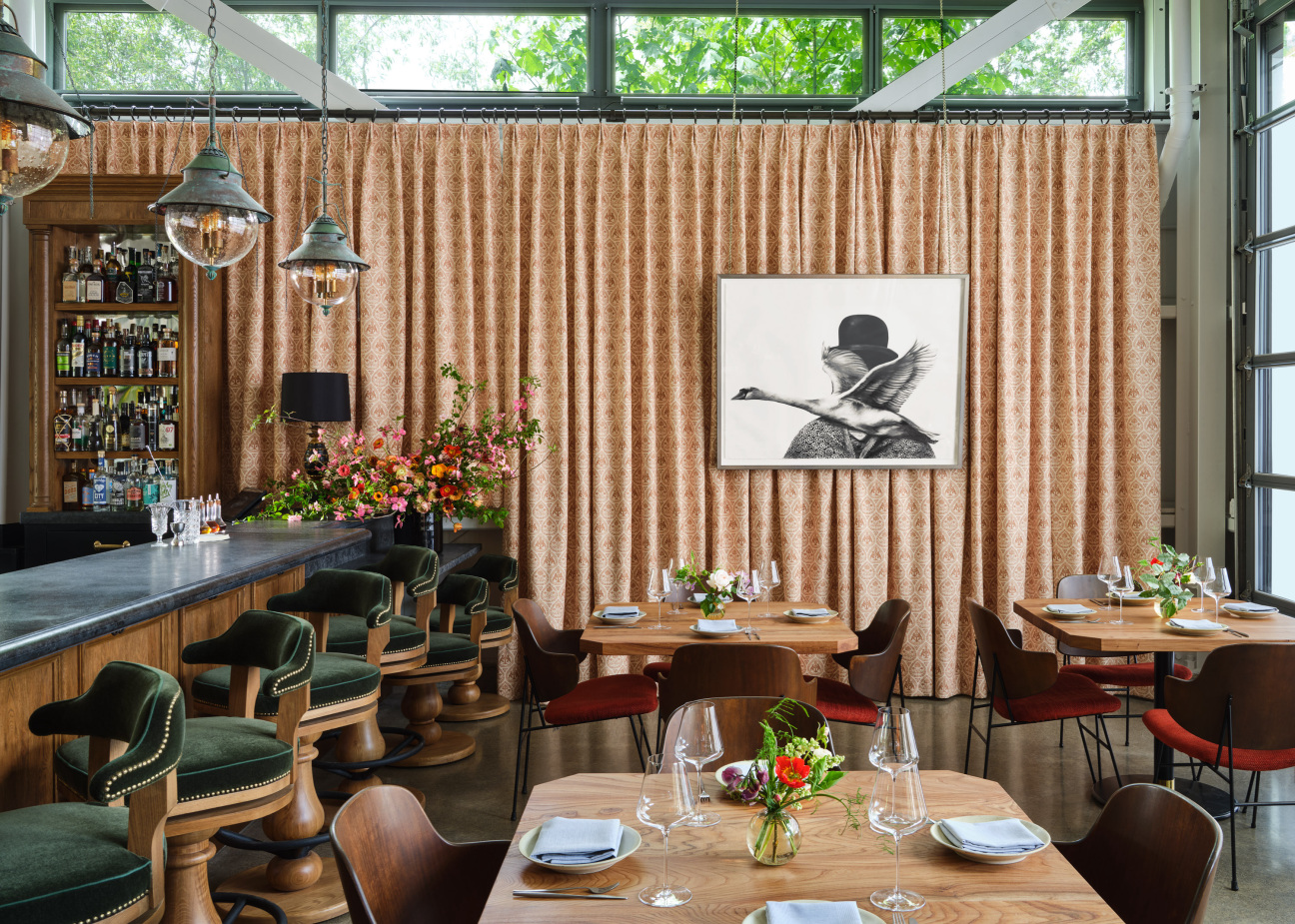 Though the Ubbens have maintained a home in Healdsburg for more than 10 years, it wasn't until the pandemic that they fully rooted themselves there. "During that time, we—my husband and three grown kids—ate from the garden, cooked together, shared all of our meals together... It sounds idyllic during a really difficult time, but it came together for us and I was able to fully embrace this lifestyle," says Laurie. "I feel very deeply about the subject. I won't be outside the restaurant saying, 'Come be vegan with me,' but my vision for Little Saint is a place where we can share this lifestyle of being connected to the creation and preparation of what feeds us."
And who better to turn that vision into a beautifully textured reality than designer Ken Fulk? "We've been friends for almost 20 years," says Laurie, who first worked with the celebrated designer on their home in San Francisco. "When we had the opportunity to buy this building, we couldn't think of doing it without asking Ken—not that he ever says no!"
It's almost impossible to tell the story of Little Saint without first talking about its former occupant, SHED, a Healdsburg institution beloved for its restaurant, takeaway and retail space that shuttered in 2018. "There was such an emotional outpouring when SHED closed," Fulk recalls. "I don't think anyone anticipated that it would have left such a gaping hole. When Jeff and Laurie purchased the building in 2020, they did so with a commitment to engage and support the community in a similar vein."
Fulk began to collaborate with Ubben as creative director, focusing on the guest experience from beginning to end. That includes designing the interiors, logo, packaging and uniforms. He was also instrumental in bringing in the dynamic food and beverage team of triple-Michelin-starred Chef Kyle and Katina Connaughton, proprietors of the neighboring SingleThread Restaurant and Inn.
"They had a vision for this space which was sitting empty in our community for the past few years. It's a block away from our restaurant, and was a big part of our lives," explains Kyle Connaughton. "They're taking the community-minded focus that SHED had to another level, incorporating more events, music, arts and education and that was exciting to us."
The cultural programming, in partnership with Fulk's San Francisco-based nonprofit, Saint Joseph's Arts Foundation, began before the doors even opened. "We commissioned a number of artists to activate the windows and the facade with site-specific installations while renovations were underway," says Fulk, who looks forward to engaging the community with weekly musical performances, lectures and workshops from the likes of composer Yea-Ming Chen, artist and naturalist Obi Kaufmann and singer/songwriter Madeline Kenney.
"I want people to feel really comfortable when they walk in. It's more than a restaurant, more than a market, more than a shop," says Laurie. "It's a place for gathering—and gathering around a certain conversation."