Welcome to This Week in Culture, a weekly agenda of show openings and events in major cities across the globe. From galleries to institutions and one-of-a-kind happenings, our ongoing survey highlights the best of contemporary culture, for those willing to make the journey.
"Njideka Akunyili Crosby: Coming Back to See Through, Again" and "Stan Douglas"
David Zwirner Los Angeles
David Zwirner lands at their highly anticipated new Los Angeles locations with two shows in tow, "Njideka Akunyili Crosby: Coming Back to See Through, Again" and "Stan Douglas." The former will be the first solo show from the artist with the gallery, and will explore the impact of the African diaspora on contemporary life. The latter will be a showing of artist Stan Douglas's video installation, ISDN, 2022, and related photography. Douglas is also one of the first artists represented by the gallery. These two spots are Zwirner's first in Los Angeles, and the 1930s buildings were renovated by Selldorf Architects with an abundance of natural light filtering through newly installed skylights. Crosby and Douglas's shows will be on view from May 23 through July 29, 2023 at David Zwirner's 616 and 612 N Western Avenue locations in Los Angeles.
"New Photography 2023"
Museum of Modern Art New York
Continuing its annual tradition of celebrating contemporary photographers, the Museum of Modern Art is opening "New Photography 2023." This year's show features seven artists: Kelani Abass, Akinbode Akinbiyi, Yagazie Emezi, Amanda Iheme, Abraham Oghobase, Karl Ohiri, and Logo Oluwamuyiwa. For the first time, the exhibition is focused on a specific artistic scene, that of Lagos, the commercial capital of Nigeria. "New Photography 2023" will be on view from May 28 through September 16, 2023 at MoMA in New York.
"A Survey" by Faith Ringgold
Jeffrey Deitch Los Angeles
Los Angeles also welcomes an exhibition of Faith Ringgold's work this week. The artist, who has challenged the art world to think beyond its boundaries and reconsider its stance on social issues, will have pieces spanning 60 years of her life presented, including two of her newest silkscreen story quilts, Dancing on the George Washington Bridge 2, 2021, and Woman Looking in a Mirror 2, 2022. Coinciding with her first major traveling retrospective, currently on view at the Musée Picasso in Paris, this show will specifically focus on her activism as an artist across mediums. "Faith Ringgold: A Survey" will be on view from May 20 through August 12, 2023 at Jeffrey Deitch in Los Angeles.
Artist Plate Project
Coalition for the Homeless x Artware Editions
The Artist Plate Project, launched by the Coalition for the Homeless in 2020, raises money to provide food, crisis services, housing, and other necessary aid for unhoused citizens of New York. This year, the group has called on more than 98 artists to create one-of-a-kind plates. This year's participants include Mickalene Thomas, Marilyn Minter, and Joel Mesler, among others. After selling a limited amount of stock at Frieze last week, the remainder of the plates are now going up for sale online. The sale will open on May 22 through Artist Plate Project's online shop.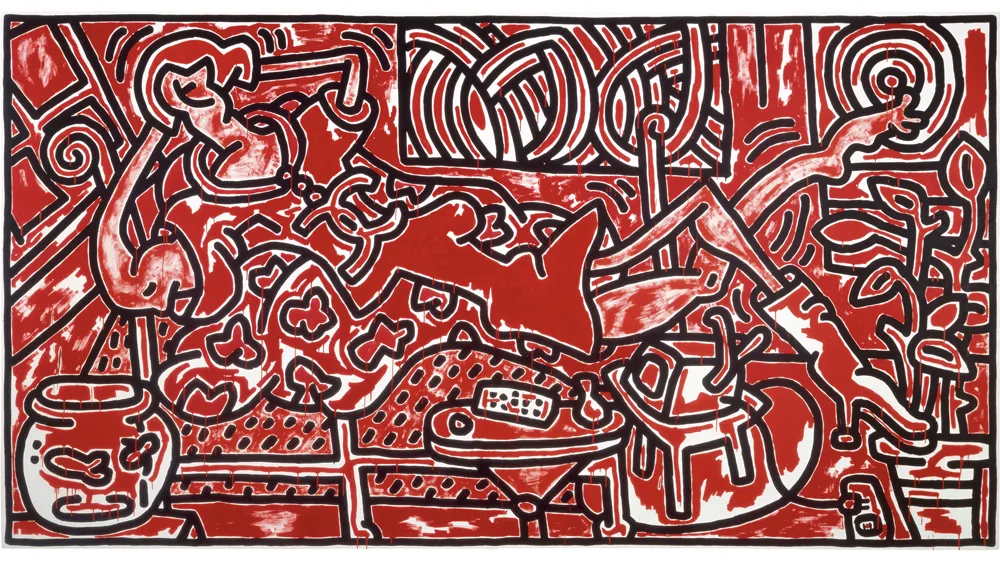 "Keith Haring: Art Is for Everybody"
The Broad Los Angeles
There has never been a museum exhibition in Los Angeles of Keith Haring's work. The Broad's "Art is for Everybody" is about to change that. The museum will be dedicating 10 of its galleries to over 120 pieces by the artist, and will highlight his activism in the realms of nuclear disarmament, anti-apartheid movements, and the AIDS/HIV crisis. Immersive installations will be littered throughout, including a blacklight gallery soundtracked by playlists made by Haring himself. "Keith Haring: Art is for Everybody" will be on view from May 27 to October 8, 2023 at The Broad in Los Angeles.
"A Diestra y Siniestra" by Fabian Ramírez
Naranjo 141 Mexico City
Naranjo 141, a new gallery space founded this year in Mexico City, is on a mission to help bring up the next generation of artists. Fabian Ramírez is the first artist to be a part of the gallery's artist-in-residence program, and his show focuses on connecting his indigenous heritage to his Western academic training. The artist blends Mayan artistic traditions with Greek philosophical concepts to create a trans-historical narrative in the new art space. "A Diestra y Siniestra" will be on view from May 27 to June 25, 2023 at Naranjo 141 in Mexico City.
"The Festival Exhibition 2023: Gyre" by Camille Norment
Bergen Kunsthall
Few exhibitions are opened in the presence of a queen. Bergen Kunsthall's latest show, featuring legendary visual and sound artist Camille Norment, will receive such an honor, with Her Majesty Queen Sonja of Norway attending. The show will take over all four of the museum's main galleries with a singular sonic experience, as disparate sounds mix together though open doors. "Gyre" will be on view from May 25 through August 13, 2023 at Bergen Kunsthall in Bergen.