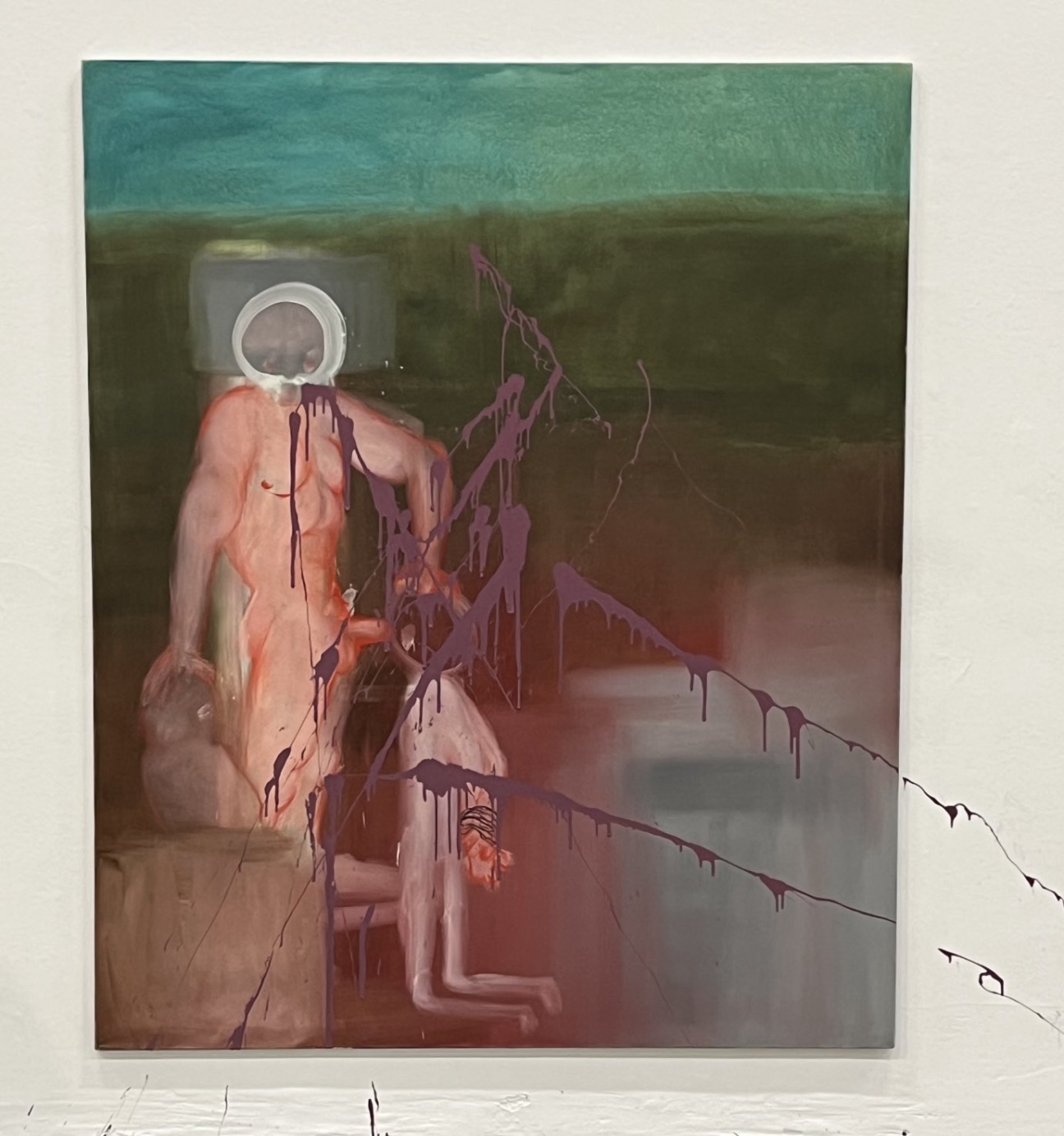 Every artist's nightmare took material form last Sunday at the Palais de Tokyo in Paris. "Ma pensée sérielle," a retrospective exhibition of Swiss artist Miriam Cahn's work, has been the subject of right-wing controversy due to a graphic painting, fuck abstraction!, 2007-22, on view. The piece depicts the sexual abuse of two small figures, one with their hands tied behind their back, by a large, towering man. Cahn has said the work is a response to reports of murder and rape by Russian soldiers in Ukraine. Conservative viewers have insisted it is instead a portrayal of pedophilia. This week, a visitor to the museum defaced the work with purple spray paint, leaving it dripping purple. This is not the first time destruction has served as spectacle. From slashing works to knocking them over, here are five other infamous incidents of art vandalism.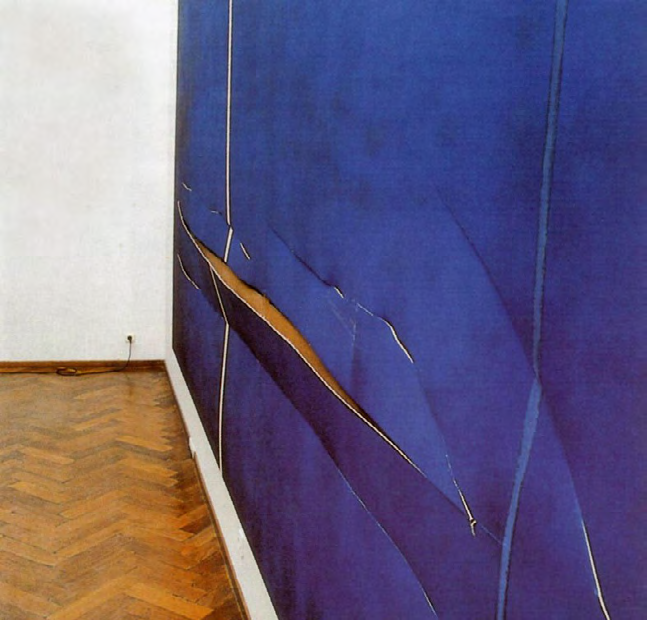 We're Very Afraid of Red, Yellow, and Blue
Abstraction in Western art has been questioned by its audiences since its inception. The use of non-mimetic forms challenges what many think art should be, or do. In 1986, the cultural divide became all the more tangible and violent when Gerard Jan van Bladeren took a knife to Barnett Newman's Who's Afraid of Red, Yellow and Blue III, 1967, a red field with thin stripes of blue and yellow. The painting, slashed through in several places, faced further damage during a botched fix-up job in 1991, during which restorer Daniel Goldreyer used acrylic paint and a roller to cover the piece. Several years later, van Bladeren returned to the museum in an attempt to re-vandalize the painting, but was unable to locate it, instead opting to slash the painter's blue composition, Cathedra, 1951.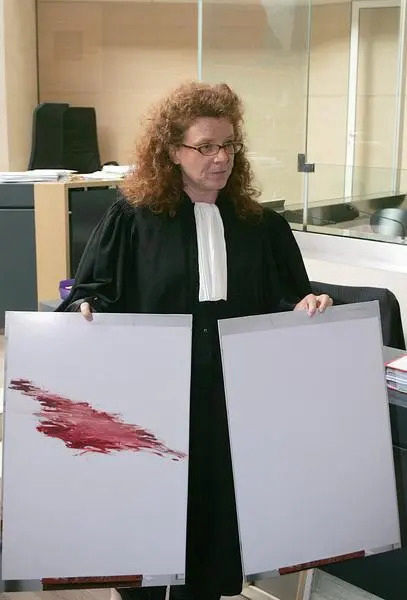 Lipstick Kisses for Cy Twombly
Cy Twombly is known for his use of solid color and gestural painting. The artist's Phaedrus, 1977, featured two panels, one with a red form on it, and the other an entirely blank canvas. In 2007, a woman named Rindy Sam was overcome with emotion upon seeing the work at the Museum of Contemporary Art in Avignon, France, and left a red-lipsticked kiss on Phaedrus's blank canvas. "It was an act of love, when I kissed it," she claimed at her subsequent trial. "I wasn't thinking. I thought the artist would understand." Sam was fined 1,500 euros.
The Mona Lisa Gets Caked
Leonardo Da Vinci's Mona Lisa, 1503, is one of the most recognizable works in all of art history. Arguably, this is also why so many people have tried to deface it over the years. The painting has been stolen, doused in acid, and smashed with ceramics. In the summer of 2022, a man disguised as an elderly woman threw a piece of cake at the Mona Lisa's glass protection case. The museum-goer donned a wig and pretended to need a wheelchair, so as to be able to cut to the front of the pack. After tossing the cake, he scattered rose petals throughout the room.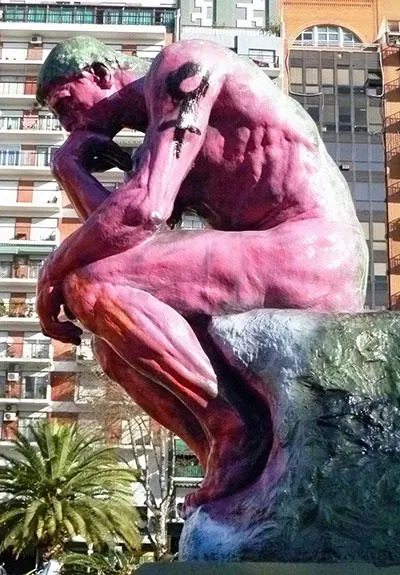 A Thoughtless Makeover
Casts of Auguste Rodin's The Thinker, 1904, a universal symbol of pensive solemnity, have been placed outside college buildings, famous museums, and in Buenos Aires's Congressional Plaza. In 1970, the Cleveland Museum of Art's version was bombed, leaving the lower half of the contemplative man in shreds. Then, in 2011, an Argentinian copy of the work was given a less-than-serious makeover, complete with green spray-painted hair, pink skin, and a black Venus symbol on its arm. This act of revision prompts the question: do The Thinker's thoughts get any less brain-wrenching when gifted a dose of whimsy?
Breaking an Angel
When an artwork is destroyed or vandalized, the focus after the incident is usually on returning the work to its original state. Shelly Xue, whose Angel is Waiting, 2014, was destroyed by unsupervised children in 2016, opted to go a different route. After the piece was damaged, Xue changed its name to Broken, highlighting the changes it underwent, and a security video of the incident now plays next to the piece, reminding viewers of its tumultuous lifespan at the Shanghai Museum of Glass.