For Latinx Heritage Month, Cultured highlights a roster of contemporary artists that are reimagining Latinx identity in the on-going series Mundo Makers.
Growing up in a predominantly Caribbean and African American part of South Florida, Kathia St. Hilaire observed the nuanced differences between communities of African descent, becoming deeply aware at an early age that there is no singular experience of Blackness. "Race is understood on a surface level in this country. It's very black and white," the daughter of Haitian immigrants says. "Our skin is what people see first. It covers us entirely and becomes this flat image."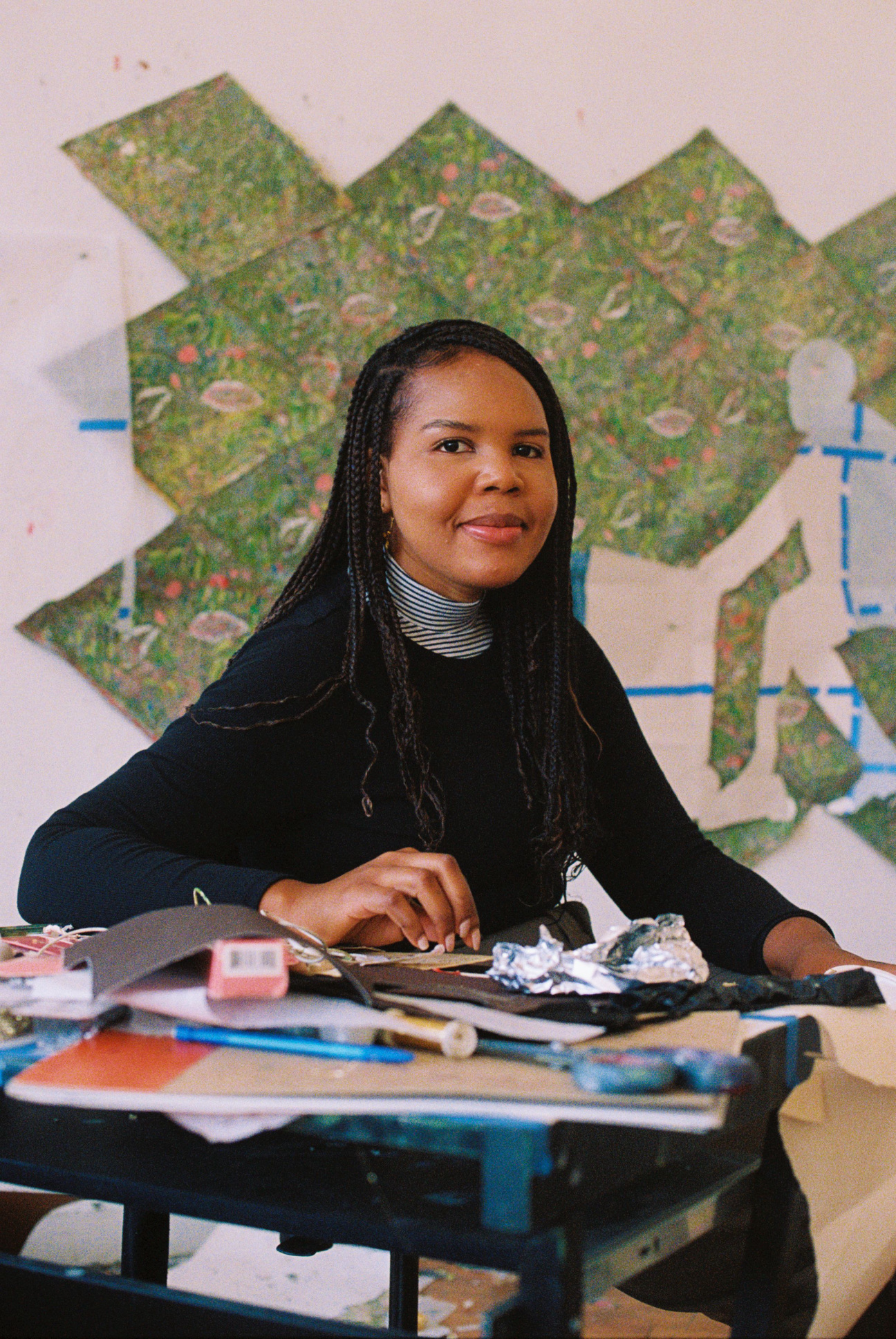 Trained as a printmaker, St. Hilaire developed a practice that pushes back on the notion that identity can be constructed through well-defined categories. Her work is concerned with mobility and the ways it complicates racial, historical, and cultural relationships. Using a reduction relief printing technique, the artist transfers drawings onto sheets of linoleum that she then meticulously carves in sections. This is followed by print runs on unconventional materials—like rubber tires, industrial metals, beauty product packaging, and fabrics—giving way to layered and richly textured planes whose surfaces mirror the complexity of Black diasporic experiences.
While the imagery in the works has been a focus of consideration in St. Hilaire's practice, it's perhaps her material and formal investigations that most poignantly challenge what we know about identity. Collaged, woven, and assembled, the works reference Haitian Vodou flags but also quilt-making practices of the American South and indigenous weaving traditions. The intentional materials bear witness to the consequences of colonial projects and the ways exchange shapes disparate locales in similar ways. What emerges from St. Hilaire's works is a collapse of geographies that sheds light on the interconnectedness of peoples, places, and histories—making clear that our sense of self is constantly evolving and never bound to fixed terrains.