Crafted by Jean-Marie Massaud in 2009, 110-year-old Italian homegoods and furniture company Poltrona Frau's Archibald armchair may not be its oldest design, but it is certainly one of its most iconic. Relaxed and inviting, with a slouchy appearance thanks to the gathered, pleated leather of its backrest, the chair is minimal and structured—thin piloti hold it upright and forearms can lean on subtly plateaued armrests. Upholstered in tan leather, it feels classic; in forest green hide, it feels fresh, fun and enduringly stately. And it was the perfect canvas for Argentine-Spanish artist Felipe Pantone.
This year, in celebration of more than a century-long history of sustainable craftsmanship, Pol-trona Frau commissioned the talent to transform the Archibald into a work of art. Pantone's practice draws upon his background in graffiti and penchant for design, incorporating geome-try, Op Art mind-benders and references to the color wheels of his art school past. His limited-edition re-envisioning of the Archibald, which launched this past April, presents a smattering of Pantone-esque color squares—blues, reds, oranges, yellows, purples and white—printed on Poltrona Frau's Impact Less® leather, which is tanned without use of chrome, using limited chemical components and recycling all water used in the production process. By 2025, the company will use this sustainable material for all its leather products, continuing a lifelong commitment to eco-friendly design, using natural, durable materials.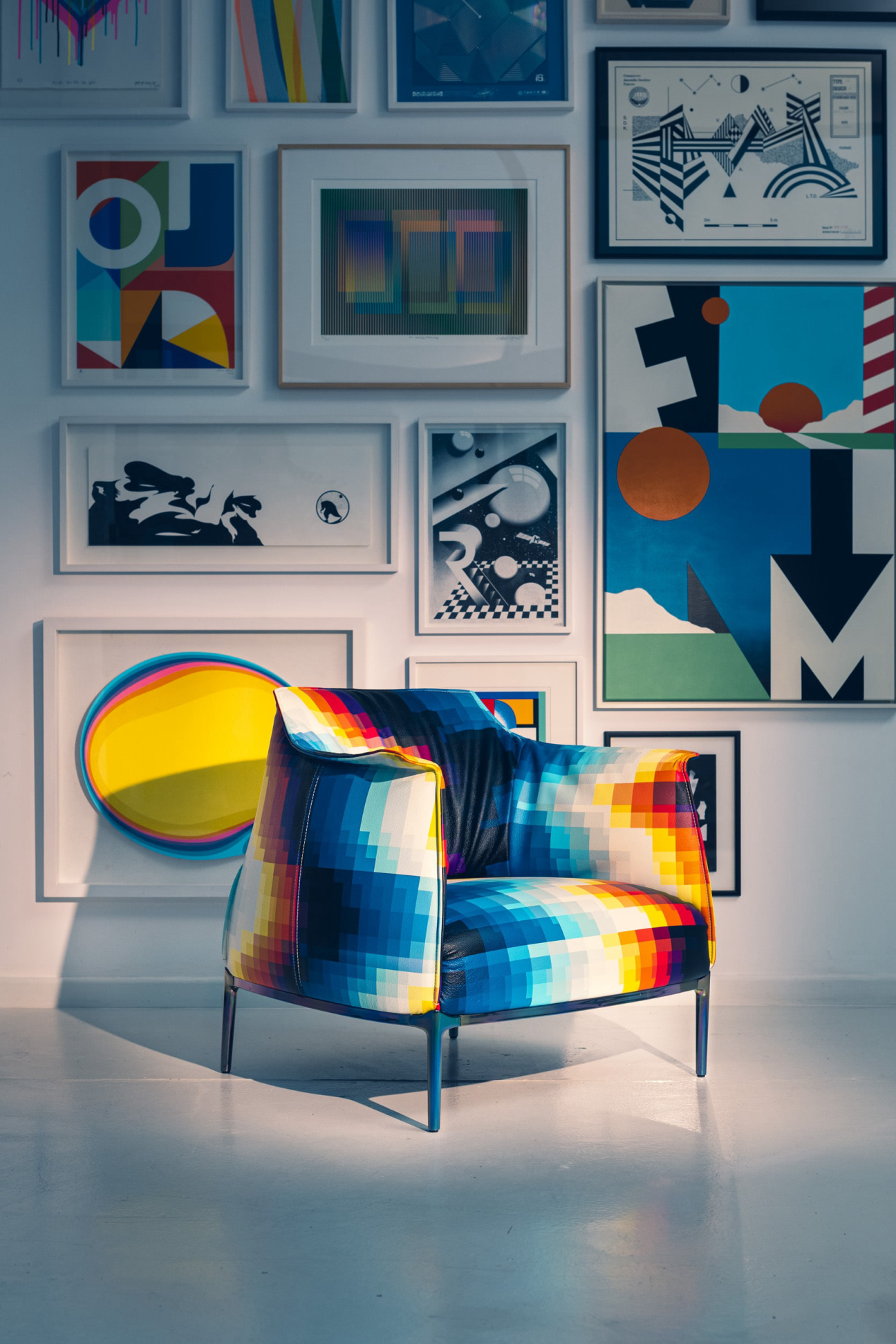 "The way Felipe uses color is similar to our approach," says Poltrona Frau CEO Nicola Coropulis referencing the company's recent transformation of the palette of hues available for its entire collection of pieces for the home, from items as small as glass vases to as large as sectional sofas and king-sized bedframes. "I also like his neo-psychedelic way of interpreting art," he continues with a smile.
The project reflects the design house's 2022 mantra, "true evolution," a theme throughout all its new releases this year. Though all 110 editions of the chair—the number another celebration of Poltrona Frau's birthday—have sold out, the project will be on view at the flagship showroom in Milan this June during Salone del Mobile and miniatures can be purchased as a keepsake. "This object represents not only our 110-year-long history but also a projection into a new and different future," says Coropulis. "It brings us into the field of art and to younger generations that are close to the work of Felipe Pantone."