A quick trip to It girl and media personality Morgan Stewart McGraw's Instagram account shows a rotation of tastefully styled pieces from The Row, YSL, Chanel, Tom Ford, and more. In the past few months, a new brand has started working its way into the mix: Renggli, which made its debut this past September. The ready-to-wear line is McGraw's brainchild, a manifestation of her years spent as a style icon to the masses—first emerging with her blog Boobs and Loubs and then working as a popular host on E!
The first drop from Renggli featured a work pant, tank top, t-shirt, and cashmere sweater. The second iteration of the brand, launching today, is a continuation of this streamlined offering. The pants are back, now accompanied by a mini skirt. The sweater appears in a v-neck and turtleneck. The previously yellow, white, brown, and black color palette has shifted to vibrant shades of ochre, cream, and blue. Here, the Beverly Hills native shares how she is feeling after a successful debut and ahead of her launch.
CULTURED: Going back to your first launch and the moments before it came out, what was that experience like for you?
Morgan Stewart McGraw: I've been thinking so much about that leading up to this launch. I feel like I was, I don't want to use the word green, but green. I just did not anticipate the level of success that we were going to achieve.
CULTURED: Is there anything that you took away from that launch that you were able to integrate this time around?
McGraw: Don't expect anything. You want your success to obviously go upwards, but anything can happen. I get a little manic, I get a little in my head, I overthink a lot of things. This is so cheesy, but just sit and enjoy and be proud of the work that has been done so far and just hope for the best.
CULTURED: What is the design process like for you? How involved are you?
McGraw: I'm involved in literally every single part of everything design-related, from buttons to zippers, to colors, to fabrics, to silhouettes. Anything that goes into making something, I am on that call.
CULTURED: Do you look to your own closet for inspiration?
McGraw: It's not even that I look at pieces in my closet, it's really the holes in my closet I look at. I really like pants, and when I was designing the first collection and even the second, I was like, "Pants are hard, jeans are hard." It's just difficult, the right baggy pant. You never want to have a piece of clothing that feels like work, right?
You get a cool pair of pants, and you love the idea, but you're like, Am I really going to put this on Monday when I have errands to run? No, probably not because they're probably too long or too baggy or they only look good with one type of shoe. So I just wanted to create something that was going to look good with a heel, with a flat, and be cool no matter what you're doing. For me, it's the things that I didn't have before.
CULTURED: When you're going through the design process and you think you've landed on something great, are there people that you run it by?
McGraw: This is going to sound so unintentionally conceited, but once I know something in my gut and I feel it, I ride the wave. I also do that because if something doesn't work, I don't want to be able to place blame on someone else. "Why would you tell me they weren't good or that they were good?" I have one designer I work with—her name's Evelyn Tao. She's kind of the only support that I have in that. I try to keep it tight.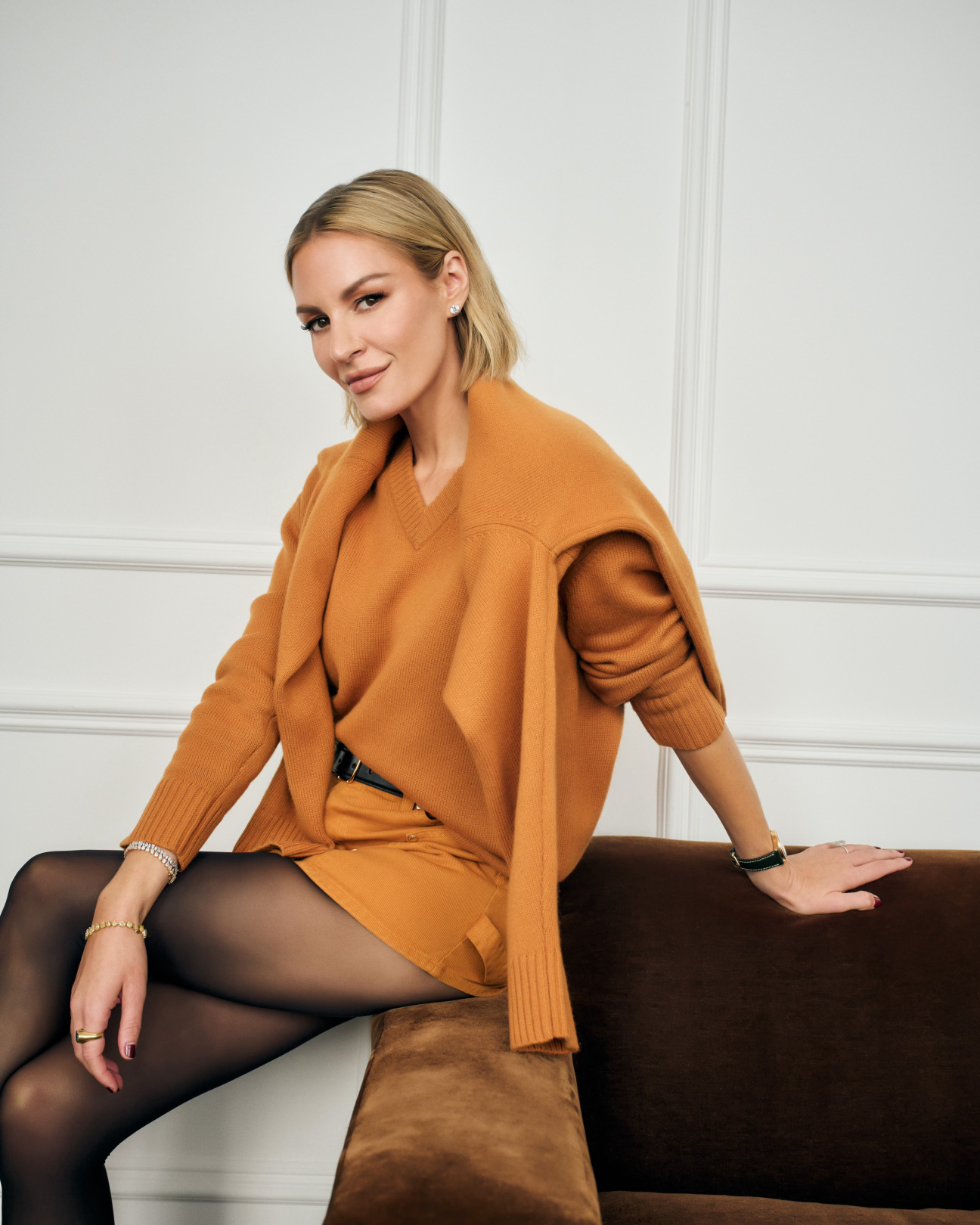 CULTURED: You've been in the public eye for a long time and have built a following online that looks to you for fashion advice or inspiration. Can you speak to the transition from this influencer space into having your own product line?
McGraw: It's been such a natural evolution because I never really was an influencer. I was always just unintentionally influential. I know that sounds like such a line, but it's the truth. I've always had a very strong sense of personal style. I've never really wavered in that style. I don't really have style icons, and I have stuck to a uniform for the last 20 years at this point. I don't look radically different from when I first came on the scene. Wow, can I say more nice things about myself? You get what I mean. I think people are like, "Okay, she feels solid to us."
CULTURED: What are your earliest memories of developing your personal style?
McGraw: With my mom—that's really how we bonded. I was shopping with her from such a young age. That was what we did together in our free time. We would go to stores and we would look around and it was just something fun to be able to go out and see what was up.
My earliest memory, I remember being in Barneys and Saks. I remember going to Europe with her, because she's not from here, and going into different stores there and being exposed. My first designer item was an orange Miu Miu bucket hat when I was about 13 or something. I still have that hat, and obviously all the girlies now would be like, "I love that hat." So it's also funny to see how things take shape and stay the course, too.
CULTURED: Do you see some of her style in the pieces that you're making?
McGraw: Yes, to the point where I'm like, Oh my God, I really need to dress a little bit younger at this point. She's 70, I'm 35, I don't need to be her twin. Even today, I wore a trench coat and my pants from this launch, this Oxford color. It's that classical style that reads mature, but it's just how I dress.
CULTURED: Making pieces that are timeless, but that still have a unique identity, how do you balance those two things?
McGraw: I haven't quite figured out how yet, but it's somehow working. There's a classical sense to what I want; I'm not reinventing the wheel. The colors set the items apart. Everyone can do black, white, and gray. Not everyone's going to do an ochre, or not everyone's going to do a type of cream.
CULTURED: How did you develop the color palette for this coming launch?
McGraw: I had seen the color around randomly, literally in my kids' books that we were reading. We did a lot of pumpkins, a lot of Halloween books and stuff like that. I don't think about it as a singular color. If we're gonna go with ochre, it needs to have complementary colors around it. That's how I build it out.
CULTURED: I know you designed these two back-to-back. Are you already looking ahead?
McGraw: You're speaking to me as the ahead is unfolding. I have some of the ahead on my floor in front of me, and what I will say as a little sneak peek teaser is that we've changed streets, and we're going a different direction now. Things are going to change in the next month in a very, I hope, exciting way. It's great to do one thing well, and to continue it and bring it back in different colors, but you can't only make one pant. We're thinking ahead to May. We're thinking ahead to next fall.
CULTURED: Do you feel like the first launch gave you the confidence to do that?
McGraw: Yes. I'm going to make stuff as long as people like it because I love to do it. It occupies most of my day. It's like, What are my kids eating for lunch, and what are we doing in that color?