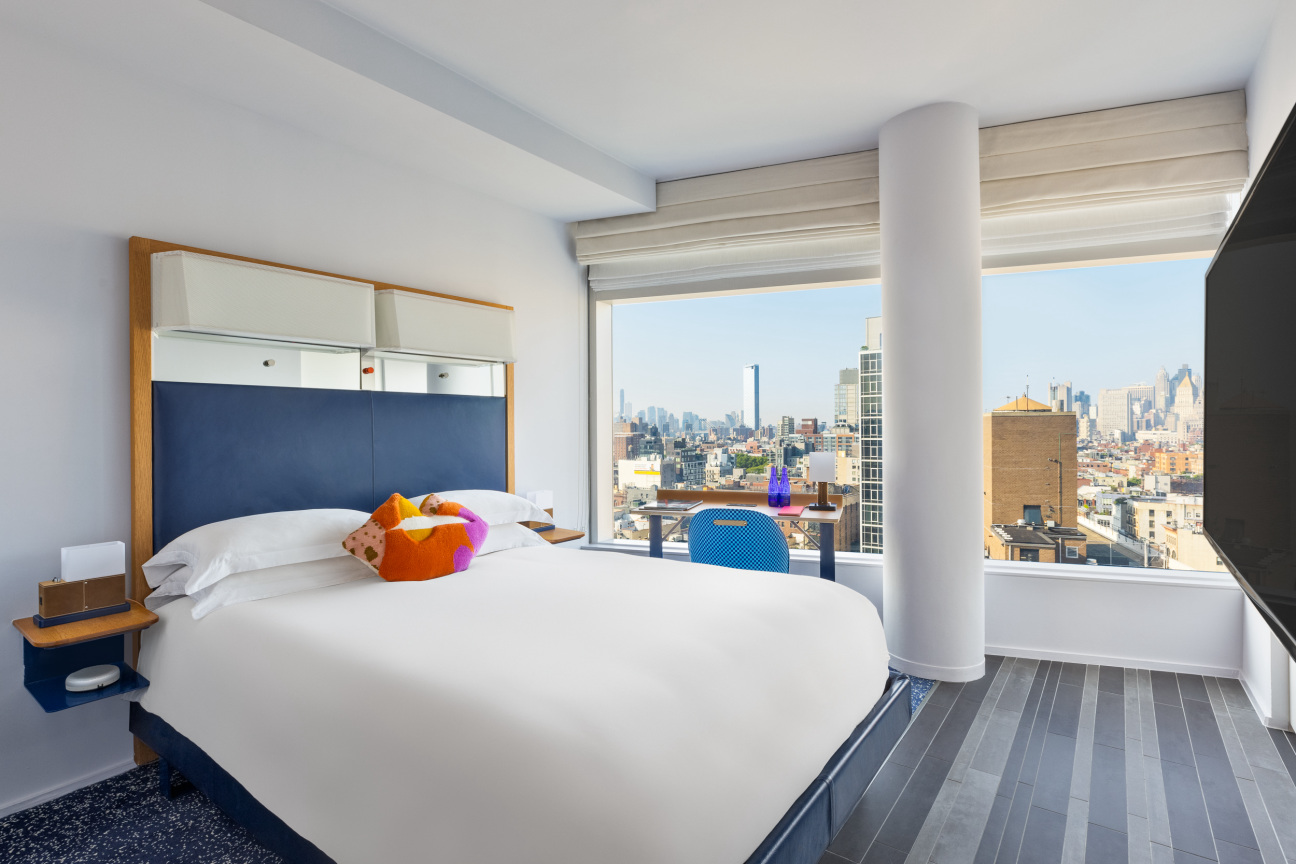 As the summer winds to a close and full-time New Yorkers prepare to wrap up their seasonal travels, the moment is ripe for a last hurrah—a weekend getaway or staycation that offers a chance to take in the city at its quietest, while golden hour is still at its prime. The Standard New York's East Village outpost—the cozy sibling to the Standard's downtown High Line location—is the perfect locale for an escape or an escapade, striking the delicate balance between luxurious comfort and cocktail-fueled fun.
The hotel, with its sloping and soaring facade, has been a mainstay of the city's skyline since 2008, and has developed a reputation for eccentric decor and state-of-the-art amenities. Those in search of respite will love The Garden, the full-service restaurant at the heart of the space, which offers guests a chance to relax against a backdrop of twinkling lights and lush greenery.
For something with a bit more buzz, try Café Standard, where lunch is served street-level, presenting a tableau of city life—a perfect place to grab brunch before jumping into the foot traffic of the East Village. After a day in the city, grab a cocktail to kick off the night at NOBAR, a playfully campy watering hole with a perpetual slate of DJs and performers on rotation.
While the city views on display from the rooms of The Standard, East Village are tantalizing enough, the hotel's interiors are adorned with locally-commissioned works to please the toughest critics. Recently, The Standard commissioned the multidisciplinary interior designer Alex Proba, who previously collaborated with the hotel's Ibiza outpost, to redesign the iconic red-lipped pillows that adorn each of its spacious rooms—incorporating pops of electric orange and magenta.
Also on view in the space is a mural commissioned by Ukrainian artist WAONE. From Legend to Discovery, 2022, was painted on The Garden's wall prior to the hotel's Sunflower Gala, an event that raised money in support of Ukraine in the wake of the Russian invasion.
Most recently, Rahm Bowen, a New York-based artist whose work explores Black and queer experiences, was tapped to create Beyond the Horizon of Time, 2023, a mural that adorns the outside of NO BAR. The mural's constellation of figures, rendered in practically every color of the rainbow, set the tone for a night in the hustle and bustle of the city.