There's nothing like the peak summer sunset over the Pacific Ocean that light and space artist Norman Zammitt's Blue Burning, 1982, brings to life (the work is currently on view at the San Francisco Museum of Modern Art). I always schedule a few California studio visits in July or August, before the bang of the art world's "back to school" calendar. Los Angeles galleries, though, were far from sleepy, summer hiatus mode this year. Duly Noted comes to you from the West Coast cultural capital with the month's best-of Los Angeles roster—catch these shows before the season slips by.
THE ONE-STOP OPTION
If you only have time for one stop in Los Angeles this August, make it Honor Titus's debut, "Advantage In," at Gagosian Beverly Hills. A master painter of leisure and luxury who captures courtside Gatsby-esque panache, Titus is to tennis what Hockney is to swimming pools. But these new paintings push his 21st century lens into more intricate terrain, as he probes elitism, placing people of color in positions of graphic, stylized triumph. Titus and I caught up at his opening and after-party, aptly hosted at a Beverly Hills estate, on a cinematically lit tennis court, where guests toasted the LA-based artist with signature cocktails like "U.S Open, The Honey Deuce" and "French Open, Ace Royal."
"I'm an avid tennis fan. I play the sport. I find it very aesthetically pleasing. I like the wear. I like the decorum. I'm captivated when I watch matches," he explains. "That said, it's also a sport rooted in the undertones of class. When I make these paintings, these conversations and ideas are in constant dialogue." He points to Prosperity, 2023, which depicts a ball boy and a looming Rolex logo. "It's a very normal position for a ball boy to assume, holding up the ball," Titus says. "But in doing so, you see his shadow, and the Black power stance also comes to mind."
"Advantage In" is on view through September 1, 2023 at Gagosian, 456 North Camden Drive, Beverly Hills.
YOU SAY IT'S YOUR BIRTHDAY
Next, head straight to David Kordansky, where "20" is on view—a group survey in honor of the gallery's 20th anniversary, after opening in 2003 in Chinatown. I could have viewed this magnificently curated exhibition for days: it traces Kordansky's evolution as a visual powerhouse, as much as LA's ascendance as a global artist destination, feeling like a finely tuned family museum, akin to Miami's de la Cruz Collection. From Chris Martin, Jennifer Guidi, Lesley Vance, and Jonas Wood, to Rashid Johnson, Jason Fox, Chase Hall, Jenna Gribbon, and Joel Mesler, it's a who's who of the generation's most exciting painters (with many sculptors too). Numerous works were made specifically for the show, including my favorite, Derek Fordjour's Anniversary, 2023, a lush domestic landscape which depicts the artist and dealer David Kordansky in dapper orangey-pink jackets, à deux.
"20" is on view through August 26, 2023 at David Kordansky, 5130 W. Edgewood Pl., Los Angeles.
LAST CALL: RUN DON'T WALK
"Faith Ringgold: A Survey" at Jeffrey Deitch closes in just over a week. Astonishingly, this is the renowned artist's first survey in Los Angeles—and you'll regret missing the exquisite compilation of five decades, weaving together her famous narrative quilts, soft sculptures, tankas, and oil paintings. If you were unable to travel to the New Museum or the DeYoung Museum for "Faith Ringgold: American People" last year (it's heading to the Museum of Contemporary Art, Chicago this fall), here's your LA retrospective. Ringgold is an activist-artist in a league of her own, the foremother of contemporary textile portraiture and storytelling, whose practice challenges longstanding divisions between craft and fine art, as well as perceptions of African American experiences and societal truths.
"Faith Ringgold: A Survey" is on view through August 12, 2023 at Jeffrey Deitch, 925 N. Orange Drive, Los Angeles.
WELCOME TO THE JUNGLE
Lisson's new Sycamore District space is its first West Coast outpost and well worth the wait. The gallery brings artistic gravitas to one of LA's growing destination neighborhoods, furthering the city's global art player status. Case in point: the current exhibition of artwork by Pedro Reyes marks the Los Angeles debut for the Mexican artist—coming off a major solo show, "Direct Action," at Site Santa Fe this spring. At Lisson, Reyes harkens to pre-Columbian civilization and Aztec tradition, transforming meteorite and volcanic stone into spiritual forms that feel at once meditative and political.
"Pedro Reyes" is on view through September 1, 2023 at Lisson Gallery, 1037 N. Sycamore Avenue, Los Angeles.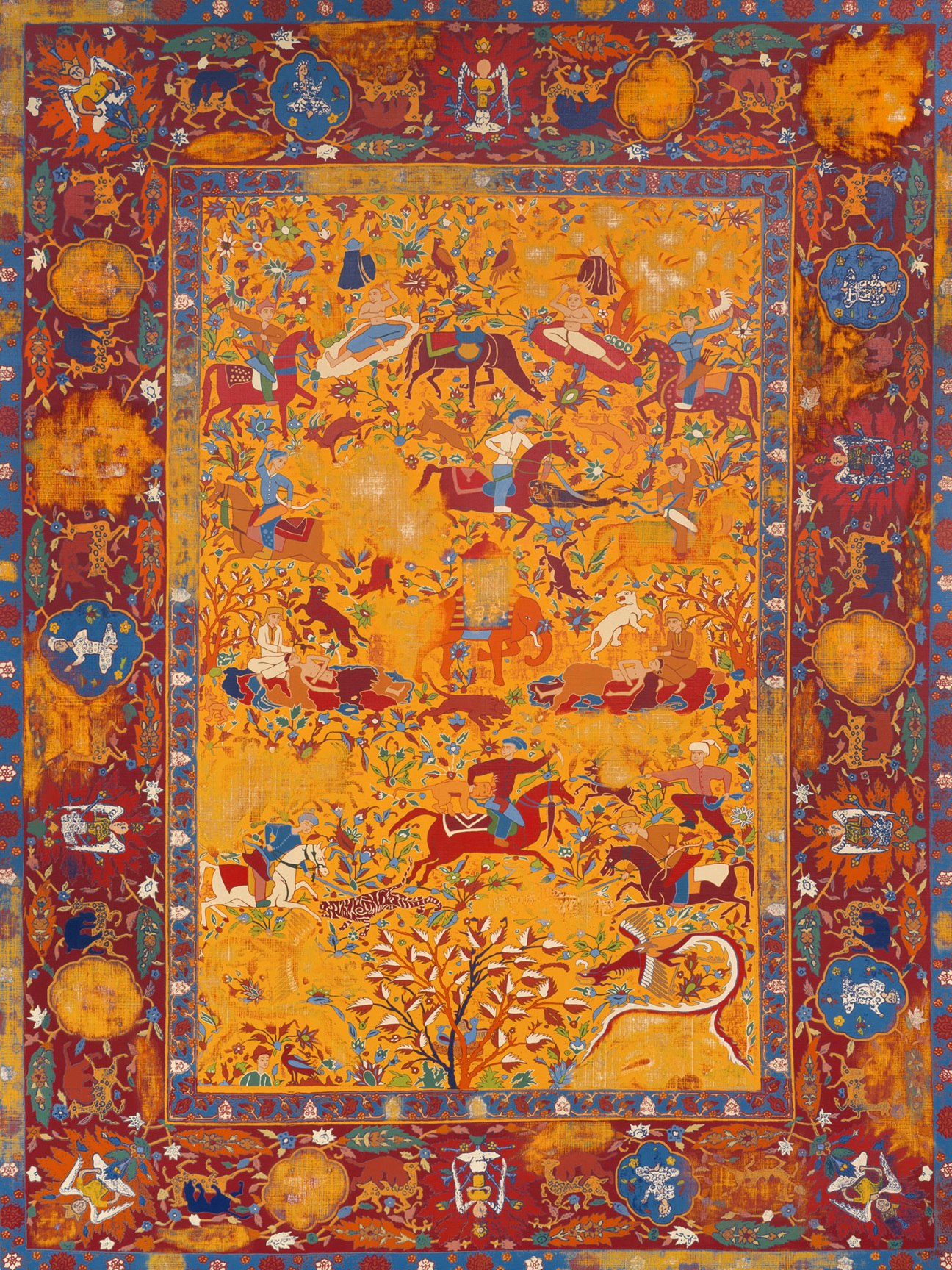 IN MY QUEUE
Last fall, LA artist of Iranian descent Kour Pour—known for dazzling Persian rugs and Japanese woodblock-inspired paintings—opened Guest House in his Inglewood studio complex to exhibit emerging artists and host cultural events. "Guest house was born from a desire to connect with other artists and build a supportive community," he says. "It's a space with an experimental spirit that I hope will be a venue for artists to pursue projects with a sense of freedom."
The latest collaboration, "We Will Dance in the Garden Again," opens Friday, featuring LA artists Farshid Bazmandegan and Rachel Hakimian Emenaker. On my visit, I was able to meet with both during the early stages of installation. The tandem show reflects displacement and belonging, translating personal journey and geopolitics through sculpture and painting (including a rooftop garden installation)—it's the one I wish I could come back for.
"I really connected with both artists' stories of leaving home and moving to new countries, along with the obstacles and comedies of navigating new lands," explains Pour. "I'm excited this will be the first project that utilizes the rooftop we have in our Inglewood complex that lies below the flight path to LAX. Farshid and Rachel have both considered the surroundings for the exhibition and people flying into LA will be able to look down and see their project from above." In the meantime, a sneak peek for Duly Noted 2024: Pour's major solo presentation next spring at Kavi Gupta Gallery in Chicago, which will coincide with an exhibition of Iranian artists from across the U.S. that he's curating for Guest House.
"We Will Dance in the Garden Again" will be on view starting August 5, 2023 at Guest House, 1019 West Manchester Boulevard, Inglewood.