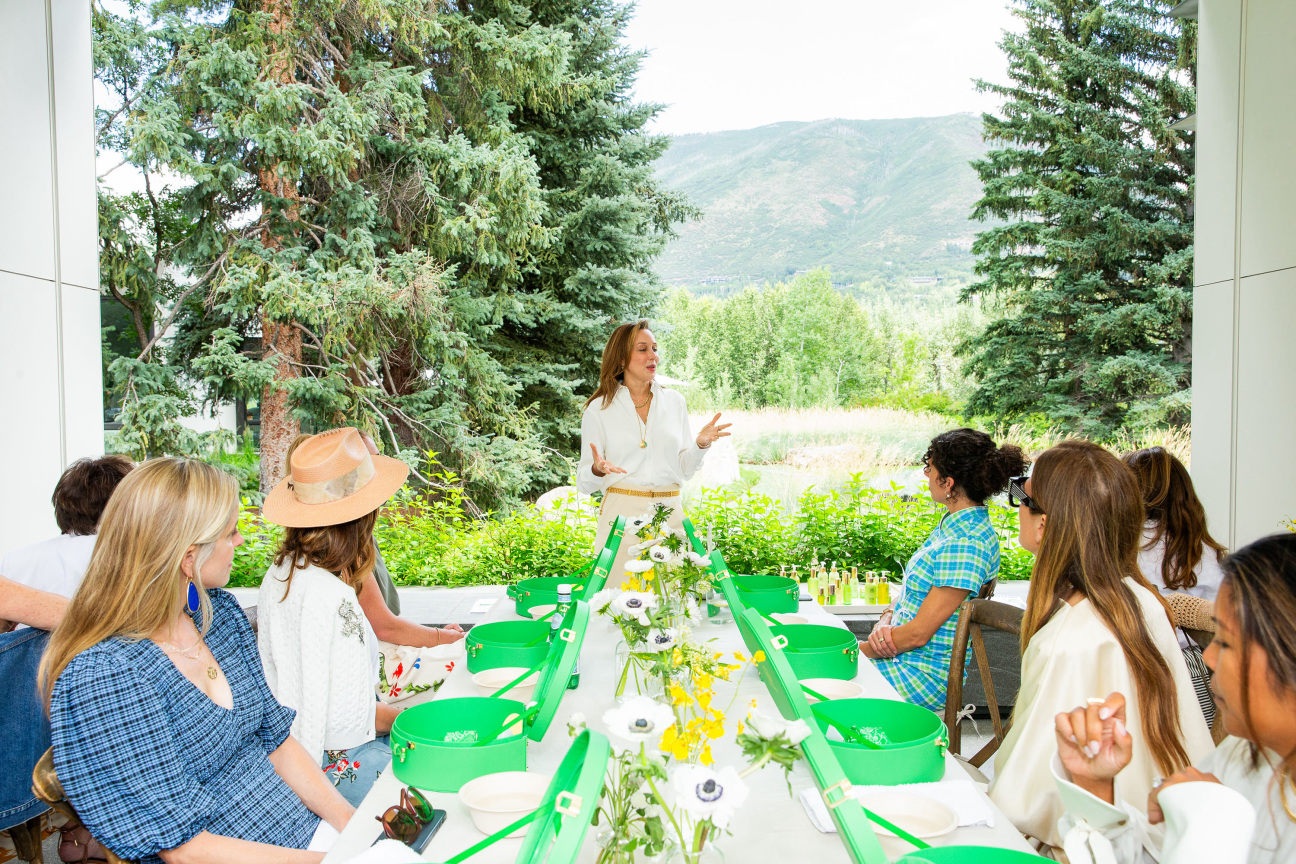 As the Rocky Mountain town celebrates its annual ArtWeek, the host institution, the Aspen Art Museum, is not the only venue for celebration. This year, CULTURED and skincare maven Tata Harper collaborated on a one-of-a-kind event to help prepare revelers for the coming attractions.
Melony Lewis, co-founder of Canyon Echo Capital, LLC.—along with CULTURED editor-in-chief Sarah Harrelson, Tata Harper, and the Aspen Art Museum's Nicola Lees—co-hosted a botanical banquet in Lewis's lush Aspen garden. Art enthusiasts mingled over cocktails and appetizers before sitting down for a personalized skincare tutorial.
The beauty class, helmed by Harper herself, taught guests the secrets of the entrepreneur's namesake skincare line, with sustainably-packaged, all-natural ingredients sourced from her farm in the Champlain Valley of Vermont. After washing the day's makeup away with a double cleanse, attendees applied the brand's Resurfacing Mask. Once that was dabbed off, the Hydrating Floral Essence was spritzed over the face and chest, layered with the Elixir Vitae, Restorative Eye Crème, Repairative Moisturizer or Creme Riche, and Retinoic Nutrient Face Oil.
Iranian-German artist and ArtCrush honoree Nairy Baghramian and muralist Christine Heller were both in attendance. Also present were Stella Bottai, Aspen Art Museum curator-at-large; Sarah Arison, chair of YoungArts and MoMA PS1 and president of the American Ballet Theatre; ​​Silvia Karman Cubiñá, executive director and chief curator of The Bass Museum of Art; Jamie Tisch, co-founder of the Women's Cancer Research Fund and Pitkin Projects; Michelle Rubell, an attorney and collector; Jen Rubio, CEO of Away; creators Amanda Hirsch and Delfina Blaquier; as well as Anna Armstrong, Sophia Cohen, Holly Baril, Darlene Pérez, and Mary Zlot. By the time the event wrapped, each guest was fresh-faced and ready to spend the week attending Aspen's litany of art-minded events.