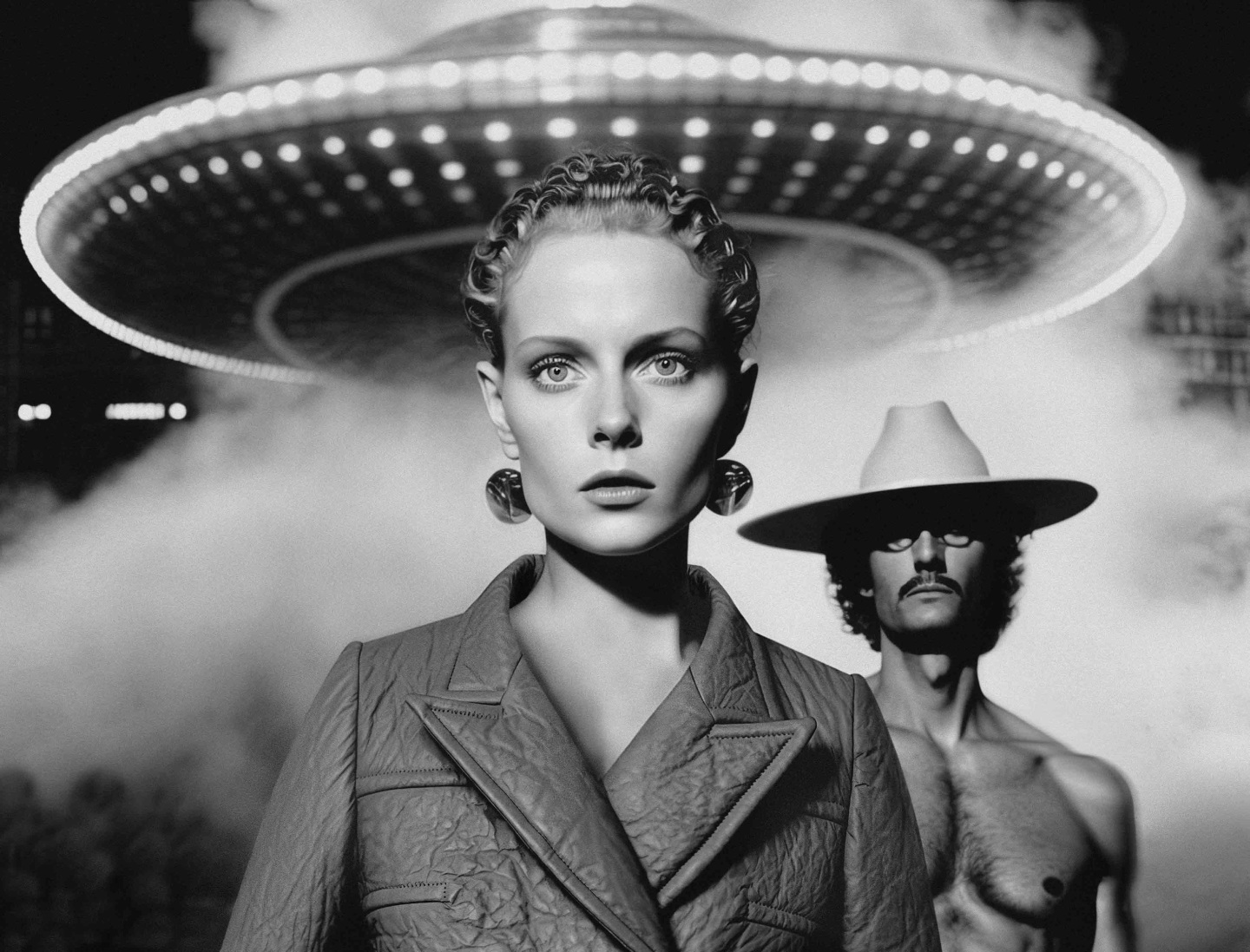 How do you capture the essence of someone who is real? How about someone who's not? These questions lie at the heart of David King Reuben's work. The British multimedia artist was raised in an "ultra-orthodox" Jewish community (founded by his grandfather, who was banished from his previous community for being too radical), and spent his early years struggling to conform. "In our world, when you answered the phone, you didn't say 'Hello," the artist recalls. "You answered by saying, 'Repent, repent, repent.'"
As a teenager, Reuben mastered the high-wire act of balancing religious obligations with secret forays into the secular world. Reuben's closest ally and confidante was his grandmother, who supported his desire to look beyond religion, but it was the fallout of a youthful dalliance that ultimately forced him to reckon with the conflict between community and calling. "My grandparents came to stay for the weekend. I had so much respect for my grandmother that I gave her my bed." Instead of bunking with a friend, Reuben spent the night with a girlfriend. "We boys spent our weekends learning about the sins of masturbation," he says. "But my girlfriend's parents were out of town, so we did a bit more than that."
That night, after breaking a number of his community's staunchest rules, he heard a voice. "It came from the corner of the room after we had sex, and it told me, 'You will pay for this.'" The next morning, Reuben called his mother. "I asked her, 'Did Nana die last night?'" His mother, dumbfounded by her son's clairvoyance, confirmed it. "I left that experience believing that I had killed the one person who really knew and supported me," recalls Reuben. To cope, he threw himself furiously into art-making. "I made a list of all the things that were forbidden in the community, and I began to paint them." His first works, made with shoe polish and jams in lieu of paints, were controversial—and, he says, "also quite bad"—but they drew attention from other young men in the community who were hungry for dialogue around the rituals that defined their lives. Reuben set up a covert salon in the back room of his parent's house. "We would spend hours in there, smoking weed and talking about girls and art," he recalls.
Then it came time for Reuben and his acolytes to leave the community. "Just like my grandfather brought in believers, I brought a group out with me," he says. He added "King" to his name, a way of solidifying the roles of power, self-knowledge, and conviction—central tenets of his Judaism—in his life, and eventually made his way to New York, where he established himself as an avant-garde name. Today, Reuben's merging of the unearthly with the everyday has cohered into an expansive art practice that takes religion as its central theme. "The most gripping magazine covers are usually close-up portraits of a famous person looking right at you," he muses. "For much of art history, that pose was reserved for Christ."
Reuben's swashbuckling, exuberant presence is as daring as his work, which has recently shifted to encompass image-making with artificial intelligence—a process he has undertaken in a new portfolio spotlighting Louis Vuitton's Spring/Summer 2023 Ready-to-Wear collection. Using a variety of A.I. image generators, Reuben created models, elaborate sets, and carefully calibrated lighting, reducing the hoards of producers, photographers, stylists, and assistants that typically populate the set of a fashion editorial shoot to an army of one.
In Reuben's dazzling, chaotic worlds, models emerge from UFOs in plumes of smoke and stalk down burning supermarket aisles, unfurling a loosely narrativized sci-fi epic that traces the tangled relationship between humankind, the technology it creates, and the inevitable self-destruction that follows. "The people that you're looking at are not real; they're a blending together of many thousands of faces," he says, reaching for the right words. "Essentially, they're aliens." To the trained eye, the warp of A.I. glints in every corner: car-like forms that are not quite cars, an eerily elongated hand, a model's slightly too vacant stare. But in the end, what is most uncanny about Reuben's work is what appears real, because as hard as it is to believe, none of it is—except for the clothes themselves. Photographs of pieces from the new collection are painstakingly woven into every scene.
Reuben, who spent a flurry of all-nighters bringing these alternate universes to life, views this project as an act of creative destruction. "If you could create images that look just like Mario Testino's and Steven Meisel's using nothing but A.I., it could disrupt or destroy the entire market," he says emphatically. But the prospect of outsourcing this world-building process to a computer program doesn't strike much fear in Reuben's heart: he is having too much fun. To the artist, these technological advancements—which he projects will be in the hands of 12-year-olds in no time—pose a healthy challenge for the art and fashion industries. "Whether or not to use A.I. in creative settings is such a frustrating conversation. It's like a bunch of people standing around a pencil and talking about if the pencil is good, if the pencil is bad, if the pencil is the future of the craft," Reuben says. "I think somebody should pick up the fucking pencil and start scribbling."
"The UFO has touched down, and it is the raw beginning of everything. These perfectly formed hot people have landed, and the world is about to change. This is our collective human fantasy and our greatest fear: the mesmerizing, terrifying arrival of new intelligence on Earth. The aliens might be adventurers from another planet, but they also might be an enemy force. Will their arrival destroy us? Will they help us transcend the boundaries of life as we know it? Maybe neither; maybe we are more similar to them than we know. What do we humans do with the world? We make a mess of it. We take over the land and we build on it to fulfill our selfish needs, because that's who we are. We make beautiful things. Then we set the world on fire."
—David King Reuben
"So, we burn down the shop. Is there a reason for doing it? Rebellion against the arrival of these otherworldly beings? It's hard to know. The place that feeds us, that gives us all we need to sustain life, is in flames—the table is broken, and there is food all over the place. We have left the vast desert for this land of abundance, where food is strewn across the parking lot, and nobody seems to be afraid. Excess is everywhere, and we can't touch it—it's a waste, but it is glorious at the same time. Everything that has been constructed is falling apart, and here in the middle of the desert, there is nowhere else to turn."
—David King Reuben
"We are dropped into a Tokyo hotel lobby, almost like it was all just a fever dream. The whole world is in flames, but there are still these insular pockets of beauty that fulfill one promise: to keep us perfectly, blissfully numb. We can press a button, and someone will serve us anything we desire at any hour of the day. A glamorous, sleek, controlled environment—another fantasy. This is where everything is headed, right?
But there is still tension between this alien technology and us. Twins, mirrored columns, and long hallways converge and echo one another until there is no boundary between what is real and what isn't. A woman stands before us with her robot shadow lurking behind her—another self who is enviably free of our dull, human constraints. But look into her eyes. Is anyone there? We strive for this symmetry, this imitation of perfection, and it leads us here to this decadent lobby with no way out—no elevator to take upstairs to our rooms. No escape."
—David King Reuben