Connecting art with community, Cultured partnered with Mastercard™ for a priceless™ experience in Los Angeles yesterday, October 25, at the Hammer Museum in which 25 Mastercard cardholders were invited into a special, after-hours tour of one of the city's most beloved institutions. Currently home to three shows, "Bob Thompson: This House Is Mine," "Joan Didion: What She Means," and "Picasso Cut Papers," the noted contemporary art museum has a history of progressive exhibitions and public programming, and has long been a collaborator of the magazine.
Arriving at the Hammer at sundown, guests were welcomed by team members from both the museum and magazine. Led by three curators from the institution, Chief Curator Connie Butler, Erin Christovale, and Ike Onyewuenyi, the intimate tours began at 5 PM, with Thompson's traveling retrospective as the first stop. There, Christovale gave insight into the late artist's colorful, narrative driven paintings, revealing his religious upbringings as well as the close knit of artists in the 1960s downtown New York scene.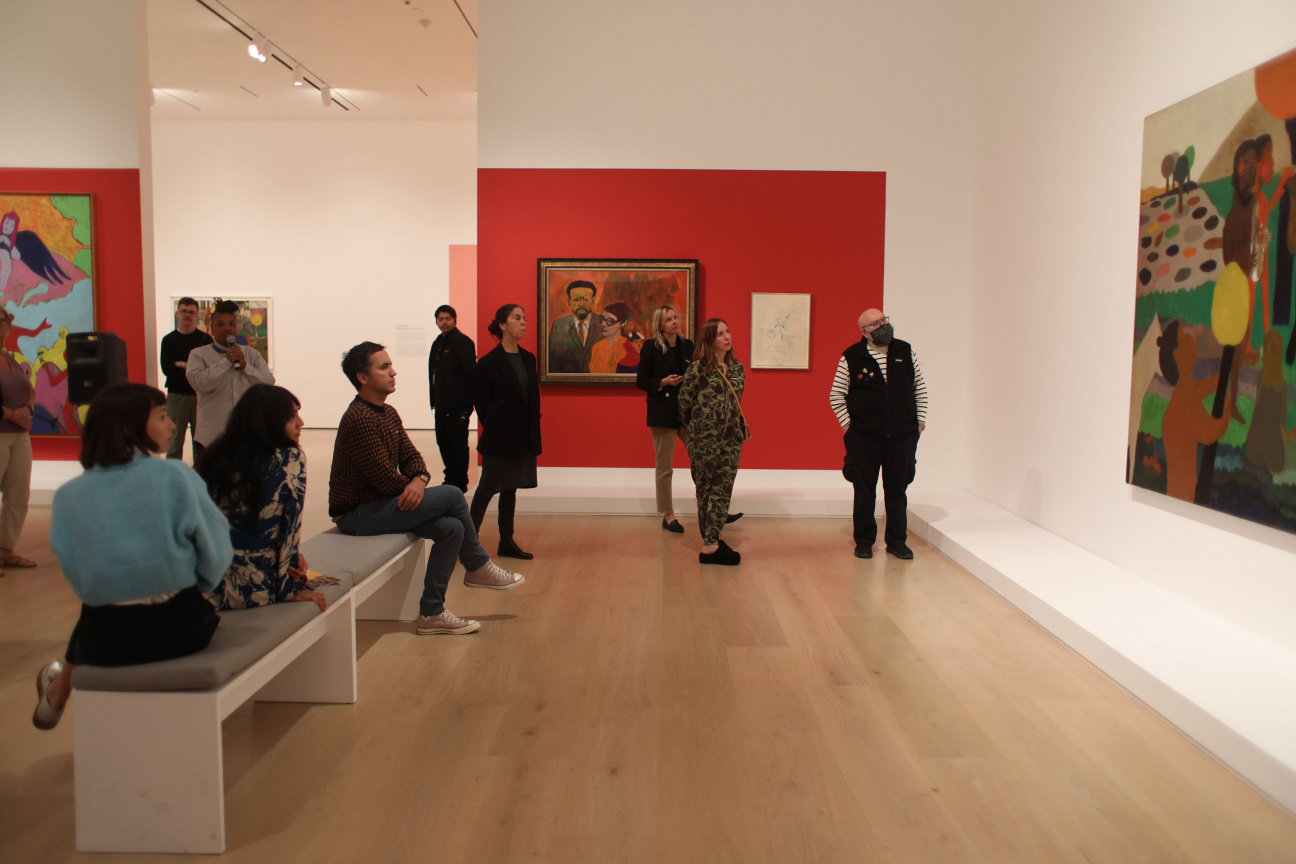 The second portion of the tour was led by Butler and Onyewuenyi, both of whom collaborated with Hilton Als on the curation of "Joan Didion: What She Means." The monumental exhibition features over 200 works by 50 diverse artists, all of which are used as a visual narration of Didion's life. Highlights from the experience include photography by William Eggleston, Diane Arbus, Brigitte Lacombe, and Irving Penn, as well as a mixture of media composed of works by Andy Warhol, Vija Celmins, Ed Ruscha, John Koch, Maren Hassinger, and more. One personal favorite was July Waterfall by Pat Steir, who recently collaborated with Cultured for the magazine's 10-year anniversary.
Concluding the evening, attendees gathered on the museum's second-floor outdoor terrace. Overlooking the Hammer's central courtyard, the reception kicked off with a champagne toast and featured hors d'oeuvres courtesy of Alice Waters's restaurant at the museum, Lulu.