Growing up in rural New Jersey, Lily Stockman—whose juiced-orange and azurite-blue compositions make her a daring master in the world of contemporary abstraction—spent thousands of hours drawing on ice as a child. The eldest of four girls, her family had an old cow pond. "Kids would come over in the winters from sunup to sundown. It was always a race to get out on the pond in the morning," recalls Stockman, who played ice hockey into her teens. "There's no more beautiful way to make a mark than drawing with your entire body."
Likewise, Stockman's high school summers driving a tractor and bailing hay had an influential effect on her practice. "It's impossible to make a hard angle pulling a lot of equipment behind you," she explains. "When I'm painting, I think about softening the corners of a field. I paint large canvases flat on sawhorses, looking down on the flat plane and then I put the painting up on the wall—when you change the plane, the perspective is built into the work."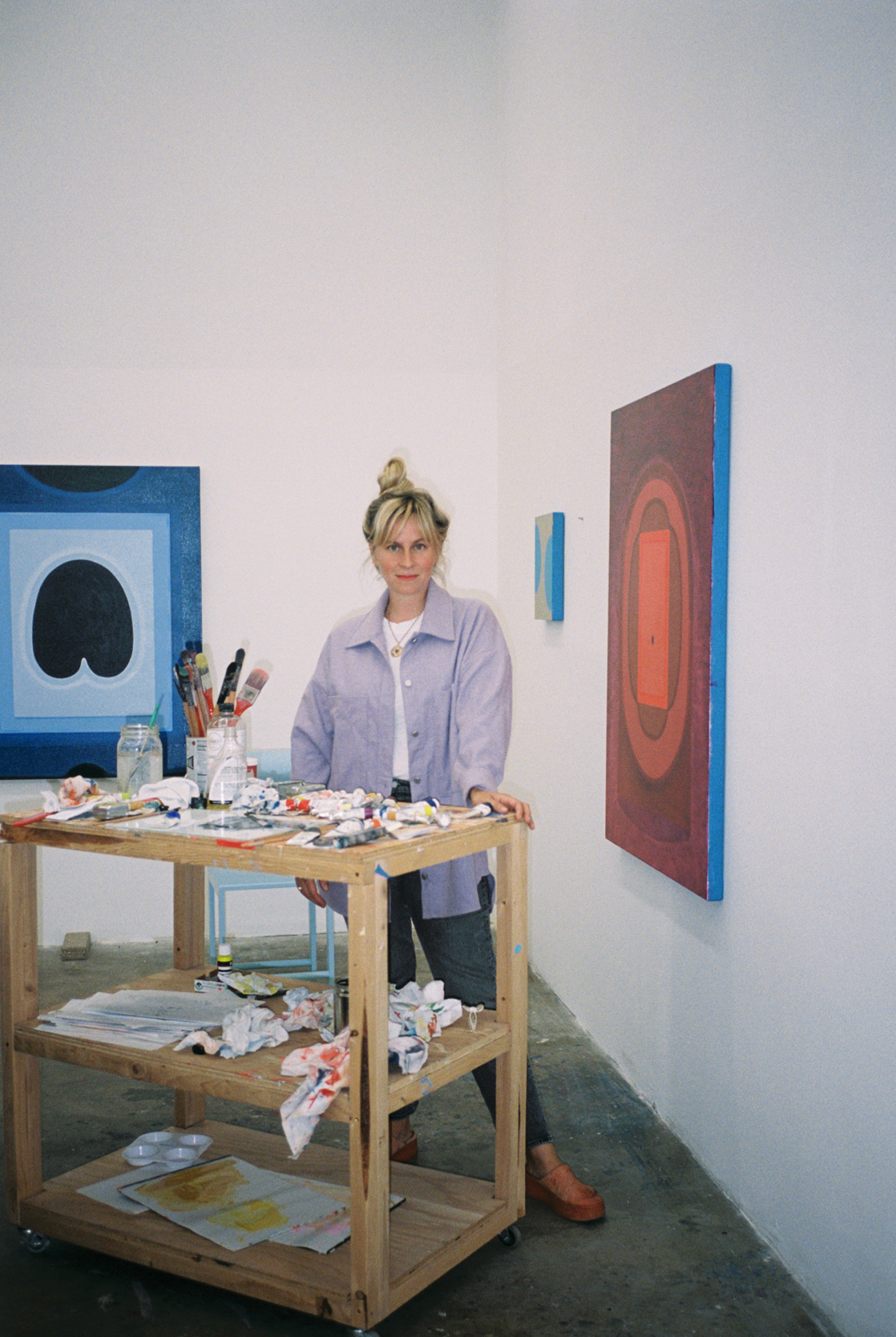 This past July, I visited Stockman's Frogtown studio on the first floor of the urban utopia complex she shares along the Los Angeles River with four impressive female colleagues (a "little strip of secret wilderness" by Stockman's description) to preview paintings, in progress for two projects. First, there's a trio of Mojave desert-inspired works for the Orange County Museum of Art's recently resurrected California Biennial, which debuts this week in OCMA's just-opened Costa-Mesa building. Next, for Charles Moffett in Lower Manhattan later this month, there's "The Tilting Chair". The exhibition is significant, as it marks Stockman's first New York show since fall 2020, when she captured the eye of critics and young collectors on both coasts during the thick of Covid. Since then, the artist has also clocked a solo exhibit at Almine Rech in London, "A Green Place," where her peachy-periwinkle, organic contour take on modernism proved equally ravishing.
"The tilting chair was invented by the Shakers. They placed a little half-moon socket into the back legs of a ladder back chair, so after a meal or after a song, you could lean back without slipping or denting the floor," she explains while discussing her upcoming exhibition title. "I love the idea of breaking from the symmetry of the rigidness of my own rules to lean back, digest, or loosen up a bit more. This is a kind of new chapter. The grammar of my paintings is the same, but the inflection shifts a bit." Indeed, the metaphor is apt: Stockman's canvases possess a "very specific grammar," as she puts it, and yet, like her artistic forebearers Agnes Martin and Josef Albers, the syntax continuously evolves. "Painting is a system," she clarifies. "It's a language. It's an opportunity for communication that painters can't figure out how to do any other way."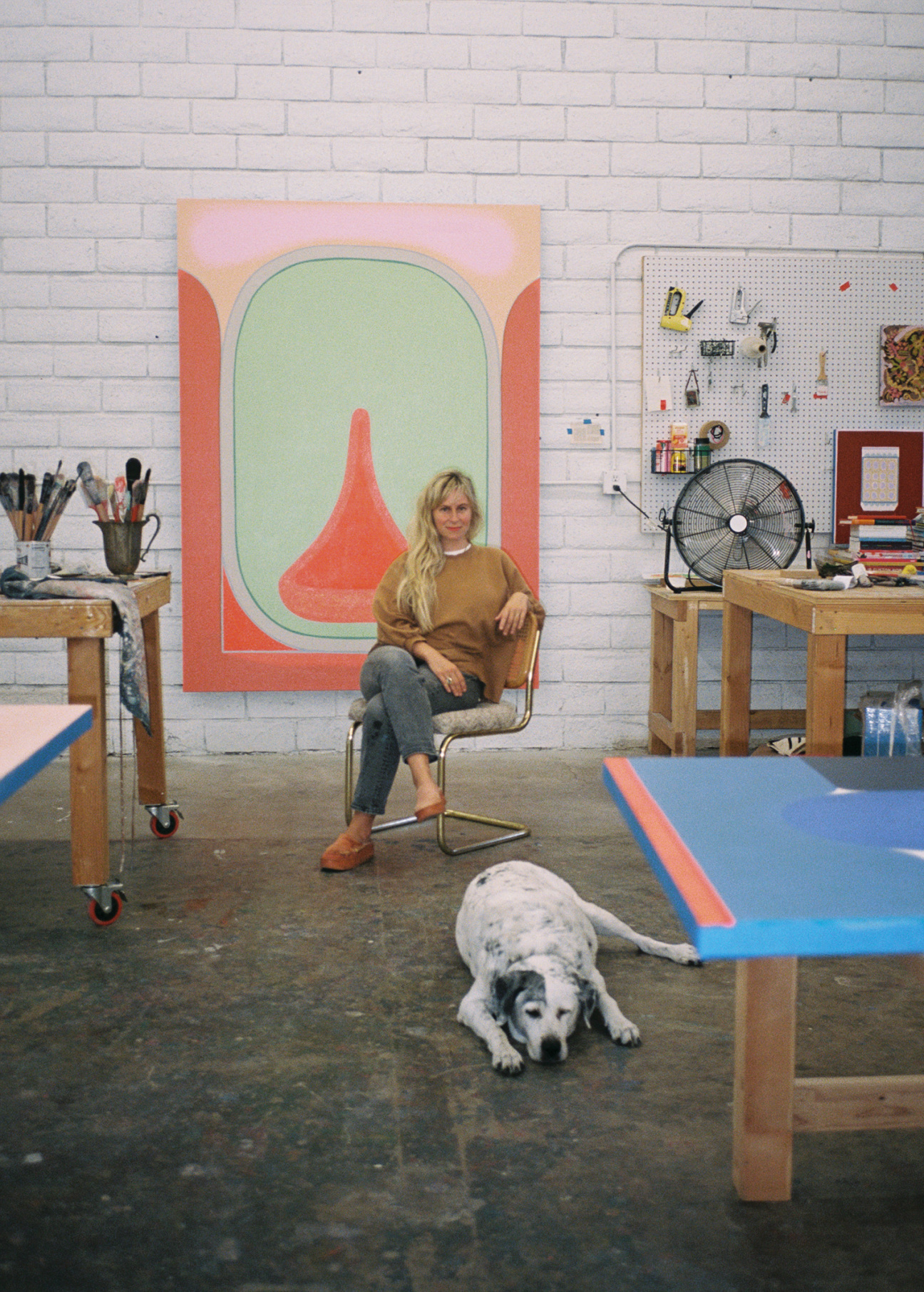 At the same time, the layered allusions in Stockman's process come as little surprise: she ranks among the intellectual artists of her day, with an undergraduate degree from Harvard (in addition to an MFA in studio art from NYU). She also studied Buddhist thangka techniques in Mongolia and Rajput miniature painting in India. Ultimately, it's coloration that fuels her. "Milton Avery is one of the most brilliant American colorists. No one was combining cherry blossom pink and diluted turquoise," Stockman says, when asked to reflect on her aesthetic lineage. "There's something just a little off and strange about his palette, almost as if you took the cotton candy colors from impressionism and then gave them a grumpy New England sensibility."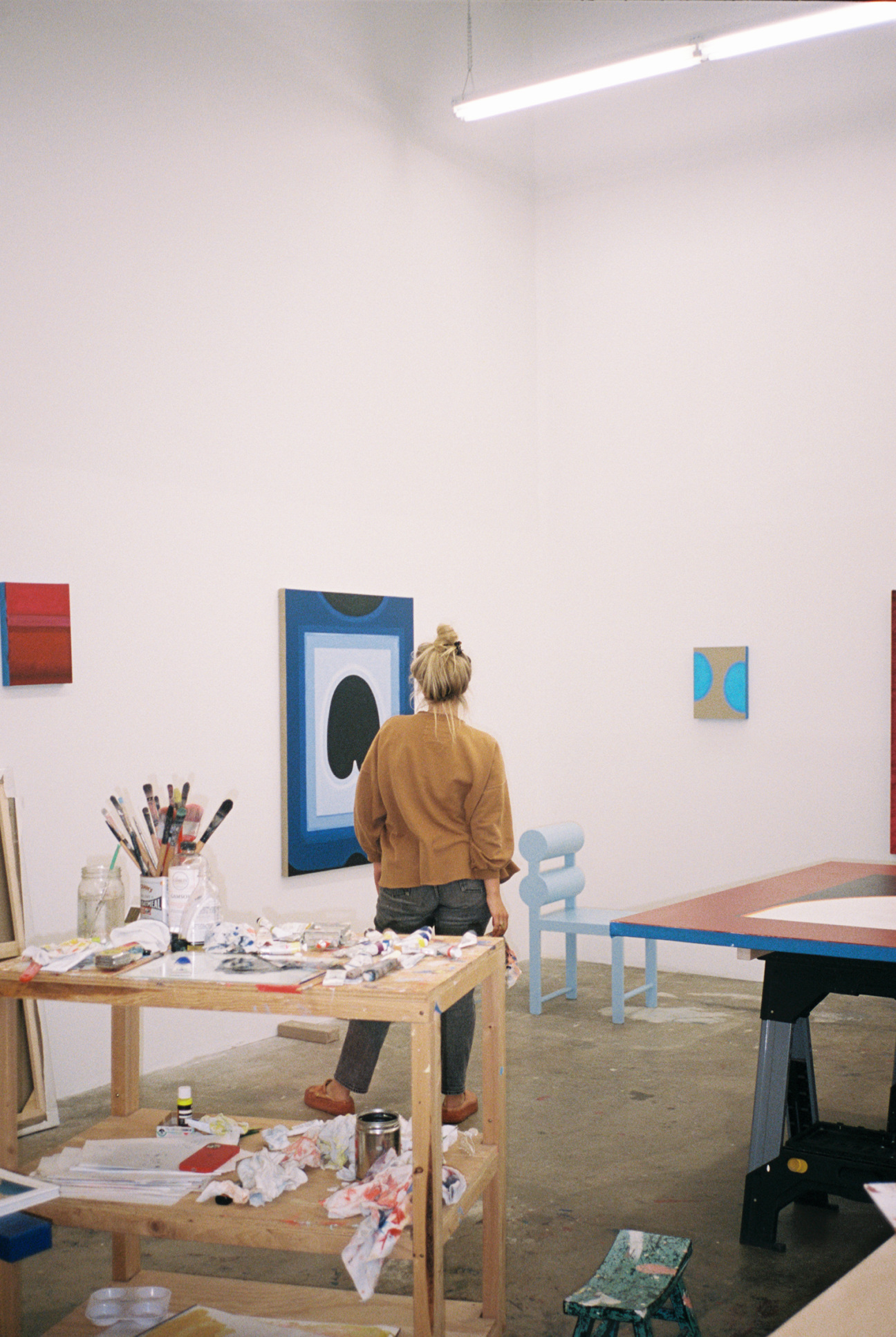 Over the last few years, en route to Joshua Tree, from which her three California Biennial works draw their meaning, the artist, pregnant with her third child, became transfixed by the desert's severe climate and metamorphic rocks. "In the winter, there are blizzards. In August, there are flashfloods during monsoons. Biblical weather events happen up there as you are driving from one geological era into another," Stockman says, describing the landscape's pink granite mounds and trunks of quartz. "These three paintings are different sensory chapters of that drive. The drama of driving through geological time when one is so aware of personal time, creating a life in nine months, especially being so isolated during Covid was profound for me."
"The Tilting Chair" is on view at Charles Moffett from October 28 through December 10, 2022 at 431 Washington St, New York, NY 10013. "California Biennial 2022: Pacific Gold" is on view at the Orange County Museum of Art through February 26, 2023 at 3333 Avenue of the Arts, Costa Mesa, CA 92626.