This New York Fashion Week, one of America's fastest rising design talents, Christopher John Rogers, is revealing his work not on the runway, but in a furniture showroom. After showing his 2023 resort collection this past June, Rogers is making his mark this season through a collaboration with Irish design studio and furniture manufacturer Orior on a capsule collection of four chairs, the fashion designer's first foray into home design. The seemingly unexpected connection between Rogers, who launched his eponymous fashion brand in 2016, and Orior, founded by designers Brian and Rosie McGuigan in 1979, came through the McGuigans' son, Ciaran.
Rogers, Ciaran, and Orior director Jordan Trinci-Lyne attended the Savannah College of Art and Design together and have followed and admired each other's work for years. Having begun working with Orior in 2012, Ciaran became the company's creative director in 2018 and has breathed new life into the heritage brand alongside Trinci-Lyne since. In his continual effort to elevate his family's company, Ciaran reached out to Rogers during the pandemic to see if he would reimagine four archival Orior chairs with some of his contemporary prints. Already the proud owner of an Orior wingback Lia chair, Rogers needed little convincing.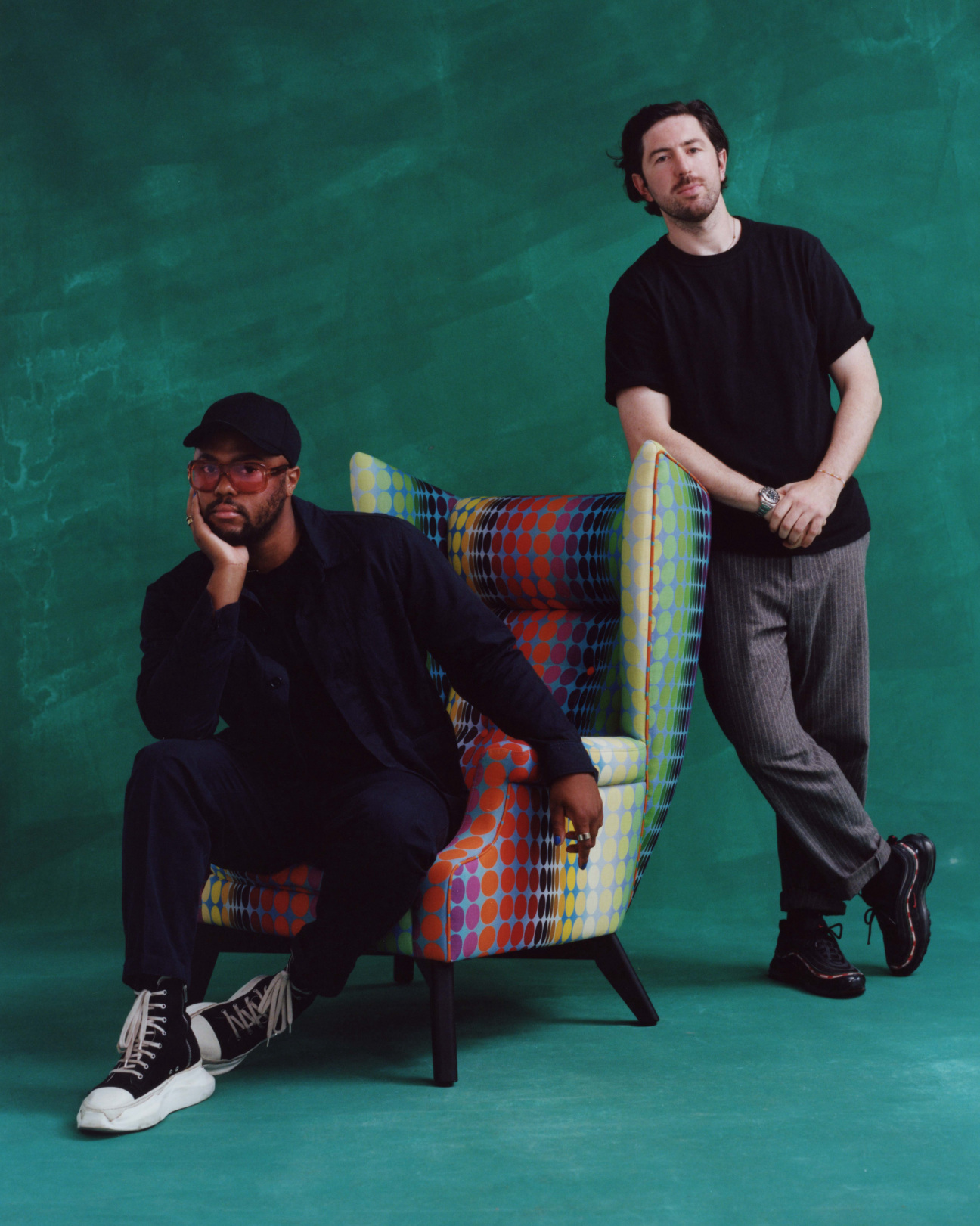 "I'm just someone who loves to design," Rogers says of the collaboration, which also represents Orior's first time working with external talent. "Regardless of the category, I like to make work that's really declarative and special but can also stand the test of time." The proceeds from this collection will be directly donated to grassroots organizations recommended by Color of Change, a nonprofit civil rights advocacy organization that the former Vogue/CFDA Fashion Fund award winner passionately supports.
In addition to the Danish-inspired Lia armchair, upholstered in Rogers's kinetic Gradient Dot print from his 2021 Collection 008, Orior's Mozart chair—a compact, curved seat with oak cylindrical legs—has been covered in Rogers's Rainbow Stripe print, while the Pop chair—a swivel design referencing Arne Jacobsen—is clad in his Rainbow Multi Check print. The latter two prints were derived from sweaters that Rogers designed. For the final piece, the André chair evokes 1960s Scandinavian design; Rogers opted for Combo Wave Check, a black-and-white zebra wave and check pattern featured in his 2020 Collection 007.
Revealed today in Orior's SoHo showroom, which opened this past June in New York, the chairs are the antidote to minimalist furnishings. Instant statements that conjure the Op Art of Bridget Riley and Victor Vasarely, their graphic designs stand in stark contrast with other Orior collections, whose occasional experiments in color extend more into the realm of jewel-toned velvets than Rogers's bold pattern play. To further contemporize these collaborative chairs, Ciaran made subtle design changes, such as swapping out the material choices for the legs.
For him, a highlight of developing this collection was witnessing the shocked reactions of the workers who have upholstered furnishings in Orior's factory in Newry, Ireland for 40 years. "When they got to the fabric with Chris's prints, they were like, 'What the fuck is going on? Where is this going?' Then at the end, they sat the chairs down, and the guys were like, 'Actually, they look alright!'" Ciaran recalls with amusement. "That crazy moment in time where these traditional old Irish craftsmen saw these beautiful prints and colors was quite special."