Never one to hold her opinion, Jenny Holzer tackles the modern moment in "Demented Words," her new text-based exhibition at Hauser & Wirth. Just opened at the gallery's 22nd Street space in New York, the conceptual artist employs her signature language medium to critique Trumpian politics for this latest body of language-focused art.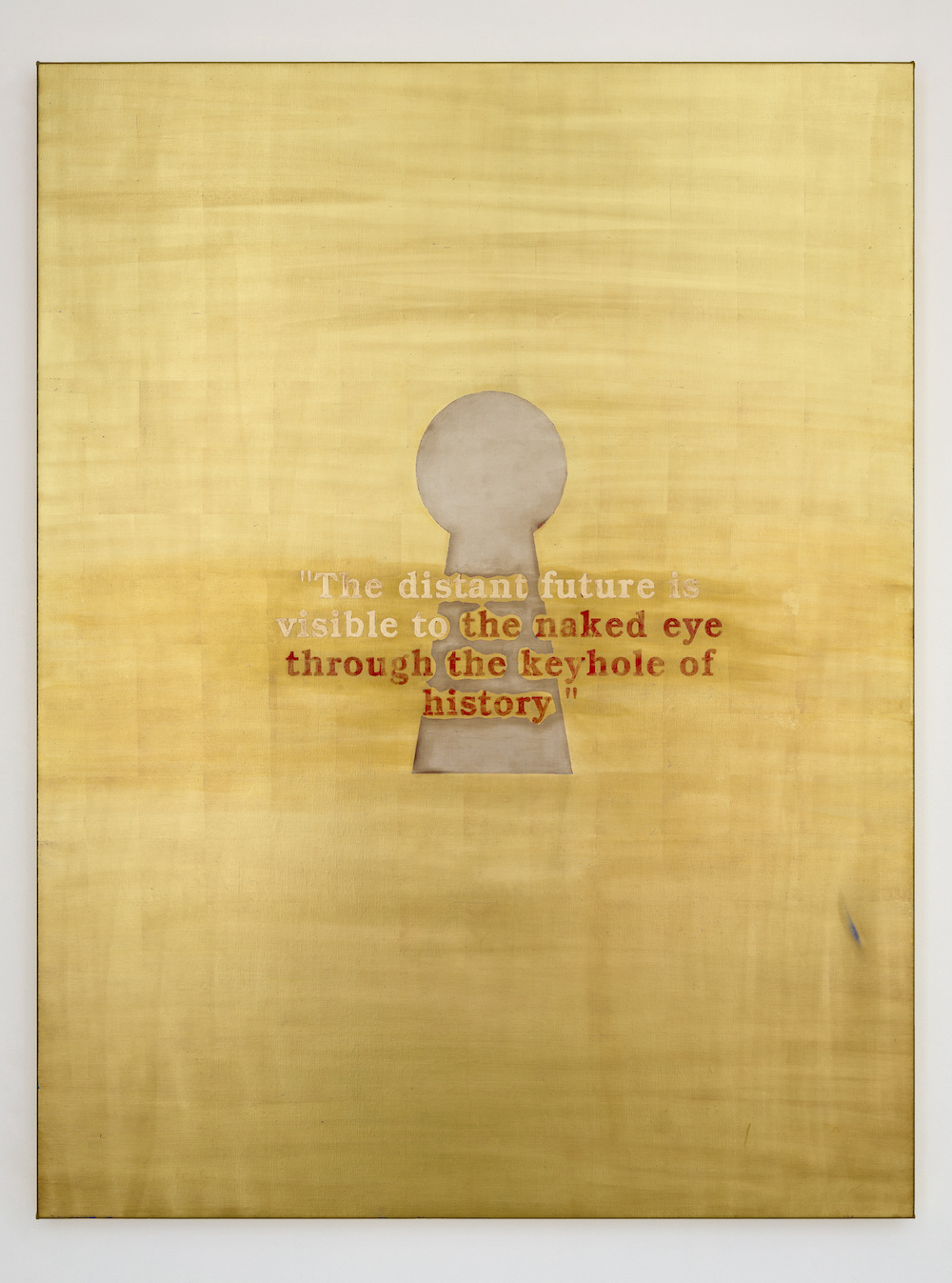 For the past five decades, Holzer's work has centered on the social influence of power, reconciling our emotions, experiences, and ultimately, our broader culture within those effects. In this showcase, she highlights nearly 300 evocative "curse tablets" alongside her massive "WTF" centerpiece, an electronic sign that swings and slides across the gallery's ceiling, displaying Tweets from former President Trump and QAnon. The piece's frenetic rhythms nod to an often fraught and divided cultural landscape, while the curse tablets combine ancient traditions with markers of modernity. These purposefully-damaged plaques are fashioned to gallery walls and floors—inspired by historic Roman vengeance tableaus. Holzer's Twitter-stamped versions bear Trump's words on ruined tiles, proclaiming: "Remember I told you so!" and "I just want to stop the world from killing itself!" and "Our great country has been divided for decades. Sometimes you need protest in order to heel, & we will heel, & be stronger than ever before!"
Along the gallery's walls as well, Holzer's large-scale linen paintings recall timely topics in American government. These works reveal enlarged pages of redacted official documents from the 2016 Presidential election and FBI records on the Patriot Act. Their texts are largely obscured beneath gilded and platinum paints to suggest secrets hidden beneath their shiny surfaces. Ominously, her "keyhole of history" work reads: "The distant future is visible to the naked eye through the keyhole of history."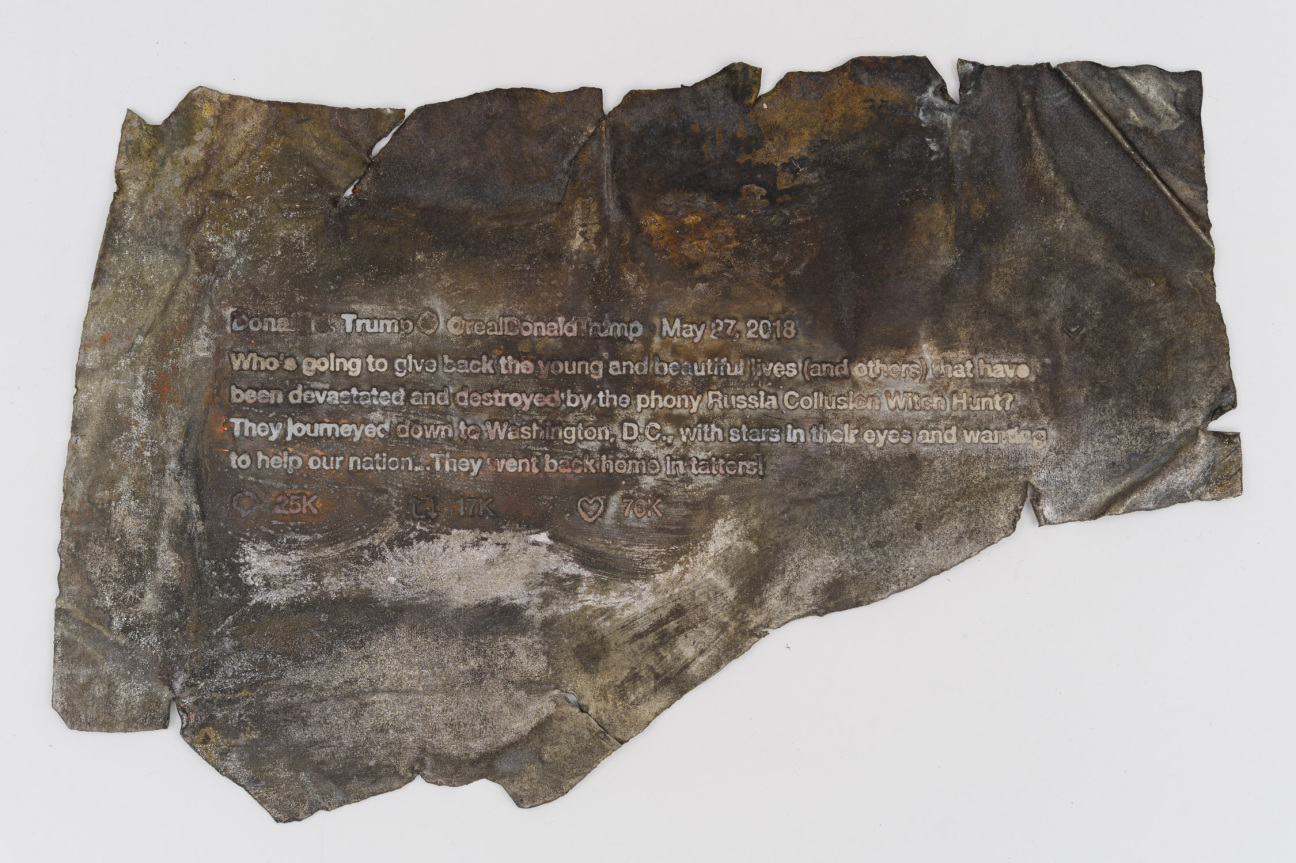 The idea of tumult beneath the veneer is hardly uncharted territory for Holzer. Since her famed 1970s "Truisms"—a series of sharp, witty one-liners—she has created socially conscious public art with a focus on language. Following her diverse studies in painting, printmaking, and liberal arts, the Ohio-born creative, moved to New York and joined the Whitney Museum's independent study program. A member of Colab and the feminist artist movement, Holzer, 72, began her work engaging the possibilities of words and public spaces. In her many projects since, she has used platforms from advertising billboards and trucks to LED sculptures and light projections to raise awareness through her inspired messaging. The artist leverages her own words—as well as those of poetic and political others—to point to world inequities.
Across her practice, Holzer provocatively questions how views are shaped by the language we see and hear. Her body of activist art centers on global issues including human rights, AIDS, gun violence, and international conflicts. Many of her text-based series, such as "Inflammatory Essays," "Survival," and "Laments," have received critical recognition. Notably, she was awarded a Golden Lion at the 44th Venice Biennale, where she became the first woman to represent the U.S.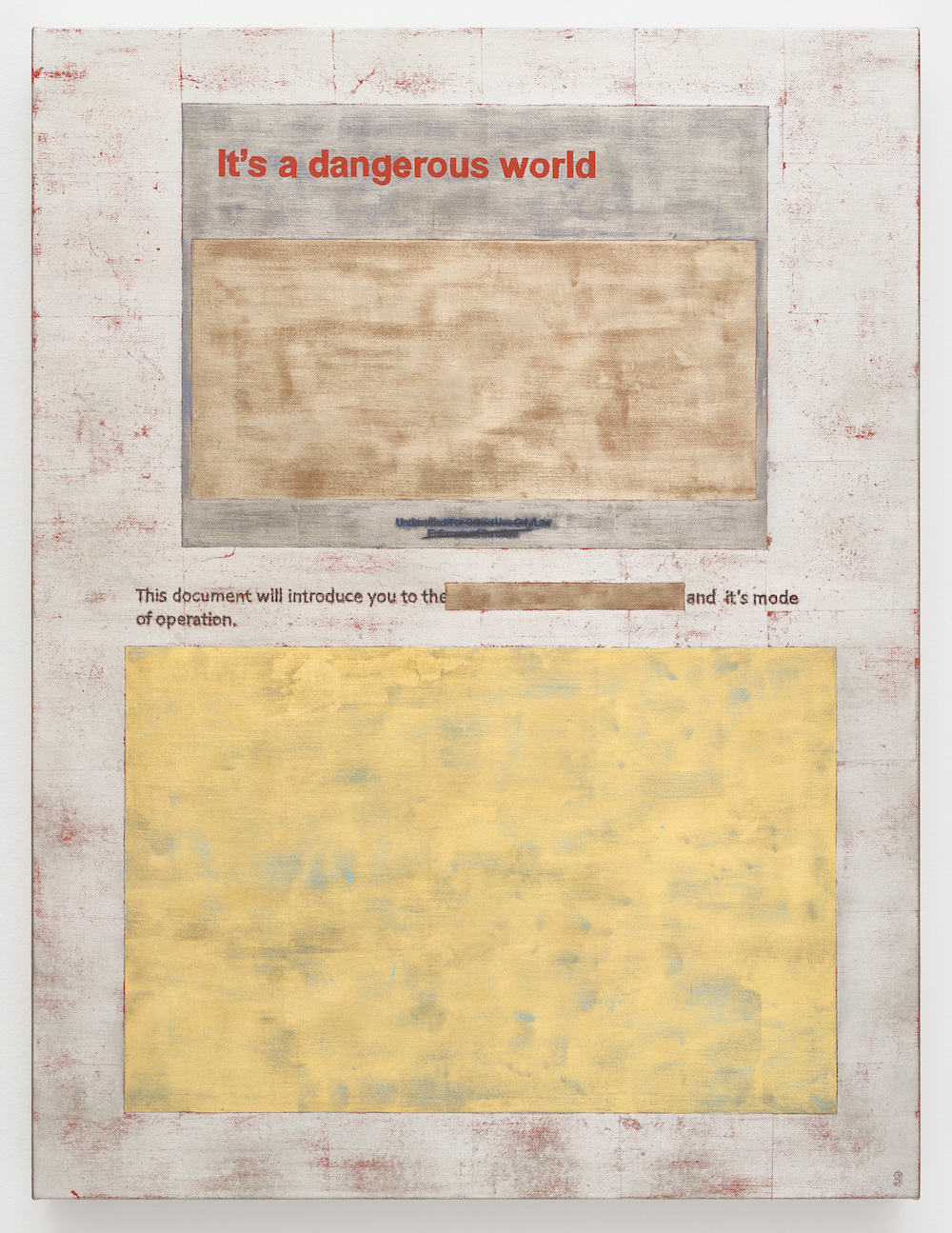 From international projects in London's Piccadilly Circus and Paris's Louvre Pyramid to the lobby of 7 World Trade Center and most recently, "Demented Words," Holzer's impact owes largely to the social mirror her works wield. Distilling many voices and truths, conflicting facts and fictions, the artist presents these issues as a step towards progress. Her stark messaging urges audiences not to look away. She presents boldly to push us to think deeply about the words we see and hear—in hopes of looking ahead differently and better.
"Demented Words" is on view at Hauser & Wirth 22nd Street from September 8 to October 29, 2022 at 542 W 22nd St, New York, NY 10011.