On August 12, Cultured kicked off the weekend with Make Hauser & Wirth artist-in-residence ceramicist Florian Gadsby in Southampton. The gallery giant has brought its United Kingdom-originated initiative, Make, to the East End this summer, celebrating craftsmanship from July through October with maker-based group show, "Of Making and Material" at a pop-up just steps away from its permanent address on Main Street. To commemorate the end of Gadsby's two-week, on-site residency, Cultured and Hauser & Wirth partnered to host a cocktail party at the pop-up exhibition space, where artists and art world friends gathered for a potter's wheel demonstration by the London-based talent, cocktails, and conversation last Friday.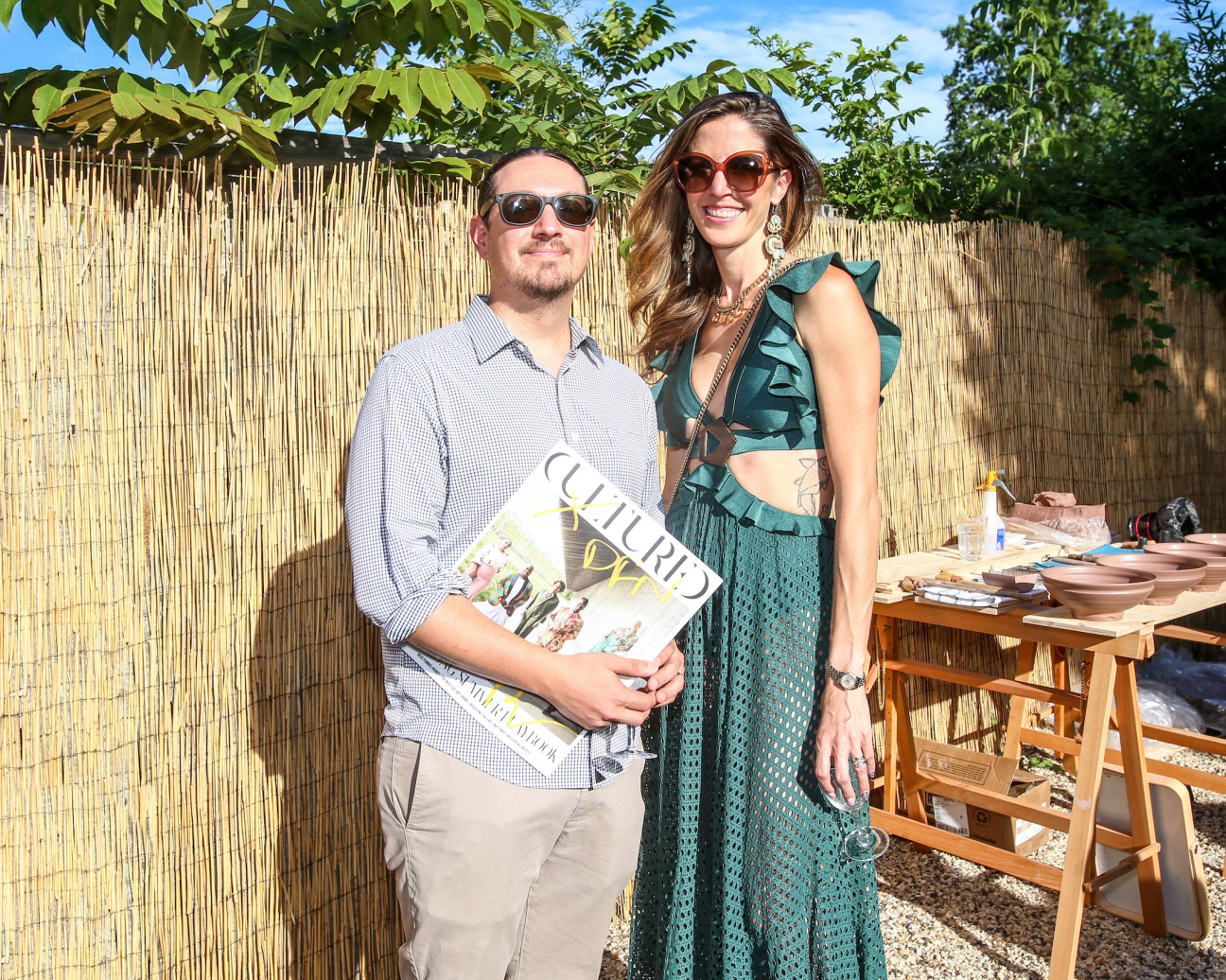 Underneath the setting Hamptons sun in Make's private garden, Gadsby put his practice on display, throwing several vessels and cups to let partygoers in on the magic of his craft. Clad in an apron and blue baseball cap, the artist appeared to be studio-ready at the casual affair—a testament to Make Hauser & Wirth's refreshing focus on the work of artist-makers. Hosted by Cultured arts editor Jacoba Urist, attendees didn't arrive just to toast and mingle, but to celebrate Gadsby's practice.
Gadsby has been lauded for his ability to pair pragmatic function with the devotion of a master craftsman, creating ceramic dishes and vessels that vary in shape but are connected in their style: featuring clean lines, sharp silhouettes, and earthen tones. At the evening soiree on Friday and throughout his residency, visitors to Make Hauser & Wirth were able to witness Gadsby at the wheel in real time: a particularly special opportunity as Gadsby has amassed an audience of 2.5 million viewers on social media with video documentation of his working process. At the event, guests including Hauser & Wirth president Marc Payot, David Kassan, Shana Levenson, Aleksandr Rubin, Brianna Lipovsky, Chris Senger, Georgia Cohen, and Russell Salmon who enjoyed Wölffer Estate's Summer in a Bottle rosé wine while viewing the exhibition and his live art making. Thanks to Make, Gadsby's viewership shifted from the small screen to in the flesh, engaging in conversation and contemplation with the artist.