Elizabeth Fazzare: How did you begin to build your own collection?
Carolina Cucinelli: I am a great art lover. When I was in high school, I decided to study art because I wanted to learn about the history of art, from classical to contemporary art, and I also wanted to better explore different artistic techniques. The passion for collecting was also passed on to me by my father, who has been collecting art, especially classical art, for many years.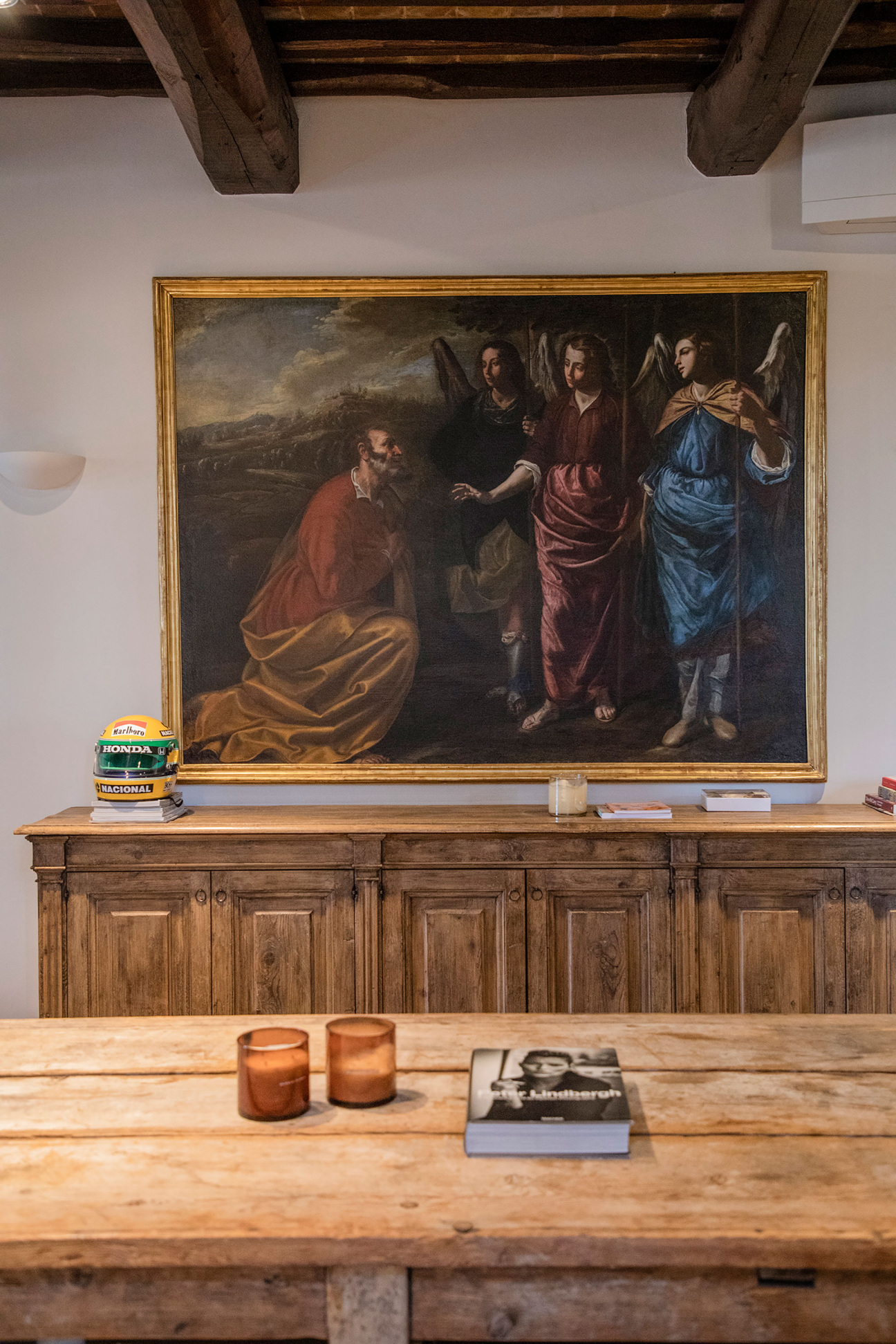 EF: What was the first piece you collected?
CC: It was L'Annunciazione ad Abramo by Artemisia Gentileschi, an extraordinary painting that was given to me by my father and previously belonged to his collection. I am very attached to this painting, not only for its artistic value and beauty, but above all for the values it stands for. Gentileschi was a very talented painter who lived between the end of the 16th and the middle of the 17th century. I believe that her life can make us reflect on the role of women and female artists, a very topical issue for our society today: she experienced very painful events, yet she never stopped fighting for her art and her dignity.
EF: Is there a defining theme to your collection?
CC: I like to juxtapose pieces of more classical art with contemporary works, particularly black and white photographs. I love the contrast sparked by the proximity of different styles and eras because I think that it can always lead to something new, intriguing and unusual.
EF: How do you find the realtionship between fashion and art? Do they inspire each other in your work and art collecting?
CC: Art and fashion are very closely linked; I would say they are inseparable. For me, fashion is a very powerful expression of art without filters and it needs no interpretation because it goes straight to the heart. Like many art forms, fashion is imagined with the mind and realized with the hands: I am thinking of the craftsmanship behind our collections, such as the Opera knitwear creations, garments made entirely by hand by our incredible craftswomen. Often, the inspiration for new collections comes from an exhibition or a visit to a city... art and culture are two fundamental elements in our collections.
EF: What artists are inspiring you right now?
CC: Although I love discovering new talent, I also love going back to my "old loves" I'm thinking of the incredible paintings by Caravaggio, or the drawings by Leonardo da Vinci. These artists are always present in my personal mood boards, just as black and white photography also has a lot of space. The genius of photographer Peter Lindbergh is a constant inspiration. I love his style, the power of the looks, the plasticity of the bodies... I think he interpreted fashion in a very unique way.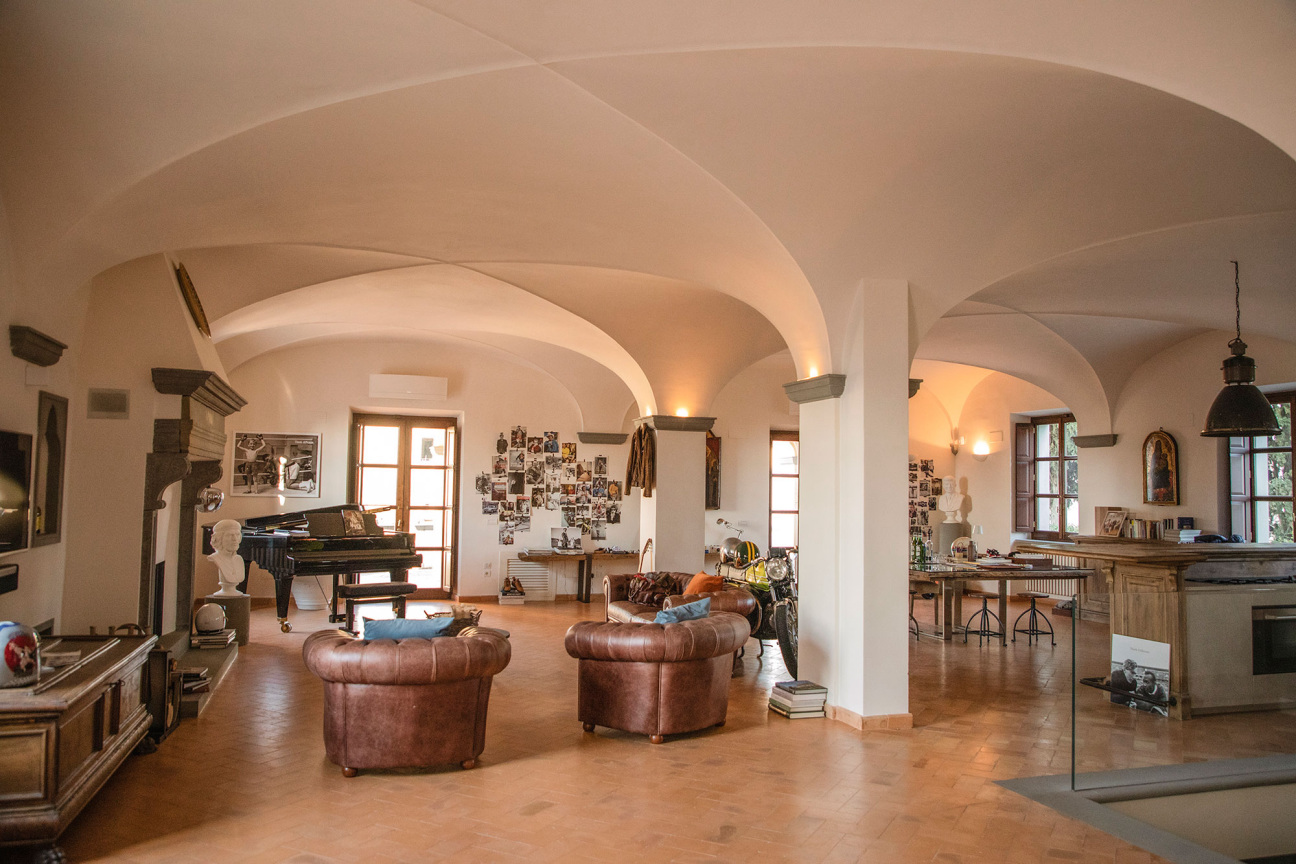 EF: How does Umbria itself influence your collecting?
CC: I am very attached to my land. Umbria is rich in history and culture—just think of the great painters of the Umbrian School: Perugino, Raphael's master, Piero della Francesca and Pinturicchio. And I also like the fact that art and craftsmanship have always gone hand-in-hand in our region. I'm thinking, for example, of the Templar Church of San Bevignate in Perugia, which dates back to 1200;the church stands on top of a Roman complex: under the nave, archaeologists found some basins during excavations that were allegedly used for processing fabrics!
EF: What is most exciting about ceramics to you?
CC: I like to think that ceramics are forged by hand, slowly taking shape on the press under the eyes of the craftsmen. In Umbria, we have a long, rich tradition of working with ceramics, which is why we have decided to pay tribute to it in our lifestyle collections through a line of ceramic items in the colors of the earth and with irregular details that make each piece unique.
EF: Does the art marketplace help your discovery?
CC: The art world is always part of my daily inspiration and research, especially when I am traveling. I think that art and artists are a great way to learn about different cultures, eras and countries; to broaden my horizons; and to feed my curiosity and desire for discovery.
EF: What is the next piece on your radar?
CC: My husband and I have commissioned a series of half-busts for our private collection that feature some important figures and personalities of contemporary times, such as Mahatma Gandhi and President Barack Obama. I like the juxtaposition of the ancient concept of sculpture and the subjects being contemporary individuals: it sparks a very interesting contrast in style.
EF: And what is the last piece you purchased?
CC: Actually, it was a gift: a beautiful painting to which we are very attached. It is Saint Andrew by Giovanni Santi, a painter who lived in the second half of the 15th century and the father of Raphael.