In a recent video, Kanye West speaks to his coining of Black Future Month. Part sermon, part spoken word, West's speech dismisses Black History Month as merely a reminder that Black people can just barely vote, and that now is a time to look to the future rather than the past. The monologue is at once intriguing, visionary, myopic, selfless and self-interested as he mentions his family dramas alongside critiquing institutionally white-washed histories. Any whiffs of revolution remain driven by the logic of capitalism and using it to empower and enfranchise Black people by consolidating the Black dollar as a unit, a company that would rival the biggest in the world, Apple. A particular line stands out where he states, "I'm not a perfectionist, I'm a betterment, a betterist."
It's been West's trajectory to never be afraid of failure no matter how large it looms, and within this paradigm, if one does fail, just make it better. Before his first album dropped, he boasted in an early interview that it would hit number one but then dialed back the bravado: If this one doesn't hit number one, then the next one will, and if that doesn't, the next one will. Said like a true "betterist."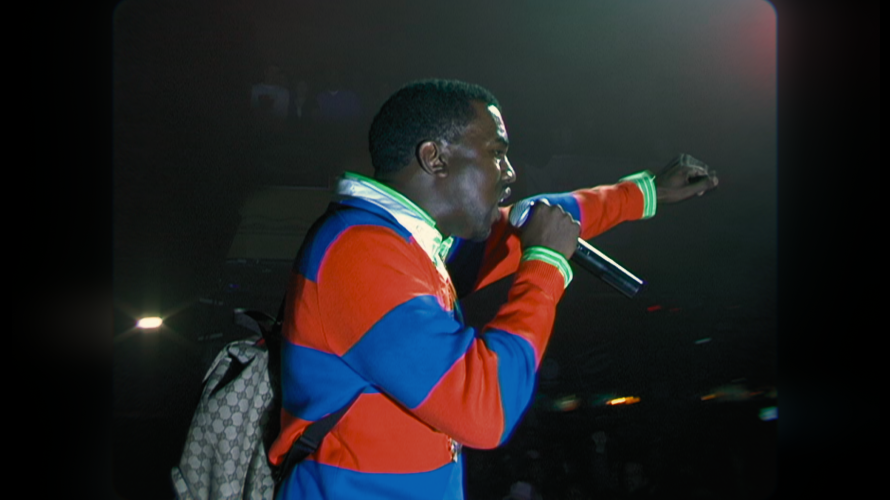 As we stand in the seemingly never-ending maelstrom that is West's social media presence, it's often difficult to square the Kanye West of today with his younger self. But just when you think that he's completely lost, he adds a self-consciousness to his drama that makes you think there might be more to the story. As his fans started to miss "the old Kanye" as early as 2013 after his bracingly brilliant album, Yeezus, West himself addresses the supposed dichotomy:
I miss the sweet Kanye, chop up the beats Kanye /
I gotta to say at that time I'd like to meet Kanye /
See I invented Kanye, it wasn't any Kanyes /
And now I look and look around and there's so many Kanyes
Recently this self-consciousness has been largely absent, with destructive patterns emerging. So the new three-part documentary jeen-yuhs that premiered at Sundance and will be streaming on Netflix starting February 16, comes as a reminder of the Kanye most fans want to remember, largely because his motivations, his drives and his dreams are more cohesive.
Directed by Clarence "Coodie" Simmons and Chike Ozah, the documentary's first part begins in 1998 at rapper and producer Jermaine Dupri's birthday party. The footage is casual, shot as comfortably as a home video—West is there wearing round gold glasses, shouting out various people, both confident and bashful at once. Simmons makes it clear from the outset that this is not only Kanye's creation story, but the story of the relationship that allows for this depiction to take place.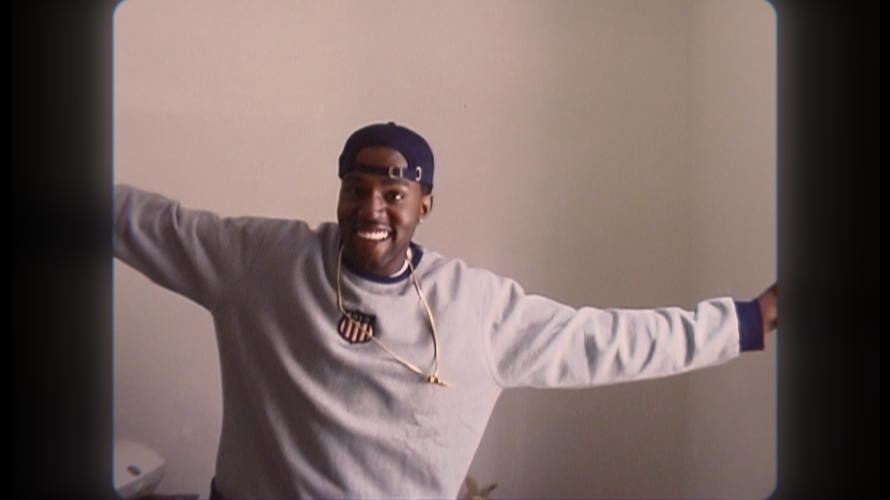 Another Chicago native, and well known in the industry, Simmons saw something in West that made him believe that this wasn't just another producer. He wanted to tell West's full story and waited well over a year for him to commit to it. What follows are candid and sometimes embarrassing moments in West's early years before one could even call it a rise. We see him bum rush the offices at Roc-a-fella Records, playing his CD and rapping for various assistants and executives with little fanfare. Despite their complete lack of interest and mild embarrassment, West remains unfazed, moving to the beat of his own songs. Of course, because we know the outcome of West's fate, the cringe of the scene resolves into mythmaking.
As the story goes, West was first known as a producer for the biggest rap stars, most notably Jay-Z, but his ambition was always to be a rapper. While Gangsta rap reigned during that era, West was still confident in his sound, perspective and vision. One scene takes us to the WGI Rap Conference where in a sea of jerseys and oversized pants we find Mr. West in a Red polo shirt, like a Black "Where's Waldo." We never see West's future successes in this part of the documentary, only what leads up to his eventual signing to Roc-a-fella Records. Instead, we see a series of vulnerable vignettes—beef with Doug Infinite, a legendary Chicago producer; a studio session with Scarface where the rapper declines getting on one of West's tracks, and West recounting a time when he was so broke, he couldn't afford a taxi to the studio so he ran there in order to not miss the opportunity to play beats for Lil' Kim.
The emotional heart of the documentary is West's mother, Donda. It is palpably clear that she is not only his biggest fan and advocate, but also his foundation. She believes in her son unflinchingly and the time they share on screen together is truly touching. Her presence too is magnetic and arresting as she advises West at one point that "the giant who looks in the mirror sees nothing." Kanye jokes asking whether he's too big headed and she agrees but quickly takes it back noting that she knows what's on the inside, so it's alright.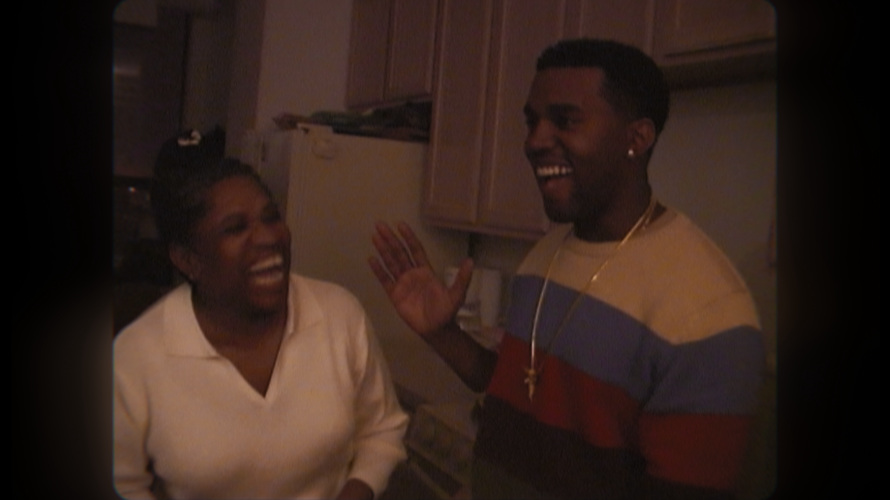 "I think the way you are is really just perfect. But at the same time, remember to stay on the ground. You can be in the air at the same time," she tells him at one point. The words ring as loudly now as they did then. The clip almost didn't make it into the documentary, as Simmons recounted in an interview with Time magazine. "He forgot the clip existed for more than a decade and accidentally stumbled across it during the Trump era. It was almost like that footage just appeared from Mama West for me to send to Kanye," he says. "I sent him an email, with the subject line: 'Your mother wanted me to send you this.' It took him a minute to respond, but he FaceTimed me and was like, 'I never would have thought in a million years she said that.'"[1] It is safe to say that West is still working through the loss of his mother, as his most recent and future albums indicate, and that the state of his mental health has declined since her untimely passing.
As many fans may be puzzled, annoyed or outraged by West's recent years of social media and real-life outbursts, this first part of jeen-yuhs reminds us why he has been an artistic guide for so many for years. From the very beginning he thought like an artist: curious, searching, self-involved, insecure and bubbling with ideas of how things could be and how he sees them. It's his desire to change what he sees followed by his consistency in accomplishing it, and then to want to change something else. And despite his life constantly being splashed into the tabloids, usually by his own making, there are nevertheless multiple projects behind all that. Currently, he's working with Swiss architect Valerio Olgiati on creating an underground artists' colony with living quarters for hundreds, studio spaces and a performance venue; building farms to grow cotton and hemp so that he can create a more sustainable ecosystem for fabrics for his fashion line, something he has coined as "seed to sew;" maintaining a sneaker empire that is valued billions of dollars; producing albums for several artists—most recently for drill rapper Fivio Foreign; and releasing his own music: Donda 2 is out on February 22. As jeen-yuhs makes clear, Kanye was driven and ambitious from day one, and despite his erratic behavior, one thing remains consistent—he wants to see how the world can in fact be different, only now his goal isn't just about taking a producer seriously as a rapper.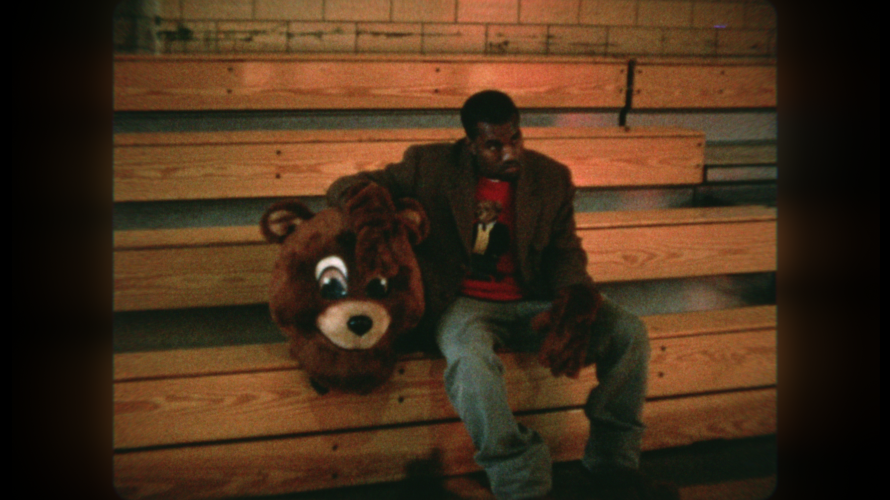 The pleasures and poisons of being a celebrity and onlooker have changed since The College Dropout. We are in a world where we are inundated with the details and minutiae of celebrities' lives constantly because it momentarily grabs our attention and fulfills our desire for outrage. The fallout and distortion of this kind of media saturation are unwieldy and the full ramifications still somewhat unknown, besides an obvious toxicity. Despite having so much more information available, it has become clear that through the constant onslaught of media distraction, we might be losing our cohesive understanding of things, and that this induced bird heading is lucrative for many companies. Any thread at all can be picked out and made into a possible narrative thus occasionally collapsing the truth, the plausible and the implausible into an indecipherable mess. Kanye West is one of the most reported on figures in the world. He even out trended the Super Bowl on the day of Super Bowl LVI. Rather than attempting to pull at another thread in this massive knot, I've stopped speculating on his current life.
In a way, watching part one of jeen-yuhs was a nostalgic moment to deeply consider this resolution: I'm happy to parse apart a past that feels distant enough for meaningful reflection, but am perfectly capable of resigning myself to not comprehending every present moment. I don't like everything that Kanye West does, nor do I support it, but until there is a real reason for us to spend our time debating it. I will opt for enjoying all we have.