Sharp Stick, Lena Dunham's first film as a director in over a decade, has the cadence of an interesting project. The subject, a young woman's sexual coming-of-age after having had a radical hysterectomy as an adolescent, should be ripe material for Dunham, who has written well about similar subjects both on HBO's Girls and in a cover essay for Harper's that detailed her own hysterectomy and subsequent infertility. It has an appealing visual style, capturing the weirdness and beauty of Los Angeles with wide shots of layered highways and low-slung apartment buildings. There's a charming, talented cast, with great supporting turns from Jon Bernthal, Jennifer Jason Leigh and Dunham herself. And there are plenty of well-directed sequences—the sex scenes are especially compelling.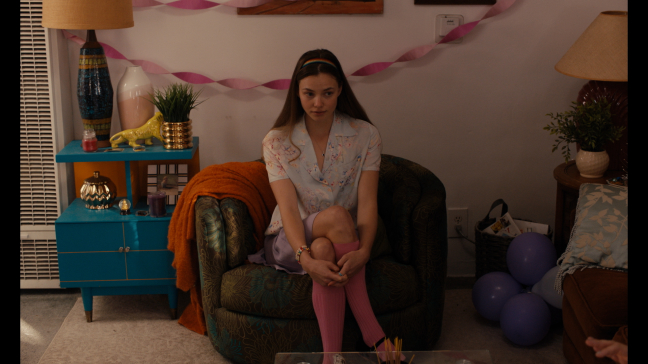 However, the film crumbles on a narrative level, largely because its protagonist, a 26-year-old nanny named Sarah Jo, is so thinly and illogically written that her characterization buckles under the slightest bit of critical attention. Played with wide-eyed blankness by Kristine Froseth, Sarah Jo feels less like a naïve young woman than a thought experiment raised by fundamentalist aliens. She dresses in pinafores and knee socks and uses no fewer than four barrettes at a time. She has never had sex, watched porn, masturbated or heard the term "going down." She thinks a blow job consists of blowing air in the general direction of a penis. All this despite the fact that she was raised, not in a vault under a grain elevator on Mars, but in LA, by a party-girl mother (Jennifer Jason Leigh) who has had five husbands and appeared in two Duran Duran music videos; despite the fact that her mother and her influencer sister, Treina (Taylour Paige), talk openly about sex; despite the fact that she is played by a literal runway model in a town obsessed with beauty; despite the fact that she went to high school; despite the fact that she has access to the internet.
Say what you will about the girls from Girls, they all felt like actual people. As Sarah Jo embarks on a journey of sexual discovery, starting with a request to her boss, Josh (Jon Bernthal), to relieve her of her virginity, she feels more like an unfortunate stereotype of neurodivergent sexuality. Dunham apparently approached Amy Gravino, an autism sexuality advocate, about consulting on the script, before deciding the character would no longer be written as autistic. This change in direction does not show in the finished film. She's clearly written as autistic, but badly.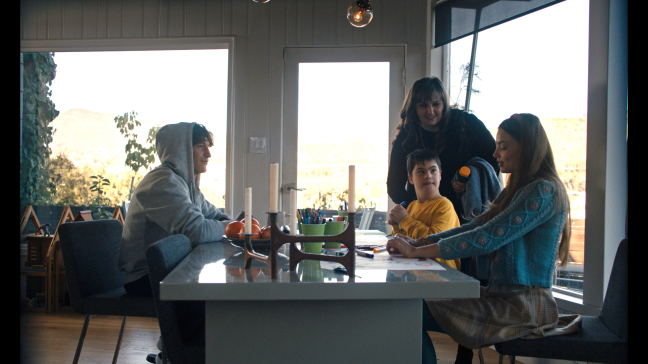 Watching Sharp Stick, I was reminded stylistically of Miranda July's Kajillionaire, which premiered at Sundance two years ago. That film also focuses on a sheltered weirdo in LA baffled by sexuality. But Old Dolio Dyne, as written by July and played by Evan Rachel Wood, felt believably damaged, having been raised by eccentric con artists away from the rest of society. Moreover, the world of Kajillionaire was much more heightened and whimsical. Sarah Jo's cluelessness is far less justified.
This central failure is a shame because there are beautiful, surprising, darkly funny moments in Sharp Stick—when Heather (Dunham), Josh's wife, discovers the affair as she goes into labor, or when Treina gets pregnant, decides to terminate and her mom throws an Instagram-ready baby shower anyway to express that the fetus was "wanted, if not completed." These are rich scenes, appealing in their tonal strangeness. I wish the film were more worthy of them.