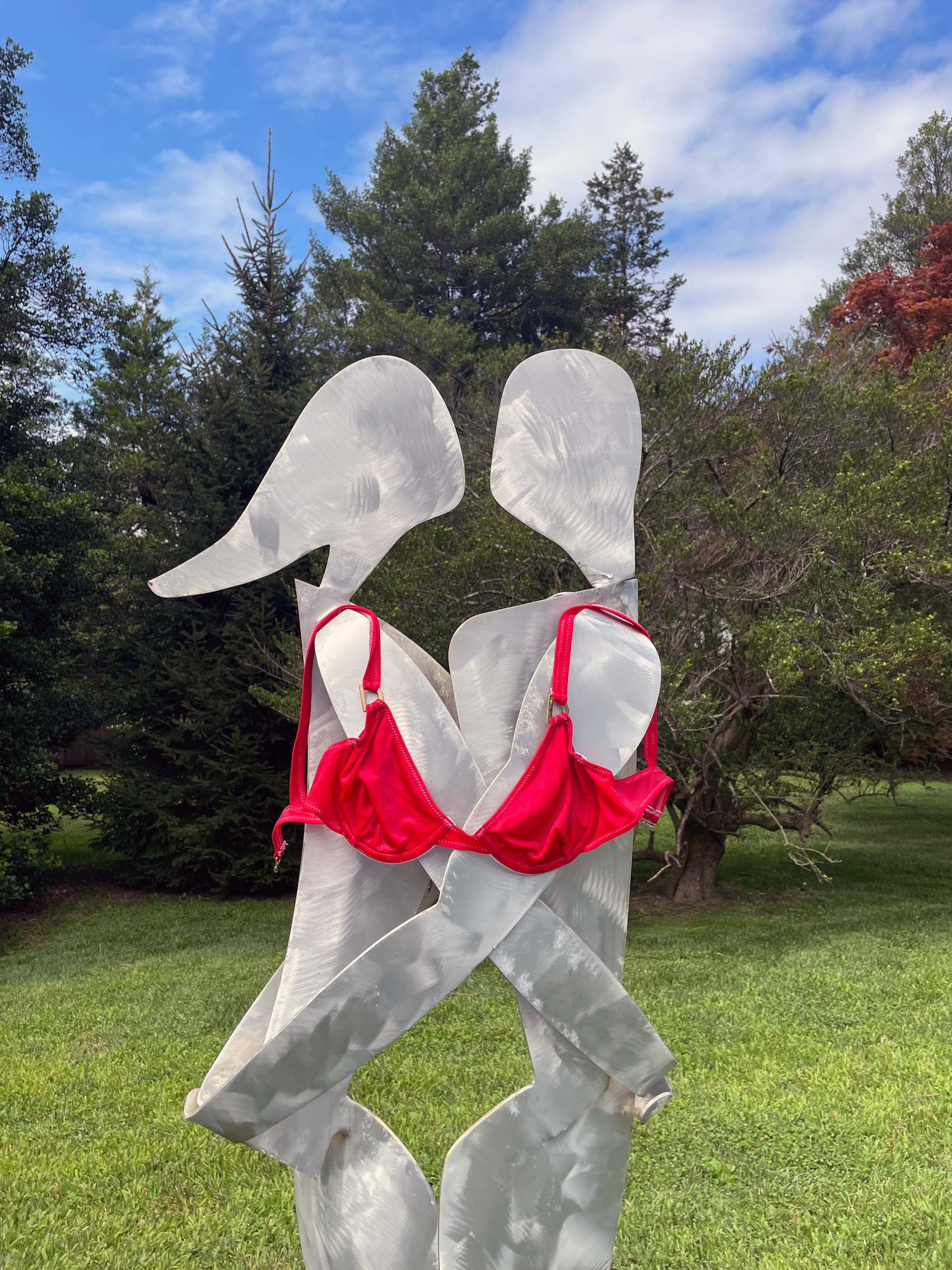 Summer is in full swing. The pools have been opened, the champagne has been popped, and the sweat has been spilled. Whether you're baking on a concrete rooftop or cooling down with an ocean dip, a bathing suit is a prerequisite. Pick your poison—bikini or one-piece, trunks or tankini. The swimsuit is a symbol of the season. It's not autumn just yet, so why not treat yourself to a new summer staple? We spoke to some of our favorite swimwear designers and curators about what drives their aesthetic ethos and what this summer means to them.
Sherris
Maayan Sherris is revolutionizing sportswear. Sherris, her independent swimwear label, constructs pieces to "fit in water, cherish the body and the sport," encouraging wearers to "take pride in their real authentic forms." A far cry from any typical Speedo, Sherris's knee-length diver suits are secured with a functional lace-up front (or back, depending on your preference), racerback one-pieces are bedecked with little ruffles and colorful bikini and trunk bottoms include a drawstring waist, ensuring a proper fit, perfect for the swimmer, the lounger, the fashionista and everyone in between.
"I make my pieces to try and fit many people, that want to swim comfortably, in many sizes," says Sherris, who is adept at marrying function and form. "That's why I made a few styles, some cover more than others, that can also function as clothing." Why not adapt the one-piece to serve as a bodysuit? Or pair the diver legsuit with a pair of trainers?
The label is also dipping into ready-to-wear clothing, debuting frilled sweaters and tops last winter. Sherris streetwear shares the same aesthetic bones with its swimwear, showcasing the brand's versatility in the name of comfort.
O. La Roche
"Summer is all sensations for me; the mind is lulled by the heat and things slow down. Everything becomes more about the body," says Olivia La Roche, owner of online vintage shop O. La Roche. The brand carries swimwear and ready-to-wear apparel for a customer "looking for vintage but doesn't necessarily subscribe to evoking a particular era of the past," La Roche explains.
O. La Roche's collection is sourced from late 1990s deadstock from an Italian factory that still manufactures much of today's swimwear market. In La Roche's mix of offerings, bold colorways and prints are chicly tempered by sporty silhouettes, reminiscent of the bikinis donned by Kelly Kapowski and Donna Martin. "The cut is evocative of the era in which it was made yet incredibly relevant today," La Roche adds.
The modern relevance of O. La Roche's vintage swimwear is supplemented by its gender neutrality. "Although most of our clients do identify as women, we have many who don't," says La Roche. "The amazing thing about vintage clothing is that it provides an affordable opportunity for individuals to experiment with personal style, take risks and find new ways of communicating who they are."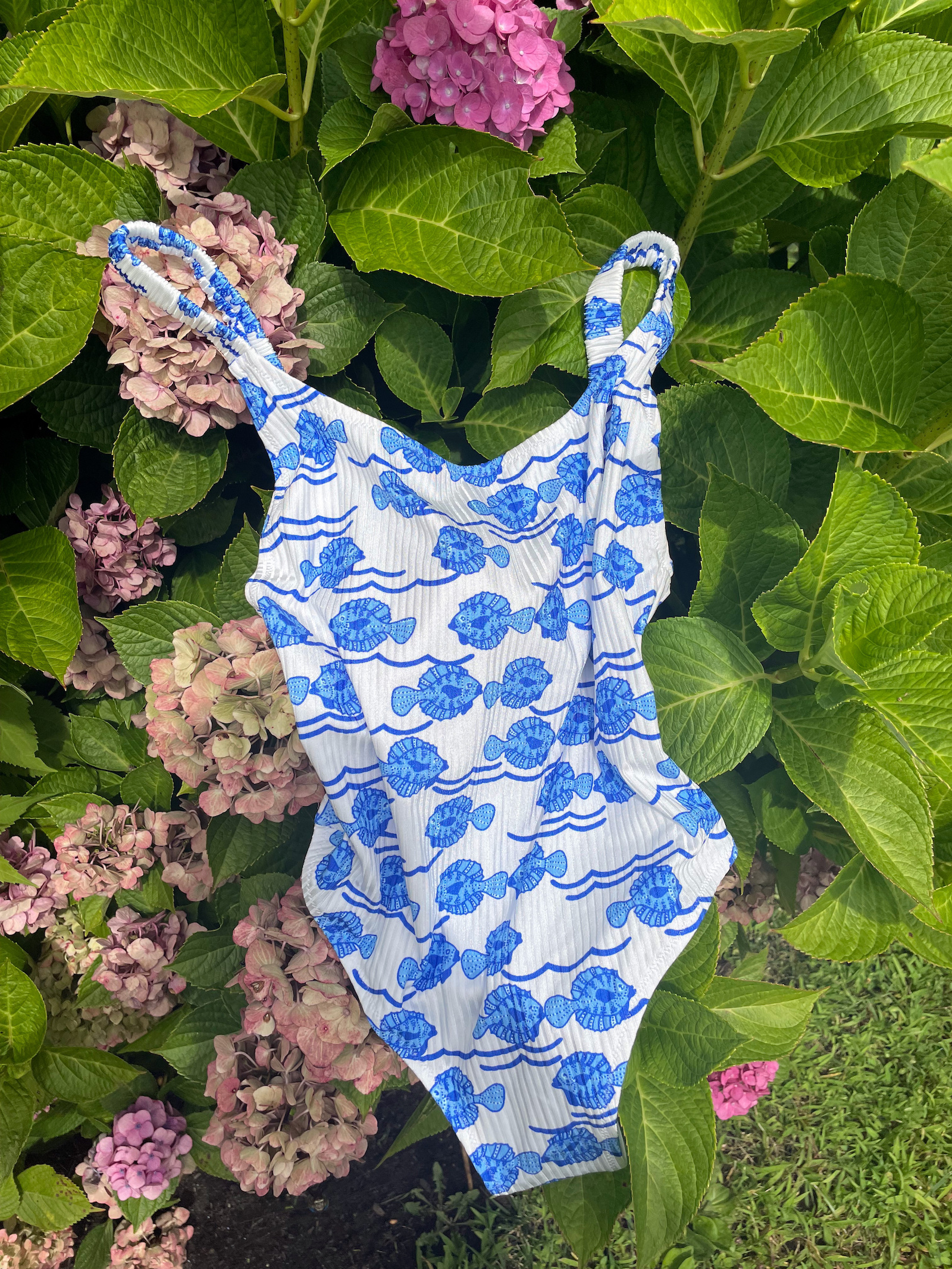 Fisch
The curtain is rising for the next act of summer, and Agnes Fischer is ready to take the stage. Fischer, who launched Fisch Swim in 2017, says she likes "to think of life as a movie or a theatrical play, and often ask myself these types of questions as an exercise to understand my inspiration for the next collection." Whether the theater is set for upstate New York, St. Barths or Fischer's native Sweden, Fisch Swim has a costume at the ready.
Built to endure ever-changing trends and the fast pace of the fashion industry, Fischer's designs are timeless and sophisticated. In addition to its chic cuts, the canvas for her brand's elegant patterns is entirely sustainable. The label was one of the first to use ECONYL, a regenerated nylon fiber created from abandoned fishing nets and other waste.
The Fisch aesthetic is infused with a special tenderness, evident in the designer's approach. "This is the summer when all dreams come true," says Fischer. "It's the summer of love." She recalls her 2020, a year where she was far from home and unable to return while "all I wanted was to go back to my home in Sweden, see my mom and my childhood friends and swim in cold water." Fischer's sentiment for the simplicity of home is reflected in the ease of her pieces in which soft colors are paired with clean, effortless lines.
Leslie Amon
"Not another boring swimwear brand," announces the Instagram bio of France-based brand, Leslie Amon, and it's not wrong. Within the collection, demure one-piece swimsuits quickly give way to flirtatious gingham bikinis, classic black cuts to audacious animal prints. "I design for myself as I am my worst customer," says its eponymous designer. Thus, the brand is a cohesive mosaic of prints and silhouettes—something for every spirit.
"As a Gemini, I always wake up with a different mood, that's why it goes from minimal to wild, from neutral to bold colors, from bandana print to solids, so everyone can find their mood and something that they love," Amon relays. "I also wanted to design for every girl, every body type, to have tops and bottoms separate, because every body is different and beautiful."
This year, the designer decided to depart from the typical mode of releasing a singular collection, instead opting for a series of drops. Leslie Amon does what it desires and is unabashedly independent. "I feel this summer is really a turning point," Amon says, adding that the brand will take even more risks next season and foray into ready-to-wear.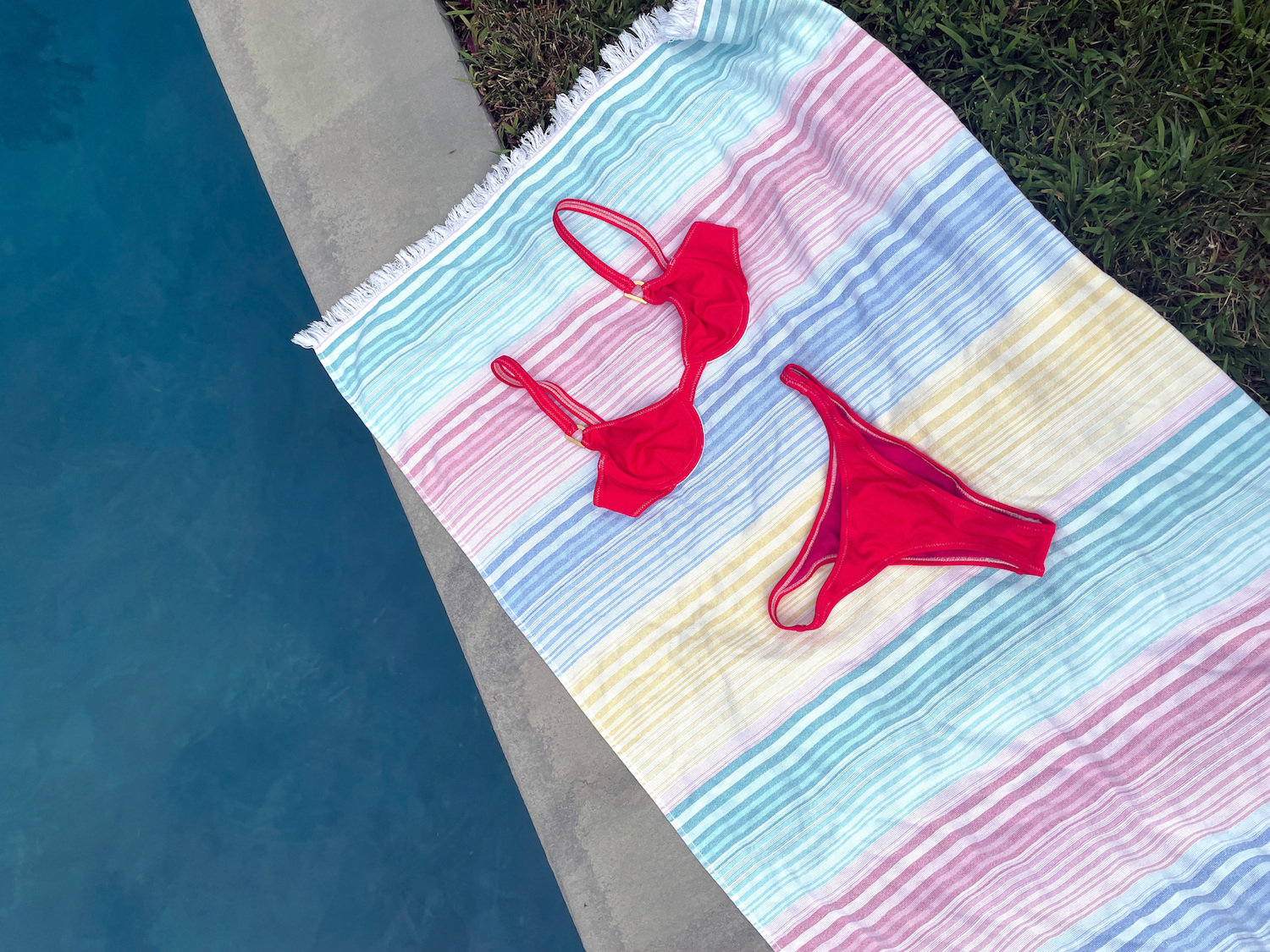 Dos Swim
High-cut, vibrant, streamlined. Dos Swim, founded by friends Paula Hess and Shay Johnson, is an ode to the mantra that less is more. "We design for women like us," the duo states to Cultured. "She's in the pursuit of loving herself authentically, whatever that looks like." Dos Swim was borne in 2019 of a desire to find that perfect fit. Two years later, the label has found its rhythm, debuting its latest capsule collection, "THE TROPICS," in June, which is "inspired by the vibrant colors and relaxed vibe of the Caribbean Island life," Hess and Johnson explain.
The swimsuit shapes are simple, letting psychedelic colors take center stage: candy apple red, Barbie pink, bright turquoise and a yellow that gives sunshine a run for its money. In the name of balance, the collection also includes a black-and-white squiggle pattern that, upon closer inspection, is a zany interpretation of the Dos Swim logo.
"This summer signifies an important moment where we're finally able to be in proximity to our family of friends, our people, be outside and experience joy," state Hess and Johnson. Like its founders, Dos Swim is jubilant and bubbly. "We know this has been said over and over, but after such a long year of not being able to freely be in the company of others or travel, we are so excited to have a full summer and produce swimwear that accompanies that experience."
Craving more culture? Sign up to receive the Cultured newsletter, a biweekly guide to what's new and what's next in art, architecture, design and more.