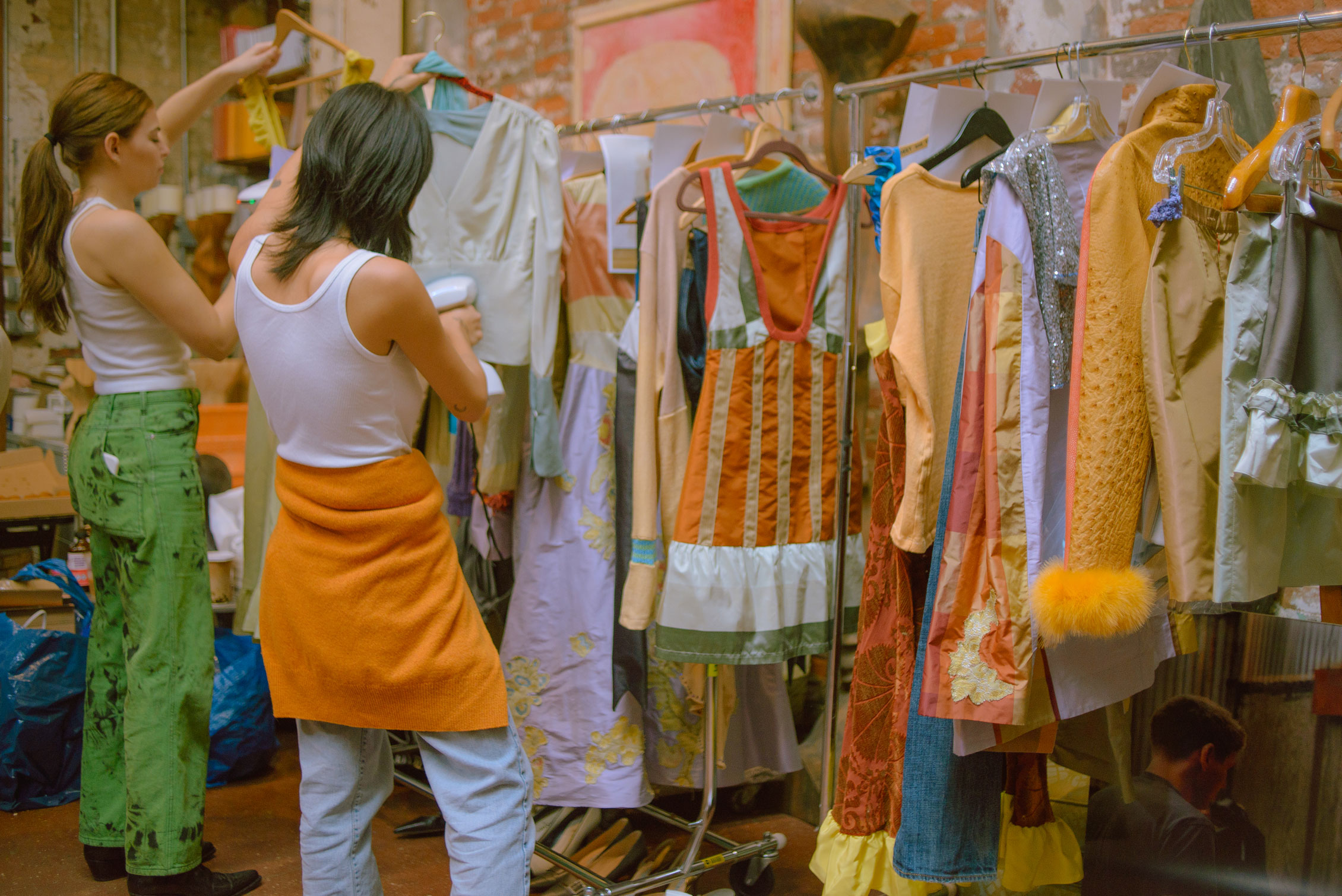 Another one down and a couple weeks to recover from the sleep deprivation and blisters New York Fashion Week so graciously offered me before we're off to Paris for another one. Shifting from seven days to five, schedules were packed and Uber prices soared as guests traveled from Lower Manhattan to Brooklyn and back again. I even had one driver who so kindly waited as I sprinted inside to change from my look for Sandy Liang into my look for Gauntlett Cheng. My week started slowly with presentation ns sprinkled throughout the day but as soon as Friday hit, things got moving.
Telfar Clemens screened a film at the 99 Scott Ave venue previewing his SS20 collection that will see a proper runway show in Paris later this month. Guests enjoyed free White Castle from the food truck outside and Ashton Sanders narrated the film's script written by playwright Jeremy O. Harris and artist Juliana Huxtable while models walked through airport security and marched in line on floating piers backed by the Manhattan skyline. Clemens's new jewelry line made its debut in the film alongside his signature logo'ed tees and utilitarian pants.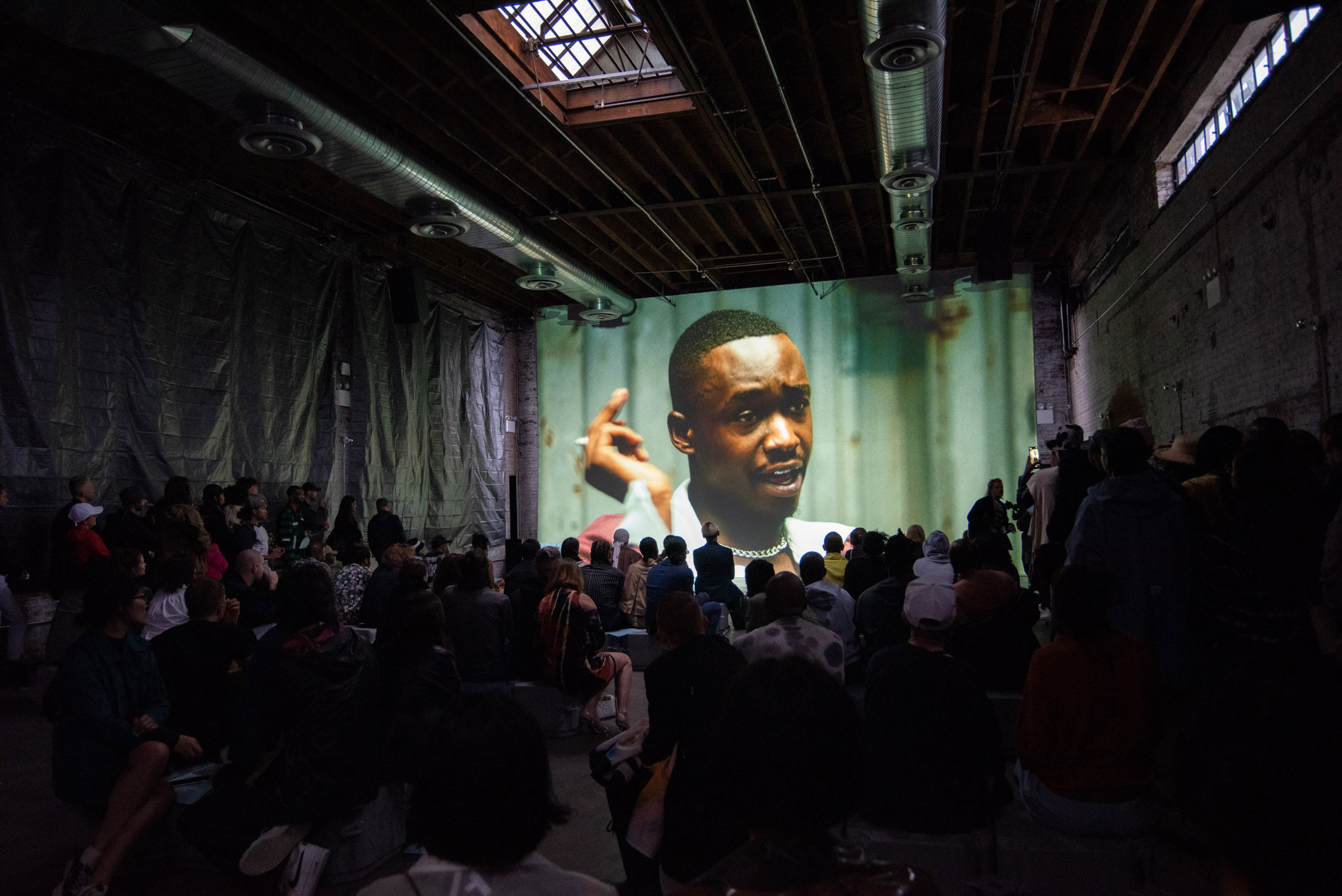 Later that night we took a vacation with No Sesso as models donned poppy sets and neon spray-painted tees. Walking the Spring Studios runway with the line's name spray-painted directly on their hair, they passed the likes of musicians Kelsey Lu and Moses Sumney and Pyer Moss' Kerby Jean-Raymond.
Saturday saw Susan Alexandra's bat mitzvah atop the Public hotel chock full of rainbows, beaded bags, the designer's debut ready-to-wear line and goody bags for all attendees followed by Paris Starn's picnic at the park. Starn's Paris 99 had girls in her signature gingham sets and dresses playing croquet, eating sweets and reading summer romances atop matching blankets.
Sunday was a treat like no other. Raffaella Hanley's line Lou Dallas kicked the day off at Ray Smith's studio in Gowanus with "Saturn's Bite," a collection comprised of Goodwill jeans, upholstery and deadstock fabrics. The sweet frocks were adorned with upcycled Swarovski crystals and I fan-girled ever so slightly seeing Euphoria's Hunter Schafer sit mere feet from me watching the show. The CFDA/Vogue Fashion Fund finalist collaborated with one of New York's favorite tattoo artists, Will Sheldon, on a blue rose design that was airbrushed onto pant legs and sleeves.
Next was Priscavera whose high school rooftop location and bass-driven playlist was matched only by the killer intensity of the collection's inspiration: Hieronymus Bosch's Seven Deadly Sins. With the Latin text stamped on her denim pieces and the Nike Air Max 720 on each model's foot, not a beat was missed.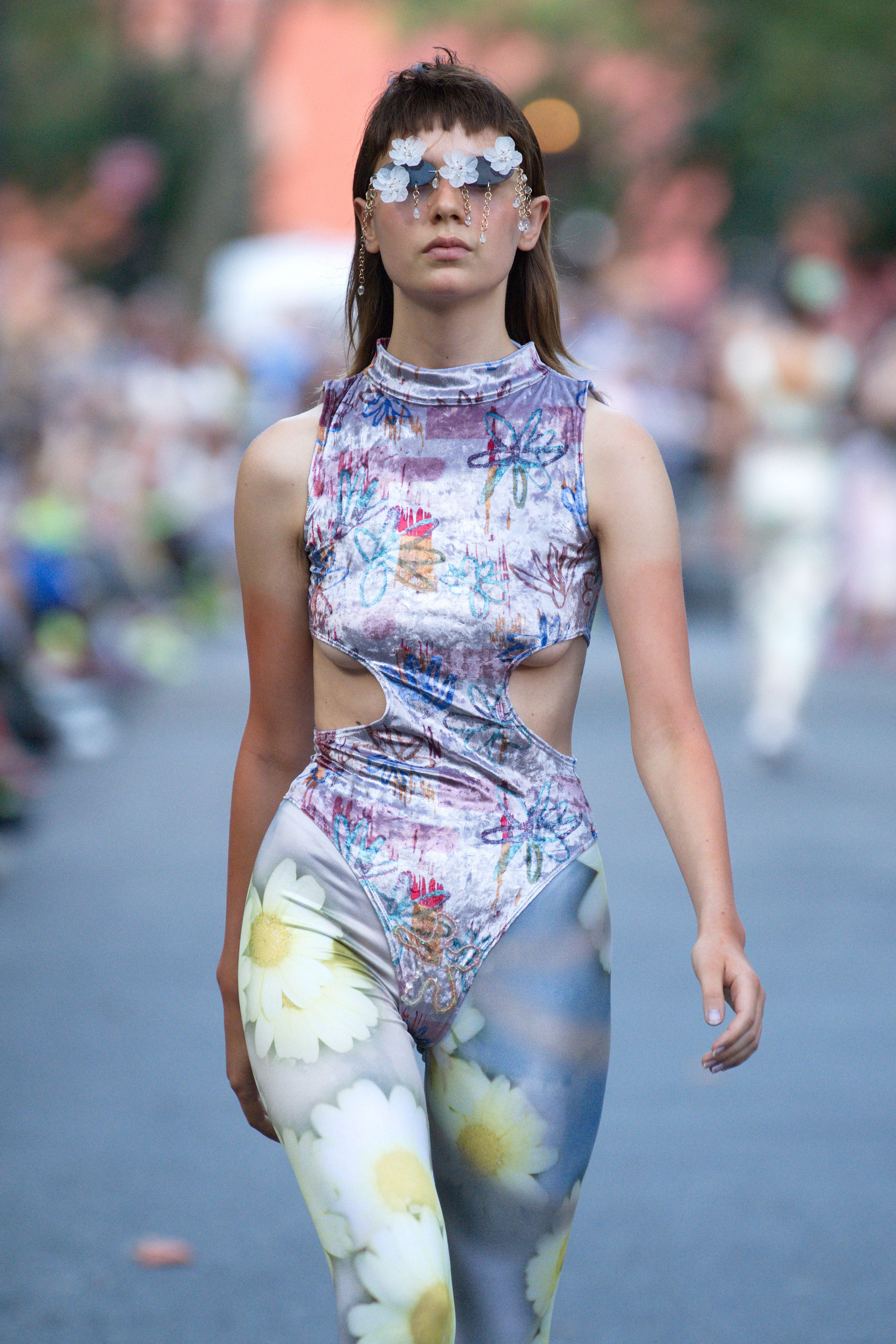 Just as my energy had begun to wane, Sasha Frolova came strutting down the Rutherford Place runway in Collina Strada's farmers' market-themed-presentation, picked up Courtney Trop out of her front row seat, proceeded to play a little tongue tag, and then continued down the runway, Trop's hat in hand.
Jetting up twelve blocks to the Prince George Ballroom, I sat for what was, as has been mentioned fairly clearly in my last two articles, my favorite show of the week, Puppets and Puppets. Carly Mark and Ayla Argentina outdid even their first stellar collection with one inspired by Fabergé eggs, the Grand Duchess Anastasia of Russia and American Psycho. The duo, who refuse to bend to any rules whether set by the norm or the CFDA itself, sent models with tears of blood walking down the runway in shoes that sat atop egg crates and textiles so rich, they could only be matched by the Neo-Renaissance splendor of the ballroom.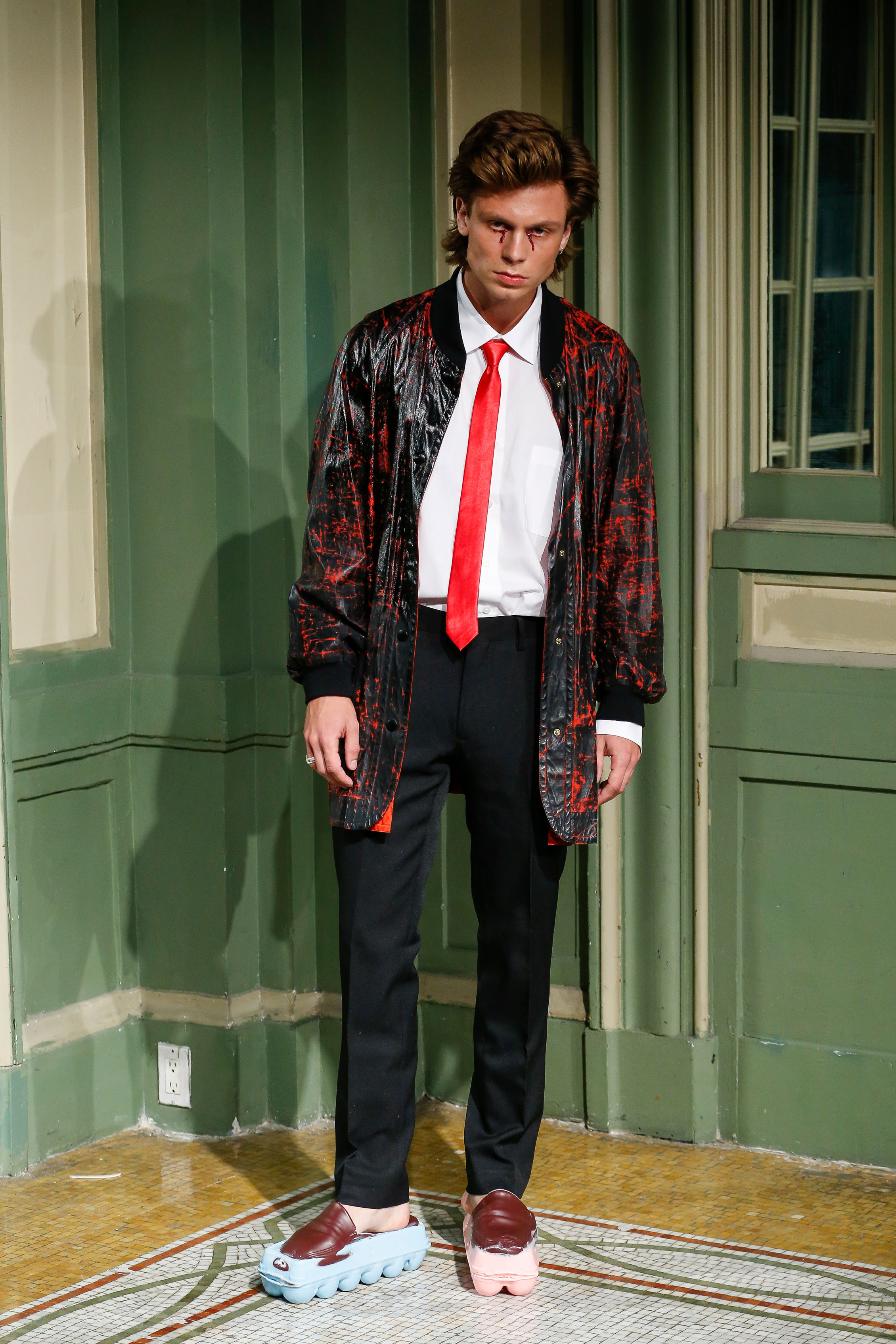 What started out as a deceivingly cool Monday turned hot and humid quickly, but luckily Maryam Nassir Zadeh, as all of downtown New York knows by now, has nailed the summer wardrobe. Layering skirts over dresses and fastening bags around Coco Gordon's neck as a top were some of the highlights of the Mediterranean inspired collection. Cropped tops were abundant, as per usual, and the styling by Haley Wollens was some of the best of the week.
In a west side penthouse, Sandy Liang debuted her first runway show with models donning bows atop 50s style boufants and sporting the Chinatown designer's signature fleeces and dresses. A pair of sheer floral leggings stole the show for me paired with a matching top and styled in various ways throughout the collection.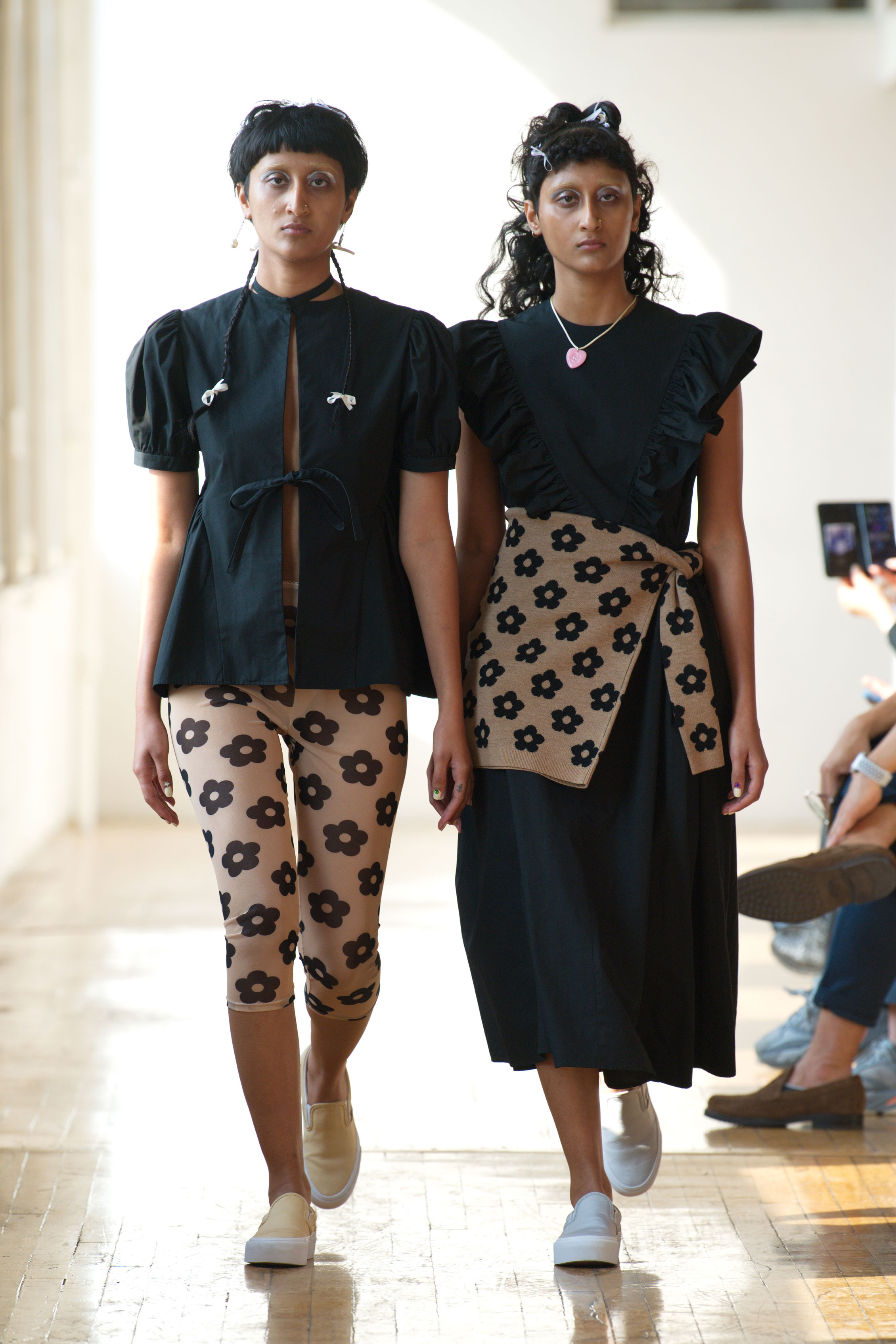 Thereafter was the kind Uber driver who let me run inside to change for Gauntlett Cheng and then whisked me away to the York Street subway station where Esther Gauntlett and Jenny Cheng created a makeshift runway shouldering the BQE in Bridge Park. First came a drone shifting up and down preparing for models to take the runway then came the ladies smiling as they walked to a playlist straight out of a millennial's basement playlist. As No Doubt's "It's My Life" blared over the speakers during the finale, the designers led the models in a dancing jog down the runway smiling and laughing.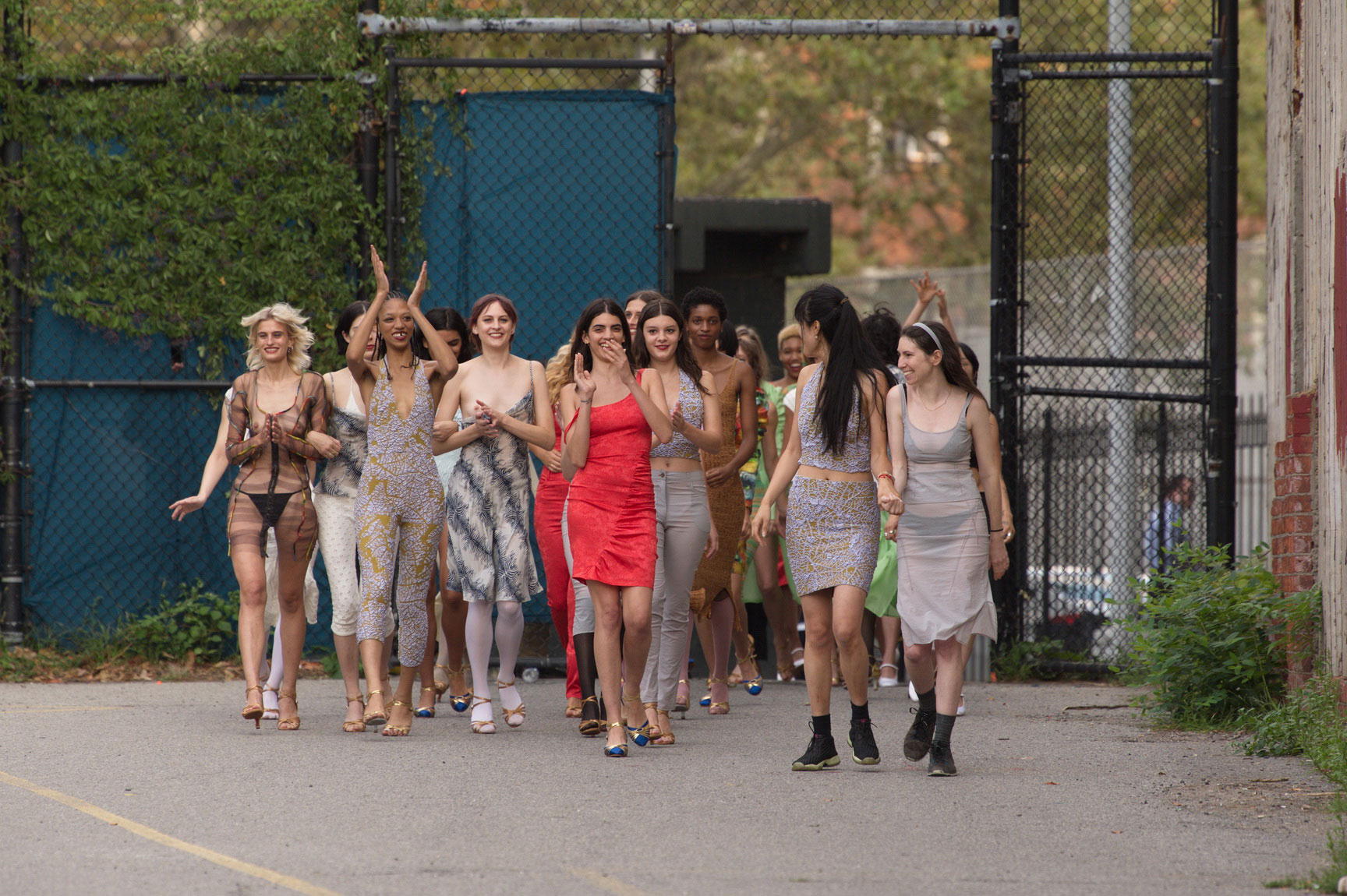 I wrapped the crazy week with a quick inner borough train to a Boerum Hill warehouse where Zoe Latta and Mike Eckhaus showed off a combination of knits and sequins that had me itching for some brisk weather and an excuse to wear six-inch platform clogs lined with fur. Favorites of the bi-coastal brand walked the runway including Hari Nef, Susan Cianciolo and Paloma Elsesser while those on the sideline included Kim Gordon and Susie Bubble.
I've been sleeping for the past four days in full recovery mode making lists of all the pieces I'm coveting from the runway. Another fashion week has come and gone, the street style photographers en masse have made their departure, but fear not… Paris is just over a week away!