"The World's Game: Futbol and Contemporary Art" at Perez Art Museum Miami features artwork inspired by 'the beautiful game' of soccer, the world's most popular sport. Timed to overlap with the World Cup (hosted this year in Russia in the summer) PAMM museum Director Franklin Sirmans points out that the exhibition is intended to "highlight the intersection of popular culture and fine art and present the art of the game as much as the game of art." As Miami prepares to team up with soccer icon David Beckham and Major League Soccer to launch a team and accompanying stadium, the exhibition and it's connection to the world of soccer is a major score for the city.
Showcasing artwork by more than 40 global artists all of whom share in diverse, occasionally intersecting dialogues formed around the beloved sport, the exhibition opens up the art dialogue to the outside work. Cuban-born, Miami-based Alexandre Arrechea's watercolor on paper, Analogies (2017 ), goes beyond the obvious representations of futbol's symbols by subverting the notion of the firm football. In Arrechea's piece, a brown leather ball is crushed by a concrete brick, rendering the ball useless and unplayable. This 'anti image' possibly referencing the ephemeral nature of sport and life. Guatemala City born and based Dario Escobar's Obverse and Reverse (2010), hangs like spider egg sacks in one corner of the Herzog & de Meuron-designed museum. The soft sculpture, made from latex, leather, string and steel is an installation that draws upon the handmade soccer balls one finds in the third world, which are resourcefully constructed from packaging materials. Escobar's light, stringy, deconstructed classic black and white balls lyrically fit together; a web of interconnectedness.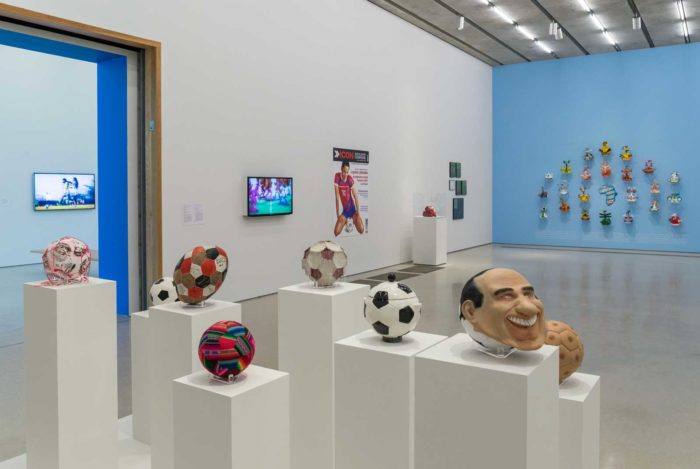 The exhibition includes features a variety of mediums – including painting, sculpture, photography, printmaking and several pieces of video art, some low-tech and intentionally grainy. Berlin-based Robin Rhode's digital color animation Hondjie features four soccer players kicking an animated, graffiti art ball complete with a satisfying 'thwack' sound.
Emphasizing how human behavior repeats itself, Generic Art Solutions' contribution blends compositional styles culled from art history with contemporary pictorial techniques to an almost operatic effect in their trilogy: Sorrow, Pieta, Joy.
"The World's Game: Futbol and Contemporary Art at Perez Art Museum Miami" is organized by PAMM Director Franklin Sirmans with PAMM Assistant Curator Jennifer Ignacio and is view from April 13 - September 2, 2018.