If you're searching for an oasis of calm within the hustle and bustle of Los Angeles or New York, West Hollywood's blocks of nightlife or the corporate buzz of Midtown West may not first come to mind. Pendry Hotels & Resorts, however, have crafted sanctuaries on the west sides of both metropolises: Pendry West Hollywood and Pendry Manhattan West.
Having opened its doors in April 2021, Pendry's West Hollywood outpost is an intimate manifestation of modern California cool. Stepping off the Sunset Strip and into the cool blue lobby (which hosts artist Anthony James's Icosahedron), it's quickly evident that the hotel is a destination itself in its famed Los Angeles neighborhood. Pendry West Hollywood is aligned with the entertainment-driven spirit of its surroundings but introduces a fresh tone of wellness and tranquility alongside the cultural pursuits on offer.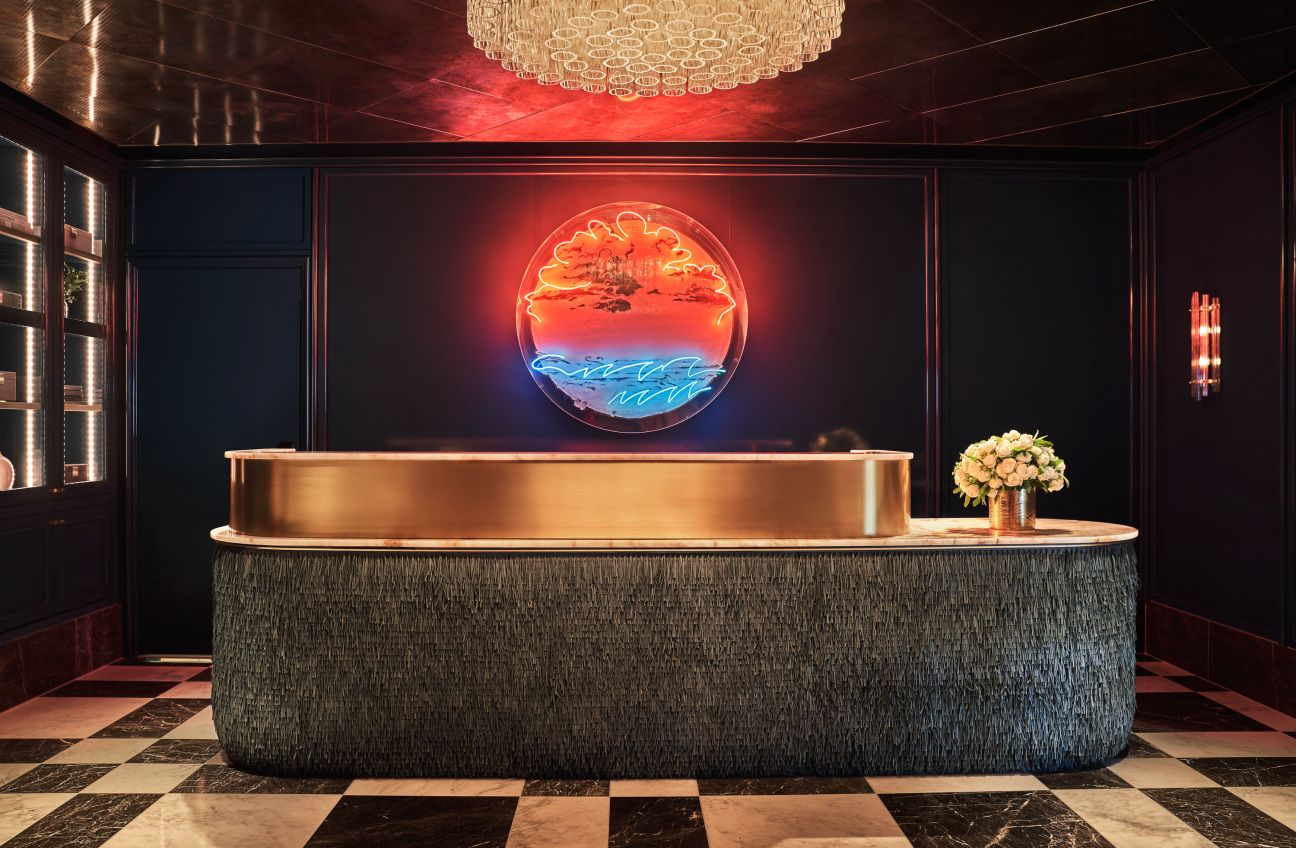 Designed by Ehrlich Yanai Rhee Chaney Architects, the hotel's connection to a sense of home is evident: rooms include settees and breakfast tables in addition to the usual writing desk for work-minded guests as well as sweeping views of West Hollywood and downtown, the same vistas afforded the complex's private residences across its graphic-patterned valet lot. Full-time residents and visitors can find common ground at Merois and Ospero, the hotel's pair of restaurants headed by renowned Chef Wolfgang Puck. Under the canopy of Merois's chandeliers or looking out onto the palm trees from Ospero's terrace, Puck's menus curate a sophisticated palate that remains friendly and democratic—an ode to the hotel's innovative yet neighborhood feel. Whether lounging by the rooftop pool or bowling a strike at the members-only Britely Social Club on the property, Pendry West Hollywood presents space to build a sense of luxurious community within the noise of one of LA's buzziest neighborhoods.
Almost 3,000 miles away sits Pendry Manhattan West, Pendry's first foray into the city that never sleeps. Nestled near the commercial hub of Hudson Yards, Pendry Manhattan West is marked by its cozy warmth care of L'Observatoire International—the lighting design firm that has worked with a swathe of museums and cultural institutions, from Fondation Louis Vuitton in Paris to Miami's Rubell Museum—and Gachot Studios, whose client work ranges from commercial touchstones like Glossier to intimate residential projects in the West Village and on Shelter Island. Pendry Manhattan West exudes the dirty martini sleekness of the cultural capital (order the cocktail at the timeless and low-lit Bar Pendry) while calling back to the ease of California—the two hotels are not twins, but certainly sisters.
While Pendry West Hollywood is set alight by the LA sunshine, Pendry Manhattan West glows from within. Consider the soft lighting and plush seating of Chez Zou on the fourth floor, fireplaces scattered throughout the hotel, or the dark wood of the Gallery meeting space. Pendry Manhattan West seems to encourage hushed tones and whispered conversations, a perfect partner to a romantic evening or a restful weekend getaway. But a Pendry stay won't be without its fair dose of excitement—caught in the center of the city, the best shopping, dining (including Pendry's chefs Madeline Sperling and Juliana Latif), and entertainment is a mere walk or cab ride away. The lush arms of Pendry Manhattan West are eagerly awaiting your return.