My North Fork life began in 2005 and I have lived bayside in Orient Village ever since. Driving through picturesque vineyards, farms and past the seascape vistas helps set the tone for the low-key lifestyle I love settling into with family and friends. When I'm off, my typical summer day consists of watching my kids sail—my alter ego is sailing mom—enjoying a cruise on our boat, "BADDIE," practicing yoga and shopping at my favorite locally-owned vintage stores and food markets. Finally, just before the magnificent sunset, I create a tablescape (my new hobby) in front of our dock while my artist husband, Leo Villareal, whips up a farm-to-table feast for our nearest and dearest to enjoy. Here are a few of my favorites from Greenport to Orient.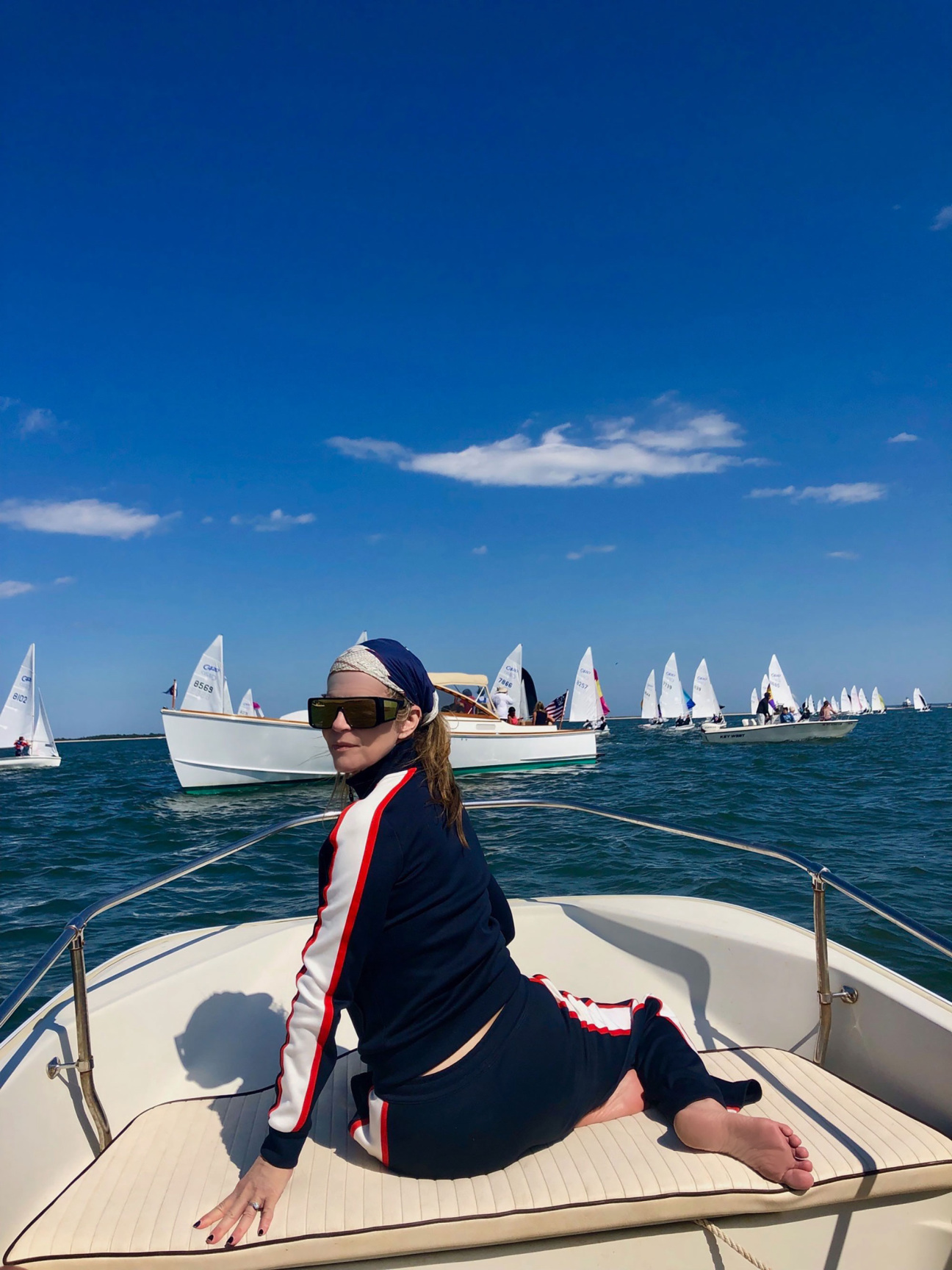 Claire Copersino is the founder and gifted teacher at North Fork Yoga Shala. She hosts magical practices that rove into different NoFo spaces, including the waterfront Shanti Shack at The Port of Egypt Marina.
Latham Farms was established circa 1809 and is one of the oldest and largest independently-run family farms on Long Island. Located in the quintessential seaside village of Orient, nestled between the Long Island Sound and Gardiners Bay, the salt-air atmosphere combined with the irresistible native produce and fresh flowers make it my favorite farmstand.
Kontokosta Winery offers guests the opportunity to sample award-winning, hand-crafted wines in the maritime climate from which they were created. The vineyard is family owned and their involvement allows them to sustainably shepherd the vines to guarantee consistent fruit quality and ripeness from vintage to vintage.
Black Llama Bar is a clandestine cocktail and oyster bar located at American Beech, a new hotel that's quickly become a hotspot in Greenport.
Beall & Bell is my favorite shop to scope out high quality vintage furniture located in a spacious former Masonic Temple in Greenport.
Southold Fish Market has the freshest fish. Not to be missed is the ready-to-go shrimp cocktail as well as the most delicious smoked fish. It's a true gem on the North Shore.
Head to Opties and Dinghies in Orient for the most scrumptious handmade dumpling and crepes anywhere!
The Oysterponds Historical Society (OHS) was founded in 1944 to preserve and maintain historically-significant buildings in the heart of Orient's landmark district. It also maintains more than eight acres of grounds, including Poquatuck Park, which is a cherished community gathering spot. Their collection is expansive, with more than 60,000 artifacts, documents, diaries, artwork and archival objects dating from early Native American times all the way through the 20th century. OHS offers myriad compelling exhibitions and three of the historic buildings are open to the public during the summer months.