Opened in July 2021 for an abbreviated summer season, the new Hauser & Wirth Menorca—the art gallery's 16th location in 30 years—occupies 16,000 square feet on Illa del Rei, a 10-acre island within an inlet of Menorca, the Spanish Balearic Island. Accessible only by boat and occupying the eastern region of the island, across from what was once an 18th-century naval hospital, the new space is helping give the tiny island the same newfound luster Bilbao received when a Frank Gehry-designed Guggenheim Museum was constructed there in 1997.
Paling in size and activity to Spain's more popular Balearics, nearby Ibiza and Mallorca, Menorca has remained a quiet, lesser-developed dot in the Mediterranean. Still sleepy, pristine and run by locals, the glossiness of a name like Hauser & Wirth could easily be a distraction to both the setting and the art displayed within the space, but the balance of compelling site and selective shows couldn't be any more at equilibrium. (Founders Iwan and Manuela Wirth have a home on Menorca and had been volunteering, along with a group of locals, since 2016 to help restore Illa del Rei's original structures, which had been creeping into decay.)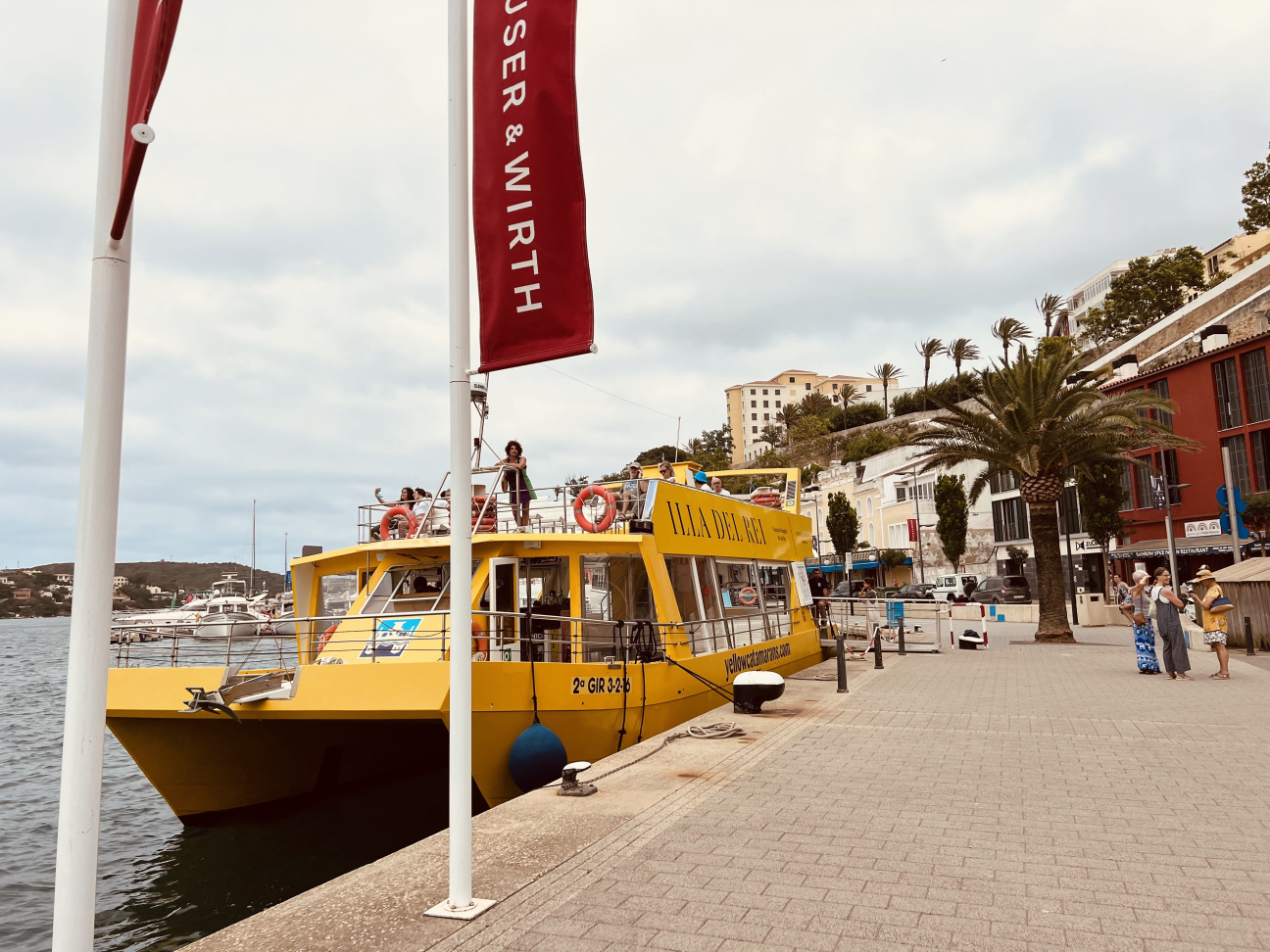 Surrounded by a coastline dotted with ferries, dinghies, sailboats and bowriders, the island is intrinsically tied to watercrafts. Having seen that upon his visit in 2017, artist Rashid Johnson had the image of a simple rowboat in his head when he worked on his first show at Hauser & Wirth Menorca, "Sodade," on view through November 13. The exhibition includes nine Seascape paintings, created in Johnson's signature wiping away method, but for the first time, working with oil. The south-facing gallery exhibits these works, in which textured tones of Neutral White or Prussian Blue stand out from their canvases. Serene, consistent, and striking in their simplicity, the pieces were created over the course of two years during the pandemic, where the artist spent his time in the Hamptons, and also reflect the feeling that we're all constantly moving yet going nowhere, bobbing about like boats in the sea on an endless journey. The show's title comes from a 1950s Cape Verdean song about melancholy and longing.
A more literal version of that is seen in his four cast bronze boat sculptures. Heavy, dark and substantial, they're lined up on the gallery's light-flesh-toned terrazzo floors, parallel to each other as if docked. A close inspection reveals items like VHS tapes, a radio transponder, a CB radio, books infused within them like a time capsule. There are also oyster shells, which Johnson says are a reference to Zora Neale Hurston's 1928 essay, "How it Feels To Be Colored Me," and appear like funerary pyres. Inspiration from and references to the slave trade and the Black Lives Matter movement are found throughout Johnson's work. In the context of this now idyllic Mediterranean retreat, the viewer is challenged to ponder the tumultuous history of the island, which saw wars, religious crusades and enslavement on its shores through the 19th century.
In the adjacent north-facing gallery, the show continues with the next evolution of his Anxious Man series, with five Surrender paintings created on raw linen with Titanium White oil paint and three Bruise paintings in Black & Blue, with the variation in blue tones coming from layers and layers of a single color. The anxiety and uneasiness in them contrast the Seascapes, but in such a tranquil and storied setting they are nonetheless grounding.
Experiencing the works in New York or Los Angeles wouldn't be the same. The Menorca space is flooded with natural light while glass doors allow outdoor vistas—not just the sea, but the gallery's grounds, landscaped both with sustainable gardens by Piet Oudolf, as well as old rowboats, stacked up and displayed like sculpture outside. Everything is about beauty here, and it's impossible to remove that context when viewing art.
Hauser & Wirth understands that once you've made it to Menorca, and then to Illa del Rei, you might want to linger. Upon exiting the Johnson show, one walks out onto grounds overlooking the sea. A series of butterfly chairs are lined up just above the coast, angled directly to view the water where boats are docked beneath stunning vacation homes tucked into the cliffs. Walk out to the jetty after dark with a glass of Menorcan wine (the gallery is open until 9:00 p.m. and the restaurant until 11:30 pm during the summer), look back and Martin Creed's Work No. 3667 WATER is lit up in neon.
Elsewhere on site, there's an outdoor sculpture trail with works by Franz West, Louise Bourgeois and Eduardo Chillida. The Cantina restaurant serves local farm-to-table fare with an emphasis on seasonal vegetables as well as local catches. And for those seeking a stronger souvenir than just an Instagram post, there's the gallery gift shop, featuring a variety of site-specific items, including frameable silk scarves donning an Illa del Rei pattern, ceramics from local maker Blanca Madruga and a scent from Fueguia created for Hauser & Wirth called Manuela.
Visiting Hauser & Wirth Menorca
Ferries to the island are operated by the gallery and depart from Mahon, every hour on the hour. They return every hour on the half hour. (The island also accepts private watercraft.) If staying on Menorca, skip the compact hotels in Mahon and opt for one of the island's idyllic resorts. The quirky Menorca Experimental opened in 2019 and is located on 75 acres, featuring 43 guest rooms housed within a former 19th-century finca. At Torralbenc, which opened in 2013, the vibe is classic luxury. Its clusters of whitewashed former farmhouses from the 19th and 20th centuries accommodate a range of contemporary guest rooms (many with sea views), while lush gardens, an expansive pool and award-winning restaurant feel like they could be plucked straight from the South of France.
Across the island, near the marina and posh, medieval Ciutadella, there's the ever-expanding Faustino Gran, a Relais & Chateau property, which recently added another two buildings of guest rooms to its chic city offering. Swim in a pool that butts up to the 13th-century cathedral; charter one of the hotel's three boats to explore the island's undeveloped pristine beaches, or spend the day at their "country club," a 37-acre private oasis within a biosphere featuring a swimming pool, solarium, restaurant, farm and ocean access for snorkeling, kayaking and paddle boarding.