Approximately 22 years ago, Kavi Gupta founded his namesake gallery in Chicago. Since then, the gallery has expanded its footprint to include three exhibition spaces, as well as a publishing imprint, research center and conservation warehouse.
As the gallery has grown in tandem with the city around it, so has the gallery's dedication to its local context. Chanelle Lacy—currently installed as Kavi Gupta's director of programming and artist relations—describes the gallery's location as a "reprieve from the pressure cooker of New York," remarking that their regional setting provides an occasion not only to engage with Chicago's cultural wealth, but also to incubate projects that would be challenging to realize amidst the constricting formulas that define institutional success in cities like New York.
The inhibiting presence of social expectations—especially as they pertain to racial categories—is also one of the overriding themes of "SKIN + MASKS," a new exhibition that Kavi Gupta is preparing in collaboration with Vic Mensa. Over the course of the last decade, Mensa has recorded with Kanye West, formed a hip hop collective with Chance the Rapper and received a Grammy nomination for Best Rap Song; however this project will mark his debut as a curator.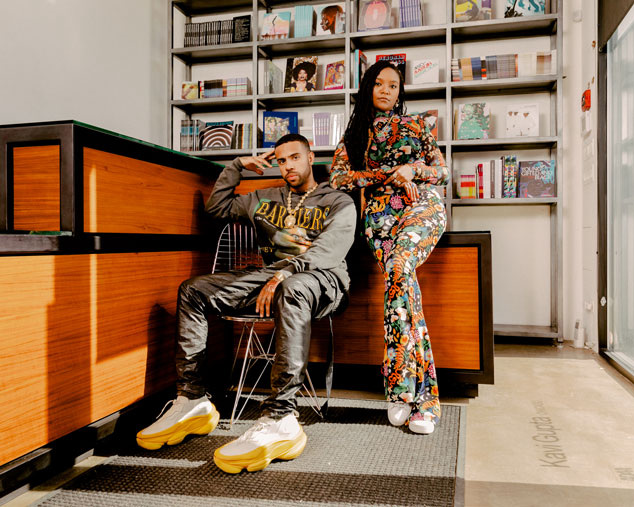 When I spoke with Mensa, it quickly became clear that he considers the persisting vitality of the past to be the most precious organ in his creative and curatorial life—an organ whose cellular tissue is constructed, atavistically, from the voices and legacies of his ancestors. Fortunately, the fact that his father was born in Ghana has gifted the intellectually voracious polymath with a relationship to his own intercontinental background that he says many Black Americans have been denied by the transatlantic slave trade, whose collosal violence permanently amputated the generational memory of an entire population.
Lacy explains that Mensa's relationship with Ghana has also been an invaluable resource for the gallery, observing that his experience on the ground in Africa has brought artists to her attention that she would otherwise have never encountered. In response to this thought, Mensa stresses that, for him, his ancestral foothold is not only an asset but also a responsibility, which has motivated him to become increasingly involved in funding infrastructure to support the Ghanaian artists that have inspired him.
To better understand Mensa's impulse to curate the work of his friends and fellow artists, one need only turn to the words of Frantz Fanon, whose first book, Black Skin, White Masks, inspired the title of the exhibition: "I came into the world imbued with the will to find a meaning in things, my spirit filled with the desire to attain to the source of the world, and then I found that I was an object in the midst of other objects. Sealed into that crushing objecthood, I turned beseechingly to others. Their attention was a liberation, running over my body suddenly abraded into nonbeing, endowing me once more with an agility that I had thought lost, and by taking me out of the world, restoring me to it."