Long-time friends Julien Lombrail and Loïc Le Gaillard, cofounders of Carpenters Workshop Gallery, already have locations in London, Paris and New York; Los Angeles was a natural next step.
Opening its doors on June 25, this new permanent space—designed by Standard Architecture—aims to engage West Coast collectors with the gallery's roster of artists, including Atelier Van Lieshout, Ingrid Donat, Vincenzo de Cotiis, Studio Drift, Maarten Baas and Rick Owens. It will host museum-quality exhibitions and educational programming, reflecting the undeniably growing art market in the region where other important players such as Lisson Gallery and Sean Kelly are also expanding from the East to the West coast.
With its high ceilings, beautiful wood beams and several skylights, the LA Carpenters Workshop Gallery space offers multiple possibilities in terms of scenography. Yet, the curatorial approach has remained the same since the gallery's debut in 2006: blurring the boundaries between art and design. Aligned with this vision, the choice of the artist for the inaugural show at this West Hollywood location was obvious.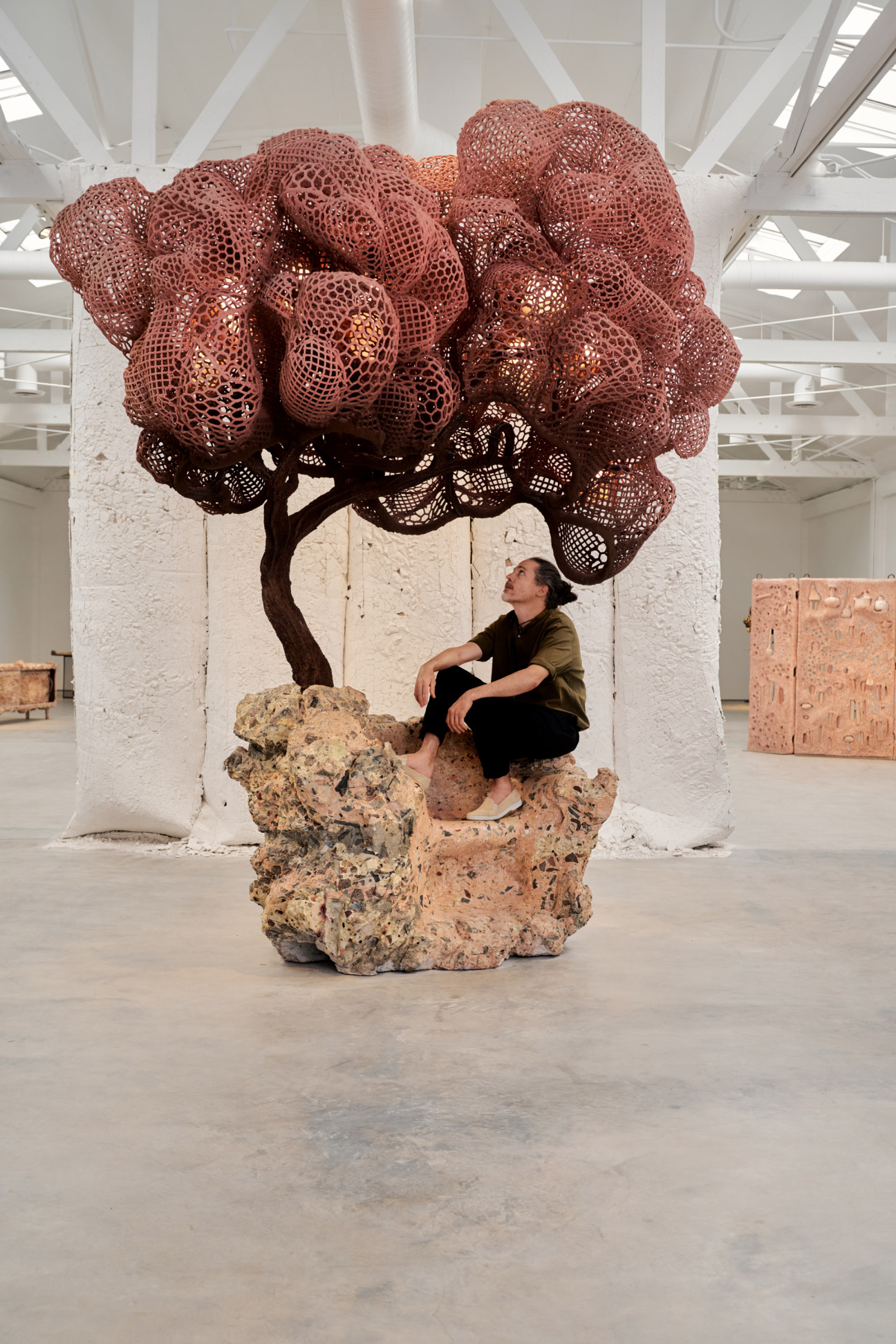 "Nacho Carbonell's work is an exact representation of our vision of functional sculptures," says Le Gaillard. "We are not a design gallery and we are not a contemporary art gallery. For us, it is not the functionality that matters but rather the emotional and intellectual path of the artists who want to express something through their pieces."
Born in Spain and based in Eindhoven, the Netherlands, Carbonell unveils a body of work comprising 12 unique pieces sculpted by hand in the inaugural exhibit at the gallery and the artist's first solo show in the U.S, opening with the space today.
"Nacho is perfect for LA and the wild, wild West—strong, rogue and beautiful at the same time; it's art from the gut," says Lombrail.
"Nacho's magic lies in his ability to transform organic materials and debris into extraordinary sculptures," adds Le Gaillard. "I see in him as a mix between Franz West, Alberto Burri and Antoni Tàpies."
Deeply influenced by art history, and in particular by the work of 15th-century Dutch painter Hieronymus Bosch and post-impressionist icon Vincent van Gogh, Carbonell is fascinated with exploring and trying to understand the world around us—something he visually translates through ethereal pieces. "This particular collection was born in a period when we couldn't look forward anymore because everything seemed to be blurred," he remembers. "Somehow, in order for us to feel secure, we were looking back." The piece that catalyzed the 12 sculptures on display is a table made by the artist, and upon which he wrote sentences he remembered from his childhood. "During the confinement, we had a reduced space, so from there we really needed to dream," confesses Carbonell.
A true evolution from the artist's earlier Cocoon works, his new pieces were shaped with materials such as sand and draw from memories of the sun-baked earth of Valencia in the artist's native Spain. Their tactility is an invitation to engage, contrasting with a time when we couldn't even touch each other. Created before work on the Carpenters Workshop Gallery LA location was underway, the collection feels at home in its show environment, and in the larger Los Angeles context. "The work relates to the Mediterranean climate from where I was born," says Carbonell. "There are some obvious connections with California."
Continuing their mission of promoting a creative dialogue—which is constantly evolving—at the crossroads between disciplines, Lombrail and Le Gaillard are ready for this new, exciting phase. The future looks bright in LA.