A few months after Kylie Manning's debut New York show at Anonymous gallery, an exhibit that received much buzz and instantly sold out, I was sitting in a Pace Gallery viewing room. Samanthe Rubell, the gallery's senior director, was FaceTiming me from an artist's studio. But I couldn't pay attention to what she was saying, because Manning's ethereal paintings were distracting me. "What is that work in the background?" I asked.
Manning's work contains a poetic intellect, achieved through gestural abstractions of androgynous figures using pure powdered pigments. She thinks of her bodies of work like a family. When painting, she often references her personal photographs from the 1980s—"not out of nostalgia," the artist says, "but because it is a massive image bank that usually consists of large groups of people wrangled like wet cats to document a moment. The compositions in my works often require large groups of figurative implications. It is a natural and personal starting place."
Growing up between Alaska and Mexico, Manning often worked as a commercial fisher, which is where she formed an intense relationship with nature. Indeed, there is a decidedly aquatic flow to her brushstrokes. Her parents were art teachers too. Sitting in the back of her parents' classes, painting a nude model, was the norm. While she paints with the sophistication of someone decades older than her 30-something self, Manning is only in the early stages of a burgeoning career. Her work is already in several collections, including at the ICA Miami and the Whitney Museum of American Art in New York.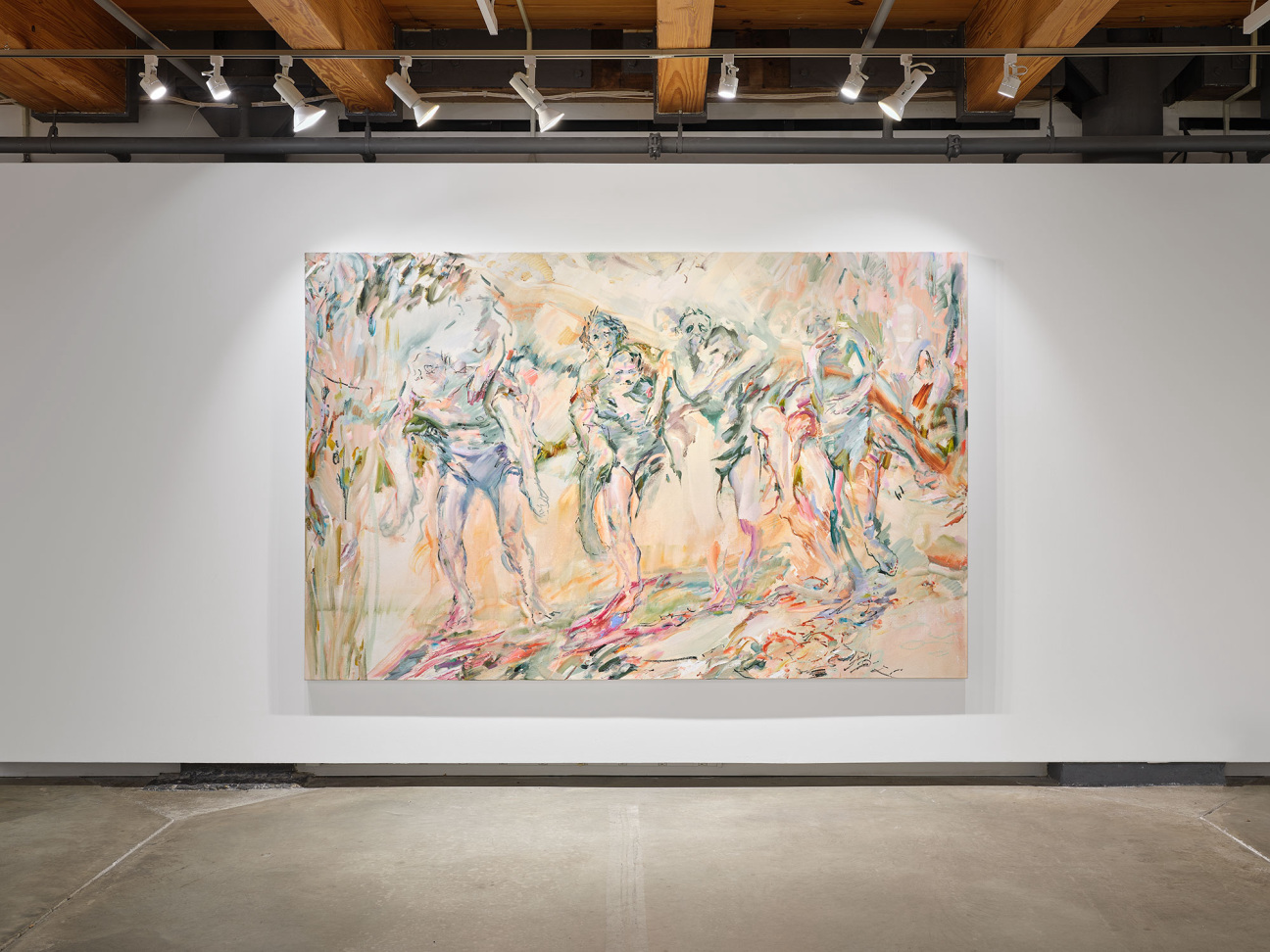 She has a rigorous process that involves stretching the canvas, sizing with rabbit skin glue, spreading oil ground by knife and sanding down multiple layers. Her path to completing a work is philosophical and a priori, which makes sense, since she studied philosophy at Mount Holyoke before getting a master's degree from New York Academy of Art. "There are no sketches or predetermined compositions," she says. "I want to figure it out with and in front of the viewer, so that they can read how the piece was formed."
She uses pure pigments such as safflower oil. "While this is wet, I take a rag and begin to pull the composition out by wiping and ripping away the saturation," she continues. Each work is found or born from within the piece itself. Her marks on canvas are explosive, energetic, yet refined and elegant. Her oeuvre is contemporary but has the qualities of historic abstraction and impressionism. "My entire life is focused on visual analysis so there is always a faint residue of someone I was reading about or looking at," she says. Manning's menagerie of influences currently consists of '60s poster design, female impressionists and illustrator Rick Griffin, the famed designer of Jimi Hendrix concert posters and Surfer magazine editorials.
The books in her light-drenched Brooklyn studio are a reflection of the nuances in both the artist's work and mind—Robert Frost poems, Aristotle's Politics and Poetics, Dutch Golden Age painter Frans Hals and Willem de Kooning. Manning often thinks about pigment history as well, describing it as "subconsciously powerful and emotive, in a way we haven't even begun to figure out. When you use ultramarine, for example, you begin a conversation beyond time and space with every other artist that has used ultramarine."
Her goal is for pieces to feel "thin and radiant at the same time." Like the Dutch Baroque masters, each layer of her paintings is separated with a thin wash of oil, creating a window for a lustrous, translucent effect. "It feels like the brights are both below and at the surface of the work, as if it's glowing from within," she says. Her almost spiritual approach is clearly captured in her timeless work. Manning's own thoughts and feelings are apparent in each brushstroke, and it's impossible to stare into one of her paintings without engaging in a dialogue with it.