While designing Dior's Fall 2022 menswear collection, artistic director Kim Jones drew inspiration from the adventurous life of American novelist Jack Kerouac. Influenced especially by the author's 1957 road trip classic, On the Road, the clothes merge Parisian couture with sportswear: a saddle bag with climbing cordons, the Dior oblique bag in khaki, rope walking sandals, a Dior hiking boot and silk and leather pieces with illustrations from Kerouac's book jackets. The creations were presented on December 9, 2021, at the Olympia London. In a space at the venue, Jones also presented an exhibition of rare books and manuscripts from Kerouac's collection, which Jones has acquired over the years. Here, we took four rising stars on a road trip of our own, dressed in Dior in the Malibu hills.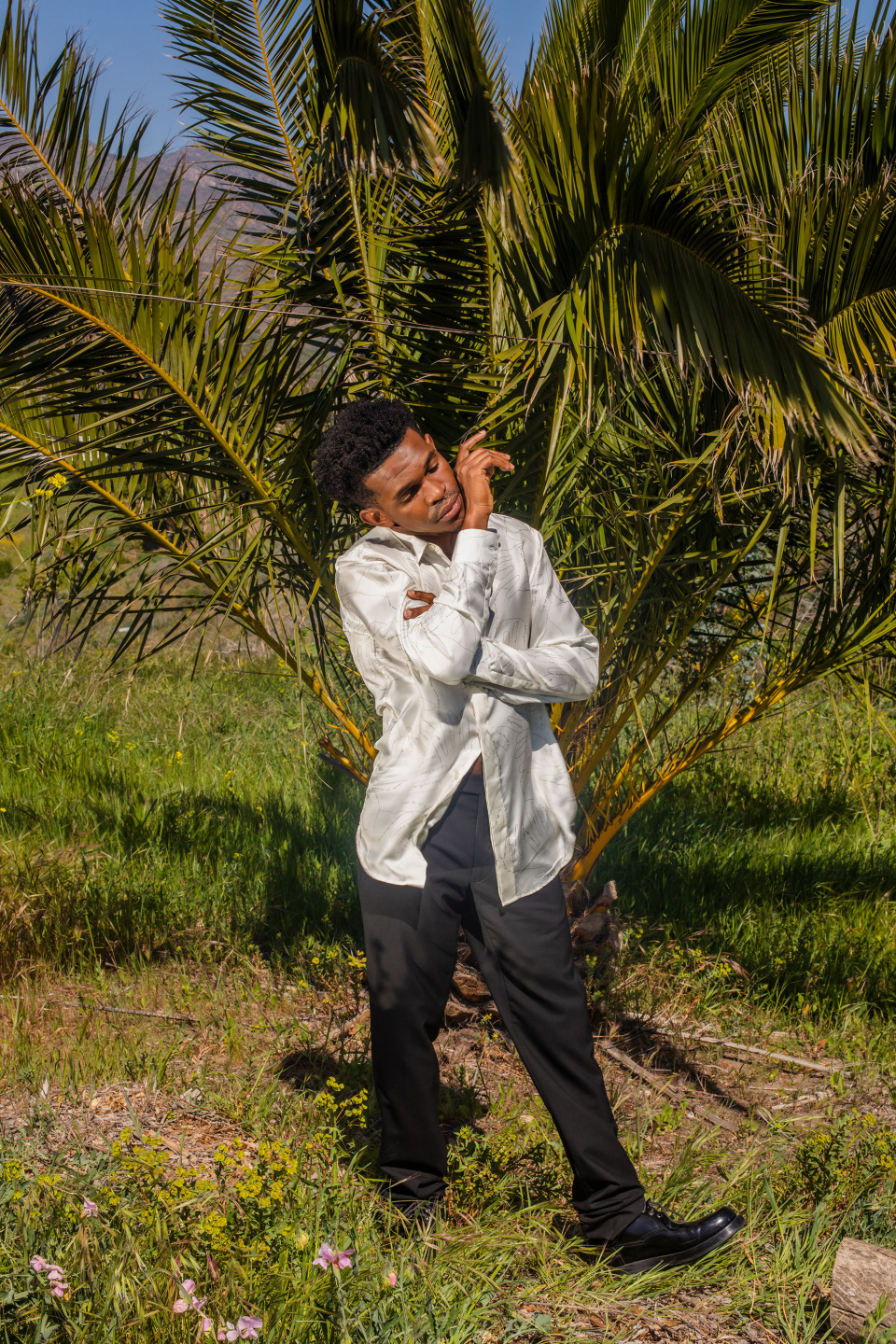 Camrus Johnson
Camrus Johnson just wants to be challenged. "I think some of the most beautiful acting comes from being afraid to fail but doing it anyway," says the actor and director, best known for his independent short films and role as superhero Batwing in Batwoman. Johnson moved to New York City from Georgia right after high school; he says his parents wanted him to go to college, but he felt he could learn more about the movie industry from the stage, the set, and behind the camera.
"Short films, independent films—you name it, I did it. And I did it if it paid $10 or if it paid pizza, because I needed the experience," he says. It was while he was acting in a sketch comedy with his two friends in 2014 when he first realized his passion for directing, and Johnson has since directed two animated shorts and one live-action short. He presented his first, Grab My Hand: A Letter to My Dad, at the NY International Children's Festival, and got his first Oscar qualification. His second, She Dreams at Sunrise, which he based off his experience as his great aunt's caretaker, was screened at the Tribeca Film Festival during an event honoring George Floyd last year.
Johnson says representing the Black community and, at the same time, healing himself in public by creating work that is autobiographical, is the most special thing to him at the moment. And whatever projects he does in the future, he'll continue to seek that element of honest emotion. "It's very hard to tell a new story," he says, "but when you tell it from your heart, there's this raw thing that happens, where it sort of feels completely new, no matter what it is."
Sethu
Sethu began modeling in his native South Africa about six years ago, mostly doing editorial shoots and walking for South African Menswear Week. One year into his career, he moved to Milan to model full-time, and later to Los Angeles, where he now lives. Today, Sethu has a list of high-end clients under his belt. He recently shot a Gucci campaign with Glen Luchford, walked the runway for Fendi and modeled for a Tom Ford campaign. He also posed for his first-ever editorial with Paolo Roversi for Vogue Hommes and was featured in Tim Walker's "Wonderful Things" photography exhibition at the Victoria and Albert Museum in London.
Sekayi Smarr
Sekayi Smarr didn't know much about fashion when his agent, Nico Losado, discovered him through Instagram in 2017. At the time, Smarr was completing his bachelor's degree in business marketing at Georgia State University. One year later, he landed his first big modeling job with ASOS, whose team flew him to London for several campaigns. The model has since moved to Los Angeles and gotten to work with several global brands including Adidas and Foot Locker. He also recently opened and closed the Amiri Spring Summer 2022 runway show and walked in the Greg Lauren Spring Summer 2022 show during Los Angeles Fashion Week.
Athiey Deng
Athiey Deng is a model by birth. The Ethiopia native who fled to South Sudan as a war refugee before settling with his family in Atlanta, Georgia, grew up doing photoshoots with his two siblings—who are also models and creatives—and by 11, he was doing so professionally. Now signed with Next Models, he opened Coach's Spring Summer 2022 runway show last year and calls the late Virgil Abloh one of his biggest fashion inspirations. Like the Off-White founder, Deng hopes to step into design one day. As for what's next in his modeling career, he's working on campaigns with Calvin Klein and Italian streetwear brand GCDS.