On February 18, artist Jan Frank opened a solo show of work old and new at Carlos Antonio Gallery at Robina Benson Design House in Los Angeles. In 2020, designer and entrepreneur Robina Benson opened the 10,000-square-foot showroom on Melrose Avenue as a creative hub to allow discerning shoppers to browse the latest collections from luxury design companies including Paola Lenti and Giorgetti, as well as art by tastemakers like the aforementioned, providing an all-in-one shopping experience for hospitality and residential clients alike. During Frieze Week, the Dutch American painter premiered the exhibit in collaboration with Gruin Gallery and Margot Ross. It features a stunning seven-piece series of large-scale abstract multimedia paintings in which ink, oil, and screenprints cover the linen canvases with abstract brush strokes, patterns, and splatters.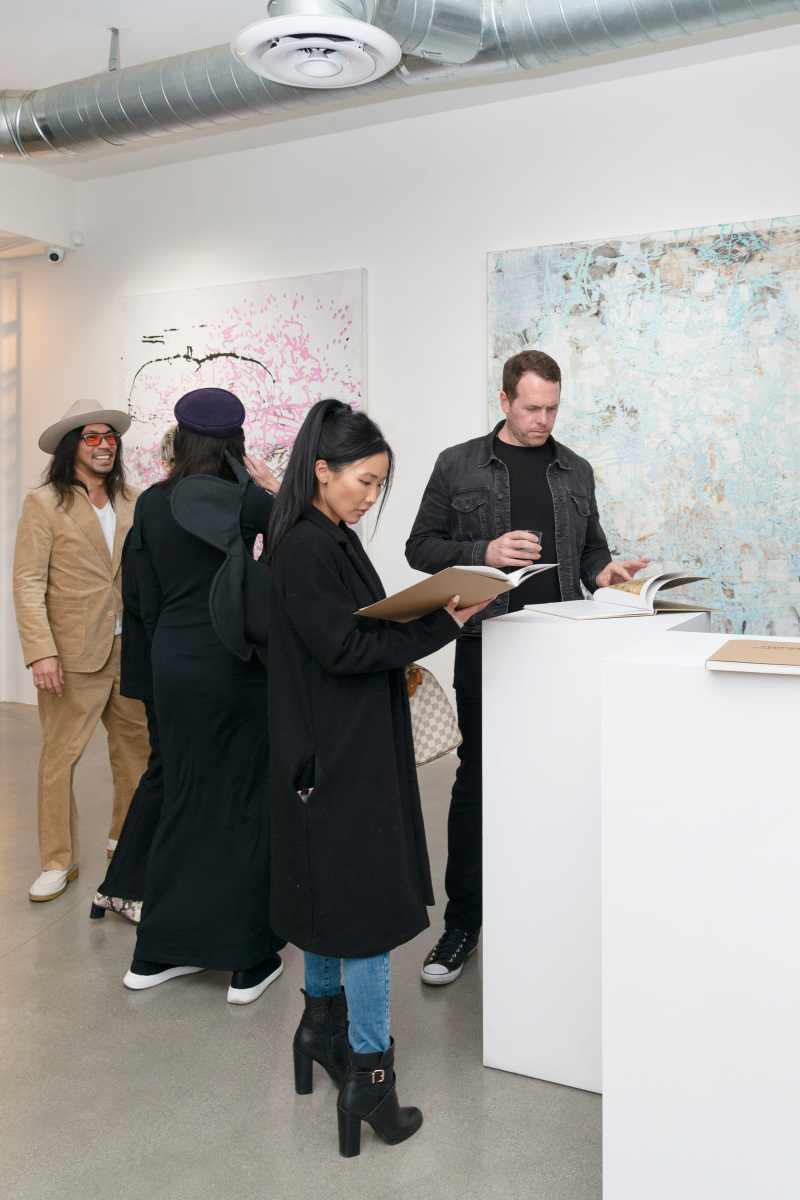 The opening night called for a celebration as Los Angeles natives and guests from all over the country flocked to the gallery for Soto Sake and lively conversation. Guests included designer Adam Hunter, Claudia Ashfar, Carlos Antonio, Laurent Rebuffel, Kimberly Denman and, of course, Robina Benson herself. The show is now open to the public by appointment, which makes the viewing experience that much more intimate.
Before immigrating to the United States to attend art school, the Amsterdam-born and now Manhattan-based Frank spent time in The Democratic Republic of the Congo, which greatly influenced his art. He quickly made his way from teenage art student to international success—showing work in Sydney, Mexico, New York, and Amsterdam, among other locations. Also a curator, Frank has showcased artists such as Norman Bluhm and George Sugarman, and began the Billy Lee Thompson Gallery in New York, a curatorial project that brought together creatives from several disciplines to show over 50 artists.
Throughout his nearly three decades of art-making, Frank's practice has evolved immensely. He began his career as a video sculpturist, followed by a period of plywood paintings, and today is most famed for his lyrical drawings and expansive, abstract paintings whose brightly colored compositions are tied together by purposeful lines derived from the nude form.