Three years ago, as a member of Rotterdam-based architecture firm MVRDV's press relations department, I toured the construction site of Depot Boijmans Van Beuningen, a new storage facility for 151,000 objects from the Museum Boijmans Van Beuningen collection. Viewing art in an institution's private holds is usually reserved for curators and researchers who book an appointment to support a thesis in person. However, Depot's innovative building, home to 63,000 paintings, photographs, films, pre-industrial design and design objects, contemporary art installations and sculptures, as well as 88,000 prints and drawings is different; it is designed as an extension of the museum itself, its collection is on public display, and recently opened for the first time.
Located in the heart of Rotterdam's museum district, it might be hard to imagine not seeing the glistening mirror-dome Depot Boijmans Van Beuningen from a distance. 'However, it appears as a sort of mirage when turning a corner, nestled next to the urban Museumpark and flanked by Art Deco masterpieces Sonneveld House and Chabot Museum with the original Museum Boijmans Van Beuningen building, Kunsthal Rotterdam Het Nieuwe Instituut and the Erasmus University Medical Center neighboring.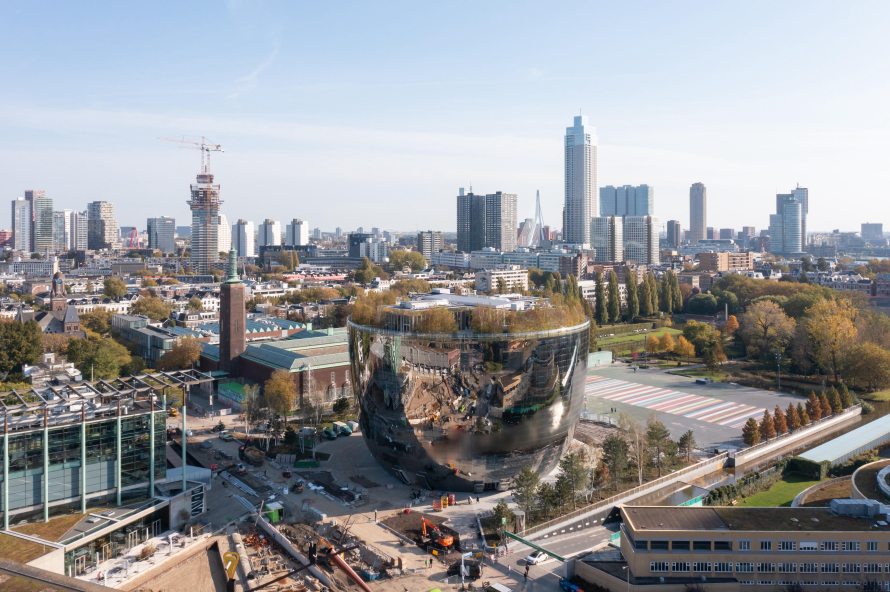 It was built in response to the Museum's major storage problems, that they are both lacking and unsuitable for art. Since the 1970s, the Museum had been distributing its off-display art collection to various local and international storage facilities, and its own underground storage cellars ran the threat of flooding. Thus, the Museum struck up a partnership between itself, the Municipality of Rotterdam and the De Verre Bergen Foundation to solve its lack of square footage and simultaneously open its collection to more visitors than ever before. Designed by MVRDV and built by BAM Bouw en Techniek, the building is nearly 161,500 square feet 15,000 square meters) and a significant program of storage facilities, a flexible rooftop restaurant/event space, workshops and presentation rooms, as well as a rooftop garden with sweeping views of the city at a height of 115 feet (35 meters). Landscaped with birches, grasses and pines to retain water, promote biodiversity, reduce urban heat island effect and counter the felling of trees that once inhabited the current site of the Museum.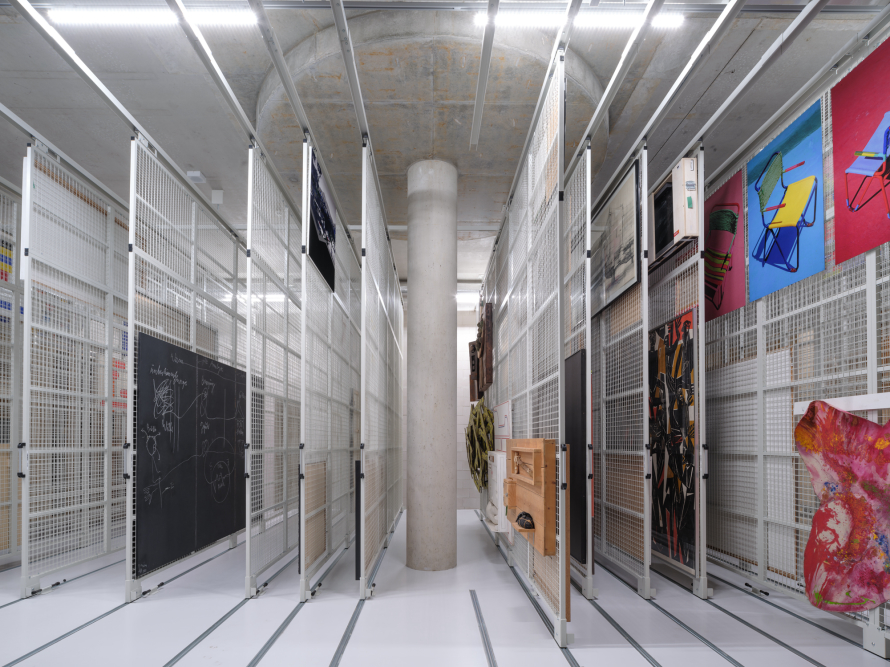 "The point of the Depot is to grow over time; it is also about compartmentalization, a prominent characteristic of our time," says Winy Maas, principal of MVRDV. "There are limitless possibilities through these objects on view and through these spaces, from the intimate to the grand."
As if entering a futuristic spaceship, panels of the mirrored façade open to allow visitors into the six-story Depot's stark, well-lit concrete interior, where a reception desk, toilets, shop and locker storage on the first floor leads to an impressive atrium with a labyrinth of transparent walkways and stairs. Art objects of every medium are exhibited on walls, floors and in stairwells as if suspended in space.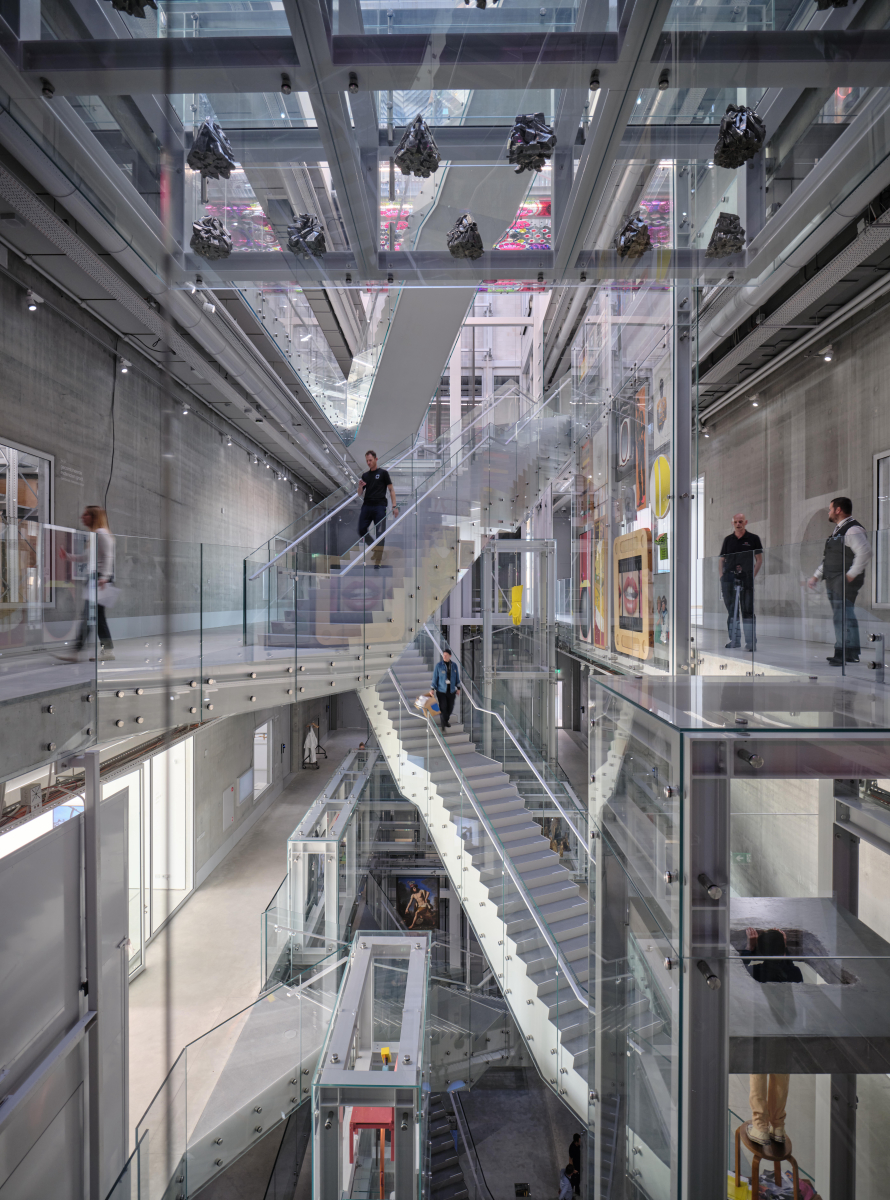 Designed as an alternative to the white cube, a proto-museum or cabinet of curiosities (Wunderkammers), this building continues the historic salon-style of display, hanging objects by categories but not necessarily correctly, leaving it up to the viewer to make their own meanings and associations. Depot Boijmans Van Beuningen takes this idea one step further. Designed in collaboration with artist Marieke van Diemen, the non-linear displays in the atrium also include thirteen large glass showcases showing works by artists including Maurizio Cattelan, Iris van Herpen, Auguste Rodin, Job Wouters and Sarkis.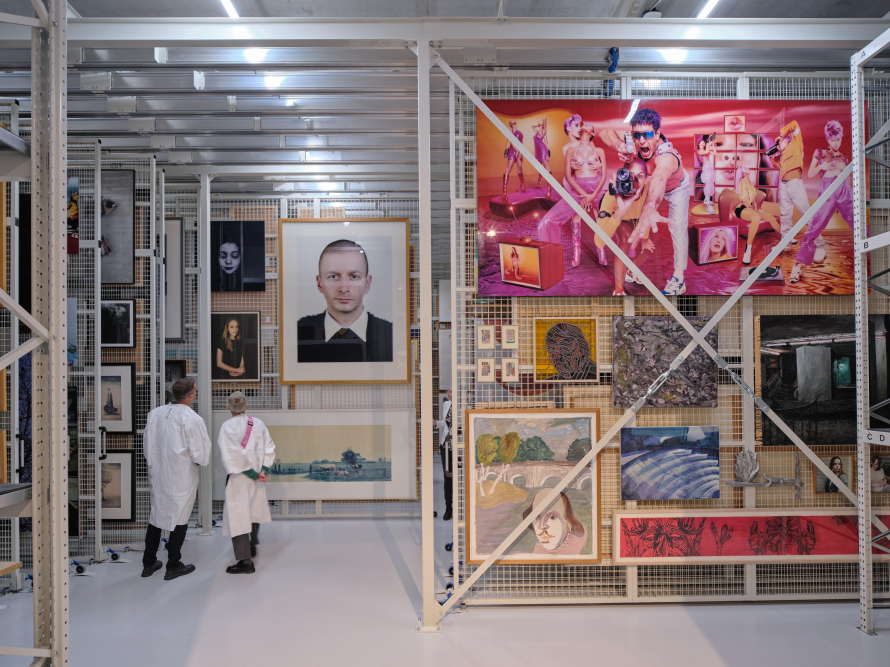 The building also includes conservation and restoration studios, a film room, two small film booths, two study rooms and two gallery spaces for exhibitions. The majority of the floor space is made up of the twenty depot compartments, fourteen for the museum's collection and six available to rent. During the press tour, a conservator at work restoring a red-and-white polka dot Yayoi Kusama sculpture, part of the artist's Infinity Mirror Room – Phalli's Field (Floor Show), was on full view. In the paintings storage space, small groups of visitors viewed works closely, pulling out select racks whilst donning white branded dust coats.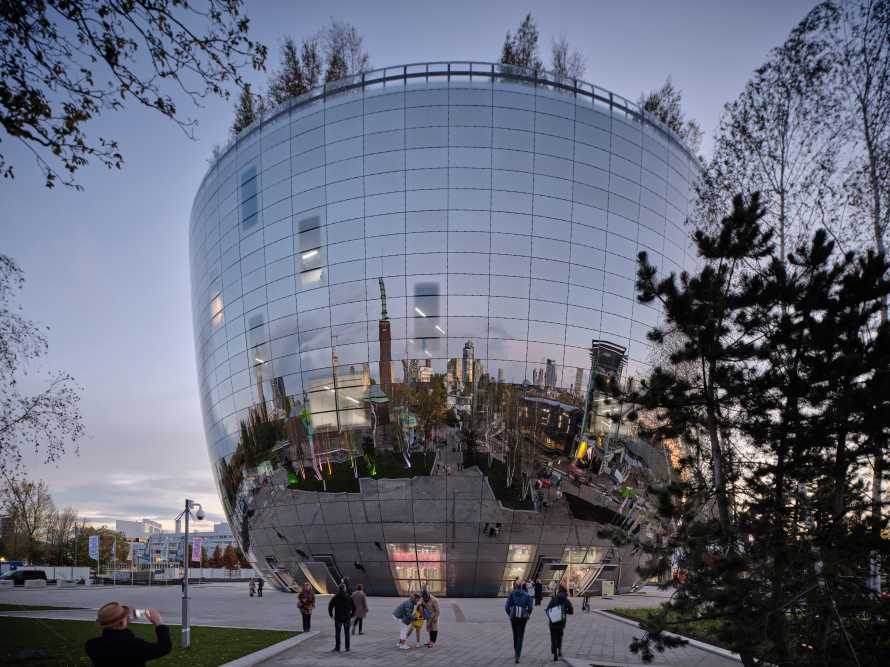 Depot Boijmans Van Beuningen is being heralded as a model typology for the future of museums, where the building's fluidity shows off spaces that are usually out of bounds. The depot is by far the most unusual building in this neighborhood, and perhaps in the city at large, despite Rotterdam's long history of realizing landmark buildings through experimental construction that has transformed the port city into a world-class destination for architectural innovation. Time will tell if others follow suit in this bold attempt to let the public go deep into the collection, where no other museum has done before.