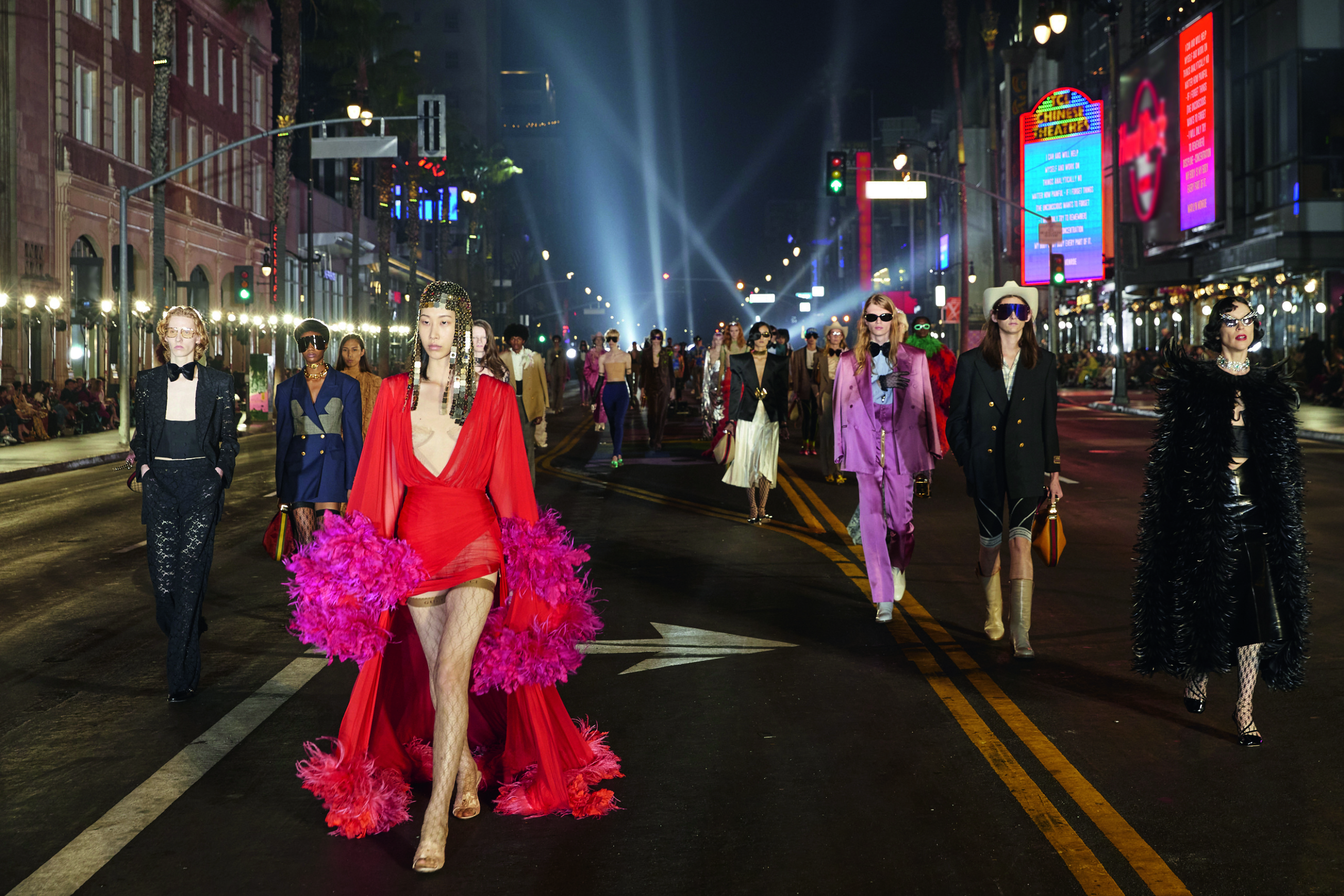 Gucci creative director Alessandro Michele describes Hollywood as "a parade of enchanted and deeply free beings that go across a land where neither past nor future reside, only the miracle of the imaginative flair." Thus, the new Gucci Love Parade collection was designed in its honor. Evoking the mythical beauty of cinema as inspired by his childhood raised by a mother in the film production industry, the collection was strutted down the iconic Hollywood Boulevard last week on the bodies of an eclectic cast of models. Phoebe Bridgers, Jodie Turner-Smith, St. Vincent, Miranda July, Macaulay Culkin, Jared Leto and Hayden Pedigo walked the unique runway in Michele's designs.
With the glamorous allure of Los Angeles as a backdrop, a prodigious crowd attended the show. Dozens of Hollywood legends joined the occasion, including film stars like Selma Blair, Steven Yeun, Gia Coppola, Jaqui Getty, Ridley Scott, Diane Keaton, Tracee Ellis Ross and Gwyneth Paltrow, who were joined by heroes of their own realms such as Serena Williams, Jimmy Iovine, Lizzo, Will.I.Am, Celeste, Miley Cyrus and Billie Eilish.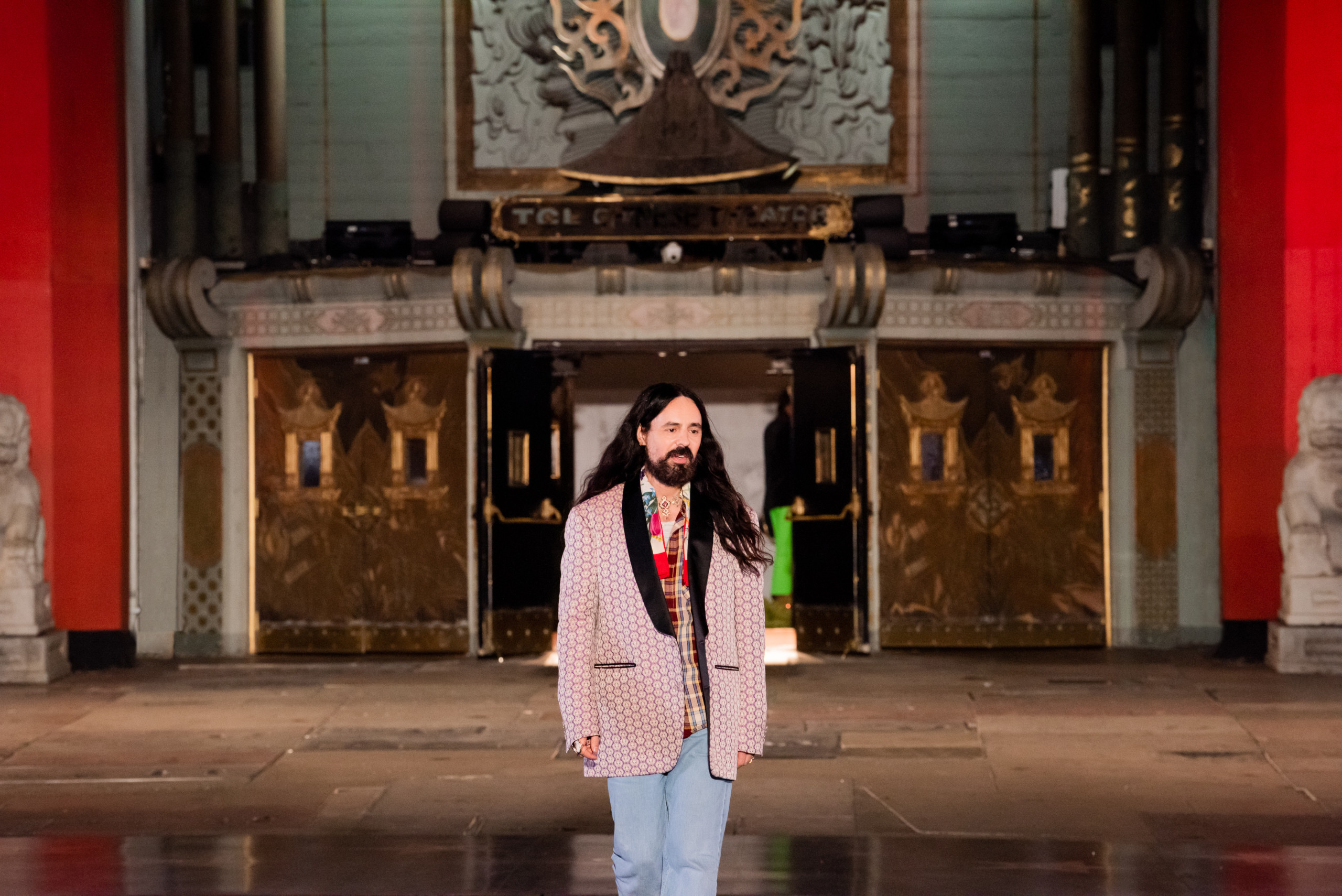 To Michele, Hollywood is more than a place, but "a Greek temple populated by pagan divinities." It is a world of its own in which "actors and actresses are acknowledged as heroes of myth: hybrid creatures with the power to hold divine transcendence and mortal existence at the same time, both the imaginary and the real," the designer stated. The parade was hosted as part of Gucci's Changemakers program powered by Gucci Equilibrium, which will provide critical support to Los Angeles and Hollywood communities' mental health and homelessness efforts.
The show was a dazzling success, enhanced by the starlight and bright lights and fueled by Michele's infatuation with Hollywood glamour. Last week, too, a few days after Gucci temporarily pedestrianized Hollywood Boulevard and transformed it into a runway, the fashion house presented the Los Angeles County Museum of Art's 2021 Art+Film Gala, co-chaired by Eva Chow and Leonardo DiCaprio with a performance by Celeste. The similarly star-studded affair saw celebrity guests like Tyler, the Creator, Jeremy O. Harris, Suki Waterhouse and Sydney Sweeney in attendance.
This new chapter in his career as Gucci creative director is an exciting step for the designer, who says his youth in a "squat" in the outskirts of Rome was "pierced in grayness," and Hollywood stood as a glimmer of hope, or as he describes it, "Nine letters dripping with desire." Michele has become one of the shining stars that decorates the city, contributes to its culture and inspires generations to come, with the Gucci Love Parade collection proving to be a spectacular ode to his deep, unwavering love for Hollywood. As he says, "Mum always told me about it: Los Angeles shines in its own magic, which is timeless; it's a place that brushes the divinities, becoming a mythology of the possible."
Craving more culture? Sign up to receive the Cultured newsletter, a biweekly guide to what's new and what's next in art, architecture, design and more.