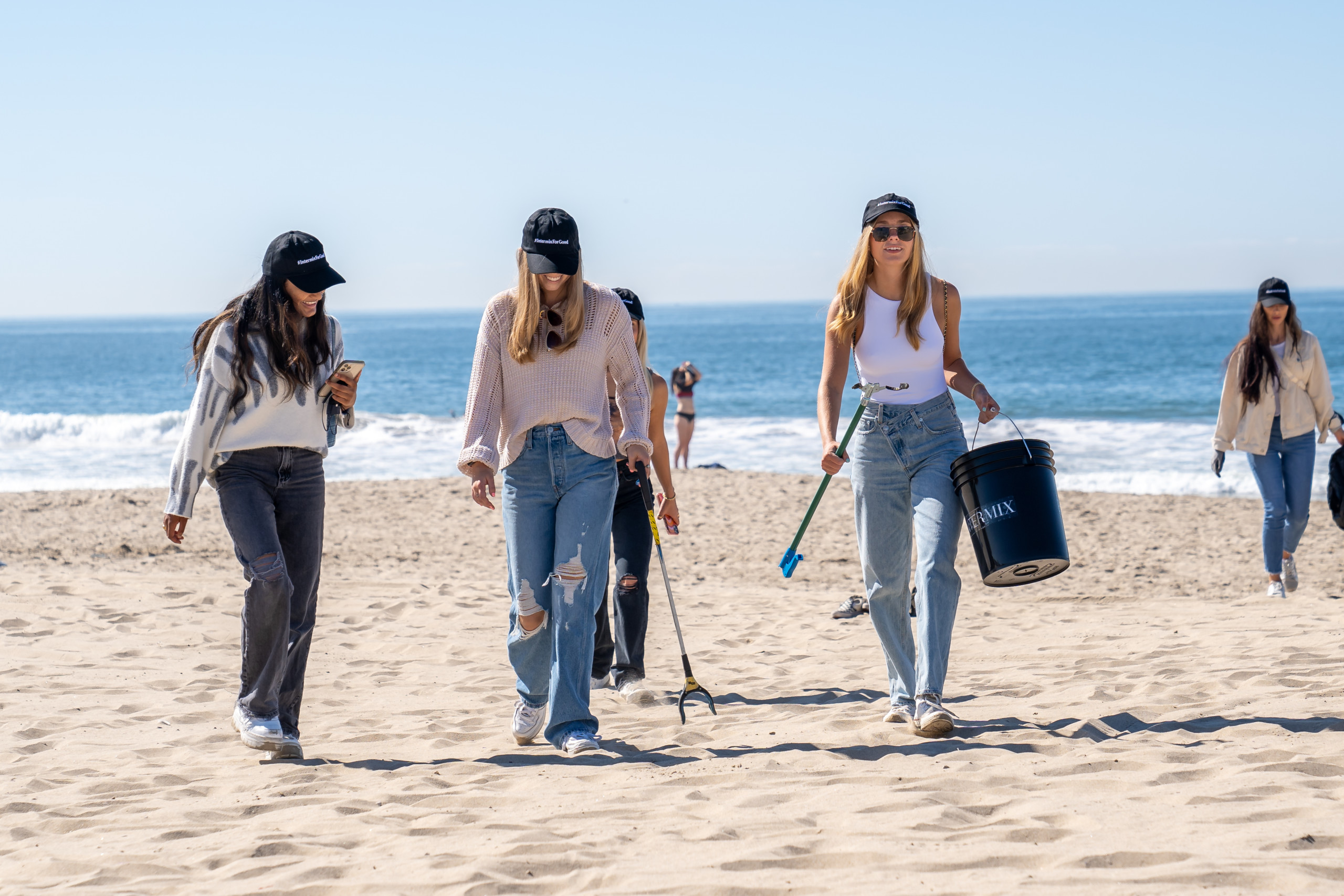 Cultured and Intermix cultivated a partnership with a purpose this fall, hosting outdoor clean ups in Los Angeles, Miami and New York, each in collaboration with a denim brand for the Intermix for Good Tour. The tour was a nationwide sustainability effort that combines waste reduction through denim recycling and bringing communities together through giving back. The environmental events offered a collaborative space for the fashion community to harness its collective energy and passion into the preservation of beloved beaches and parks.
In Los Angeles, Cultured and Intermix welcomed the RE/DONE team to Venice Beach with 67 volunteers who spent the day scouring the beach to pick up a total of 102 pounds of trash over an 880-yard stretch of the L.A. locale.
In Miami, the two brands collaborated with Retrofête for a day of cleaning up Miami Beach. With 94 volunteers in attendance who collected 260 pounds of trash over a 1,760-yard run of the shore, the energy was high and guests eagerly, and successfully, swept the popular spot.
In New York, AGOLDE supported Cultured and Intermix's efforts to clean up Battery Park. With 57 volunteers who planted 1,000 perennials and prepped a 2,500-square-foot nursery, the group tackled the day with fervor and proved the Intermix for Good Tour's dedication to, and passion for, sustainability.
For those not fortunate enough to join the clean ups, Intermix offered an additional avenue for sustainable action at the fashion brand's 31 locations, where denim lovers donated a pair of jeans to be recycled and earned 20 percent off a same-day denim purchase. Over 250 pairs of denim were collected in support of the pledge for a more sustainable future.
Craving more culture? Sign up to receive the Cultured newsletter, a biweekly guide to what's new and what's next in art, architecture, design and more.