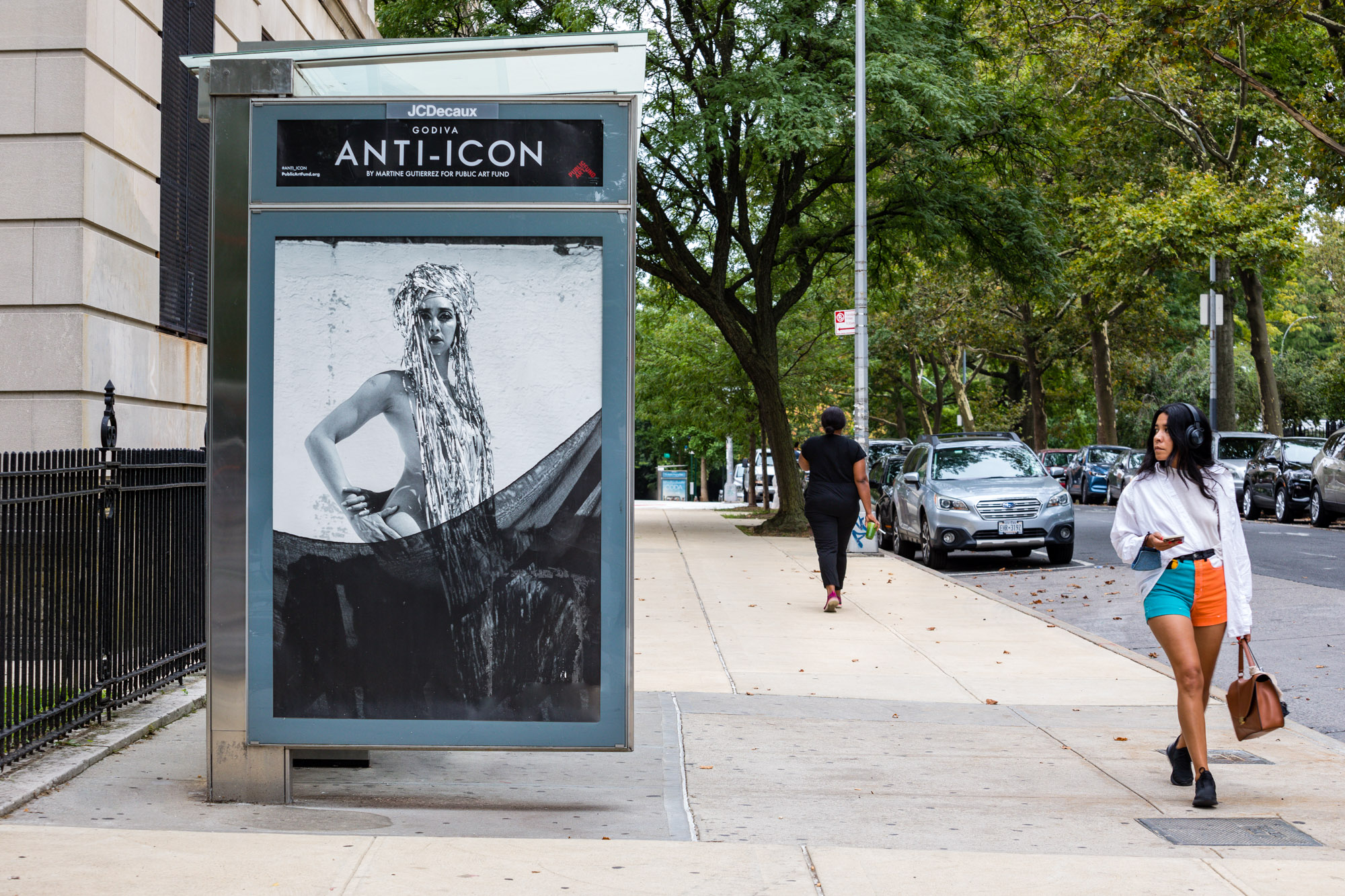 The last time Cultured checked in with Martine Gutierrez the New York-based artist was fresh off of her Venice Biennale debut and starring in the magazine's 2020 Young Artist List as a kind of contemporary Marie Antoinette. Today, I found her playing Cleopatra on the side of a JCDecaux bus shelter not far from Columbia University's move-in day. Amongst the throngs of self-conscious teens avoiding eye contact and accompanied by doting parents carrying armfuls of dorm life, this image of Gutierrez stands out. In the photograph, the artist stares unflinchingly out from under a trash bag wig. It is a far cry from Elizabeth Taylor's rendition of the Egyptian ruler and yet there is a glamour here even Liz would bow to. Mounted at eye-level on the station's lightbox bookend, Gutierrez conjures a movie poster come to life.
A commission for PAF and JCDecaux's ongoing partnership, which places new contemporary art in the latter's advertising slots, "Anti-Icon," is a self-portrait series that reinterprets ten legendary leaders then redistributes their likenesses across the urban landscape of Boston, Chicago and New York. In Gutierrez's retelling, Cleopatra's peer group includes Angel Gabriel, Queen Elizabeth, Mulan, Helen of Troy and Aphrodite. "'Anti-Icon' alludes to the legendary status of these figures, but also tries to indicate that this is Martine's reimagination of who these speakers are," curator Katerina Stathopoulou explains. "In this series, she's tried to make these more universal figures that people can recognize and identify with. The way she put it to me recently was either take them off the pedestal or make the pedestals bigger. I think she really succeeds in doing both."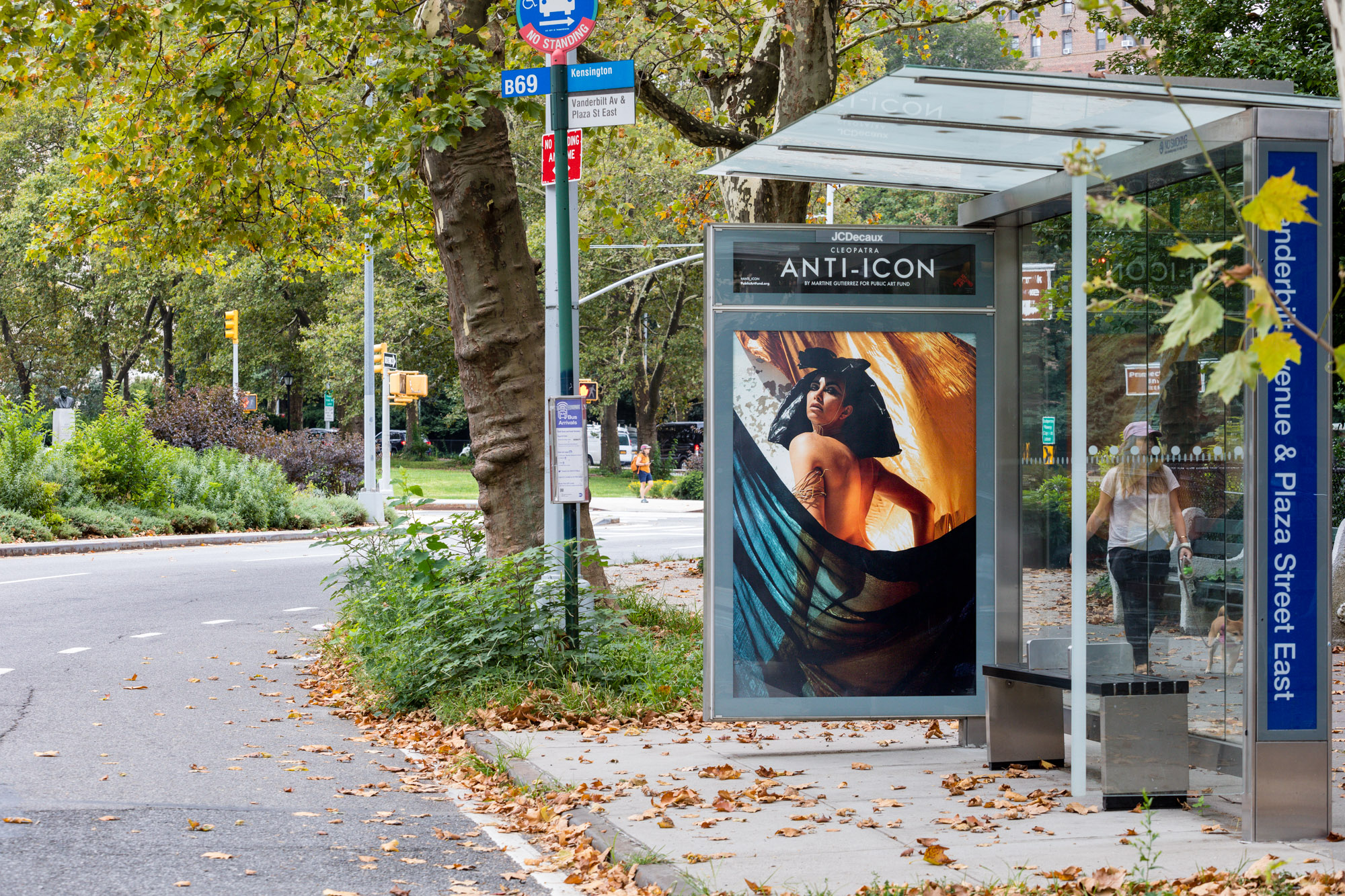 I ask if one of the hazards of popping in and out of new identities, cultural appropriation, enters the conversation. "Martine is very sensitive about cultural appropriation," the curator says. "In creating these characters, she wanted to focus on the mythology rather than identities." She provides the Chinese legend of Hua Mulan as an example. Mulan cross-dressed to pass as a male warrior and take her elderly father's place in battle. In the artist's depiction, Gutierrez doesn't assume an Asian identity but instead wears a man's plaster chest as armor with a stoic gaze. It is a simple but effective gesture that feels particularly attuned to the life-size scale of the platform. You can't avoid sizing Gutierrez up as the other warriors might before a fight.
Part of Stathopoulou's reasoning for selecting Gutierrez for this project is the artist's ongoing interest in advertising and the public sphere, inherent components to contend when dealing with JCDecaux's infrastructure. Stathopoulou remembers going to the 2018 exhibition "Indigenous Woman" at Ryan Lee Gallery where she saw Gutierrez's use a self-published fashion magazine as an artistic medium. "I thought it was such a clever format to create a publication full of self-portraits that echoed perfume advertisements and fashion ads," the curator says. "I think something really important Martine has done successfully is present an artwork without having to provide additional context. She is able to think holistically, which made her a good fit for this project."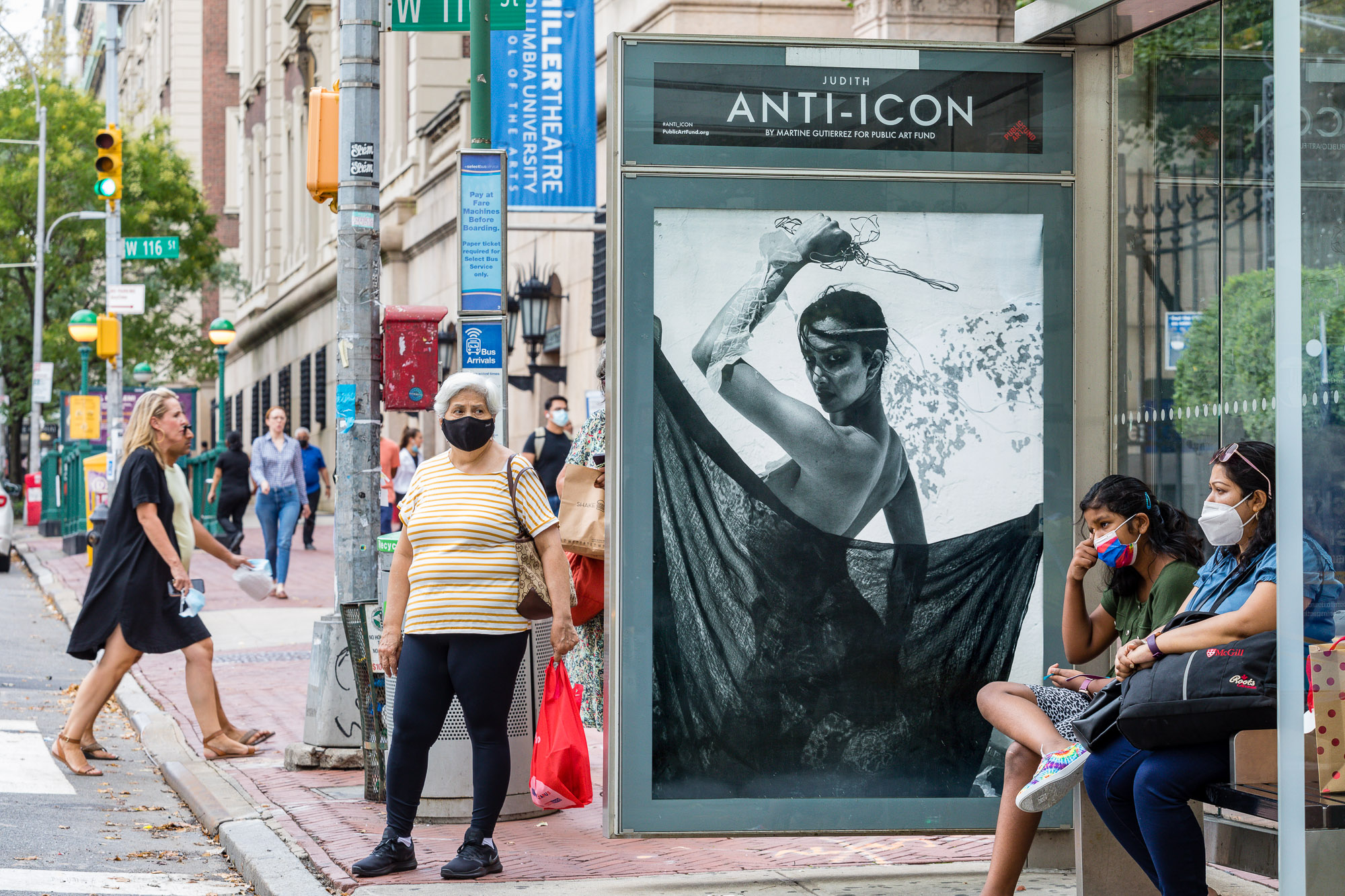 The skills and lessons that went into creating the imagery for "Indigenous Woman" and then "China Doll," Gutierrez's 2021 summer show at Ryan Lee, are evident in the sleekness of "Anti-Icon." With minimal prop language and an empty swimming pool as a stage, Gutierrez completely transforms her appearance, calling to mind the work of shapeshifters like Gillian Wearing and Cindy Sherman but with less production and more imagination. The artist's body and face are hardly recognizable frame-to-frame even though most of the images tout the same basic ingredients: sheer sheets and repurposed trash rendered in black and white. The exceptions are Cleopatra and Queen Elizabeth whose cherry red pouts were too delicious to throw into grayscale.
Up through the fall, "Anti-Icon" bus shelters can be found throughout New York City, though especially clustered by cultural institutions at the artist's behest. "She wanted to play with art inside and outside the museum," Stathopoulou says. This series is complemented by another outdoor project—a Whitney Museum of American Art commission to erect a mural at 95 Horatio Street. There is no specific connection between the two except their author who is always in the practice center as both subject and creator.
I remark to Stathopoulou on our Morningside Heights walk that it is impressive that the artist can seamlessly go from angel to movie star. I call her Tilda Swinton in the making. Stathopoulou laughs but corrects me: Gutierrez considers herself one of a kind. And this is the same commitment that she makes to the character she embodies. There is a purity in the artist's belief that imagination has the power to overthrow reality. Through her work, Gutierrez looks us in the eye and asks us to do the same.
Craving more culture? Sign up to receive the Cultured newsletter, a biweekly guide to what's new and what's next in art, architecture, design and more.