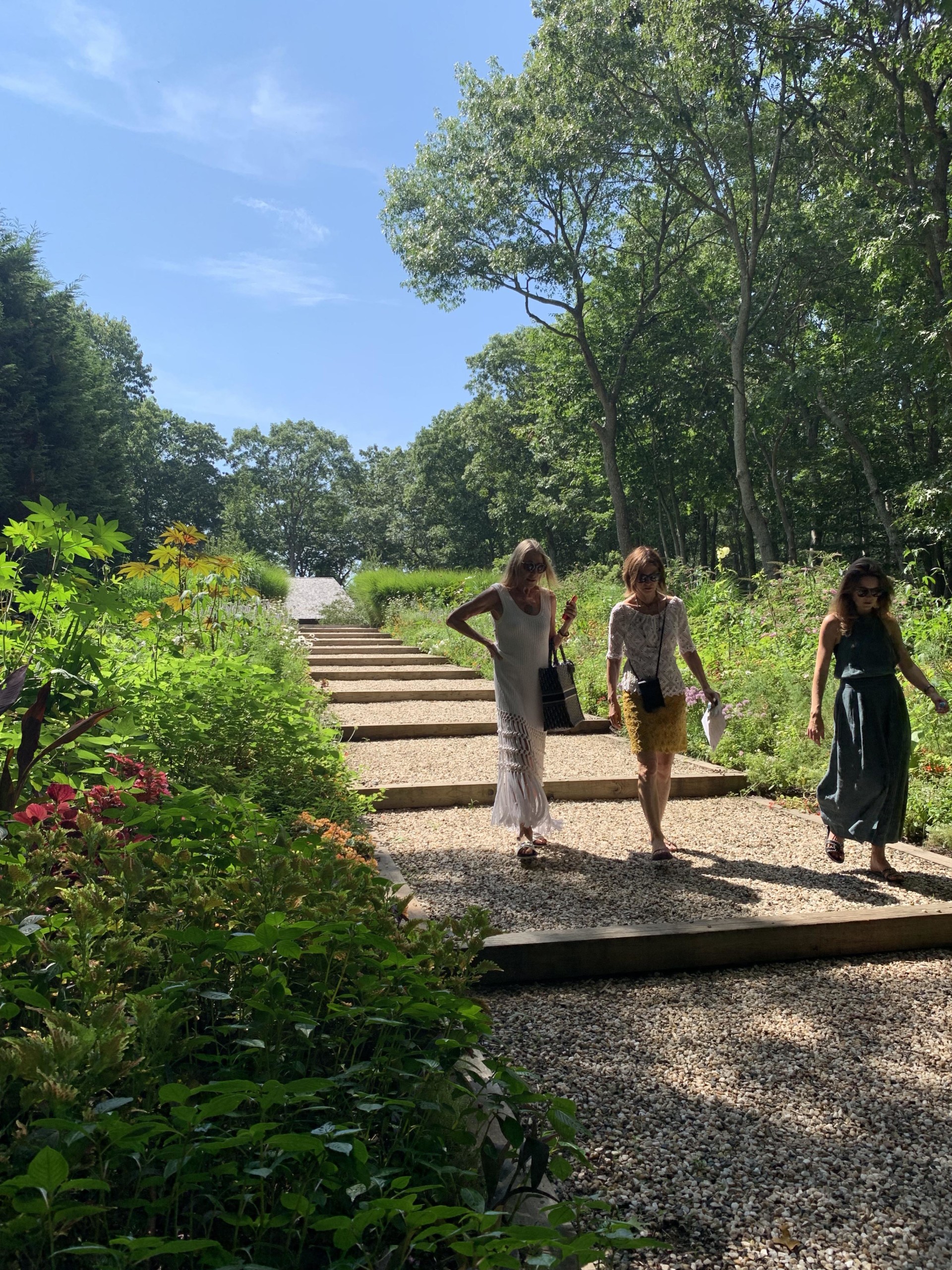 The weekend of August 12, Cultured magazine hosted an exclusive VIP art weekend in the Hamptons, partnering with local institutions and the artists of the No W here Collective, Alice Hope, Toni Ross and Bastienne Schmidt.
Thursday featured a private tour of The Ranch, a new art space and historic horse farm in Montauk run by Max Levai, formerly of Marlborough Gallery. The property's 23 acres feature more than a dozen competition horses, an outdoor sculpture exhibition titled "Camp Hero" featuring artists Frank Benson, Aaron Curry, Virginia Overton and Marianne Vitale. In Levai's West Barn, solo shows by Renate Druks and Daniel Lind-Ramos were on view.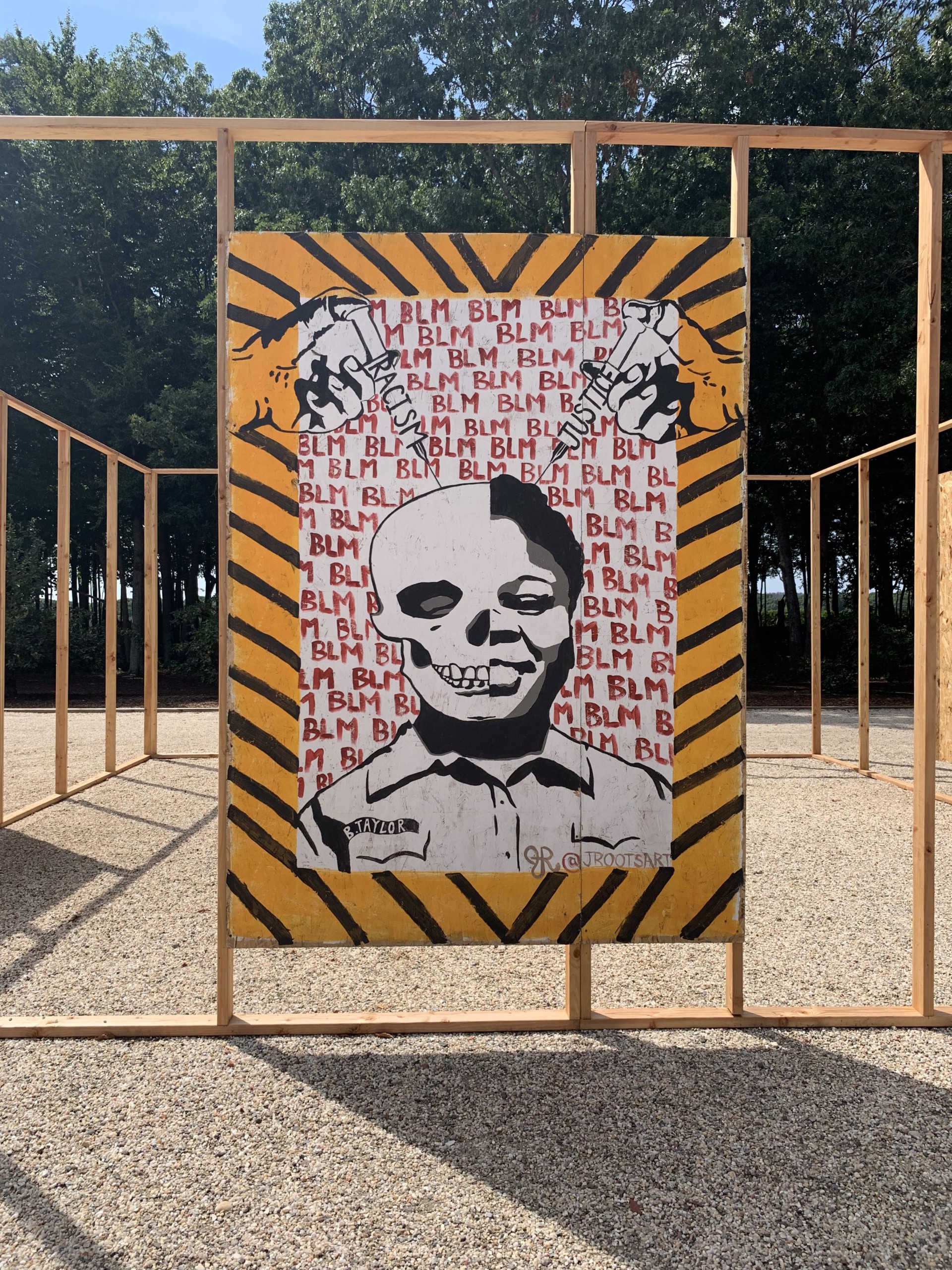 Friday began with a private tour of The Watermill Center; founder Robert Wilson led guests through the Paul Thek exhibition in the galleries, offering his clarifying perspective as a close friend and collaborator of the late artist. After a rite-of-passage Watermill lunch prepared by in-house chefs, curator Noah Khoshbin led a tour of the humbling outdoor exhibition, "Minneapolis Protest Murals," featuring plywood panels from the Minneapolis uprising inspired by George Floyd's murder.
That afternoon featured a break from the heat in artist Bastienne Schmidt's Bridgehampton studio. Schmidt walked guests through her practice, beginning with her European upbringing, through the photography inspired by her move to America and to her current work with the grid in its many freedoms and limitations. Most recently, Schmidt began a series of over 400 watercolor drawings of objects she has come into contact with since the beginning of the pandemic, notably, corresponding books, cleaning supplies and political merchandise.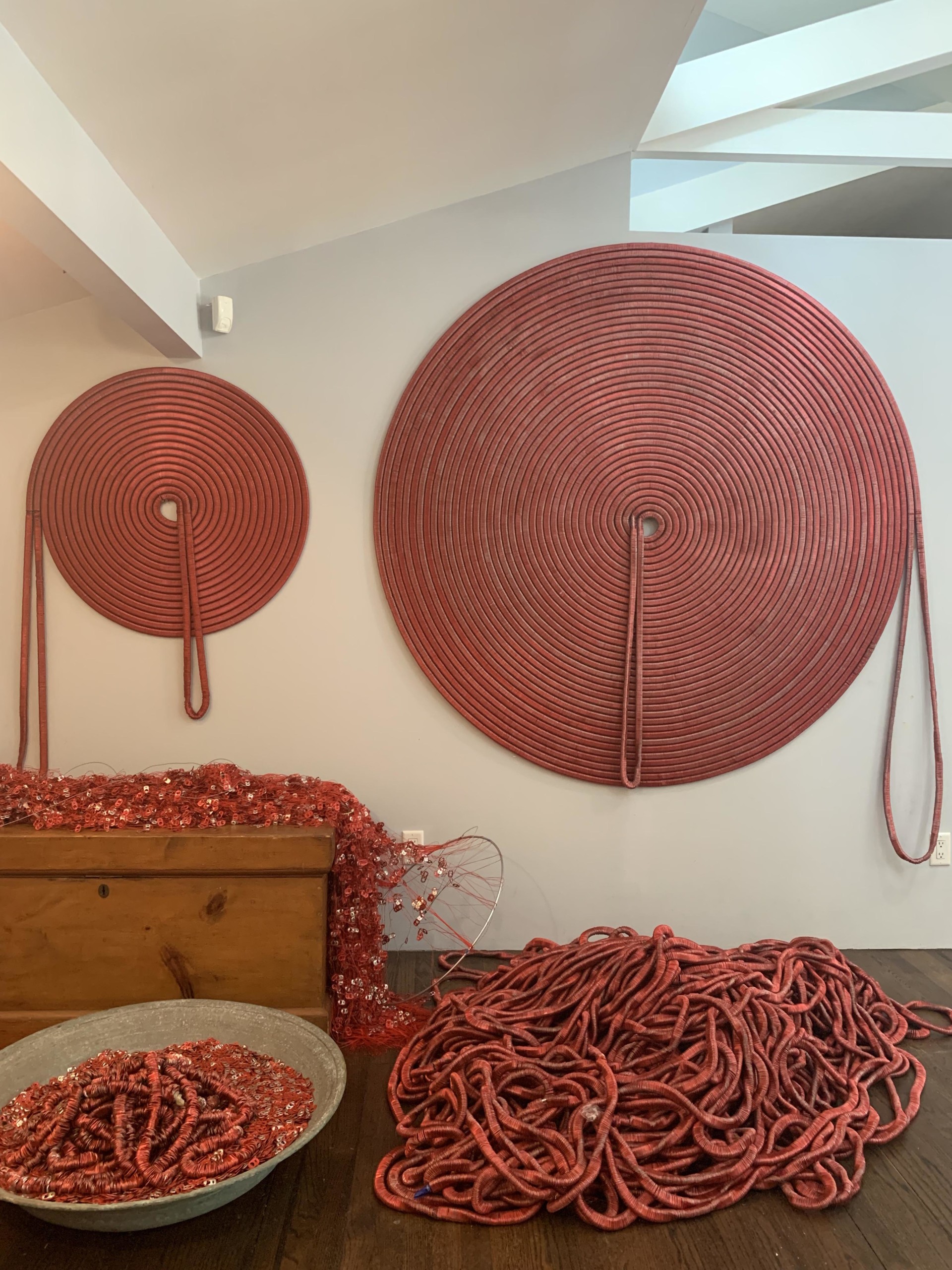 Saturday morning, Alice Hope hosted an intimate group of patrons at her home studio in East Hampton. Walking the visitors through millions of different brands of can tabs that covered the walls as a series of different colored spiral works, Hope elaborated on the tab collection process and what fascinates her about working with materials that have their own economy of means. Separately, a suspended sculptural slinky installation commanded attention while works-in-progress with magnets and ball-chain also featured heavily in her space. As evidence of Hope's commitment to elevation of our everyday minutiae, even her curtains were a ball-chain intervention.
On Sunday, Toni Ross held a studio visit and lunch at her Wainscott studio. Spanning two floors, Ross's work varied in material from ceramics and large-scale site-responsive installation to, most recently, fiber. A series of weavings created in the height of the pandemic delicately highlighted the collective trauma we have all endured, a visual and material evolution from a series of minimalist line drawings created pre-pandemic that hung across the room. Here, Toni spoke of the throughline that unites her diverse practice: all of her work is a reaction to the political, social and personal. On the upper floor, this was evident by the less abstract work inspired by the social and political unrest of the last year.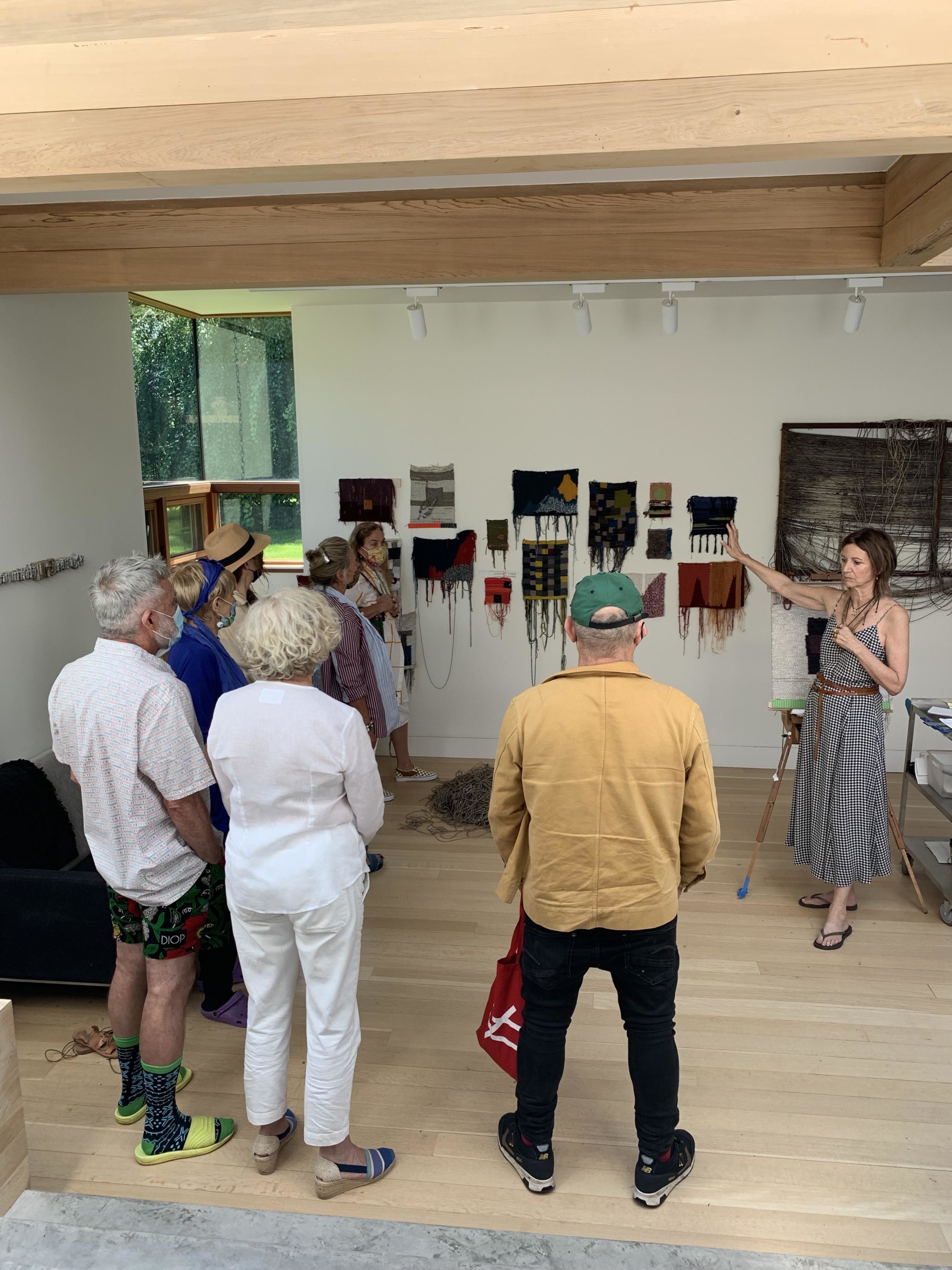 Later that afternoon, guests were encouraged to stop by The Leiber Collection for a series of artist talks. Ann Fristoe Stewart, director and curator of the Leiber, led a tour of the garden where five of the exhibiting artists in "The Garden of Friends" exhibition spoke about their work: Philippe Cheng, Almond Zigmund, Toni Ross, Jeremy Dennis and Bastienne Schmidt. After a few moments of mingling, the crowd disbanded in a natural conclusion to the day's festivities.
It was a remarkable weekend among the local Hamptons artist community. If you missed the events, become a Cultured VIP for access to the next. Alice Hope, Toni Ross and Bastienne Schmidt's inaugural collective exhibition, "No W here," is on view at Ricco/Maresca gallery in New York through September 11.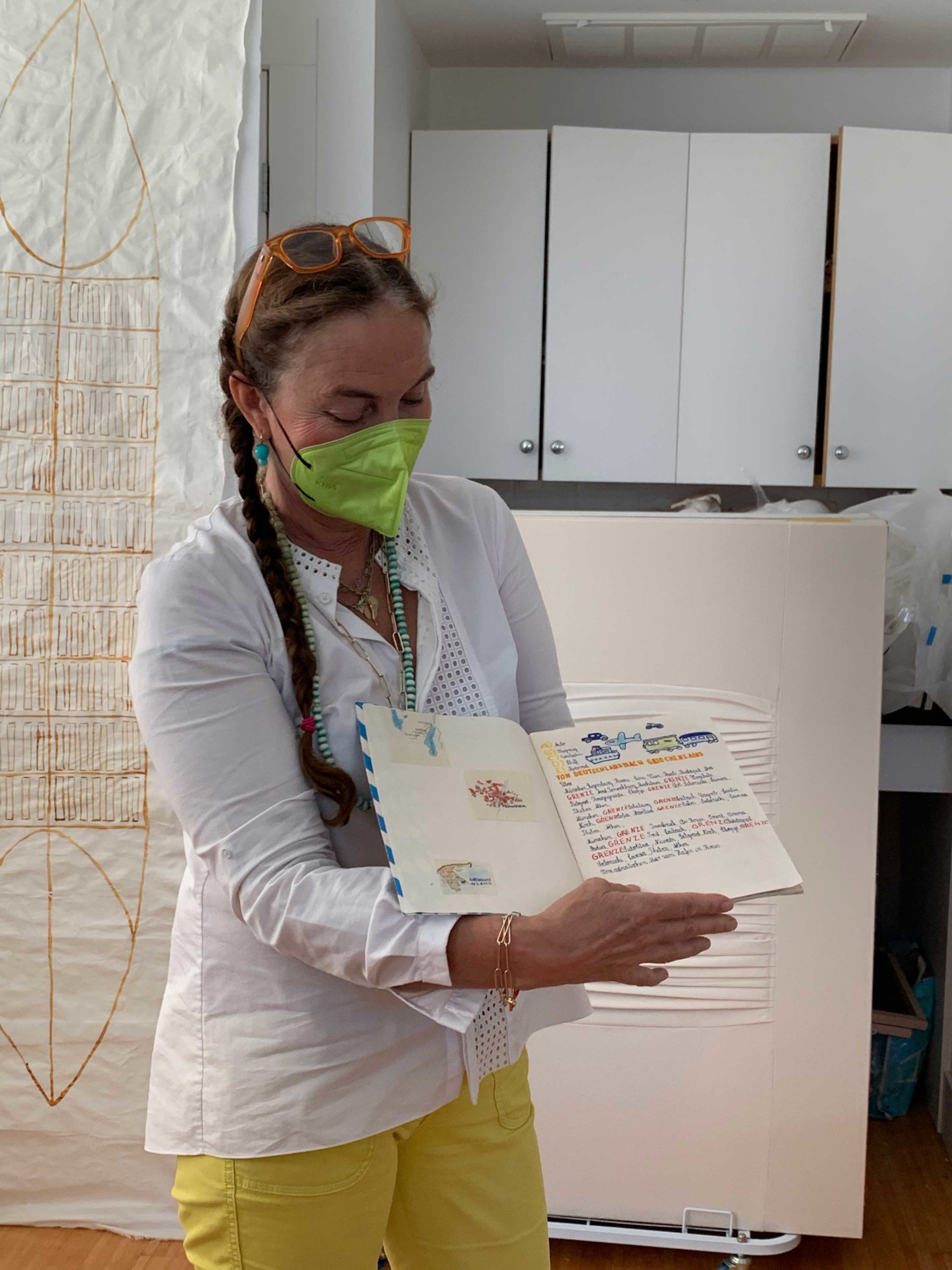 Craving more culture? Sign up to receive the Cultured newsletter, a biweekly guide to what's new and what's next in art, architecture, design and more.