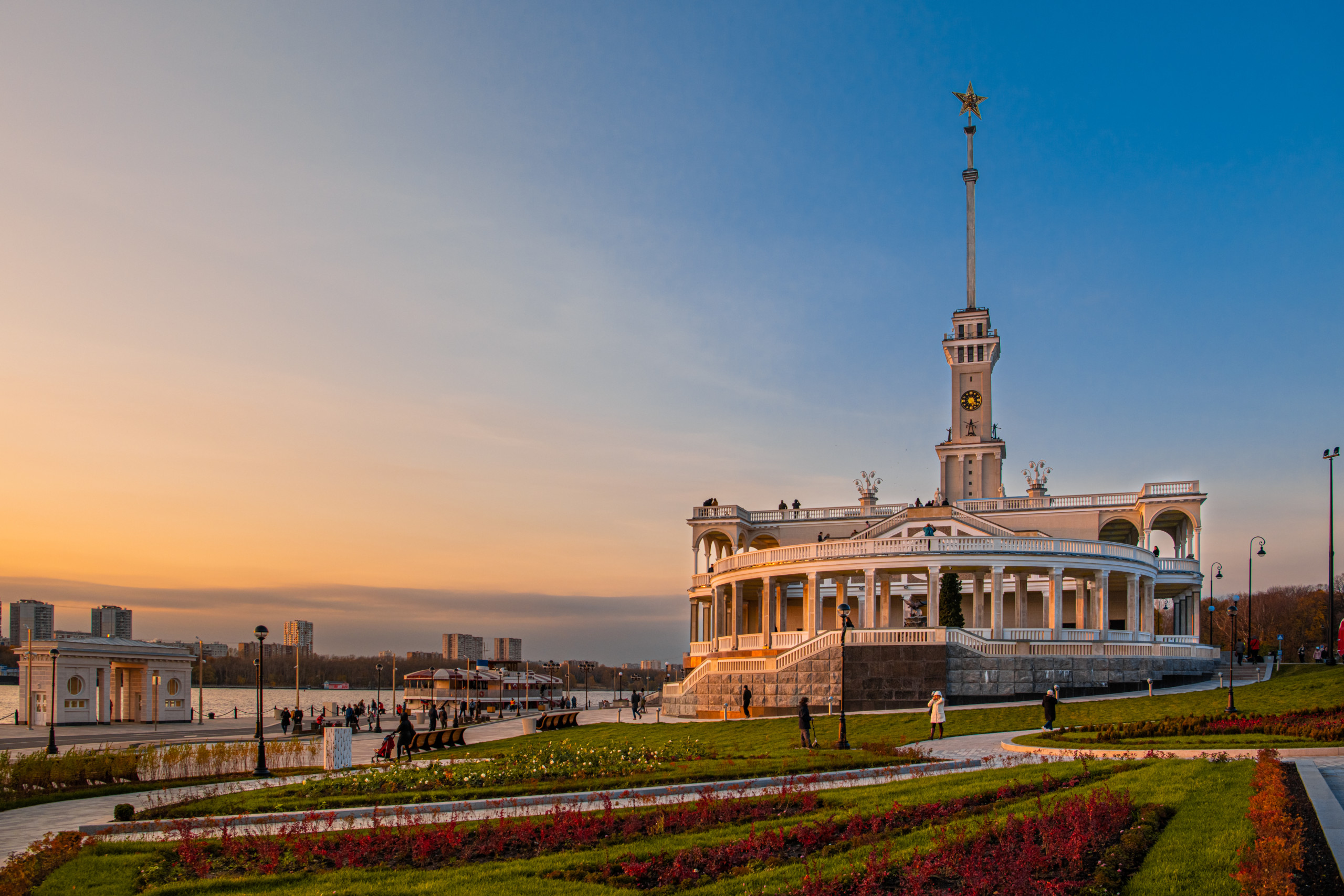 When Dasha Zhukova and Roman Abramovich's Garage Museum first opened in a renovated Gorky Park, United States journalists were flown in by the handful to Moscow, put up at the Ritz Carlton and invited to drink their way through a studio district where young artists had been installed like living sculptures to accessorize buzzy restaurants and a shopping district. There were chaperoned visits to the Pushkin Museum and the Tretyakov Gallery, which were disorganized and in not so perfect repair. It was explained that part of Garage's mission was reimagining for Muscovites what a museum should be by interjecting some Western best practices that ranged from docent training to janitorial conventions.
Progressive in 2015, Garage Museum, Gorky Park and Rem Koolhaas and Alexander Mamut's Strelka Institute are evidence of a growing private interest in seeing the city become more cosmopolitan. However, these projects now no longer feel like despots of niche agenda but rather the appendages of Mayor Sergey Sobyanin's masterplan to Copenhagenize Moscow as fast as humanly possible. The capital is humming with new construction. Each ring of the city boasts the fruits of the recently completed. Surveying what has already been finished, the mayor's prescription puts heavy emphasis on impactful public spaces, signature landmarks for city-branding, a cohesive dynamic subway system and attractive, affordable housing. You can witness these initiatives being realized all over at a breakneck pace. A guide mentions that there is almost a whiplash to the pace of change. Turn the corner and a familiar parking lot might now be almost unrecognizable as a park with fountains. It's a welcome disorientation, they assure us.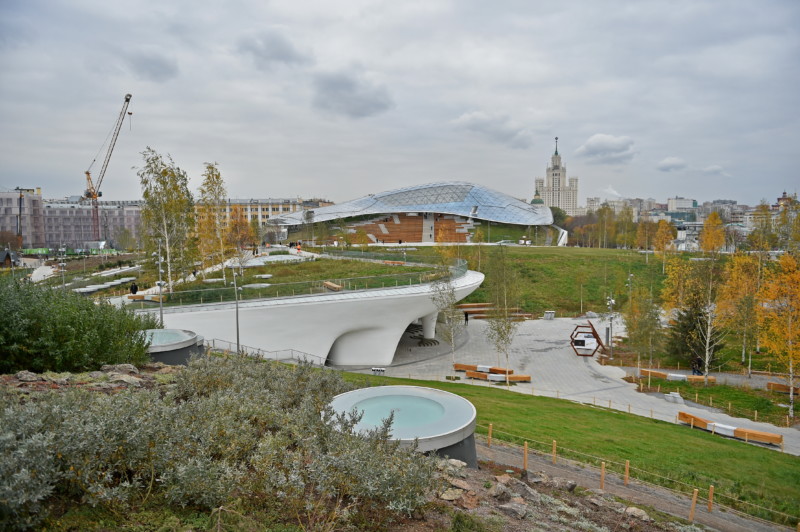 What is being suggested by all this visible investment, although not ever explicitly said, is an appeal to revisit Moscow with the same exceptionalism afforded New Yorkers in the characterization of an American. The phrase Mayor Sobyanin and his administration employ repeatedly is a "star city." New York is a star city. Paris is a star city. Hong Kong is a star city. Copenhagen too. This term loomed large at the 2021 Moscow Urban Forum (MUF), an industry-wide networking conference, which doubled as a chance to draw attention to the host city's development-forward agenda. The official theme of this year's iteration was Superstar Cities: Lessons of Transformation, but most of the speakers left off the super when espousing what earns a city international envy these days.
In the halls of MUF, there were plenty of theories. Keynote speaker Martha Schwartz orchestrated an entertaining albeit terrifying, 300-plus slide argument for greening every inch of ourselves. Schwartz's tips ranged from individual actions such as flower boxes to help bring down the heat island effect to the new gold standard of urban planning: the 20-minute city, which prioritizes walkers and bikers over their driving neighbors. In a dialogue titled "The Age of Meteor Showers. Will the Starchitecture Era Last?" architect Jan Gehl appealed to place the public square back into the center of thinking—landmarks don't make a city. Another breakout session titled "Placemaking What are the Must-Have Facilities of the Future City" made the case for scaling back the monumental ambitions of city planners to focus on human-sized structures and advancements. Panel member and ZZA Responsive user environments founding director Ziona Strelitz did an especially good job of explaining the way large architecture serves only those in power rather than the occupants.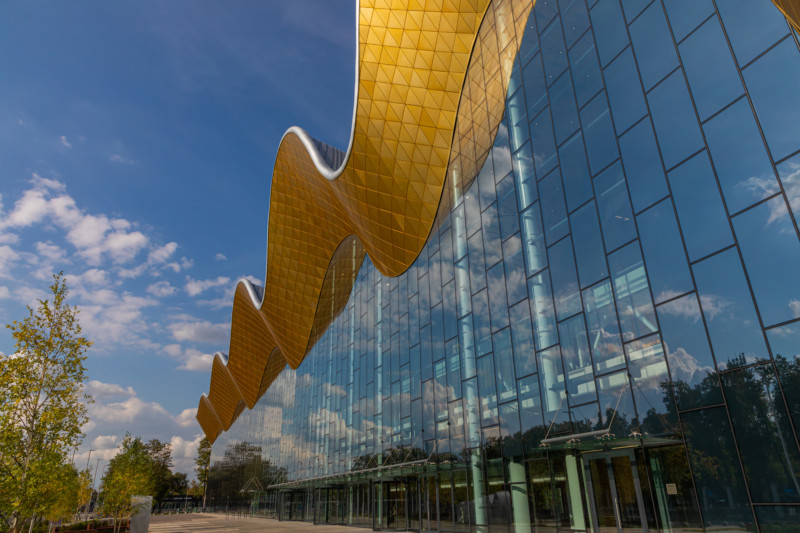 This greenspace also foregrounded projects that are now in motion for Moscow, including a ferry system that will allow for people to navigate the circle city by boat when it is not frozen over. Part of MUF's programming included a visit to another park—the 1930s North River Terminal riverboat station that links the city to St. Petersburg and other parts of the empire. Here the lessons of Zaryadye were carried out by a local team. The restoration project combined both a desire to restore the original and adapt its resources for contemporary living. Now the ferry station is not only outfitted with baroque turn of the century waiting rooms and a waterfront promenade but tennis courts, playgrounds for all ages, a public pool on the river, a fleet of candy-colored vendors feeding the masses. The boats will only increase traffic.
While both Sobayin and Kuznetsov champion star cities and starchitects' contributions to them, the projects that are most excitedly spoken about are in-house so to speak. There is a glamorous Zaha Hadid subway station that is one of many quickly being installed to increase fluidity and relieve the car congestion that famously chokes Moscow's rings. There is the ferry boat expansion, an Olympic-sized sports complex currently in progress, parks of all shapes and sizes and housing developments along the overlooked outskirts. Moscow is becoming more humane than ever before thanks to the collision of private and public interests. The speed at which it is happening lends hope to Schwartz's call to heal. If Moscow can rebirth itself in a decade, what would it look like if there was an international mandate to put climate catastrophe mitigation practices into immediate action?
Craving more culture? Sign up to receive the Cultured newsletter, a biweekly guide to what's new and what's next in art, architecture, design and more.