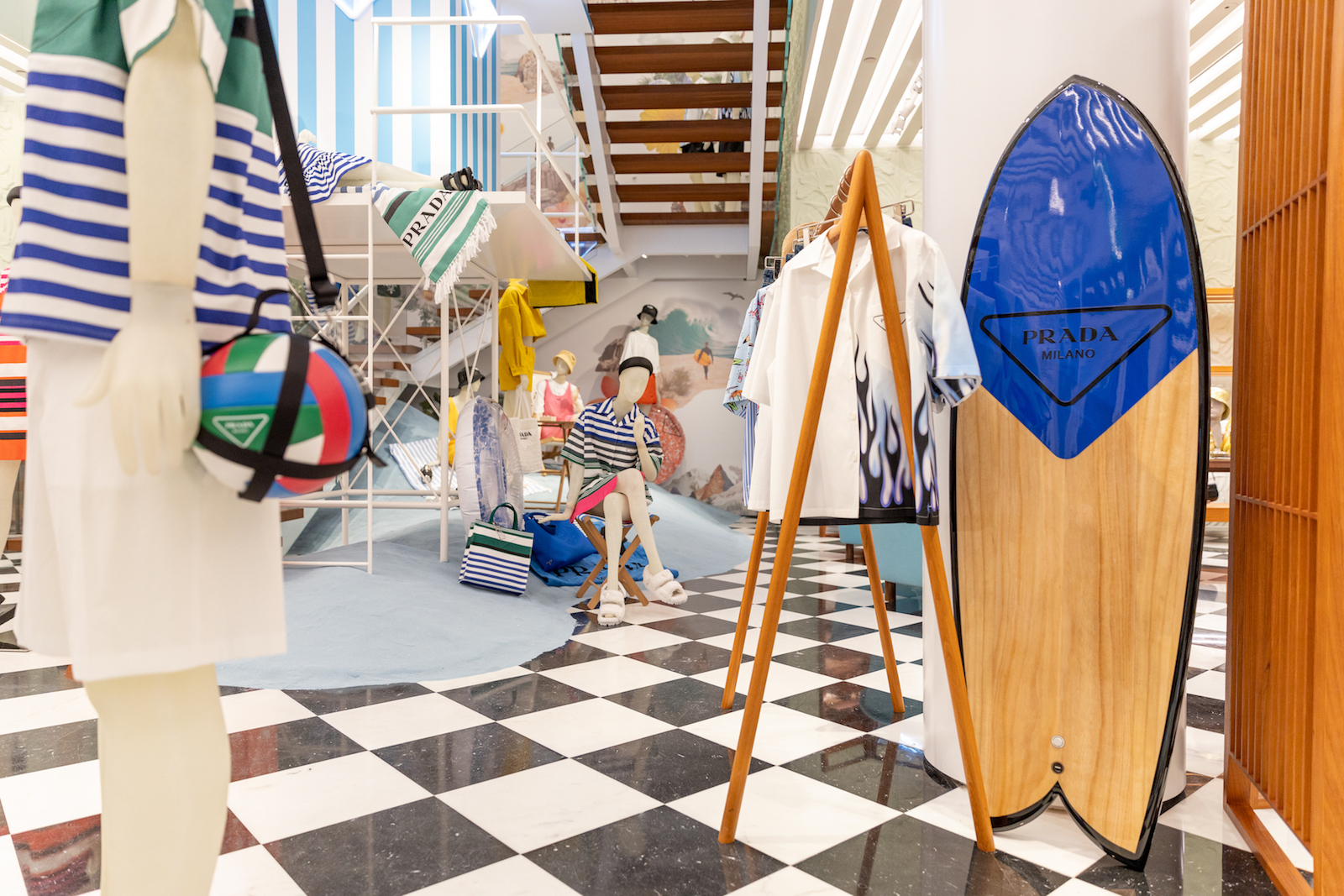 Prada is going for a swim. The Italian fashion house is taking a dip in the pop-up craze this summer with its traveling Prada Outdoor series, which debuted earlier this month. Now making its way to Miami, Prada Outdoor will land in the Design District on June 24 with "Coast," an immersive diorama-cum-shopping experience designed to resemble your favorite plage.
Prada Outdoor mirrors the growing consumer urge to experience in addition to shop. After a year in isolation, the pop-up motifs don't just reflect just our increased reliance on the outdoors for gathering and socializing in the past year; they also feed our growing appetite for immersive, physical entertainment. These temporary shops come in three flavors—Coast, Garden and Mountain—and will travel across the United States and Asia, complete with a collection of original ready-to-wear pieces and products fit for each locale.
Miami's Prada-made shore shop imitates the natural makeup of the beach, with sand dunes and rocks, tents and sunshades, and adds touches of whimsy with a selection of inflatables, cushions, and beach towels. Shoppers can indulge in 1950s-inspired terry cloth wares, as well as sunglasses, straw and wicker bags and pieces crafted from the iconic Prada Re-Nylon. And ringing true to Prada Outdoor's dedication to serving up an al fresco summer, the Coast pop-up will showcase a range of sports accessories, including surfboards, frisbees, skateboards, racquets and more. We can't wait to hit the beach.
Craving more culture? Sign up to receive the Cultured newsletter, a biweekly guide to what's new and what's next in art, architecture, design and more.